The Chinese telecom market is perhaps the biggest in the world leaving room for additional competition. The sheer concentration of subscribers on certain networks is a little inefficient and it's hoped that by giving virtual telecom licenses to 11 companies it will encourage further competition.
Investors in China Mobile (NYSE:CHL), China Unicom (NYSE:CHU), and China Telecom (NYSE:CHA) ignored the negative catalyst as the equity prices exhibited limited volatility following the announcement. The 11 companies who have been awarded licenses include Alibaba, Jingdong, D.Phone, Telling Telecommunication Holding, and Beijing Bewinner Communications.
Of the companies that we know for certain to have been granted a license, the most significant competitor out of the group is Alibaba. The rest of the companies have less than a billion dollar market capitalization. The others are privately held, so I have very little information on them. Alibaba is expected to have a market capitalization exceeding a $100 billion at IPO.
David versus Goliath
So this is a classic example of David versus Goliath. The smaller companies may have a harder time keeping up with the sheer scale of the major three telecoms.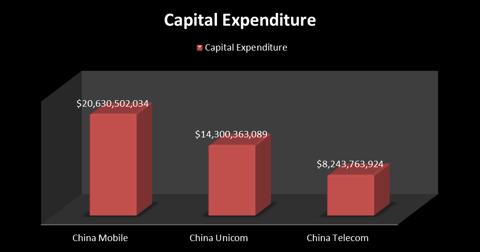 It will be extremely hard to find an easy entry way into an industry that invests approximately $43 billion on Capex per year. It seems that even if there were additional telecom companies entering into the market it would first have to figure out a way to build out a comparable network, or figure out a way to partner with some of these major telecoms. By partnering these smaller companies would have to pay some sort of licensing fee to use the cell towers that these three companies possess. The telecoms entering into the market will have to spend a significant amount of cash on marketing and advertising as well.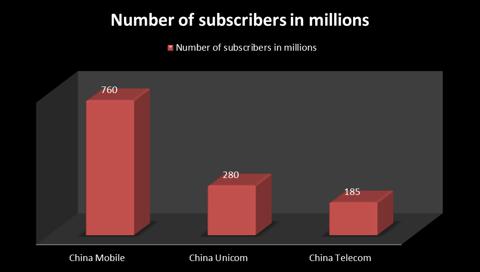 The three major telecoms when combined have approximately 1.04 billion subscribers. They have already saturated a significant percentage of the Chinese population. This implies that smaller competitors would have to take market share away from pre-existing telecom networks, or try to capture the remaining percentage of the telecom markets that has not been contested.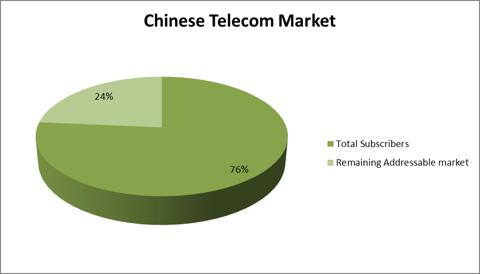 Currently the remaining addressable market (people who don't have phones) is 321 million Chinese. I found this figure by subtracting the total population from total mobile subscribers (1.361 billion - 1.04 billion = 321 million).
Economic and demographic extrapolations
The remaining addressable customers are composed of the lower class, or the bottom 25% of the wealth distribution. This demographic will have very limited upside or value to the telecoms over the short-term. However, over the long-term the poverty rate is expected to decline.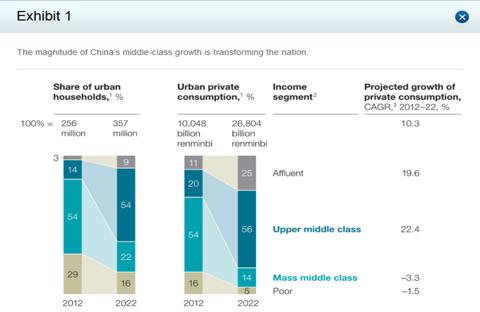 Source: McKinsey&Company
Currently McKinsey&Company projects that the mass middle class and the poor will decline by 3.3% and 1.5% respectively. The mass middle class and the poor (poverty) represent the bottom 25% of the Chinese population and will be the starting point for our long-run forecast of actual addressable market.
This will look a little awkward. But imagine that each year as members of the mass middle class and poor enter into the upper middle class, these wealthier Chinese will now be able to afford a phone.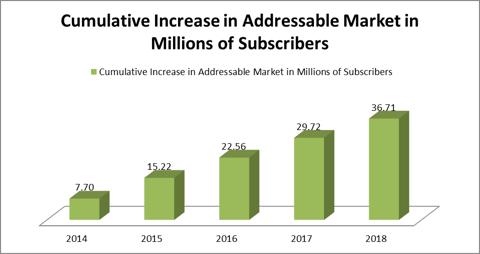 I estimate that the number of Chinese leaving the bottom 25% of the income bracket will improve at an annual rate of 2.4%. These are cumulative figures, so I include the gain in subscribers from falling poverty levels, with the previous year, so you can find the number of mobile consumers that have increased cumulatively over the years.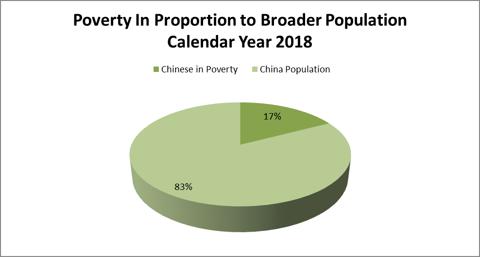 In an earlier figure I mentioned that the remaining addressable market is 24%. I expect this remaining addressable market to decline to 17% (factoring in population growth). This implies that even though the total addressable market declines, the number of Chinese mobile subscribers will increase by 36.71 million over the next five-years. These mobile subscribers came as a result of a 7% decline in poverty as a proportion to total population (24%-17% = 7%).
Is there still potential for smaller competitors?
Currently the Asia Pacific comes in fourth place compared to other regions of the world when it comes to data speeds. This is partially driven by pockets of wealth in certain Asia Pacific regions (Hong Kong, Japan, South Korea), and mass poverty in others (rural China and India).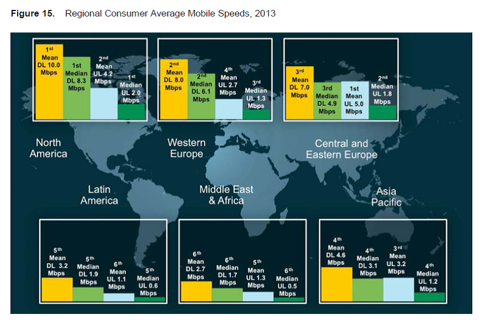 Source: Cisco Analysis
Smaller Chinese phone operators could build out networks in regions of China that have slow data upload and download speeds. This means that as the bigger guys focus their attention on tier one and tier two cities, the smaller telecoms can focus on the tier 3 and tier 4 cities. This would most likely result in a net loss on earnings, because the customers of tier 3 and tier 4 cities are likely to pay a lower monthly rate for mobile plans, but as the lower class becomes wealthier, the smaller phone carriers can raise pricing.
The smaller mobile carriers would still have to partner with the larger ones to provide long distance calling. This implies that the market is open to competition, but this openness is based on a legal definition and not necessarily an economic one. Based on poverty statistics and current rates of capital expenditure spending by the mega telecoms, China would be lucky if it gained two more competitors into the space. These two additional competitors would have to partner aggressively, deal with operating losses for quite a while, and target markets that are under-served.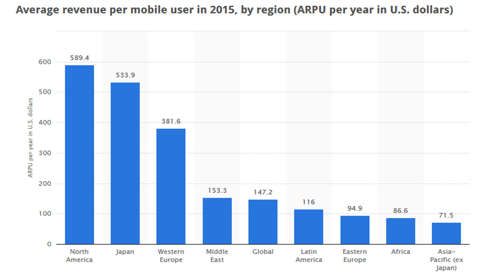 Source: Statista
The Asia Pacific excluding Japan is expected to generate $71.5 per year from mobile users by 2015. The ARPU for the Asia Pacific excluding Japan is below average. Most of the upside will come from higher subscription prices, for Chinese telecoms. Thankfully telecoms are inelastic and less sensitive to rising prices.
I expect younger competitors in the Chinese telecom space to focus on under-served markets by building networks that have higher data speeds than what the major three telecoms can offer. Hopefully, the ARPU increases just enough so that these smaller Chinese telecom companies are able to generate meaningful profit and revenue growth.
Conclusion
The three major Chinese telecoms are in a strong position from both a subscriber and capital expenditure standpoint. The growth in mobile subscribers for the larger networks will come from additional web capable devices per user (tablet and laptop), and price increases. Poverty is expected to decline, and while this decline in poverty has limited potential over the short-term; over the long-term it's an additional 35 million in mobile subscribers over the next five years.
I expect smaller telecoms to compete by focusing the vast majority of their attention on tier 3 and tier 4 cities. These cities have lower income and have below average network speeds. By offering 3G and 4G technologies in these cities, it's possible to recoup costs in future years as average revenue per mobile subscriber trend higher. The pricing of mobile plans will trend higher as consumer discretionary income improves and poverty levels decline.
Disclosure: I have no positions in any stocks mentioned, and no plans to initiate any positions within the next 72 hours. I wrote this article myself, and it expresses my own opinions. I am not receiving compensation for it (other than from Seeking Alpha). I have no business relationship with any company whose stock is mentioned in this article.