In early February, I would have bet that the number of people employed in America would have been positive for the first time since the beginning of the Great Recession. Following the trend lines, this bet was a no-brainer.
Not that this event would have signaled the beginning of a real expanding jobs situation, since the number of people between 16 and 65 grows at rate of almost 200,000 people per month. Until employment grows corresponding to the rate of population increase, we are falling deeper and deeper into an employment abyss.
Some want to blame our jobs regression this month on the weather. Sure, the weather has to be a factor – both positive and negative. But revisiting the initial unemployment claims since January 2010, we can now see another (temporary?) trend of increases in initial unemployment claims. This pattern began before we could blame the weather.
For the week ending 27 February 2010, the four week average of initial unemployment claims decreased slightly. (Click charts to enlarge.)


470,750 initial claims are well above the lows of December 2009.
Looking at the initial unemployment claims this year, the two month plateau of unemployment data is obvious in the adjusted and non-adjusted data.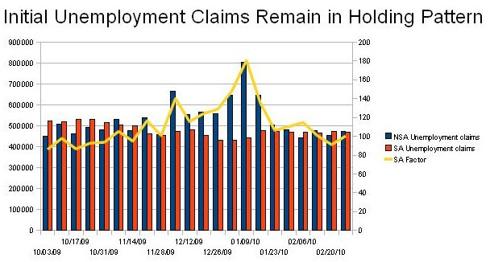 According to global outplacement consultancy Challenger, Gray & Christmas, Inc., monthly job cuts fell in February to the lowest level since 2006, as companies announced plans to reduce payrolls by 42,090 – against January 2010's 71,482. Part of their statement on the background for job cuts in February 2010:
"Most economists agree that a recovery is well underway; a position that appears to be supported by declining job-cut activity. It may be a couple of more months before hiring begins to surge, but it is clear that employers have shifted away from downsizing and are poised to start adding workers," said John A. Challenger, chief executive officer of Challenger, Gray & Christmas.

"We are seeing more job cuts related to business strategy, as opposed to cuts stemming from recessionary pressure. In other words, we expect more cuts from mergers and acquisitions or from companies shifting focus from one business area to another," said Challenger.

One of the largest planned job cuts announced last month came from pharmaceutical giant Merck & Co., following its acquisition of competitor Schering-Plough. In another example of strategic job cutting, database-software company Oracle Corp. reported that there would be about 1,000 job cuts resulting from it acquisition of Sun Microsystems. At the same time, however, the company announced plans to add 2,000 workers over the next few months to support the newly acquired Sun businesses.

"Such moves may not make much sense to the casual observer. Why not simply move people around instead of announcing layoffs. However, it is not always as simple as that, particularly in the technology sector, where specialized skills that are not easily transferable are often required," said Challenger.

The bottom line is that Challenger does not give us much insight into why initial unemployment claims has gone into a holding pattern – in fact their data indicates that unemployment claims should have reduced.
ADP's employment report for February 2010 showed the job loss at 20,000 seasonally adjusted: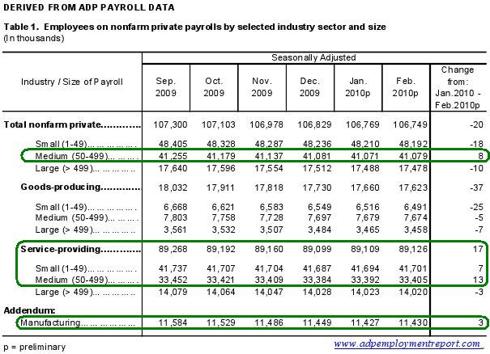 The report showed employment growth in the manufacturing and service sectors. The employment drag was in the goods producing sector. ADP also provided guidance on how to compare this period's ADP numbers to the BLS' establishment survey:
Two large blizzards smothered parts of the east coast during the reference period for the BLS establishment survey. The adverse weather had only a very small effect on today's ADP Report due to the methodology used to construct it. However, the adverse weather is widely expected to depress the BLS estimate of the monthly change in employment for February, but boost it for March. Therefore, it would not be unreasonable to expect the BLS estimate for February (due out this Friday) to be less than today's ADP Report even though the BLS estimate will include the hiring of temporary Census workers not captured in the ADP Report.
The jobs growth this period was in what ADP calls medium size businesses – businesses that have between 49 and 500 employees. For many of us, this falls in the realm of small business when we analyze data.
National Federation of Independent Business (NFIB) stated that their small business members decreased employment by 0.13 people per member for February 2010. This was a less bad improvement from January's -0.52 people per member. Their statement in part:
Ten percent of the owners increased employment by an average of 5.0 workers per firm, but 19 percent reduced employment an average of 3.2 workers per firm (seasonally adjusted). Lower layoffs and jobs from new firms should produce a better jobs number, but it won't be great.

There still isn't any energy in hiring.The net percent of owners planning to create new jobs remained unchanged at negative 1 percent. Not seasonally adjusted, 13 percent plan to increase the total number of people working for them, while 8 percent plan workforce reductions.

There is no pressure on compensation in this labor market. Few owners complain of a lack of qualified workers for their job openings. Not seasonally adjusted, a record high 12 percent reported reductions in labor compensation.
The ADP data agrees with the ISM Manufacturing and Non-manufacturing employment survey results. The manufacturing survey shows employment gains for manufacturers, while the non-manufacturing survey continues to show employment contraction. This is an interesting phenomenon as many economists believed in 4Q 2009 that the non-manufacturing sector would be growing, and the manufacturing sector declining – a direct contradiction of the current situation.
This Great Recession continues to enjoy biting those who predict its course.
The BLS' February 2010 seasonally adjusted nonfarm payroll employment was little changed (-36,000) in February, and the unemployment rate held at 9.7%. There were some direct conflicts and agreements with the ADP data.
Employment in manufacturing was essentially unchanged in February. Small job gains in a number of component industries were offset by job losses in motor vehicles and parts and in chemicals.

Retail trade employment was unchanged in February, after a sizable increase in January. Over the month, job gains in building material and garden supply stores (7,000) and in department stores (6,000) were offset by declines in food and beverage stores (-9,000).

In February, temporary help services added 48,000 jobs. Since reaching a low point in September 2009, temporary help services employment has risen by 284,000. Health care employment continued to trend upward in February. Many believe temporary services improvement is a precursor to real jobs growth. Will this time be different?

In February, employment in the federal government edged up. The hiring of 15,000 temporary workers for Census 2010 was partially offset by a decline in U.S. Postal Service employment.

The average workweek for all employees on private nonfarm payrolls declined by 0.1 hour to 33.8 hours in February.

The seasonally adjusted U-6 unemployment rate (includes marginally employed) rose slightly to 16.8%.
This employment data, for whatever reason, has not improved in 2010. From time to time in past "recoveries", it is not uncommon that the employment situation does not improve from month-to-month. There is no reason to believe the improving trend in employment has reversed.
However, many predictions made in this recession have been wrong.

Disclosure: none