Heineken N.V. ADR (HINKY) is a brewer from the Netherlands. Incidentally this is also my home market. Currently the company has a few problems plaguing its results. The sales tax has been hiked in Heineken's home market of the Netherlands. Consumer confidence is still very low on the continent and worldwide Heineken is behind on sales volume to a very big competitor in Anheuser-Busch Inbev SA ADR (NYSE:BUD).
Heineken is still - or because of headwinds at home - a very interesting stock to look at because:
Heineken can be acquired at a more attractive price than its peers
Heineken is well positioned in promising emerging markets for beer
The company has a very strong global brand
There is modest growth while you receive a dividend
2014 Is a Soccer World Cup Year and this might turn out to be a catalyst
Heineken History
The Heineken beer was first brewed by Gerard Adriaan Heineken in 1873. The company has a rich history and a strong global brand. First let's look at some of the pros of owning Heineken.
Heineken Brand
The Heineken brand is very strong worldwide. Heineken is not just a market leader in its home market of the Netherlands but also in the UK and it has strong positions in other markets. Heineken calls its namesake brand "the world's most valuable international premium beer brand". Other strong brands of the brewer include Desperado, Cruzcampo, Amstel, Telate, Cristal, Kaiser and Dos Equis.
Emerging Markets
Heineken is strong in the emerging regions of Eastern Europe, South America and Africa. The Europe market has been performing weak, which is no surprise to me as the Heineken brand is a premium brand and consumer confidence in home markets like the Netherlands is very low right now, but has been recovering since my last report on Heineken, although this didn't help the share price: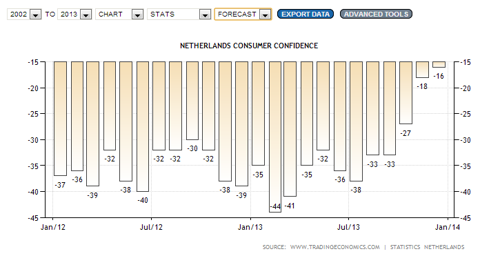 Source: tradingeconomics.com
The numbers of Heineken's revenue by region were taken from its website. Alcohol consumption in Eastern Europe is traditionally very high. On the map below dark regions have higher alcohol consumption.
Heineken Revenue By Region
| | |
| --- | --- |
| Western Europe | 42.3% |
| Central and Eastern Europe | 17.8% |
| Americas | 24.6% |
| Africa and Middle East | 14.4% |
| Asia Pacific | 2.9% |
Heineken is doing ok in South America - mainly because of acquisitions. In addition the WSJ stated earlier this year:
Heineken and SABMiller have the most favorable geographical mix of the big four brewers, with the highest exposure to the growth markets of Asia and Africa.
At this point Asia accounts only for a few % points of Heineken's revenue but it can become its number two market in ten years.
Scale Advantage
Heineken is the third largest brewer in the world. Its production lags the largest brewers but trumps the production of all other breweries creating a competitive advantage by "economies of scale". Anheuser-Busch Inbev SA ADR and SabMiller PLC ADR (OTCPK:SBMRY) are bigger than Heineken and it will be a challenge for the company to stand up to them - given that these hold a scale advantage over Heineken.
Growth
If we examine Heineken's historic growth numbers they look fine. Actually these growth numbers are fairly attractive given some of the competitive advantages the company enjoys. For example the economies of scale it enjoys. This is especially true when seen in the light of the company's current valuation.
Heineken Growth Numbers 2013
| | |
| --- | --- |
| 10 Year Average Revenue Growth % | 5.97% |
| 10 Year Average Operating Income Growth % | 11.15% |
| 10 Year Average Net Income % | 13.15% |
| 10 Year Average EPS % | 12.17% |
Dividend
The company has a healthy dividend policy. On its website it states the following:
The dividend payments are related to the annual development of the net profit before exceptional items and amortization of brands (net profit beia), which translates in a dividend pay-out of 30-35%.
The dividend is about 1.45% right now, although it has been higher in recent history. Still it's a good thing when a mature company returns money to shareholders. It keeps management disciplined and focused on the true owners of the company.
Soccer World Cup 2014
Brazilian beer sales are expected to gain a $330 million boost when the soccer World Cup kicks off next year, according to a report by research firm Bernstein.
This 3 percent increase in yearly beer sales will be driven by the millions of fans flocking to venues across the South American country as the "Samba soccer World Cup effect" takes hold," Bernstein wrote in a research note.
The increase in sales apparently doesn't extend to non-host countries on a yearly basis. However beer sales will show a strong peak during the World Cup but are expected to dip below average for some time afterwards.
Heineken doesn't break out revenue per country but 35% of beer sales are coming from Latin America and the Caribbean. Brazil is the 3rd largest beer market in the world. Heineken has a market share of 10% in Brazil. Most likely the $330 million boost of Brazil sales will add $33 million to Heineken's 2014 revenues. Unfortunately this is not material to Heineken's overall sales of $1.9 Billion.
Overall, I think the effect on 2014 revenue will be limited. However the world cup might be a catalyst for the market to rediscover Heineken. Revenue will noticeably spike during the World Cup and some analysts might overlook the subsequent decrease in sales. Perhaps there is an interesting angle for traders there. Long term investors will have to look elsewhere for their edge.
Risks
To be fair I also want to talk about some of the risks of the stock. There are many others as well but two major things that are on my mind with regard to Heineken are the following:
Heineken has traditionally been a family company. Controlled by the prominent Dutch Heineken family. Freddy Heineken became perhaps most famous for his high profile kidnapping. Later it got turned into a movie featuring Rutger Hauer - a Dutch actor that happens to be known in America. At this point the family still has a large amount of control over the company and that's not always a great thing for minority investors and poses a degree of risk.
Competitors
There are already two larger competitors active in the global beer market: Anheuser Busch and SAB Miller PLC (SBMRFY). These could outgrow Heineken further. Consolidation within the industry can also continue with smaller competitors engaging in mergers. Events like that could increase the number of companies with a scale advantage over Heineken.
Valuation
When comparing Heineken to the S&P 500 or to the industry average it is clear that the company is cheap by comparison. Both on price to earnings, price/book and even price/cash flow the company is cheap. Cash flow is measured on a 3 year average but it is burdened by heavy capital expenditures (~5 times the average during the past ten years) over the last two years.

source: Morningstar
Conclusion
Heineken trades at a discount to competitors and its own 5 year average valuation. It's a giant global company with a solid presence in fast growing emerging markets. The company owns a portfolio of strong brands and pays around 1.4% in dividends. In addition the company has a strong competitive advantage over all but two competitors.
It's not the best opportunity I've discussed this year, but not everyone is interested in obscure small cap stocks and this provides a way to acquire a defensive stalwart at 1/2 of the price similar companies trade for in the U.S.
Disclosure: I have no positions in any stocks mentioned, and no plans to initiate any positions within the next 72 hours. I wrote this article myself, and it expresses my own opinions. I am not receiving compensation for it (other than from Seeking Alpha). I have no business relationship with any company whose stock is mentioned in this article.