Frontier Communications (NYSE:FTR) recently announced that it would be acquiring AT&T's (NYSE:T) wire-line business in Connecticut in a $2 billion all-cash transaction. Among the highlights of the press release and presentation by Frontier's management were:
All-cash Transaction is Accretive to Free Cash Flow Per Share in the First Year
No Change to Frontier's Annual Dividend; Improves Payout Ratio
$200 Million in Annual Cost Synergies and Savings
Those bullet points were in bold type at the top of the press release, and they look terrific for dividend investors. Even with added debt, the acquisition was going to increase free cash flow and the dividend coverage was going to improve. And, maybe everything will go according to plan and everything will be better than expected. The market certainly seems to think so as the shares gained 8.6% the day of the transaction, and remain 6.8% higher two weeks later.
More Leverage
The transaction was been termed as an all cash transaction because the asset being purchased includes no debt. However, it is anticipated that the transaction will be funded by approximately $1.9 billion of new, unsecured, debt. This would increase Frontier's pro forma leverage ratio by 0.4x to 3.7x.
During the Q3 conference call, CFO John M. Jureller discussed Frontier's leverage, debt requirements and liquidity:
Frontier's liquidity remains strong. We ended the quarter with $1.4 billion in cash and credit availability, an increase of over $100 million in the quarter. Year-to-date, we reduced our gross debt by $799 million and our net debt was $7.5 billion at the end of the quarter. Overall, our quarter and leverage ratio was modestly improved over Q2.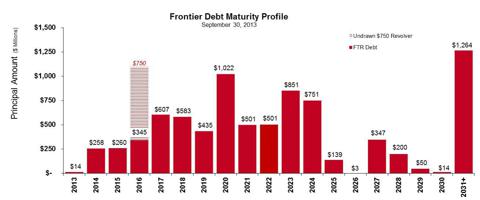 Source: Frontier Q3 Earnings Presentation
On Slide 18 [above], we illustrate our long-term debt maturity profile. Similar to our comments at the end of the second quarter, we continued to expect to repay existing debt maturities comfortably with cash on hand and free cash flow from operations through 2017 or 2018 without the need for additional financing.
This debt maturity profile was one of the reasons I felt comfortable recommending Frontier as a dividend income stock. It meant that the company should have had plenty of free cash flow to fund the dividends at the same time it was using excess cash to reduce debt and interest expense.
Frontier management had also discussed reducing leverage to 2.5x for quite some time. As recently as December 3rd, Senior VP Robert Starr spoke at the Bank of America Merrill Lynch 2013 Leveraged Finance Conference and discussed this target:
...Our target is to get ourselves down to a leverage ratio of 2.5 times over time, but our capital allocation model really is to first and foremost invest in our network and make sure we have the right speeds and the right capacity for our customers. And then to make sure, we pay out the dividends to our stockholders. But all of the residual free cash flow has been dedicated to paying down debt and to reducing leverage. This may take some time. The prices of some of our debt is a little bit high right now, and if the predictions of interest rates going higher for the last five years finally come to provision, we'll have a lot better opportunity to pay down the debt...
Starr also reiterated corporate statements made previously about the debt maturity profile, and added:
If you take a look at our maturity profile of our debt, you'll see that we did a lot of liability management earlier in the year and we've really smoothed out the maturity profile such that we can from existing cash and from our free cash flow generation pay down all of our maturities through at least 2017 or 2018. So there is really no need for us to have to go back into the capital markets.
Reduce leverage. No need to go back to the debt markets until 2017-2018. It was a good story. Unfortunately, it turned into fiction. There was a hint of this when Jureller spoke at the UBS Global Media and Communications Conference one week later. When asked specifically about attaching a timeline to achieving the 2.5x target, he said:
Yeah, I'd say perhaps you are going to see us talk less about that in 2014. It is something that if we get to there, it could be helpful. But we don't see an immediate need to be there in short term. Our leverage where we sit right now at about 3.3 times, we think is comfortable for us. We have a high level of liquidity. As you saw at the end of our third quarter with those reported results, our cash combined with our undrawn revolver is very significant....
Reducing leverage was no longer a priority, but Jureller didn't stop there. He once again discussed the debt profile, but the timeframe before needing to go back to the debt markets wasn't quite as far away.
So, our liquidity is strong, we also think too that with our cash, with the earnings that we generate from our operations over the next three to four years is we don't have to be out into the capital markets until 2016, 2017, unless an event came up, right? But we think we have the right structure in our debt profile and the right earnings capabilities to be able to manage that as well.
Instead of not needing to go to the debt markets before 2017-2018, it was now one year closer: 2016-2017. And, now we know what "unless an event came up" meant. The event was a $2 billion dollar acquisition requiring $1.9 billion of new debt.
Less Trust
This is not the first time that management has suddenly changed its story. The statements surrounding the sustainability of the dividend following the 2010 acquisition of portions of Verizon's (NYSE:VZ) land-line business have been well documented. At the time of that acquisition, it was announced that the dividend would be cut from $1 to $0.75, but the intention was to restore it following integration.
Statement after statement came from management and the board about its commitment to the sustainability of the $0.75 dividend. Statements that included the mention of liquidity, the company's $750 million revolver and how the payout ratio was right where it was expected to be when Frontier laid out its schedule for network upgrades and systems conversions. That didn't stop a dividend cut to its current level of $0.40.
Since then, the management has changed quite a bit. The focus became all about systems conversions, improving the speed of its network and getting to the point where Frontier would be able to lead with a competitive broadband product. Investors were finally seeing the results this year. In Q1 the company added more broadband lines than all of 2012, and followed that up with similar numbers in both Q2 and Q3.
Now, investors are once again faced with an issue of trust, and it's not only about changes to the debt maturities and leverage ratios. Management has suddenly changed course and the discussion is back to the dividend and payout ratio. It's also about the way the entire acquisition is portrayed:
All cash transaction. Except that the cash is coming from $1.9 billion of new debt, and that's a lot of new debt.
The statements about not needing to go to the debt markets until 2016 or 2017 or 2018... Well, it looks like it's now 2016. During the call Jureller stated, "So when we add it all up, we look at our maturities that are coming in 2014 our maturities in 2015 and thereafter, again we don't foresee any refinancing needs that comes from cash on hand plus operating cash generated during the periods."
Accretive to free cash flow per share in the first year. Except it's later stated that it will be in the first full year, which would be 2015.
$200 million in annual cost savings and synergies. Except, those annual savings are "over a three year window."
Revenue
Despite this acquisition from AT&T being a single state, it will increase Frontier's revenue (and debt) by about 25%. And, based on the following exchange, it appears to be a declining business:
Batya Levi- UBS Securities: We had been estimating that they're declining at low single digits and you talked a lot about the opportunity to improve it. Can you give a little bit more color on that?

Jureller: ...the trends that we see in Connecticut are generally similar to what we see across the rest of the country and I think Dan laid that out pretty well. ...

CEO Maggie Wilderotter: I would say also Batya, we see the opportunity just like we are doing in our existing markets to try to bend the curve a bit on the slight reductions in revenue on an annual basis by also focusing in the rural areas, upgrading those DSL areas to have more capacity and speed for broadband.
Jureller and Wilderotter had the chance to deny the acquired business had declining revenue, and failed to do it. They also failed to clarify if it was declining at a rate other than mid-single digits.
Summary
While this acquisition from AT&T is smaller than Frontier's acquisition from Verizon, there are some similarities. Both included rural areas that required capital investment and both are declining businesses. Fortunately, this acquisition did not result in an immediate dilution to current shareholders and it is not scheduled to bring on an immediate dividend cut as occurred with the Verizon acquisition. And, instead of a cut, management claims that the dividend coverage has improved by 5 percentage points, which should make the dividend more secure.
Unfortunately, management makes a lot of claims. Claims about leverage targets. Claims about not needing to return to the debt markets for 4-5 years. Claims about the sustainability of the dividend. Claims that just can't be trusted.
Disclosure: I am long T, FTR, VZ, BAC. I wrote this article myself, and it expresses my own opinions. I am not receiving compensation for it (other than from Seeking Alpha). I have no business relationship with any company whose stock is mentioned in this article.
Additional disclosure: I have covered calls written against portion of my FTR holdings and plan on adding to both VZ and T positions.