While the market dictates prices, there are always great deals to be found. For example, I just went to Sprouts Farmers Market (NASDAQ:SFM) and saw blueberry, apple and pumpkin pies on sale for $1.99 with the note "save $2 off regular price."
Sometimes when sale items persist, it's wise for the shopper to look for the value in comparison to the cost of making the good. In the bakery example, if the pies generally cost $4, then that's the cost accrued to customers so the baker can stay in business.
These pies are not high-profit margin items either. I can attest as a shopper that the ingredients are well over $2 to bake your own pie. Just the filler of a few apples, a bag of frozen blueberries or a can of pumpkin cost over $2 on average. So why is the baker selling the pie at a loss?
It boils down to timing. The Sprouts bakery wanted to oversupply the holiday pie demand for whatever reason, as such the pies went on sale after Christmas. Several stocks and funds go on sale this time of year as well, thus presenting investors with massive buying opportunities.
Timing the stock market is always tricky and most investors would say it is unwise or foolish. When there are times of value, whether for a week, a month or an entire year, the phrase "market timing" quickly turns into "value investing."
Below is a review of an outstanding recent market disconnect, where 2010 long investors may have found themselves a 17-bagger. Next we will explore three stocks which also are experiencing a disconnect for whatever reason. While another multi-bagger is unlikely here, the income investor may be rewarded with above-market yields and return prospects.
The Biggest Stock Sale Of The 2010's
In the early 2000s investors noted that liquid natural gas, also known as LNG, would be the next energy revolution as the U.S. harbored huge natural gas reserves, fracking was coming into play and a reliable transportation system existed to move the natural gas to the coast for export. LNG happened to be the most efficient export method and billions or dollars in expenditures were outlayed to profit.
In 2005, my buddy in law school was all about this trend - that's how I heard about it. He was long Golar LNG Ltd. (NASDAQ:GLNG), an LNG transportation company, as well as Cheniere Energy, Inc. (NYSEMKT:LNG), an LNG terminal company that would be essential to LNG exports.
Along with my roommate, it seemed the market was all about these stocks as well. GLNG was in the low-teens, while LNG was flirting between $30 and $40 per share. Little did we know the financial crisis would crush everyone, not just the financials, a short three years later.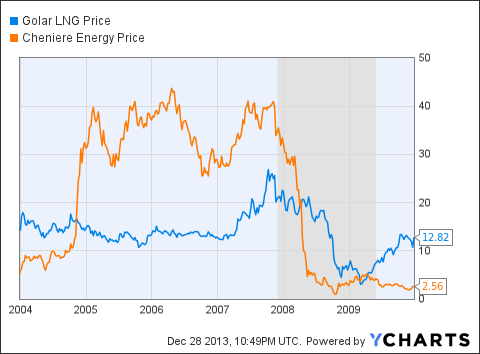 In 2008, LNG dropped from the low-$40's to the mid-$2's, while GLNG dropped from over $20 to single-digits, then recovered back to the low teens.
As noted in the 10-year chart versus the S&P 500, the LNG companies performed poorly post-recession, then made up ground in 2011-2013 to provide huge returns.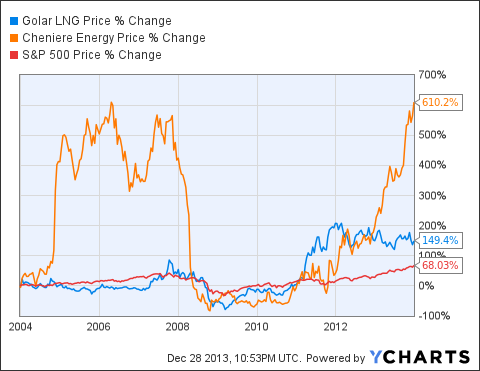 In looking at the 5-year chart in terms of percentage gains, investors in both companies have done quite well. Those who bought LNG at $2.50 per share in 2010 have a 17.5-bagger on their hands today.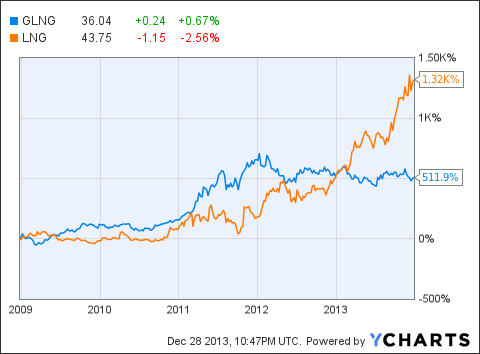 In looking back, the market disconnected in 2009-2010. Fracking was already a riot and investors still knew the demand was coming big-time for LNG. Investors who saw the disconnect made a lifetime of investment gains in just a few short years.
3 High-Yield Income Investments On Sale
While high-yield stocks generally do not grow as fast as non-yielding, high-growth stocks such as LNG and GLNG, there are current disconnects in the market that spell value and opportunity. For income investors, not only does sale pricing include discounts, it increases annual income versus normal pricing.
1. PIMCO Dynamic Credit Income Fund (NYSE:PCI)
Yield: 8.38%
Category: Multi-Sector Bond Income
As bonds and income-related investments were routed in 2013, several funds were pushed lower as investors ran to the hills. As negative sentiment grew, select closed-end bond funds that normally trade at a premium were shelled to below-normal valuations.
As closed-end funds are not open to new investors and trade like a stock, investors bid up or bid down the funds according to supply and demand. When the demand of sellers overwhelms the buyers, prices shoot to the downside.
In the event of the PIMCO Dynamic Credit Income Fund, the fund went from trading at a 5% premium to par in Q2 2013. After the May 22 Fed announcement regarding the taper, the fund was trading at a 5% discount. Over the summer months negative market sentiment grew and PCI was trading between 8% and 10% below NAV.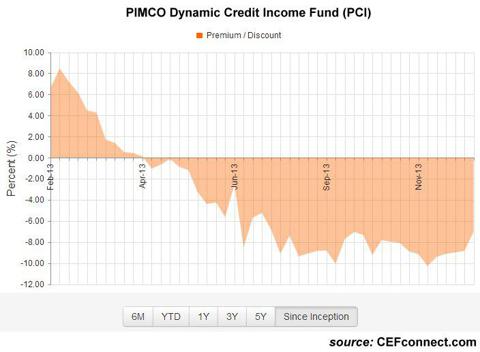 As investors went from paying 4-8% premiums in early 2013 to 8%+ discounts this summer, additional money was lost after taking into account NAV losses.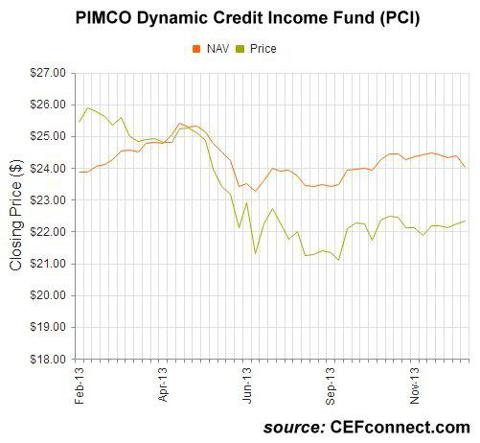 As noted from the chart above, PCI was trading just under $24 at inception this year. On December 27, 2013 the NAV closed at $24.03, which amounts to a trivial gain on the year. With the premium dropping to a discount however, the fund closing price on December 27 was $22.33, a 7.07% discount to NAV.
The PCI portfolio is diversified, with interests in government, high-yield, mortgage and other types of bonds.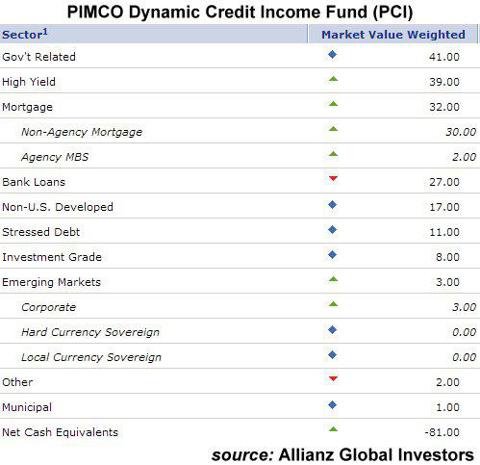 Like PCI, other multi-sector, closed-end bond funds from PIMCO usually trade at a premium to NAV. The disconnect in price is further exposed as PIMCO's other offerings are trading closer to par or at a premium, with PCI the only fund discounted so heavily. Each of these funds below use leverage to enhance results.
Fund
Ticker
Premium/
Discount
Yield
PIMCO Corporate & Income Opportunity Fund
PTY
20.47%
8.89%
PIMCO Corporate & Income Strategy Fund
PCN
7.09%
8.43%
PIMCO Dynamic Credit Income Fund
PCI
-7.07%
8.39%
PIMCO Dynamic Income Fund
PDI
-2.48%
7.78%
PIMCO High Income Fund
PHK
46.61%
12.53%
PIMCO Income Opportunity Fund
PKO
1.91%
8.05%
PIMCO Income Strategy Fund
PFL
-1.57%
9.54%
PIMCO Income Strategy Fund II
PFN
-1.96%
9.58%
PCM Fund Inc.
PCM
2.38%
8.26%
Mean
7.26%
9.05%
The chart above is a compilation of PIMCO closed-end bond funds, excluding those with a municipal bond focus. On average, the premium is over 7% to NAV, which makes PCI again very attractive in terms of PIMCO peer-evaluation.
The yield at PCI is middle-of-the-pack at 8.39% and just below the average yield of 9.05%.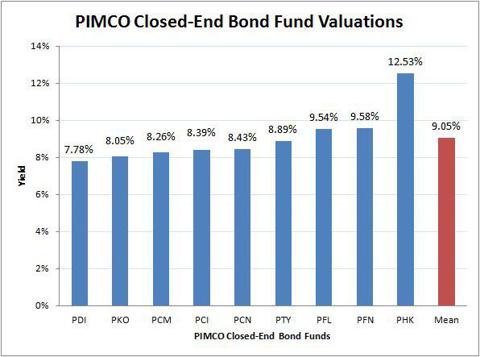 2. Cohen & Steers Infrastructure Fund (NYSE:UTF)
Yield: 7.09%
Category: Utilities & Income
In a recent article, 5 High-Yield Monthly Income Investments For 2014, I highlighted the Reaves Utility Income Fund (NYSEMKT:UTG) as a utility income fund that offers monthly payouts and trades at a discount.
The Cohen & Steers Infrastructure Fund is very similar to UTG, however it trades at a larger discount, has a higher yield on market price and is diversified on more of a global scale versus UTG.
Currently UTF is trading at a 12.38% discount to NAV, while UTG is trading at a discount of 8.64%. As noted by the chart below, UTF has been fighting a large discount all year and was further depressed by the negative momentum following income-related investments.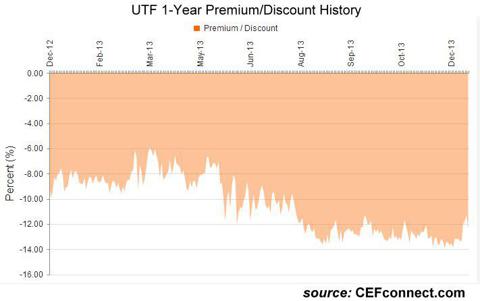 While both UTF and UTG are leveraged, one reason to be bullish on UTF is the nature of the portfolio. While UTG holds mostly U.S. companies, UTF has a 50% of holdings ex-U.S. Also, UTF has exposure to toll roads, airports and marine ports which appear to be great equity plays on safe, utility-type income.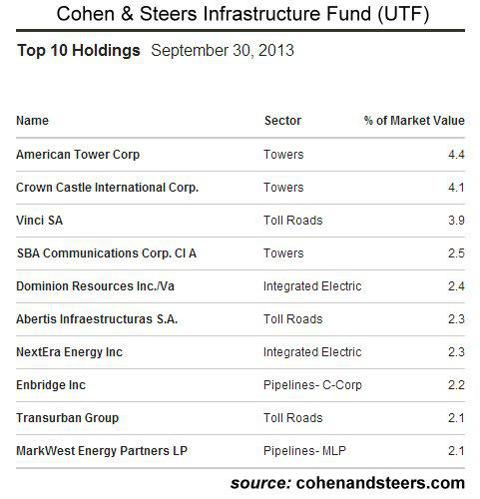 On the global exposure breakdown, Cohen & Steers is focused on developed nations which satisfies the criteria of low country-risk on the UTF portfolio.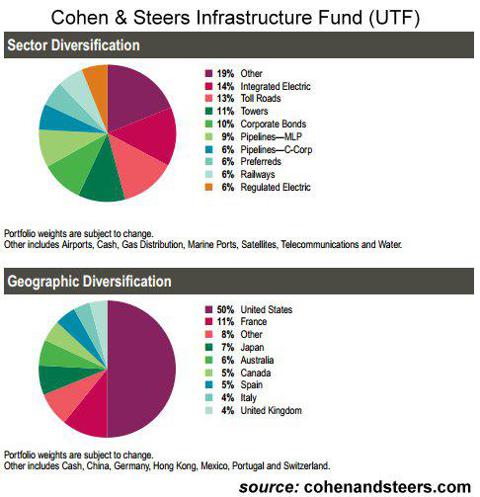 Another value benefit of the entire Cohen & Steers (NYSE:CNS) closed-end portfolio is their share-buyback program which may give a floor to the discount. In the CNS closed-end fund portfolio, the fund manager may buy back 10% of each fund's outstanding shares each calendar year.
In the first 11 months of 2013, CNS purchased 203,023 shares, which is just over $4 MM. With close to $2 billion in common assets, CNS has the right to purchase approximately $20 MM in shares per year.
3. BlackRock Energy & Resources Trust (NYSE:BGR)
Yield: 6.72%
The BlackRock Energy & Resources Trust is a closed-end fund that offers exposure to the global energy and natural resources industry. Approximately 81% of the fund is invested in U.S.-based companies. Also, the fund does not use leverage however uses derivatives to enhance results.
Since inception in 2004, BGR has mostly traded at a discount to NAV. Currently the discount is starting to recover from a 3-year low, which reached -12.74%. The December 27, 2013 closing price of $24.09 equals a 10.81% discount as NAV closed at $27.01.
While the fund is likely to continue trading below NAV due to historical analysis, the above-average discount offers additional safety.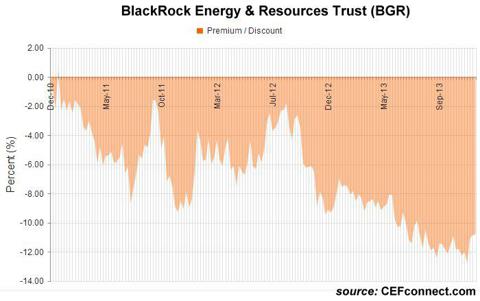 For investors looking to add a diversified fund to their energy portfolio, BGR will match up well with a high-yield and historically rising dividends. Also, the fund generally distributes income gains at the end of the year, which amounted to an extra $2.50 in distributions this month (not bad for a $27 stock).
Further information on the fund can be found in the Q3 2013 Fact Sheet here.
Conclusion
Investors looking to buy income funds trading at an above-average discount to NAV have several options available in the last two trading days of the year. For income investors looking to lock-in a great yield in 2014 with excellent value and top-quality asset managers, these three funds may warrant further attention.
Disclosure: I have no positions in any stocks mentioned, and no plans to initiate any positions within the next 72 hours. I wrote this article myself, and it expresses my own opinions. I am not receiving compensation for it (other than from Seeking Alpha). I have no business relationship with any company whose stock is mentioned in this article.