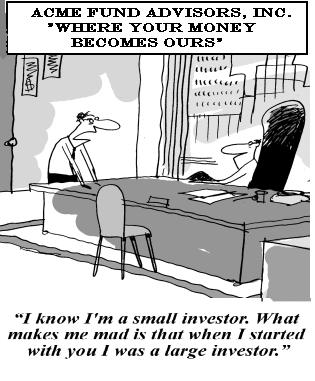 Outlook: Firming economic data provided sources of encouragement for equities and put the "fear trade" back in focus. Complacency of the VIX and the wide spreads between equity-oriented CEF's price and NAV changes is worthy of note in the short-term. The equity markets are likely to power through these concerns as investors are seizing on any OK economic news as fodder to rally.
CEF Weekly Review: The 13 closed-end fund (CEF) types on average posted a 1.3% increase for the week ending 3/5/10. The high-low spread was 4.7%. On an aggregate, unweighted basis, the weekly average price change for the 500 CEFs was up 1.7%.
The weighted 49 CEFs comprising the Claymore CEF Index registered an advance of 2.8% for the week and a 0.2% gain YTD. The S&P 500 increased 3.1% for the week; up 2.1% YTD.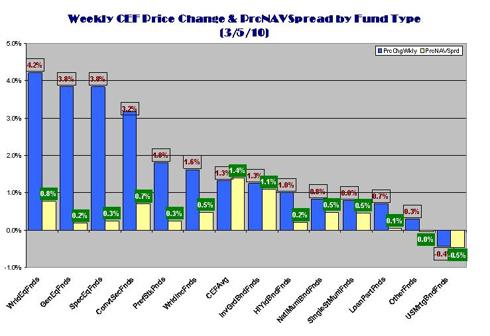 (Click here for YTD CEF performance. The table is based on a smaller CEF sample size as all the data fields are not available for the CEF universe.)
The Eqcome CEF Fear Index eased with price advancing 1.7% and NAV advancing 1.3% for the week.
The CBOE Volatility Index (VIX), which typically moves inversely with the stock market—but is mostly a measure of volatility, plunged on Friday to 17.42 nearing its 52 week low. It ended the week down 10.7%. This continued a four week pattern of easing after spiking in early February. A VIX in this range should put investors on their toes as previous points of complacency have been noteworthy as signaling short-term change.
The S&P 500 average daily trading volume continues to be soft measuring 4 billion shares, off 4.6% from the previous week.
CEF Weekly Fund Type Performance: With investors interpreting OK economic signals as good, the fear trade was back on and equities surged. WrldEqFnds, GenEqFnds and SpecEqFnds all on average advanced greater than 3%. ConvtSecFnds also joined the ride.
One of the risk trade categories, HiYldBndFnds, registered a below average performance along with the other fixed income fund types. Historically, this group has traded like equities. Its lagging performance may reflect a new linkage with other fixed income securities as last year's stellar performance is unlikely to be repeated. USMrtgBndFnds slumped to the negative as both Fannie Mae and Freddie Mae, the backbone of the residential mortgage business, remained broken with no clear vision of how to fix them.
The PrcNAVSprds[1], which typically move in the direction of the stock prices played out pretty much as expected. In addition to the VIX flashing for attention, the wide PrcNAVSprds for the equity fund types may indicate greater investor enthusiasm that the underlying NAV are implying. Neither is a clear "sell signal" but investors should view the combination as an unstable foundation.
CEF Winners and Losers: One of the CEFs with the greatest positive PrcNAVSprd for the week was DCA total Return Fund (DCA). DCA's share price surged 23.4% for the week while its NAV jumped 16.0% generating a positive PrcNAVSprd of 7.4%. DCA earlier in the week announced that its NAV increased 13.4% driven primarily by an increase in the value of one of its underlying collateralized loan obligations.
DCA trades at around $2.74 per share, at a discount 21.1% with a yield of 4.71%. DCA was an outlier as the average PrcNAVSprd for the real estate sector was 0.33%.
This week's CEF with the greatest negative PrcNAVSprd was Pimco Income Strategy Fund (NYSE:PFL). PFL, formerly known as Pimco Floating Rate Income Fund, saw its stock drop 6.5% with little movement in its NAV. Earlier in the week, PFL announce a monthly distribution that was a tick higher than the previous month's. Trading at a premium of 13.8% with a yield of 6.3%, there appeared to be no additional news that would indicate a corporate event that would have cased the price decline.
Economic & Earnings Outlook: (Click here for next week's economic calendar; click here for earnings announcements and estimates.)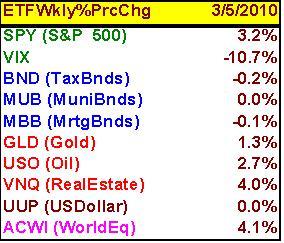 ETFs: (Click here for ETF YTD sector performance.)
Insider Trading: Horejsi Group (Horejsi) dominated CEF insider trading for the first week of March. It added to its usual repertoire of Boulder Growth & Income Fund (NYSE:BIF) and Denali Fund (DNY) that of Boulder Total Return Fund (BTF).
BTF was its largest expenditure with the purchase of 25,000 shares at an average price of $14.00 per share for an expenditure of $350,000. Horejsi owns 1,395,520 or 56.4% of the shares outstanding according to SEC filings.
Horejsi continued as a buyer of shares of Boulder Growth & Income Fund (BIF). Horejsi added an additional 51,880 shares at an average price $6.18 for a capital expenditure of $321,849. Horejsi holdings now represent 8.184 million shares or approximately 31.7% of the company.
Horejsi also continued its insider buying of Denali Fund (DNY) where its stake is now at 75.7% (3,185,910 shares) of the outstanding shares. Horejsi acquired an additional 3,900 shares at $14.94 per share in the first week of March for the total monthly capital outlay of $58,362.
There were a number of single filings of insider transactions for the week. Theodore Jaeckel, Jr., a portfolio manager at Blackrock added 2,500 shares at a cost of $13.40 per share for a total holding of 4,504 shares in Blackrock MuniYield Fund (NYSE:MYD) and established a new 2,000 share position in Blackrock MuniHoldings Fund II, (NYSE:MUH) at an average cost of $14.02.
Rosalind Davidowitz continued to accrue shares of Engex (EGX) has accumulated 312,624 shares of the stock representing approximately 19% of the shares outstanding. The fund has net assets of $5.9 million. EGX was in threat of being delisted by NYSE Amex for not being in compliance with listing requirements. EGX received a capital contribution from its Chairman, J. Morton Davis. It is now in compliance with exchange listing requirements.
There was other de minimis insider buying. (Click here for a hyperlink to the Joe Eqcome CEF Weekly Insider Report.)
CEF Distribution Announcements This Week: The following is a link to a table of CEF distribution announcements this week as well as the previous week's with yet expired ex-dividend dates. The list is not intended to be inclusive. (Click here for Weekly CEF Distribution Announcements.)
Significant CEF Corporate Events: Investment Grade Municipal Income Fund (PPM) shareholders approved Plan of Liquidation. It became effective as of February 23, 2010. The Fund is in the process of converting all portfolio securities of the Fund to cash or cash equivalents. Directors of the PPM have established a "Cessation Date" of May 5, 2010. PPM is currently selling at a very slight discount of approximately 2%.
At a special meeting held February 26, 2010, shareholders of Eaton Vance Credit Opportunities Fund (EOE) voted to approve an Agreement and Plan of Reorganization (the "Agreement") between the EOE and Eaton Vance Limited Duration Income Fund (NYSEMKT:EVV) (the "Acquiring Fund"). Effectively, EOE will be merging into EVV and exchanging its common and ARPS for that of EVV.
ING Prime Rate Trust (PPR) expects to redeem approximately $25 million of the $200 million ARPS currently outstanding, approximately 12.5% by series. A formal redemption notice by the second week of March and anticipates that the redemption of the $25 million of ARPS will be completed by mid- to late April.
CEFs Focus for the Week: Cornerstone Return Fund (NYSEMKT:CFP). Earlier this week I published an article entitled, "Is Cornerstone Progressive Return Fund an Investment Ruse?" (3/3/10). I have been absolutely fascinated by its stock price valuation. I have looked at this stock on both a fundamental and a technical basis and I can't find any support for its valuation in either analysis. So, it must be something else.
Some of the comments from the article on Seeking Alpha questioned whether or not the stock was being manipulated. One comment was "why wasn't the SEC looking into this?"
Following is my response to that commenter regarding the Catch 22 of that inquiry.
Catch 22: "There is a Catch 22 with regards to the legitimacy of actions of CFP, its management, major shareholder(s) and agents.
If one had to characterize CFP activities as questionable—and I'm not saying they are—it would probably be that of a "pump and dump" scheme.
That is where you inflate the price of the stock—in this case through the payout of a ROC distribution that investors believe is a return-on-investment—and sell your shares into that inflated price. This is similar to the ruse of penny stock operators.
A Thought Experiment: For the purpose of a thought experiment, one could argue academically (and not legally) that CFP's business purpose may not have been investing funds on behalf of its shareholders, but its business purpose may have been to successfully sell shares of its major shareholders and insiders at a profit to the general public.
Remember, CFP's major shareholder acquired 98% of the outstanding shares shortly after the 2007 IPO. Additionally, despite the fact that CFP's investment management team had consistently lost money investing its shareholders' funds, it continuously distributed its capital dissipating its NAV and increasing its expense ratio. Now, I ask you: if you were on a long car trip and had a leak in your gas tank would you make the hole bigger?
Hypothetically, if that were the case, CFP's business objective would be different than the one stated in documents filed with the SEC. Thereby, investors were potentially misled.
Here's the Catch 22: Their response to this indictment would be, "Hey, our primary business was investment management. We're just stupid, i.e., incompetent ."
So, the irony of this is: stupidity saves them. However, doesn't do much for recent shareholders." Unfortunately, it isn't stupid like a fox. The gambit appeared to be at a loss.
Parting Comments: There was a line from the book, "Bon Fire of the Vanities" where Sherman McCoy, a bond trader at the thinly veiled Salomon Brothers, just got "screwed" on a bond trade. His boss angrily barked at his hapless employee, "You were painted a picture!"
Caveats: The preceding comment regarding CFP is academic and not legal and is "tongue-in-cheek". It should not imply any indictable wrong doing on the part of CFP, its management, insiders, major shareholders and/or its agents—as the comment ironically concludes.

---
[1] A positive PrcNAVSprd can be interpreted as negative because it typically signals a share price movement less favorable than the NAV. All things being equal, price and NAV should move in tandem. A price movement greater than the NAV may indicate the stock is overvalued relative to its NAV which in theory is the stock's intrinsic value. The opposite would be true for a negative PrcNAVSprd.

Disclosure: Author owns a diverse portfolio of CEFs that include BIF and has absolutely no interest in the Cornerstone funds