According to the Bureau of Economic Analysis, gross domestic product rose at a revised 4.1% annualized rate, the fastest pace in two years. The improving U.S. economy combined with Fed taper, low inflation and reduced systemic risk created the perfect storm for gold and the perfect tailwind for the Dow Jones Industrial Average (NYSEARCA:DIA) and stocks in general. See chart below.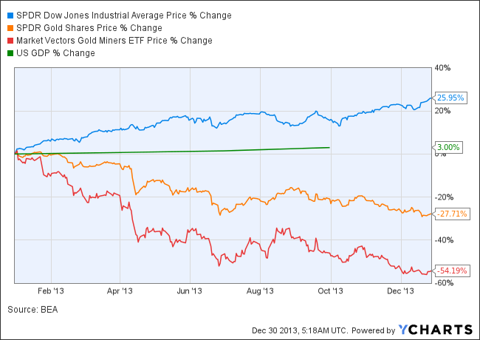 The Federal Open Market Committee released the following statement regarding its decision to taper $10 billion per month (reduce asset purchases from $85 billion per month to $75 billion per month) starting in January 2014:
Taking into account the extent of federal fiscal retrenchment since the inception of its current asset purchase program, the Committee sees the improvement in economic activity and labor market conditions over that period as consistent with growing underlying strength in the broader economy. In light of the cumulative progress toward maximum employment and the improvement in the outlook for labor market conditions, the Committee decided to modestly reduce the pace of its asset purchases. Beginning in January, the Committee will add to its holdings of agency mortgage-backed securities at a pace of $35 billion per month rather than $40 billion per month, and will add to its holdings of longer-term Treasury securities at a pace of $40 billion per month rather than $45 billion per month. The Committee is maintaining its existing policy of reinvesting principal payments from its holdings of agency debt and agency mortgage-backed securities in agency mortgage-backed securities and of rolling over maturing Treasury securities at auction. The Committee's sizable and still-increasing holdings of longer-term securities should maintain downward pressure on longer-term interest rates, support mortgage markets, and help to make broader financial conditions more accommodative, which in turn should promote a stronger economic recovery and help to ensure that inflation, over time, is at the rate most consistent with the Committee's dual mandate.
Gold and gold related stocks are facing headwinds as the notion of Fed taper and QE unwinding goes into effect. Given the panic slide in gold mining stocks, now appears to be a good time to assess whether the market has already discounted the worst case scenario for these yellow metal producing stocks.
Quantitatively, gold mining stocks currently trade near their 52-week lows and valuations have been reduced by as much as 50% or more. See table below.

Source: SeekingAlpha
ABX - Barrick Gold (Most Recent ABX Earnings Call Transcript)
GG - Goldcorp Inc. (Most Recent GG Earnings Call Transcript)
NEM - Newmont Mining (Most Recent NEM Earnings Call Transcript)
GDX - Market Vectors Gold Miners ETF
Conclusion
The perfect economic and monetary storm has wreaked havoc on gold and gold mining stocks. The intelligent investor now must determine whether they have come down far enough to wager a bet that in the words of Benjamin Graham would provide a safety in principal with an adequate return.
Gold mining stocks look compelling for the long-term in context of its recent lower valuation and as a hedge against the unintended consequences/risk of unprecedented QE. It is worthy to note that gold remains an important part of hedge fund manager David Einhorn's portfolio even though the price has moved against him. According to the Wall Street Journal, Einhorn plans to keep holding gold and gold mining stocks "in case things go haywire."
Disclaimer: Please note the fact that a general recommendation made of a particular security, commodity, or investment area does not mean it is suitable for you or should be purchased by you. For example, we may already have purchased such securities at a lower cost and/or the position for you may represent too much concentration in one security or industry. Before deciding to invest you should carefully consider your investment objectives, level of experience, and risk appetite. The possibility exists that you could sustain a loss of some or all of your initial investment and therefore you should seek advice from an independent financial advisor if you have any doubts.
Disclosure: I have no positions in any stocks mentioned, but may initiate a long position in GG over the next 72 hours. I wrote this article myself, and it expresses my own opinions. I am not receiving compensation for it (other than from Seeking Alpha). I have no business relationship with any company whose stock is mentioned in this article.
Additional disclosure: Hold a partially covered call in GDX.