The last year saw contrasting fortunes for leading e-commerce stocks. While Amazon (NASDAQ:AMZN) and Overstock.com (NASDAQ:OSTK) have gained 58% and 107%, respectively, eBay (NASDAQ:EBAY) has barely managed to gain 6%. Amazon had an LTM revenue growth of 22.5%, while Overstock grew at 16.5%. eBay had a similar growth of 15.2%, but the stock price did not see similar gains. We now examine whether eBay stock is being penalized by investors due to slower growth prospects or it is an opportunity to buy at current price levels.
eBay's performance so far:
eBay's revenues grew at a three year compounded annual growth rate of 18%, with an impressive net income margin of 20% for the same period. eBay reported revenue of $3.9 billion for Q3 2013 with a net profit of $689 million, and an operating cash flow of $1.3 billion.
eBay has been maintaining a double digit revenue growth for last three years. Though the growth dipped in 2013, we expect the revenues to increase in the coming years. Expected revenue in 2015 is based on the management's revenue guidance of $21.5 to $23.5 billion. Interpolating these numbers, we are looking at a growth rate of 17%-20% each year. The chart below shows eBay revenue growth from 2010 to 2015 (expected).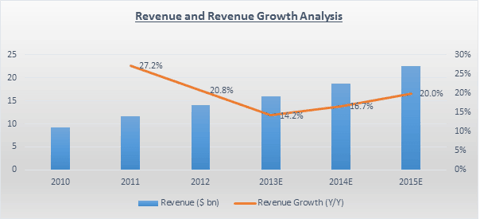 Source: eBay SEC Filings
eBay derives revenues from two key segments: ecommerce (Marketplace) and payments (PayPal) with enterprise and others contributing a very small percentage. The chart below shows the revenue contribution of these segments to eBay's total revenue.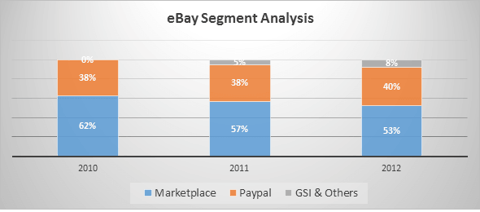 Source: eBay SEC Filings
Segmental Analysis:
We now take an in-depth look at eBay's two major segments: payments and marketplace.
Payments
PayPal has a dominant presence in payments with 137 million active registered users. eBay's acquisition of PayPal is said to be the most successful acquisition in the industry with the synergies helping both companies to grow faster. In Q3 2013, out of $20.1 billion gross merchandise value (GMV) in the marketplace, $13.1 billion were transacted through PayPal.
Paypal currently generates 40% of eBay's revenues. It has been growing at a double digit revenue growth rate, with an annual 3.7% average take rate, which is the commission on the total transaction value.
We expect two main revenue drivers for the PayPal segment going forward,
1. Mobile: PayPal expects $20 billion in mobile payments volume by the end of 2013. This is expected to be achieved after the integration of its recent acquisition Braintree. PayPal's special focus on mobile, especially with the accelerating growth witnessed in the mobile segment, will be the key strategic growth driver for eBay.
2. Users: According to a survey by comScore, PayPal is known to 72% of online shoppers with 48% actually using the digital wallet, way above its competitors - including Google Wallet at 8%. PayPal still has scope to increase its penetration among small retailers to widen its market.
These factors will boost the Payments growth to above 20% going forward. However, emerging threats like Amazon's Login and Pay and Google wallet in the payments industry can affect PayPal's growth and profitability in the future.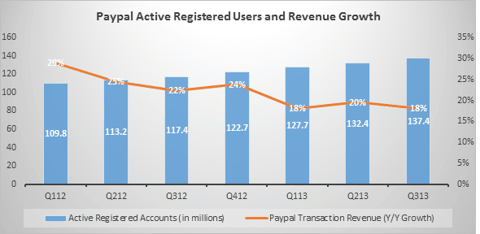 Source: eBay SEC Filings
Marketplace:
In ecommerce, eBay is second only to Amazon. Marketplace contributes 53% of eBay's revenues currently. While Amazon has a higher market share and revenue growth, eBay enjoys higher profitability, with Amazon earnings almost non-existent. One important thing to note here is while Amazon reports revenues as the total merchandise sold, eBay reports revenues incorporating only the commissions generated from the merchandise sold. eBay's GMV increased by 10% on a Y/Y basis in Q3 2013, while its revenues went up by 16%. As reported in the Q3 2013 earnings call, the company expects ecommerce volume to reach the level of $300 billion by 2015, up from $175 million in 2012. Given the segment's healthy profitability, its expected growth will help eBay to maintain sustainable profitability.
One concern here is the Q4 2013 guidance given by the company. The company expects a sluggish growth in marketplace revenues, leading to total revenues on the lower side of the FY 2013 guidance of $16 to $16.5 billion.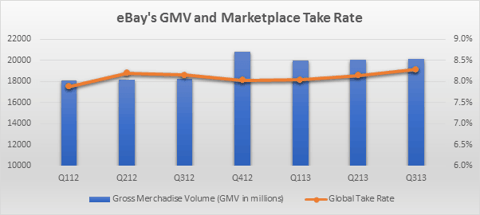 Source: eBay SEC Filings
Earnings Surprise History
The positive earnings surprises for three out of last four quarters seem to have gone unnoticed by many investors, with the stock price registering marginal gain in last one year.

Source: Street Insider Analysts expectations
Valuation
eBay is currently trading at a price to earnings ratio of 19.78, based on LTM non-GAAP earnings. The ratio is lower as compared with its peers (Amazon: 1374.6, Overstock: 26.1). The stock price is yet to reflect the growth in revenues. In comparison, Amazon and Overstock stock price have more than compensated for their respective revenue increase, as shown in the table below.

Source: eBay SEC Filings
Now we calculate the fair value per share for eBay. The table below shows our estimates of eBay's valuation. We assume that the earnings will grow at 15.5%, a midpoint of 14%-17% guided for 2015. Applying the current PE ratio to the 2015 expected earnings, we get the expected price of $71.1 per share in 2015. Discounting this with 8% (assuming 8% as minimum required return by investors), we get a value per share of $61.01 which is 18.8% above the December 12, 2013, price of $51.37.

Keeping in mind eBay's future growth prospects, we believe that eBay is significantly under-priced at current levels. We believe eBay's expected growth potential along with its consistent profitability will derive value for the company and its investors.
Disclosure: I have no positions in any stocks mentioned, and no plans to initiate any positions within the next 72 hours. I wrote this article myself, and it expresses my own opinions. I am not receiving compensation for it. I have no business relationship with any company whose stock is mentioned in this article.
Additional disclosure: The article was written by Neena Lakhmani, Equity Analyst at Amigobulls.com. Amigobulls Mediatech Pvt. Ltd. is not receiving any compensation for this article (other than from Seeking Alpha). Amigobulls Mediatech and Neena Lakhmani do not have any business relationship with any of the companies mentioned in the article.