Western Digital (NYSE:WDC) could be one of the most compelling investment opportunities going into its fiscal 2014 year. Investors should however consider the risks when investing in high beta technology names.
Data storage is a rapidly growing industry and even with downward pricing pressure reducing the cost per GB, the company offsets this negative impact by selling a large volume of data. Going forward data storage is expected to grow at high enough of compound annual growth rates to merit a long-term investment from a momentum/growth perspective.
Fundamental Analysis
I'm going to start by focusing on financial statement analysis. But to do that properly, I'd start by looking at the financial statement below.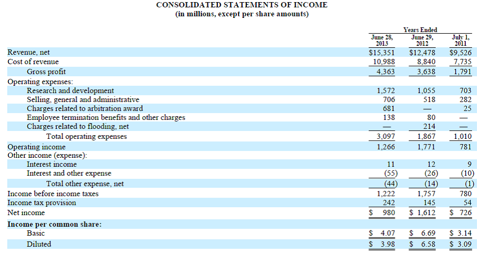 Source: Western Digital
Over the past three years, Western Digital has been able to increase revenue at a 17.24% CAGR (compound annual growth rate). Cost of revenue has increased 12.41% CAGR (3-years), which implies that per year, costs have been able to increase at a lower rate than revenues, which implies that Western Digital has been able to reduce production costs as a percentage of revenue per year. However, operating expenses have increased by 45.28% CAGR per year (3-years), which implies that the company has been increasing R&D/SG&A/Compensation related expenses, in order to drive significant revenue growth. Operating expenditures only represented 20% of revenues in the 2013 fiscal year. This means that even though operating expenditure is increasing at a much higher rate than revenues, the operating expenditure is still a small proportion of costs, and can be reduced or maintained in order to drive even further net income growth in future fiscal years.
Net income has grown by 10.52% over the past 3-years. Net income could have grown at a much higher rate, but because the company has increased R&D expenditure from $1 billion to $1.57 billion between fiscal year 2012 and 2013, the company hasn't been able to drive meaningful earnings improvements. This is likely to change in the foreseeable future.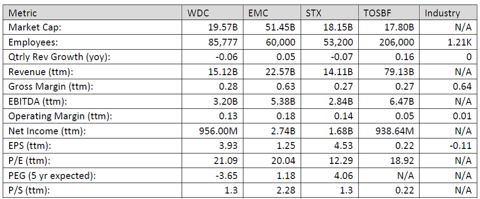 Source: Yahoo! Finance
Currently Western Digital Corporation has the second largest market capitalization when compared to peers. It also has the second highest number of employees, and I can only imagine this to have been driven by the rising R&D and SG&A spending between FY 2012 and FY 2013. The company has the third highest revenue amongst peers, but at the same time it's a more focused play on data storage than Toshiba (OTCPK:TOSBF) or EMC (EMC). Also, because Western Digital is now offering cloud services (infrastructure as a service), perhaps it could have a couple more investment years ahead of it, forcing investors to value the company based on its ability to grow sales then cut on expenses in future years to generate EPS growth.
Currently Western Digital has the second highest gross margins amongst peers. Considering Western Digital sells both discrete and non-discrete drives this should come as no surprise to investors. For those who don't know what discrete is: it's selling drives to end consumers for personal storage. Non-discrete is selling drives to the data center (central storage). There may be many variations to this definition of data storage, but that's the one that has made the most sense to me.
EMC has higher gross margin, because it's primarily engaged in cloud virtualization. Also, EMC offers storage solutions that are specifically dedicated to data centers or intense computing applications giving it higher gross margins when compared to Western Digital. However, as a general cloud vendor it seems that Amazon (NASDAQ:AMZN) Web Services is pulling ahead, as it has solutions for all forms of cloud (SaaS, PaaS, and IaaS).
Currently Western Digital generates the third most net income amongst its peers. Western Digital fell behind Seagate Technologies (NASDAQ:STX) in this specific category, because it spends more on R&D and SG&A than Seagate. This can also be substantiated with Western Digital having the second lowest operating margins when compared to peers.
However, when it comes to valuation metrics, Western Digital has the highest P/E ratio and it has the second highest P/S ratio, which implies that investors have high expectations for Western Digital. Usually a stock has a higher P/E multiple because the stock will generate above average earnings growth against sector peers or the broader market. Investors pay more for higher growth opportunities in general.
Technical analysis
Currently Western Digital has been able to exhibit fairly consistent share price appreciation, and has been able to beat the broader market return and even the NASDAQ over the past year. Currently Western Digital is 100.76% off of its 52-week low, and most investors would be very cautious of chasing a stock when considering the sheer amount of price appreciation the stock has already exhibited.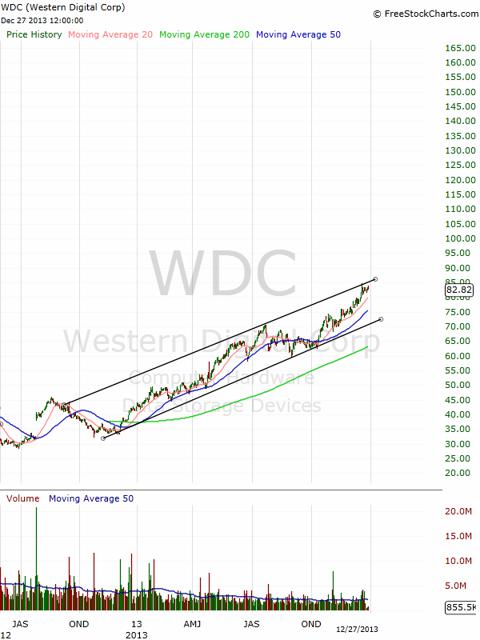 Source: FreeStockCharts
Purely examining the technical analysis, the stock could have a bit of trouble breaking above the upper-trend-line. It's still in an up-trend, however, so from a timing standpoint the one thing that investors should probably avoid is trying to buy above the trend line. Long-term investors shouldn't bother to attempt timing the stock as it's probably most practical/effective to just dollar cost average using monthly contributions into the position.
The stock is trading above the 20, 50, and 200-day moving averages and the volume is trending lower. The falling volume is indicative of share accumulation. The sustained actions above the moving averages indicate that the stock is in a strong up-trend.
Industry, earnings, price forecasts
The usage of data is growing at a 34% CAGR, and is expected to sustain this exponential growth between the 2013 and 2020 period. This gives investors high rates of growth for a protracted period of timing making it an appealing long-term investment position.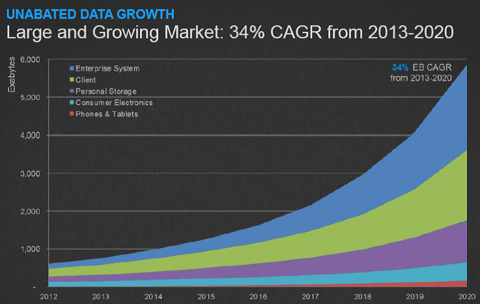 Source: Western Digital
Western Digital is turning more of its focus to the SSD (solid state drive) enterprise market. It is expected to grow at a fairly exponential rate between 2013 and 2017.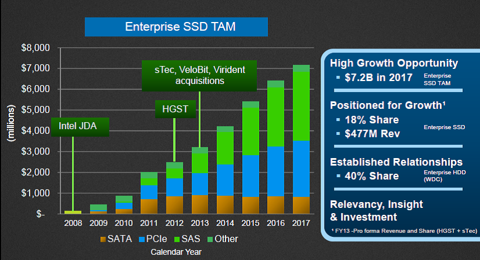 Source: Western Digital
Currently the enterprise SSD total addressable market (TAM) is $3.2 billion. By 2017 this market is expected to grow to around $7.2 billion and it's hoping to maintain its current 18% market share. However, Western Digital doesn't necessarily provide insights on future market share. So I'm willing to assume it can at least capture 25% to 30% of the enterprise SSD market and it will generate around $1.8 billion to $2.2 billion from SSD drives alone. Solid state drives have higher power usage efficiency and given enough time datacenters can recoup the higher per/GB costs from the energy savings alone.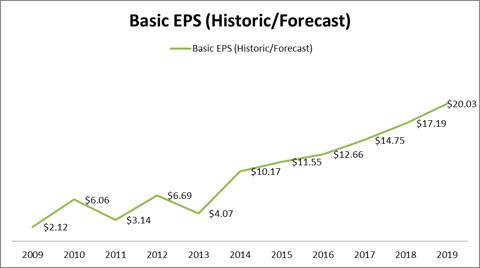 Note: EPS figures up until 2013 are GAAP based, however EPS figures from 2014 onwards are Non-GAAP making the historical non-congruent to projected figures.
For fiscal year 2014, I expect the earnings per share figure to grow from $8.53 to $10.17 (both non-GAAP). I expect earnings between fiscal year 2013 and 2014 to grow by 19.22%. This type of earnings growth would depend heavily on both high revenue growth, sustained improvement of gross margin, and a moderate reduction of operating expenditures. Between fiscal year 2014 and 2015, I expect the EPS figure to grow by 13.5%, because the company may attempt another investment year. However, the long-term EPS growth I have estimated between 2016 and 2019 is 16.53% per year. Acceleration of growth should eventually occur as product development reaches maturation and scale is built into the operation.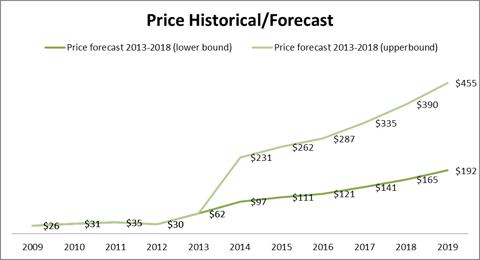 In the most optimistic scenario I expect the share price to appreciate from $97 to $231 per share. The very broad range is due to the heavily undervalued nature of data storage plays from both a historical and non-historical standpoint. That being the case, I give a mid-point value of $134 per share for 2014, which implies that the stock may be able to appreciate by an additional 61.7% from current levels. I have already assumed the best case scenario for EPS, so it's extremely unlikely that the stock will reach the upper bound price level of $231. However, if it does… well I should think about building further redundancies into my long-term forecasts.
I think that data storage will remain a compelling play going forward. The worst that may happen is that the stock only appreciates from $82.82 per share to $97 per share, generating returns of 17.11% for calendar year 2014. Those kinds of returns aren't bad, and should be sufficient to beat the S&P 500 or the Dow Component.
However, over the long-term assuming a 2019 mid-point of $313.50, investors may be able to generate returns of 24.84% per year on a CAGR basis (assuming the investor buys the stock today). This means that at least over the long haul, investors are going to beat the market every year for the next six years, assuming EPS and revenues continue to trend higher.
Conclusion
I believe that data storage is a hotly contested space that investors should keep their eyes on. Hopefully Western Digital lowers its operating expenditure and generates continued cost efficiencies from production. Assuming that's the case, earnings should be able to beat analyst expectations in the 2014 fiscal year.
Since data consumption is expected to grow at such a high rate, I believe that investors have heavily underappreciated the momentum from Western Digital's core business. Assuming the business runs out of ways to invest its capital, the company could always turn to share buybacks to drive meaningful EPS growth.
By now you should know how I feel, but I'll say it anyway. Western Digital is a compelling investment opportunity and I give it a buy recommendation for 2014.
Disclosure: I have no positions in any stocks mentioned, and no plans to initiate any positions within the next 72 hours. I wrote this article myself, and it expresses my own opinions. I am not receiving compensation for it (other than from Seeking Alpha). I have no business relationship with any company whose stock is mentioned in this article.