By Sumit Roy
Disappointing is the most apt way to describe commodity market performance in 2013. In a year in which economic growth seemed to have turned the corner and stock markets blasted to record highs (the S&P 500 rose by more than 29 percent, the most since 1997), one could have reasonably expected commodities to perform quite well.
On the contrary, the group put in its worst showing since the financial crisis of 2008, leaving many to wonder whether the bull market that began at the start of the last decade is now over.
Two main factors have worked against commodities in 2013. One, demand growth isn't what it used to be. The primary driver of growth in demand during the past several years has been China. While the U.S. economy is picking up steam, China's has been decelerating, and at 7.5 percent or so, is at the slowest pace in 23 years.
The second factor is supply. For much of the past decade, supply in the various commodity markets has been constrained. But now we're seeing the flip side as production surges. As the saying goes, "the best cure for high prices is high prices." In response to the investment boom in commodities over the past decade, we saw unprecedented increases in output this year for corn to oil to copper.
Commodity Wrap
| | |
| --- | --- |
| Commodity | Annual Return |
| Natural Gas | 29.85% |
| WTI | 7.13% |
| Palladium | 0.62% |
| Brent | -0.40% |
| Soybeans | -6.77% |
| Copper | -7.67% |
| Platinum | -11.91% |
| Wheat | -22.88% |
| Gold | -29.04% |
| Silver | -37.43% |
| Corn | -39.40% |
Gold's decline of 29 percent and silver's 37 percent plunge in 2013 make it the worst year for the duo since 1981. For the yellow metal, it was the first annual decline in 13 years.
Stronger economic growth in the U.S. and Europe, tightening monetary conditions amid a tapering of the Fed's QE program and rising long-term interest rates, low levels of inflation, and surging stock markets have combined to reduce demand for safe havens such as gold and silver.
Prices are finishing the year very close to their lows. On June 28, gold and silver bottomed out at $1,180 and $18, respectively, and prices are now trading at $1,187 and $18.97.
GOLD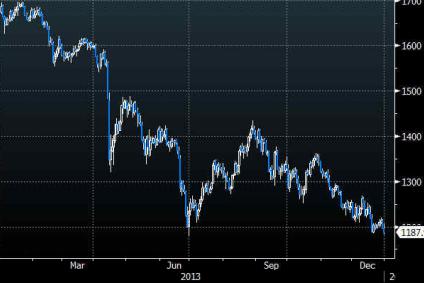 SILVER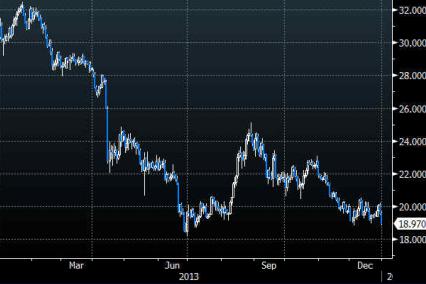 PLATINUM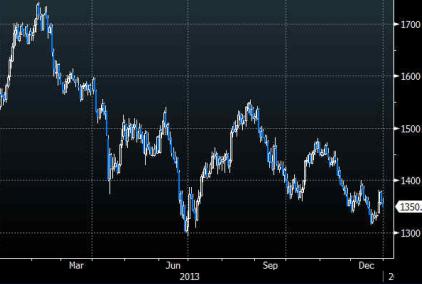 PALLADIUM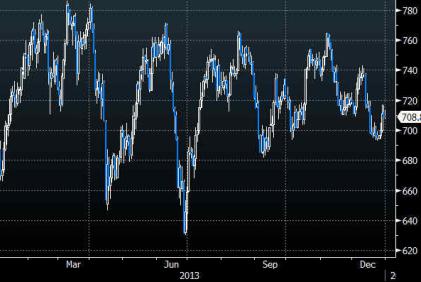 Crude oil outperformed this year as WTI rallied a solid 7 percent, while Brent edged down fractionally. The demand side of the equation was relatively steady throughout 2013, but supply saw a lot of volatility.
In the U.S., production surged a dramatic 1.2 million barrels per day, or 20 percent, from a year ago to more than 8.1 million barrels per day. That's the highest point since 1988. On the flip side, output tumbled in Libya. There, supply fell to just above 200,000 barrels per day due to various forms of unrest, down dramatically from normal levels of 1.6 million barrels per day.
For the WTI-Brent spread, it was a wild ride. After expanding to more than $23 early in the year, WTI's discount to Brent actually shifted into a premium for a brief moment in July. The spread then re-widened in subsequent months to last stand above $12.
BRENT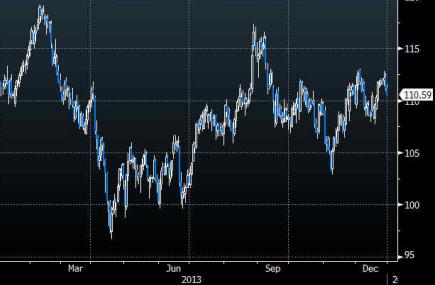 WTI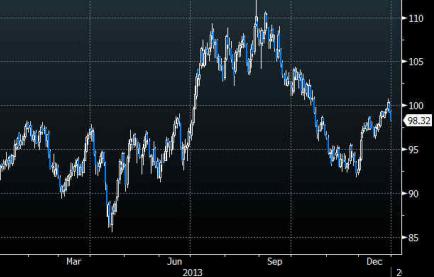 A record harvest for corn and wheat (on a global level) spurred a massive decline in grain prices. Corn sagged 39 percent, while wheat shed 23 percent, and soybeans fared relatively better, with a 7 percent loss.
The retreat in the grain complex came on the heels of a strong 2012, when prices for corn and soybeans reached record highs as the worst drought in more than 50 years devastated supplies. This year was essentially the flip side of that, as favorable weather conditions allowed crops to flourish.
CORN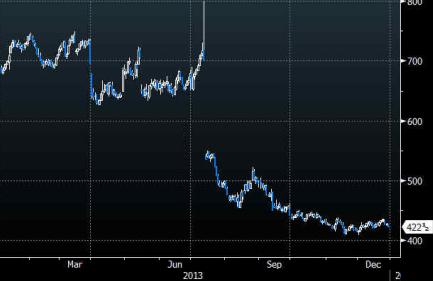 SOYBEANS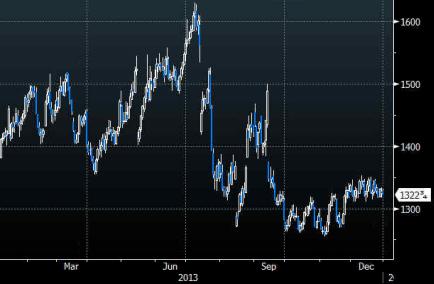 WHEAT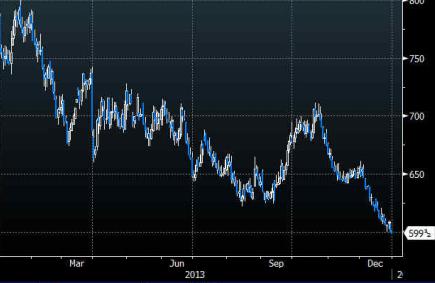 Perhaps none of the major commodities is tied more closely to the economy of China than copper. Thus, it's no surprise that the red metal suffered in 2013, as growth in the Asian giant slowed. Prices fell by nearly 8 percent.
The supply side for copper also weighed. Chile, the world's No. 1 producer, which accounts for a third of global output, saw its production climb by 6.5 from a year ago in 2013.
COPPER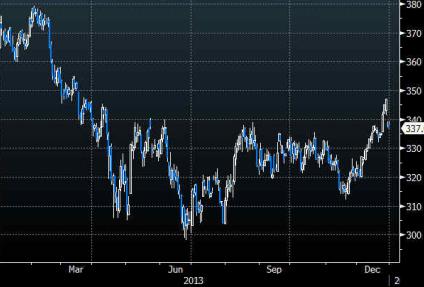 Natural gas easily took the top spot for 2013 with its impressive 30 percent gain. A cold start to the winter heating season sent inventories tumbling into a deficit versus normal levels, and prices surging to a 2 ½-year high.
NATURAL GAS