By Platinum Tiger

Chinese small caps surged by 2.5 percent on Friday to their best daily advance and their strongest week overall in almost two months. The small cap rally has now resulted in higher weekly closes for our China OTC Player index in four of the past five weeks, with especially encouraging breadth and volume this week. I am maintaining my buy recommendation for Chinese small caps.

Industrial and energy issues performed particularly well this past week, with our small cap energy stocks gaining 12.6 percent and industrials adding 7.4 percent. Pharmaceuticals and consumer stocks were flat, though I anticipate that both these sectors will perform well in the months ahead.

With a 12.2 percent gain for the year thus far, OTC-traded Chinese small caps continue to outperform the major indices by a wide margin. By comparison, the Russell 2000 index is up by 6.5 percent since January 1st, and the S&P 500 is up 2 percent, while the large cap Shanghai Composite index is down 7.5 percent.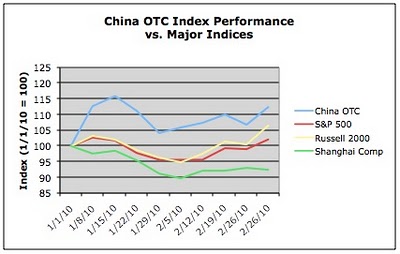 Notable performers this week were China Shuangji Cement (OTC:CSGJ) which gained 43 percent on higher expectations for cement demand in 2010, and computer services provider Jingwei International (NASDAQ:JNGW), which has doubled in the past two weeks on stellar earnings results. Energy issues Andatee China Marine Fuel Services (NASDAQ:AMCF) and L&L Energy (NASDAQ:LLEN) also notched weekly impressive gains (35 percent and 19 percent, respectively) on their earnings reports.

A couple of pharmaceutical and consumer stocks that I see benefiting from the bull trend in coming weeks are Jiangbo Pharmaceuticals (OTCPK:JGBO), a company with strong growth prospects whose market cap of $111 million barely exceeds its cash reserves of $105 million, and Shiner International (BEST) which recently had nearly 10 percent of its shares scooped up by a savvy American institutional investor, First Wilshire Securities.

My Position: Long LLEN, JGBO.OB