Merge Healthcare Incorporated (NASDAQ:MRGE) recently launched a new device, eFilm Mobile, an extension of the eFilm Workstation franchise. The new device provides users of eFilm Workstation v3.3 secure access to worklists and studies from their iPhone or iPod touch.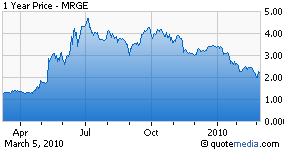 The eFilm Mobile connects with 3G and wireless networks that allow users to connect their iPhones to multiple eFilm Workstations. It also enables the reverse transaction. By using the eFilm Mobile, users can interact with and view worklists remotely and in real-time.
The new device expands Merge's leadership position in the diagnostic workstation market. We believe that all these enhanced features will make eFilm Mobile a preferred choice among users. This will expand sales of the new device that will cater to the company's overall top-line growth.
Merge is a health care software and services company focused on integrating radiology workflow to improve productivity, profitability and patient care by fusing business and clinical workflow, and intelligently managing and distributing diagnostic images and information throughout the health care enterprise.
Merge was paralyzed by several issues in the past like a dwindling cash balance, management turnover, accounting miscues and litigations. The real turnaround started in the second quarter of 2008, when the company received a much-needed cash infusion of $20 million from Merrick RIS LLC.