As we discussed in the first article of this series, if you are serious about investing and trading and do not want to casually and randomly throw your hard earned money on the market --statistically proven -- wheel of fortune, then there is a continual need to "question reality."
In that article we discussed synopsis of the first 14 equities of my 40-equity trading set. That discussion covered retail, telecom and banking.
Food, drug and agriculture are prominent in my trading set -- let us refer to it affectionately as FD&A. After all, what I have decided long ago is to invest in issues that touch people prominently. Nine of the thirteen issues we discuss in this article touch the food, drug and agriculture sectors.
Mondelez (NASDAQ:MDLZ), or the old Kraft, is one such issue. It is a $60+ billion company that touches our lives everyday through significant food manufacturing and marketing operations. MDLZ's 1.6% dividend yield of is a far cry from its old mother -- Altria (NYSE:MO). Yet, its enviable long term chart -- below -- makes up for that shortcoming. Just like MO, it is definitely an investment grade stock for a long term investor, and for that matter, it also exhibits good mean-reversion dynamics that allow my methodology to catch it at multiple entry points.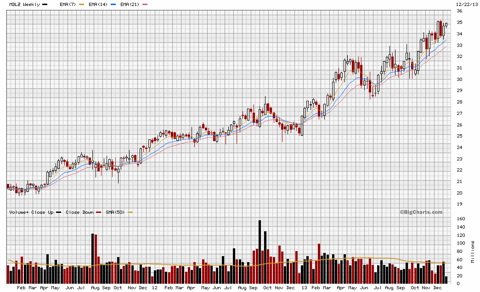 You may disagree with me, but I view Caterpillar (NYSE:CAT) as part of my FD&A group. After all, even though the focus of writers is always on excavation and the like, the same equipment are used for agriculture. CAT's 2.64% yield is decent, even though the long term charts reveal how pronounced the cyclical nature of this stock is.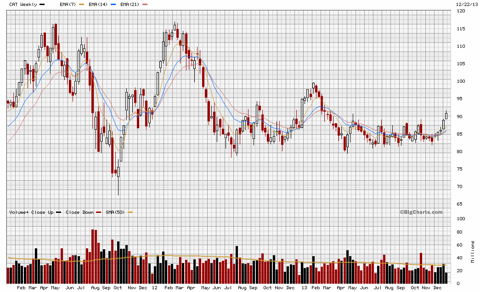 An argument similar to CAT can be made for Deere (NYSE:DE). Here people do accept the farming component as prominent in DE's business. Yet, you can see that the patterns in the long term charts are not much different than that of CAT. DE's dividend yield of 2.25% is decent, and its below 10 trailing PE should catch your eyes if you are considering this $34 billion company for your investment.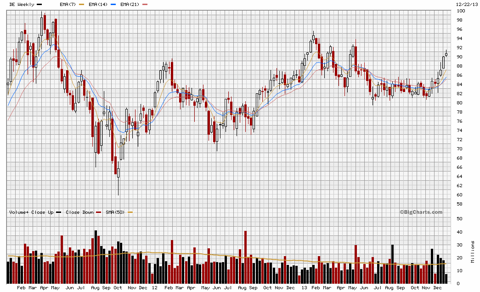 Clearly both CAT and DE are investment grade companies. You may agree with me that they are highly correlated and hence you can satisfy your diversification by including only one if you are a long term investor-- check this 10 year chart comparing the two.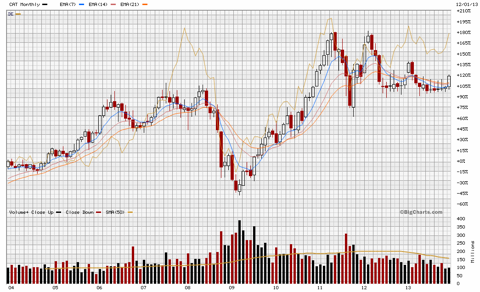 Yet, because of my style of trading, having both works well and allows me to catch more entry points in these decent investment grade issues.
Dow Chemical (DOW) is another company that you may not share my opinion that it is part of the overall FD&A group. After all, DOW is a $54 billion diversified chemicals company. Yet, they have more offerings that fit into the groups included in my trading set than their competitors, such as Du Pont (DD). DOW does offer a 2.87% yield. The long term charts for DOW are decent, even though the mid-term ones show a steepening of the rate of recent rises. As DOW exhibits good mean reversion behavior, this may mean that short- to mid-term consolidation is immanent. Otherwise, DOW, in my opinion, is a solid investment grade company.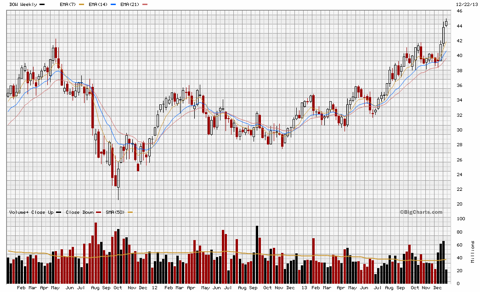 While DOW is a diversified chemicals company, Potash (POT) is a highly specialized one. POT, despite the recently depressed stock price, is still an almost $30 billion company and and it yields 4.24%. Yet, if you are a long term investor, the charts do leave a lot to be desired. On the other hand, for a technical trader, the impressive mean reversion cyclicity makes POT very suited for my purposes and my trading style. Still, it is a candidate for dropping from my watch list if the long term charts do not improve in the coming months. After all, cyclicity does not explain away the current depressed status of the company, nor does the failed takeover by BHP Billiton (NYSE:BHP).
Monsanto (NYSE:MON) may be the poster-boy for the agricultural chemicals industry. Among other things, they are also a seed and grains company. Mind you, their leadership role in genetically modified crops is a double edged sword that has always evoked social and ethical concerns. The long term charts of this $60+ billion company and the nice mean-reverting rise make MON suitable for opportunistic technical trading as well as long term investment. The only shortcoming I personally see in this investment grade company is the lowly 1.49% yield. After all, MON's old mother, Pfizer (NYSE:PFE), does offer a much better dividend yield.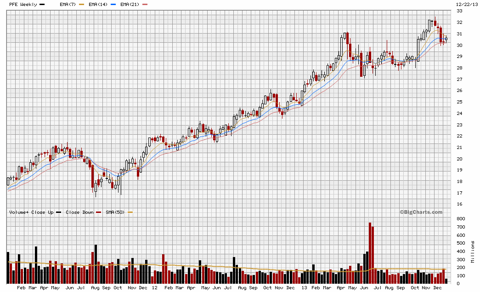 This discussion of agriculture would not be complete without considering Archer Daniels Midland (NYSE:ADM). ADM's $29 billion market cap and a 2.19% dividend make it a good candidate for inclusion in any watchlist. Nevertheless, the long term charts do show cyclicity that is not shared by most of the issues we discussed in this group, save CAT and DE. Further, the recent rate of rise in the charts, combined with the fact that ADM exhibits good mean reversion behavior, suggests that even a long term investor may still need to time their entry point. Noteworthy here is that the failed takeover of the Australian GrainCorp did not seem to affect the stock price other than quite temporarily. In essence, it seems that the market judgment is that ADM is "just fine the way it is."
Pfizer is my favorite in the large pharmaceutical company group. You may argue that its $200 billion cap is far too high for anything interesting to happen. Yet, a quick look at the chart below will make you change your mind. In essence, I view PFE as the harbinger of the fortunes of the US pharma industry. Yet, PFE is capable of making interesting moves, such as acquiring Monsanto more than a decade ago and then separating the agricultural business from the pharmaceutical and then divesting MON. Admittedly, PFE's 3.39% dividend yield is not unique in that space. Yet, the stock price, if you look at longer term charts than what I listed below and compare PFE for instance to Merck (NYSE:MRK), is less violent and exhibits very nice cyclical mean reversion. Hence, it fits my trading style perfectly.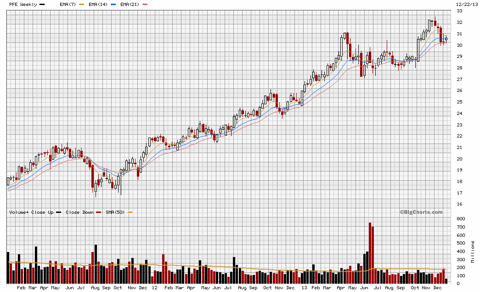 To offset the behemoth size of PFE, I include Bristol-Myers Squibb (NYSE:BMY) in my watchlist. As ironic as that may sound, BMY's $90 billion cap is considered on the "smaller" size in that space. Hence, they do actually show better growth than PFE or MRK. Unfortunately, the yield of 2.71% is lower than that of the larger peers. One point of caution though; if you are a long term investor, BMY has been exhibiting acceleration of the rate of rise in the stock price in 2013. This cannot be explained away by the recent AstraZeneca's (NYSE:AZN) purchase of BMY's diabetes business. Yet, it may reflect the health of the BMY pipeline and some of the positive FDA actions relating to BMY during the year. As such, you may need to time your entry point, unless your investment horizon allows for a possible decent retraction. For the record, short term -- day to day -- BMY charts do look more reasonable.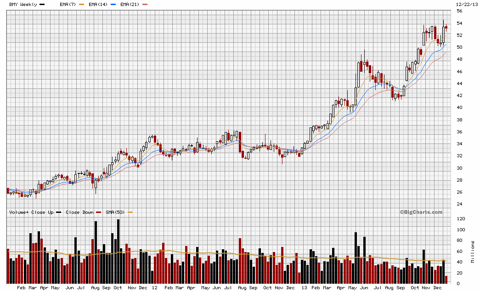 The $16 billion market cap AmerisourceBergen (NYSE:ABC) completes this subset of issues. After all, the drugs made need to be sold. This surprising gem, admittedly with a low 1.34% yield, is a relentless growth machine. I could not find a specific impetus for the recent -- year 2013 -- acceleration in stock price rise. As such, I am logging it as a fallout of the healthcare act -- Obamacare. ABC's charts, regardless of the time frame, do look about as smooth as I have ever seen. Hence, the company should lend itself easily to being part of a long term investment, and possibly is less fit for a short term trader.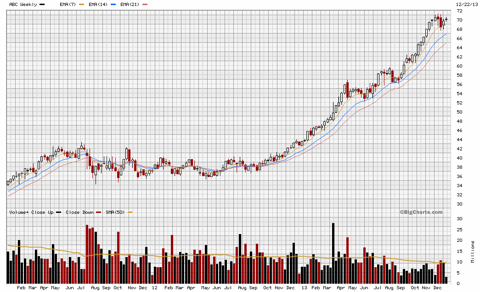 Just to drive the point regarding ABC, the following chart compares it, as a drug distributor, with the actual manufacturers -- BMY and PFE -- over the last 10 years.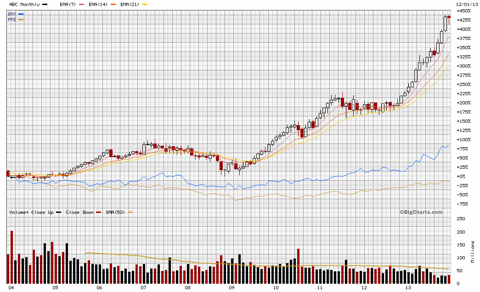 I am not a big fan of the industrial complex. Yet, I view defense and aerospace as an area to be in. As such, Boeing (NYSE:BA) is in my trading set. Even though BA is a $104 billion company and yielding 2.13%, it has been growing of late at the rate of a startup. I view the driving factors there as many. I attribute that less to the new offerings (Dreamliner) and more to economic and demographic reality. First it is the China and Middle East story, where the demand for air travel is still growing vigorously. Then there is the high correlation between global growth and air travel. And you follow that with the fact that the US Export Import bank is more or less a BA facilitator. As such, improving fortunes of the world, given that in reality there are two main competitors in this field, do bode well for BA's fortunes. Nevertheless, BA is not for the fainthearted, if you are a long term investor. Just peek at the "around the financial crisis charts" and that 70% drop should put - healthy - fear in your heart. In short, despite its large size, BA is a truly volatile company with serious mean-reversion risk for the long term investor. I feel it is more suited to trading than investing these days, as it is not clear how far along -- or beyond -- its normal price appreciation it has moved. After all, a company that size cannot double in a year and not be expected to revert back to its long-term mean.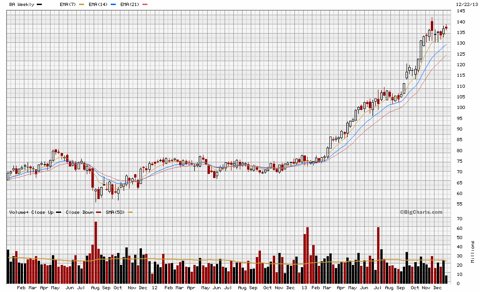 Adding Lockheed Martin (NYSE:LMT) to BA, in my opinion, covers most of what I need covered in the defense/aerospace business. LMT is a $48 billion company with 3.59% dividend. Admittedly, just like BA, it has an overextended price appreciation in 2013. Yet, with a PE of 15.5 it presents itself as more reasonably priced than BA's PE of 24. Nevertheless, it has climbed impressively this year, almost 70%, after a four-year drought with no significant price appreciation.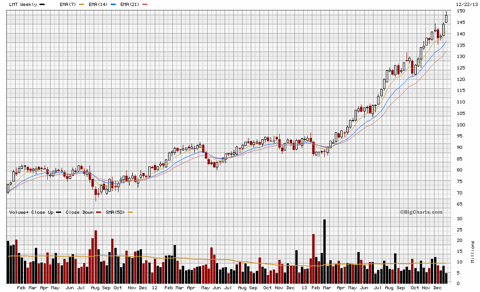 To wrap up the industrial complex, I chose Emerson Electric (NYSE:EMR). Yes, it is not a household name, despite its 120-year history, but as we found in ABC, that does not mean it is not a good investment grade company. EMR has a sizeable $49 billion market cap. Yet, as we have seen in many of the issues in my trading set, it does have a strong cyclical price movement. It also has appreciated well in 2013 -- almost a third. With a decent 2.45% dividend, and nice mean-reversion behavior, it fits well into my trading set.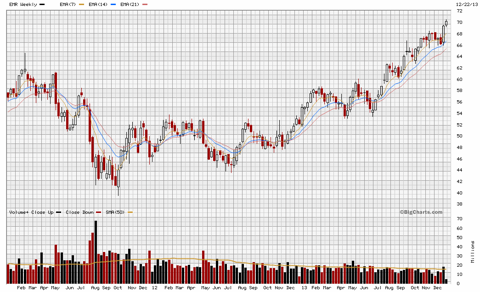 Disclosure: I am long BA, EMR, POT. I wrote this article myself, and it expresses my own opinions. I am not receiving compensation for it (other than from Seeking Alpha). I have no business relationship with any company whose stock is mentioned in this article.
Disclaimer: It is important that you understand and agree that all information provided in this newsletter rely on publicly available data and tools with no guarantees of quality or suitability for any purpose, and that I can be long or short in any of my trading-set equities, at any time, with or without regard to indicated trends and described analytics, and that I do not give buy or sell or any other financial recommendations, and that any and all actions based on this commentary are solely the responsibility of the reader.