Last year, Delta (NYSE:DAL), American (NASDAQ:AMR), United (UAUA), and US Airways (LCC) collectively operated 85 billion less domestic seat miles than they did 6 years ago. This was on average, a 21% reduction in domestic capacity for each of the airlines noted above.
While some of this capacity decrease was picked up by each airlines regional affiliate partners, since 2003 Southwest (NYSE:LUV), JetBlue (NASDAQ:JBLU), Air Tran (AAI), and 4 other smaller carriers added over 84 billion ASM's to their route systems.
Note: One ASM is one passenger seat flying one mile.
The following chart provides capacity details for each legacy airline, their affiliates, and several low cost carriers (LCCs). Airlines are listed from largest to smallest.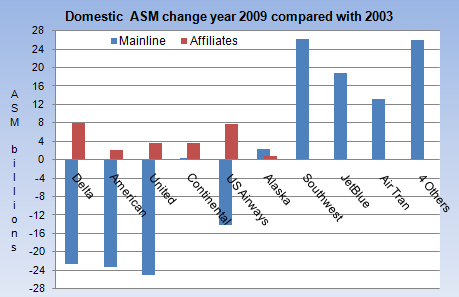 Notes: All ASM's for affiliates, Southwest, JetBlue, Air Tran and 4 others are considered domestic for this analysis. United affiliates compares year 2009 with 2005. 4 other airlines includes: Frontier, Spirit, Virgin and Allegiant. Delta includes Northwest capacity.
The chart below shows system operating unit costs and system unit revenue. For year 2009, American had the highest costs and was the only airline to have an operating loss.
Data clearly shows a correlation between lower unit costs and increasing capacity.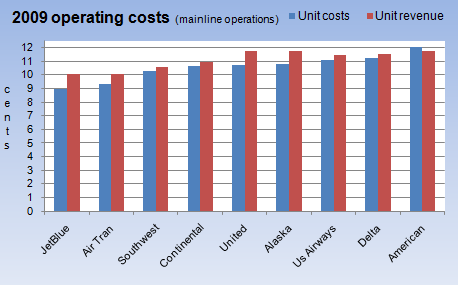 The challenge for the old legacy airlines is to find a way to be cost competitive with these growing domestic carriers that have never incurred some of the legacy expenses.
This objective needs to be accomplished before so much market share is lost that there is no way for them to recover.

Disclosure: At the time of writing, the author and his family did not hold stock and/or derivative positions in any of the airlines covered in this article. The above opinions and comments should not be used to determine the worth of any stock or investment