Two decades ago, the pharmaceutical industry - long dominated by small-molecule drugs - was revolutionized by the advent of biologics. Today, biomedicine sits on the cusp of a new revolution: the use of microbial and human cells as versatile therapeutic engines. In this article, we decided to evaluate Fibrocell Science (FCSC), an autologous cell therapy company focused on developing first-in-class treatments for skin diseases and conditions, particularly those with high unmet medical needs.

Company Overview
Fibrocell Science was founded in 1995 and is headquartered in Exton, Pennsylvania. The company's autologous fibroblast technology utilizes the patient's own fibroblast cells (skin cells responsible for the production of essential connective tissue and collagen) to produce collagen lost through trauma or natural aging process. Fibrocell's first FDA-approved product, LAVIV (Azficel-T), is the first and only autologous fibroblast cell treatment approved for aesthetic use to improve the appearance of moderate to severe nasolabial fold (smile line) wrinkles in adults. In addition, the company is also focusing on extending its FDA approved autologous fibroblast cell therapy technology into high value medical settings with significant unmet medical needs, beginning with burn scarring and vocal cord scarring. A Phase II trial of Azficel-T in the restrictive burn scarring setting is ongoing and a Phase II trial in the vocal cord scarring setting is anticipated to begin by YE:13. Additionally, the company is in discussions with the FDA on next phase in program to explore treatment of moderate to severe acne scarring. Moreover, Fibrocell is partnered with Intrexon (NYSE:XON) and academic institutions to develop autologous cellular therapy with utility in the orphan and autoimmune settings. These products are currently in the product optimization and proof of concept stage.
The Company's Lead Product: LAVIV (Azficel-T)
In 2011, the company received U.S. FDA approval for LAVIV in the treatment of moderate-to-severe nasolabial fold wrinkles. LAVIV is a personalized product composed of an individual's own fibroblasts which are cultured and expanded after a skin biopsy has been obtained. The benefits of LAVIV stem from the known extracellular matrix proteins and collagen produced by fibroblasts, which are crucial in the normal structure of skin and other tissues. Furthermore, since LAVIV is an autologous cell-based therapy, there is a low likelihood for immunogenicity and rejection. Using LAVIV as a backbone, Fibrocell is focused on expanding beyond wrinkle folds and into a number of other indications. From a clinical trial standpoint, Fibrocell is the farthest along in settings of restrictive burn scarring, vocal cord scarring and acne scarring.
Azficel-T for Restrictive Burn Scarring
Restrictive burn scars often form over joints following severe (full thickness) burns. Aside from surgical excision and physiotherapy, there are no proven treatments to improve mobility, and potentially the pain and aesthetics of these scars. Many unproven over the counter and some newer pharmaceutical therapies are commonly used; however, these have not been shown to be efficacious in a randomized controlled clinical trial setting.
The current standard of care for restrictive burn scarring is typically surgery and involves excision of the contracture with or without skin grafting. Since most patients require multiple surgeries, many treating physicians are in need of less invasive procedures. That said, this is a largely untapped market from a therapeutics perspective.
Fibrocell is currently conducting a Phase II randomized, double-blind, placebo-controlled study in 21 patients with unilateral burn scars. Subjects will receive two injections of Azficel-T or placebo 7-21 days apart with the primary endpoint being range-of-motion of an affected joint 180 days after final treatment. Top-line results are expected from this trial by the end of 2014, which if positive should lead to a registration-enabling study with range-of-motion as the likely primary endpoint.
Azficel-T for Vocal Cord Scarring (VCS)
Vocal cords, also known as vocal folds, are the twin mucous infoldings that stretch across the larynx on top of the trachea. Vocal cord scarring (VCS) can be caused by voice stress, surgery, radiation therapy, larynx damage, or idiopathic causes. Symptoms include hoarseness, increased vocal effort, vocal onset delays, vocal fatigue and strain, and neck-related soreness.
Current treatments include rest, anti-inflammatory drugs, and in some cases surgery such as fat injection laryngoplasty or treatment with various biocompatible materials. Additionally, cellular based approaches using regenerative medicine and/or tissue engineering have also been utilized in order to recreate the extracellular matrix of the lamina propria layer. Since fibroblasts are known to have the capability of producing the same extracellular matrix proteins found in the lamina propria, Azficel-T was thought to be ideal in recreating the native viscoelastic properties of the vocal cords.
A single-arm prospective trial was conducted testing Azficel-T in the setting of vocal fold scars. The study involved five patients with punch biopsies done on buccal mucosa (skin on the inner part of the mouth) since this source of fibroblasts better mimicked the collagen production of vocal fold fibroblasts. The primary endpoint of efficacy was change in mucosal wave grade measured by videostroboscopy from baseline at four months after initial treatment; mucosal wave grades ranged from 1 (absent) to 5 (normal; present at more than half the width of vocal folds). Results from the study showed statistically-significant improvements in mucosal wave grade beginning at week 8 despite very few patients. Furthermore, these improvements were sustained until month 12 (the end of the study). An important finding in the study was that benefits were limited to individuals who had vocal fold scarring to the lamina propria or salcus. While three of the five patients reported at least one adverse event, none were serious and no patients withdrew due to an adverse event.
Fibrocell plans to conduct a 20-30 patient Phase II randomized, placebo-controlled study with absolute change in mucosal wave grade from baseline measured by videostroboscopy as the primary endpoint. Based on discussions with the FDA, change in mucosal wave grade is an approvable endpoint and what Fibrocell plans to use in a larger Phase III study. As a result, positive data from the ongoing Phase II study should de-risk the Phase III trial.
Azficel-T for Acne Scarring
Acne scarring is a common skin disorder characterized by permanent skin discoloration and/or indentation resulting from a full thickness infectious acne lesion.
Currently, there are no drugs approved by the FDA for the treatment of acne scarring. Existing treatments for acne scarring include both ablative and non-ablative traditional and fractional laser resurfacing, dermabrasion and fillers.
Fibrocell completed a Phase II study of Azficel-T for the treatment of moderate to severe acne scars suggesting that Azficel-T may have benefit in improving the appearance of acne skin scars. The company plans to further evaluate the use of Azficel-T in Phase III studies and has initiated discussions with the FDA on the design of these studies.
Market Potential
Restrictive Burn Scarring - The burn scar market is an attractive commercial opportunity. According to the American Burn Association, the number of people hospitalized in the U.S. with severe burns each year is roughly 40,000. While Fibrocell is conducting its Phase 2 trial with adults, an effective therapy would also be used to treat children, as they account for about 29% of all burn cases. That said, the annual market opportunity in the U.S. alone is estimated by the company at $776M.
Vocal Cord Scarring - There is an estimated prevalence of 200,000-700,000 patients suffering from vocal cord scarring in the U.S. However, the number of individuals who suffer damage to their vocal cords each year is not a statistic that is often tabulated. Fibrocell estimates that the annual market opportunity in the U.S. is in the range of $240M to $840M. According to the National Center for Biotechnology Information (NCBI), the vast majority of patients requiring laryngeal procedures are satisfied with awake, in-office treatments, including vocal fold injections and laser treatments. Hence, an effective fibroblast therapy should gain wide acceptance.
Acne Scarring - The acne scarring market is huge, since acne is prevalent in more than 90% of adolescents and persists into adulthood in 12%-14% of the cases. Roughly 20 million Americans with acne have breakouts bad enough to cause scarring, according to the Acne Resource Center. Fibrocell estimates that every 50,000 patients represents $750 million addressable market.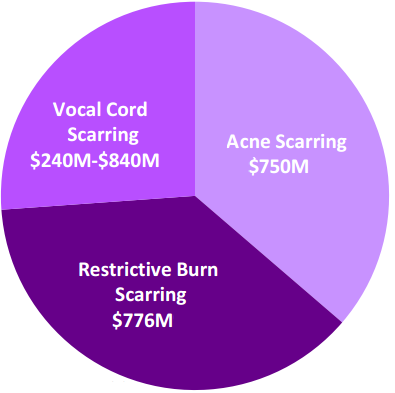 Competition
While there are already a number of products on the market to treat some of the indications in which Azficel-T is approved or being tested for, the wide majority are somewhat crude and/or short-lasting. One relevant competitor is Intercytex, which is developing Vavelta, a product similar to Azficel-T using allogeneic (non patient-derived fibroblasts). However, this therapy is only approved (and being further developed) in Europe. To-date, Vavelta has been studied in over 100 patients across a variety of skin damage settings. In a Phase I study of ten healthy volunteers, Vavelta was injected three times underneath the skin of the upper arm and shown to be well tolerated with transient adverse events. A Phase II dose-escalation study was conducted for the treatment of nasolabial folds. Overall, the study showed an improvement in qualitative satisfaction scores along with measured improvements in wrinkle severity in 12 of 16 subjects. Lastly, a Phase II study was conducted in the setting of acne scarring. Individuals were treated and followed out to 6 months, with improvements in satisfaction scores assessed by investigators and patients. In both Phase II trials, the investigators reported no serious adverse events with the product.
Intercytex is currently conducting a Phase I/II study testing Vavelta in the setting of restrictive scarring with an expected enrolment of 20 patients. The primary objective of the study is to look at the safety and tolerability of this therapy in the treatment of stable and restrictive hypertrophic scars.
The Company's Preclinical Pipeline
Along with its ongoing clinical development of Azficel-T for additional indications, Fibrocell is also leveraging its technology through additional partnerships and collaborations. In October 2012, Fibrocell announced that it was entering into a strategic collaboration with Intrexon for the development of genetically modified autologous fibroblasts and dermal cells in the U.S.; this agreement was further expanded on July 1, 2013 to include additional indications. Additionally, Fibrocell also has a partnership with UCLA and MIT in the isolation and use of autologous skin-derived stem cells, inducible pluripotent stem cells (iPSCs), and genetically-modified fibroblasts. While relatively early this may result in additional upside.
Summary: Reasons to Buy the Stock
Important clinical results from the ongoing Phase II trial in the burn contracture setting are expected in H2:14. Additionally, the Phase II trial in the vocal cord scarring setting is expected to get underway by H2:14 and with top-line data in H2:14. Positive results in these trials could lead to a very significant uptick in FCSC's valuation.
Positive data in the restrictive burn and/or vocal cord scar settings would very likely lead to regulatory approval as the product, Azficel-T, is sourced and manufactured in a substantially similar manner to the already FDA approved LAVIV aesthetic product.
Wedbush analysts have initiated coverage on Fibrocell with an "Outperform" rating and a price target of $7 a share, representing potential upside of 77% from where the stock is currently trading.
Potential Risks:
Since LAVIV is an already-approved product by the U.S. FDA, the biggest risk associated with clinical development is not related to safety but the inability to demonstrate an improvement in efficacy over placebo or standard of care. Additionally, if LAVIV's label is expanded in additional indications, the complexity behind its manufacturing and use may limit its uptake in the market; this may be of particular concern in the setting of vocal cord scars since this requires delicate injections at the site of the vocal cords.
Currently, LAVIV is a product in the area of aesthetics and individuals pay for it out-of-pocket. Even with success and regulatory approval in these newer indications, there is no guarantee that insurance companies will pay for LAVIV unless they are convinced that treatment is necessary.
While there are few companies developing therapies for the two most advanced indications, a number of somewhat effective methods are used by physicians to improve quality-of-life, such as surgery to remove major restrictive burn scars. Additionally, while arguably less effective, there are several low-cost over-the-counter/prescription creams, solutions and regimens used in the target indications. As a result, LAVIV may have issues displacing treatments which some physicians are comfortable using.
Financial Outlook
The company ended the third quarter 2013 with $16.9 million in cash and cash equivalents. In October 2013, subsequent to the end of the third quarter, the company received net proceeds of approximately $47.4 million from the company's underwritten public offering. That said, Fibrocell has sufficient cash to fund its operations into mid-2014.
However, while LAVIV is a U.S. FDA approved product currently on the market in the aesthetics space, it does not generate enough sales to make the company profitable. Furthermore, the company is not expected to be profitable until LAVIV enters disease markets that would be covered by insurance and give it economies of scale to reduce to cost of production. As a result, there is risk that the company will need to do an additional round of financing to pay for expenses related to ongoing and future clinical trials as well as marketing efforts if these trials prove successful.
Bottom Line
The future success of Fibrocell depends on its ability to demonstrate clinically meaningful improvements in new indications including restrictive burn scarring and vocal cord scarring. Over the next 12 months top-line results are expected from two randomized Phase II studies in restrictive burn scarring and vocal cord scarring, potentially followed by the initiation of registration-enabling studies in each indication. Additionally, Fibrocell is expected to provide more information on plans in acne scarring. That said, Fibrocell shares should garner wide attention, as milestones are quickly approaching.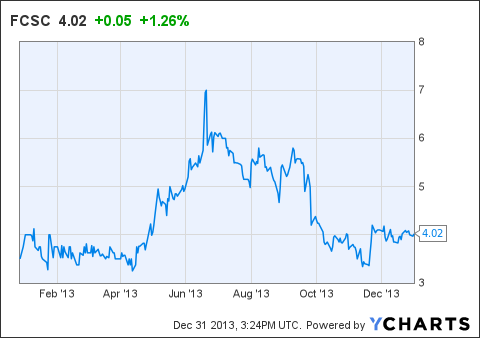 Disclosure: I have no positions in any stocks mentioned, and no plans to initiate any positions within the next 72 hours. I wrote this article myself, and it expresses my own opinions. I am not receiving compensation for it (other than from Seeking Alpha). I have no business relationship with any company whose stock is mentioned in this article.
Additional disclosure: Biomed Group is a group of investment professionals and writers. This article was written by Amit Cohen. This information is not to be construed as an offer to buy or sell any security mentioned on this article.