I'll give Highfields Capital credit for cornering Digital Realty (NYSE:DLR) back in May. Although I would have never thought that the hedge fund would have been successful with its REIT "squeeze play," some speculative bets oftentimes turn into opportunity. As I mentioned in a recent article:
After a short (by Highfields), a market sell-off (Bernanke), and two botched earnings calls, investors have been running for the fences. As most of you know, I stayed in the game and more recently, I have continued to dollar cost average shares.
It's no secret that most hedge funds are opportunistic, and invest where the most profit potential is seen. Some hedge funds are designed to invest in real estate, while others take advantage of opportunities in property as they arise. They are similar to mutual funds in that they both pool people's money to invest. However, the difference is that hedge funds can buy investments using riskier investment strategies that are not permitted for typical mutual funds. In addition, hedge funds are lightly regulated and they are not sold to retail investors as they are aimed to attract accredited investors.
Alternatively, Equity REITs are designed in a similar "blind pool" structure and most are risk-averse in their investment strategies. Occasionally, there are "outliers" that venture outside their "circle of competence" to become the "king of the hill", at least for a day.
Vornado Realty: Once a High-Flying REIT Smelled Like a Hedge Fund
Vornado Realty (NYSE:VNO) was founded over 50 years ago (in 1962) and became a REIT in 1993. The company's Chairman and CEO is Steve Roth, a veteran financier who was named by Barron's Magazine as one of the World's Thirty Most Respected CEO's in 2005, 2006, and 2007. Roth was the CEO of Vornado from May 1981 through May 2009 and was reappointed on April 15, 2013. Mr. Roth is the co-founder and Managing General Partner of Interstate Properties and Chairman and CEO of Alexander's Inc. Since 2011, Mr. Roth has been a director of J. C. Penney Company, Inc.
Vornado owns a portfolio of over 100 million square feet, primarily located in the New York and Washington, DC areas. The company's core businesses include New York; Washington, DC; and, Retail Properties primarily in the northeast states, California and Puerto Rico. About 80 percent of Vornado's earnings come from properties in Washington, DC, and New York City.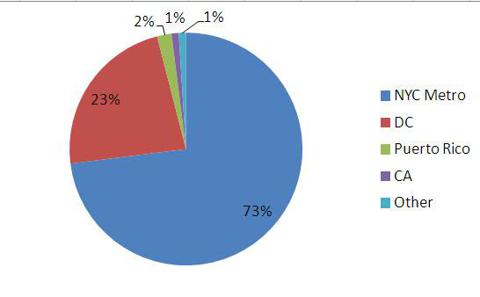 Over the years Vornado has made frequent plays "outside its wheelhouse of prestige office and retail leasing", which is unusual for a REIT. In doing so, Vornado has made debt and/or equity investments in numerous companies that the REIT does not control (or has sole control) including investments in Alexander's Inc. (NYSE:ALX), Toys 'R' Us, J.C. Penney Company (NYSE:JCP), LNR Property Corporation, and other equity investments.
However, many of these bets haven't paid off for Vornado and the company has been working to shed itself of the non-core assets. In September (2013) Vornado sold its remaining 13.4 million shares in J.C. Penney for $13 a share, ending a three-year investment in the struggling department store operator it had pushed to renew itself. Vornado owned 6.1 percent of shares, which it sold in a block trade to Citigroup.
Vornado's original tender was for 9.9 percent in Penney concurrently with activist investor William Ackman's Pershing Square Capital Management, and both pushed the retailer to offer trendier merchandise and try to attract a younger shopper. Obviously that bet didn't payoff and that $250 million hit translated to a 40 percent loss in Vornado's original investment in Penney.
Also back in April (2013) Vornado reaped around $241 million as net proceeds from the sale of LNR Property LLC, a company in which Vornado owned a 26.2% stake. The deal that LNR Property penned was disclosed in January 2013 and saw Starwood Property Trust Inc. (NYSE:STWD) and Starwood Capital Group acquiring LNR Property for $1.05 billion. Both deals - Penney and LNR - were initiated as a means for Vornado to focus on improving its core real estate business.
Vornado Realty: Toy 'R' Us is the Last Dog Standing
Vornado's non-core approach to investing - liken to a mutual fund strategy - was originally structured to diversify its revenue. By investing in higher risk marketable equity securities or companies that have significant real estate assets, such as J.C. Penney and Toys 'R' Us, Vornado was hoping to become the first REIT to "crack the code" for conglomeration.
I remember writing a college paper about Sears (back in the 1980's) and I can remember the title to my paper: Sears Knows How to Sell More Than Socks and Stocks. Some of you my remember that Sears was a conglomerate in the 80's owning Dean Witter and Coldwell Banker. I should have sent my college paper to Mr. Roth, perhaps that insight would have lead Vornado to a less speculative enterprise.
Conversely, because Toys 'R' Us is also a retailer, its operations are subject to the same risks of a retail company that are different than those presented by other lines of business. Also, the business of Toys 'R' Us is highly seasonal and historically the Toys 'R' Us fourth quarter net income accounts for more than 80 percent of its fiscal year net income.
Guess what, Vonrando's last big dog - Toys 'R' Us is barking louder...
Vornado announced last week that it will record its 32.6 percent share of Toys "R" Us' Q3-13 financial results in its fourth quarter. Based on Toys information currently available to Vornado, the REIT results will include in its fourth quarter a net loss of $130.8 million, or $0.66 per diluted share, attributable to Toys 2013 Q3-13, compared to a net loss of $73.8 million or $0.37 per diluted share in Vornado's Q4-13 ending December 31, 2012, attributable to Toys' 2012 third quarter which includes a $40 million non-cash impairment loss on Vornado's investment in Toys.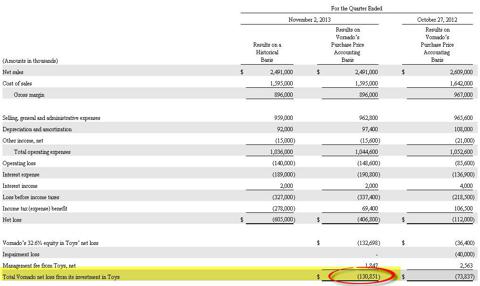 Vornado's share of Toys' negative Funds From Operations (or FF)) before income taxes for Q4-13 will be $91.3 million or $0.46 per diluted share, compared to negative FFO before income taxes and impairment of $4.2 million, or $0.25 per diluted share in the prior year's quarter. Vornado's share of negative FFO after income taxes for Q4-13 will be $119.8 million or $0.60 per diluted share, compared to negative FFO after income taxes of $61.4 million or $0.31 per diluted share in the prior year's quarter. Included in this year's negative FFO after income taxes is Vornado's $41.3 million share of Toys' non-cash charge for the valuation allowance of certain deferred tax assets.

Vornado records its proportionate share of Toys' results based on purchase price accounting, which differs from Toys' publicly reported historical accounting. As required under purchase price accounting, Toys has recorded an additional $690 million (of which Vornado's share is $225 million) of intangible assets and goodwill which is net of prior quarter impairments that Vornado previously recorded. Toys is evaluating these intangible assets and goodwill for possible impairment. Depending upon the outcome of that evaluation, Vornado's 32.6% share of Toys' third quarter net loss and negative FFO may increase.

Vornado's carrying amount of its investment in Toys as of September 30, 2013 was $378.6 million. After giving effect to the $130.8 million net loss referred to above, Vornado's carrying amount of its investment in Toys will be reduced to $247,764,000. Toys has considerable debt ($1.716 billion) with high interest rate costs (weighted average of 7.69 percent).

The big question for Vornado and Roth is how to turn the struggling Toys 'R' Us chain into cash. It's clear that Roth was excited to be a partner with Bain Capital and KKR back in 2005 when the three combined forces to acquire Toys in an LBO for $6.6 billion. Vornado's expertise was (and still is) real estate so it would seem to reason that Vornado could find a way to energize Toys in some form or fashion.
According to filings, Toys owns or leases 1,735 stores (169 are franchised) and the majority (56%) of the sites are in the US. Of the corporately owned locations, Toys owns (fee simple or ground lease) 39 percent of the sites and the other 61 percent are leased.

Toys same-store sales have been declining since 2005 mostly due to the hammering from outside competitors like Amazon (NASDAQ:AMZN), Target (NYSE:TGT) and Wal-Mart (NYSE:WMT). Also non-traditional toy retailers, and book stores like Barnes & Noble (NYSE:BKS), have started putting toys on the shelves.
Standard & Poor's cut its credit rating on Toys 'R' Us bonds in December based on the third-quarter results, saying it anticipates the chain's revenue to decline by as much as 4 percent for the year while gross margin will narrow on higher markdowns. Toys was planning to go public last year, but withdrew in March after the company's CEO, Gerald Storch, stepped down following a lackluster holiday season. A new CEO was named in October.
Roth and his team will likely need to find a way to assist Toys with monetizing the real estate - the sooner the better - since Toys bonds yield 15 percent and the higher cost debt will continue to plague cash flow. Given the enormous demand in single-tenant sale/leasebacks today, I'm sure that a number of private and public REITs could provide liquidity for deleveraging Toy's balance sheet and provide time for the new CEO's business model to materialize. But please, no Toys 'R' Us REIT please!
Business As Usual
Once Vornado finds away to "fish or cut bait" with Toys, it appears that Roth and his team are back to business as usual. That means managing and leasing a New York City portfolio of 32 office properties aggregating 20.4 million square feet and four residential properties containing 1,655 units.
In addition Vornado owns 52 Manhattan street retail properties aggregating 2.3 million square feet, as well as the 1,700 room Hotel Pennsylvania (Yes, I really stayed there and I will save that story for another day). Also Vonrando owns a 32.4% interest in Alexander's Inc. which owns six properties in the greater New York metropolitan area, including 731 Lexington Avenue, the 1.3 million square foot Bloomberg, L.P. headquarters building.
In Washington, DC Vornado owns 73 properties aggregating 19.3 million square feet, including 59 office properties aggregating 16.2 million square feet and seven residential properties containing 2,414 units. In addition, Vornado owns 105 shopping centers, malls, and single-tent properties aggregating 19.6 million square feet, primarily in the northeast states, California and Puerto Rico.
Vornado also owns a 70 percent controlling interest in 555 California Street, a three-building office complex in San Francisco's financial district aggregating 1.8 million square feet, known as the Bank of America Center and a 70 percent controlling interest in 1290 Avenue of the America (over 2 million square feet) in New York City. The minority partner in both of these deals is Donald Trump.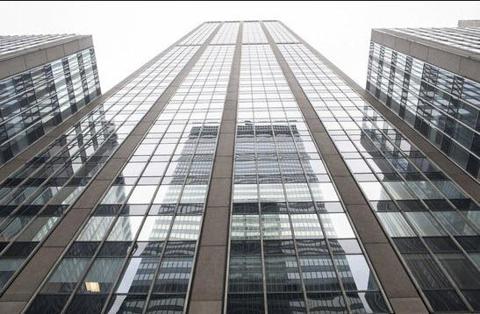 On the recent earnings call Vornado announced the acquisition of a 92.5 percent interest in 655 Fifth Avenue located at the northeast corner of Fifth Avenue and 52nd Street. The price for this acquisition (Vornado's share) was $277.5 million. The property contains 575,500 square feet, which is entirely net leased to Ferragamo and includes their flagship Fifth Avenue store.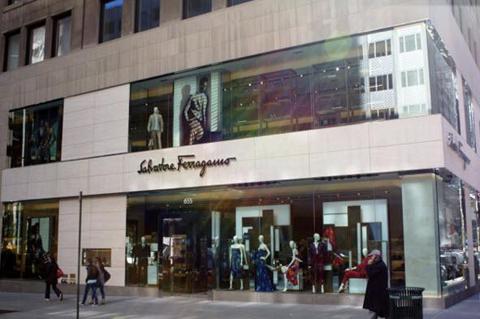 In addition to strengthening its foothold in the "big apple" Vornado has been steadily shedding its non-core property holdings. In 2013 (through Q3-13), Vornado sold $1.8 billion of non-core assets, on top of $1.7 billion sold in 2012. The company's latest (Q3-13) results are indicative of the trends for portfolio pruning as Vornado's CFO, Stephen W. Theriot, explains (during the earnings call):
We reported comparable funds from operations of $1.27 per share versus $1.03 for the prior year's third quarter, a 23.3% increase. Comparable EBITDA was $416.5 million, ahead of last year's third quarter by $55.4 million or 15.3%. Our New York division produced $251 million of comparable EBITDA for the quarter, that's a running rate for our New York business of $1 billion a year, quite a milestone. New York division EBITDA, about 60% of our total was $47.4 million or 23.3% ahead of last year's third quarter, primarily driven by a 7% same-store increase, property acquisitions and a $12.1 million share of a lease termination fee.
Clearly the Toys 'R' Us investment was the biggest impediment for the REIT and a big reason that earnings have been less than average. As Theriot explained:
Total FFO was $1.12 per share, down from $1.34 in the prior year's third quarter, resulting from noncomparable items being a loss of $27.6 million this quarter, as compared to income of $58.8 million in the same quarter last year. This year's third quarter included $22.3 million of negative noncash FFO from Toys, representing our share of the loss of the seasonal Toys business, compared to $2.4 million of FFO in the prior year's third quarter.
During the latest (Q3-13) earnings call Vornado didn't have a real grasp on the timing of the Toys liquidation as Theriot explained:
Toys is proving to be quite difficult to exit. And so, and also we can't predict what the price will be right now…Toys is, from our point of view, definitely a seller, and we have said that it's proving very difficult to accomplish that objective.
Vornado also owns a 10.5% interest in Lexington Realty Trust (NYSE:LXP). I wrote an article on the company a few days ago describing the company as my "dark-horse" pick for 2014. Mr. Roth, you should read my article and you will see that it's just a matter of time before Mr. Market sees more favorable value in the dark horse. It's clear that Lexington is not a "buy and hold" stock for Vornado as the company's CFO explained:
It's best said for Lexington is that we are not a forever holder of Lexington.
So What's an Investor Do With Vornado?
I would like to get in the game. I have always admired Mr. Roth and his savvy deal making skills; however, I'm no speculator and I'm more inclined to jump in when the Toys 'R' Us investment is completed and over. Also, I would like to see a CEO installed and once that occurs, I will consider a position in the company.
I love New York City and I love towers, especially trophies like the ones that Vorndao owns. I have never been a big fan of S.L. Green (NYSE:SLG) and I believe Vornado has one the most vetted New York City platforms around. I just can' t stand the thought of investing a REIT that looks like a hedge fund.
There's Empire State Realty Trust (NYSE:ESRT) - a pure play New York City (and Connecticut) REIT that listed shares on October 1st (2013) after more than a year of debate among the REIT's stakeholders. Empire State completed its $1.07 billion IPO with its common stock priced at $13.00. The company saw a return of 18.20% from its IPO price of $13 through Dec 30th. Empire State Realty closed at $15.28 with a dividend yield of 2.23%. You can read an article I wrote on the company here.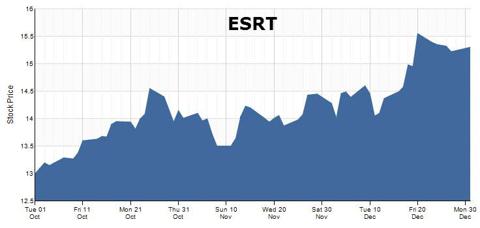 In hindsight, I should've put my toe in the water and bought a few shares of Empire State Realty. That's ok. I will continue to track the performance and see how Tony Malkin (the CEO) and his team perform as a public company over the next few quarter.
Back to Vornado, the shares are trading at $88.79, just a few dollars below the 52-week high of 91.91. Although I can see risk in owning shares in Vornado, it's plain to see that Mr. Market doesn't. It's funny to watch a REIT like Digital Realty became the target of a short campaign, yet we see Vornado trading at a premium while acting like a hedge fund - seems to be some irony in the comparisons?
I just finished reading a book that I would encourage all to read. It took me an hour to read and it's a must read for my kids. The book was written by Frank J. Williams and the title is If You Must Speculate, Learn The Rules. Here's an excerpt:
If you are intelligent, the market will teach you caution and fortitude, sharpen your wits, and reduce your pride. If you are foolish and refuse to learn a lesson, it will ridicule you, laugh you to scorn, break you, and toss you to the rubbish-heap. The stock-market is cruel, but it is glorious, representing all that we admire in the American character, courage, vitality, forethought, vision, and enterprise.
Most of you reading this article aren't as rich as Donald Trump. None of us can afford to invest in Toys 'R' Us or a trophy office building in New York City. This paragraph by Williams hit a chord:
Men with the smallest amount of capital value money least. The rich man watches his dollars carefully. His poorer brother feels that his small amount is not worth conserving. This theory is true in ordinary life and particularly true in Wall Street. The average small trader takes a flyer in the market without forethought, on the theory that if he loses, he is not much out. Gambling in stocks in this happy-go-lucky, hit-or-miss style used by hundreds of thousands is a hopeless waste of time and money.
I wrote down the next stanza and I plan to plaster these words across my refrigerator at home:
Men and women certainly should not speculate until they have paid the landlord, the butcher, and the tailor. They should have no doctor's bills or insurance premiums overdue.
So should I wait on Vornado? What do you think?
Generally a stock will find its correct level in the market. It may sell above its worth for a time or perhaps a little below, but in the end the market's estimate will be fairly accurate. The business of the speculator is to make a thorough study of the stock he intends to buy and by watching its market action decide for himself where the level of true worth is. Having decided this, let him wait patiently until the stock sells at his price before buying. It will get there in time.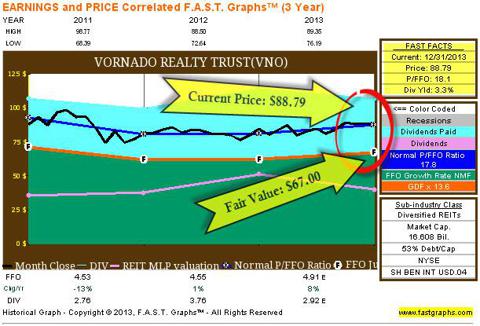 For more information on REIT Investing, check out my monthly newsletter, The Intelligent REIT Investor.
Source: SNL Financial, FAST Graph, and Vornado 8-K,
Disclaimer: This article is intended to provide information to interested parties. As I have no knowledge of individual investor circumstances, goals, and/or portfolio concentration or diversification, readers are expected to complete their own due diligence before purchasing any stocks mentioned or recommended.
Disclosure: I am long ARCP, CBL, DLR, GPT, HCN, HTA, O, ROIC, STAG, UMH, VTR, WPC, MPW, CSG. I wrote this article myself, and it expresses my own opinions. I am not receiving compensation for it (other than from Seeking Alpha). I have no business relationship with any company whose stock is mentioned in this article.