A lot of stocks moved out of our buy range in 2013. But with so many other choices of stocks moving up, many companies were shunned and forgotten. Yet their revenue and earnings stream is on course, with perhaps one less-than-stellar quarter, their management is still strong and committed to growing the company, and their values are now compelling. Here are three such firms we are targeting for outsized gains in 2014:
Timber, Cellulose, Nanocellulose and More
There are a number of well-managed timber companies in the USA. Weyerhaeuser (WY,) Plum Creek Timber (PCL,) and Rayonier (NYSE:RYN) all leap immediately to mind. All are off their highs right now, due mostly to temporarily lower construction demand and lower paper and, in Rayonier's case, cellulose prices, but Rayonier is particularly compelling. Selling near its low for the year, Rayonier at a P/E of 16 and a yield of 4.6% -- low-hanging fruit for a stodgy utility, but Rayonier is anything but stodgy!
We are buying Rayonier not only because it owns nearly 3 million acres of prime timberland in the US and New Zealand, not only because much of that land surrounds the burgeoning I-95 Interstate corridor in northern Florida, not only because it is selling at a good entry price, but because I think their future is going to be so rewarding that we want to own it as a potential 10-bagger. Why such enthusiasm? Because, alone among all these timber giants, Rayonier also has its Performance Fibers Division, which runs circles around the not-quite-but-almost similar subsidiaries of the other fine timber firms. With more than 85 years in this business, RYN's expertise is second to none.
Rayonier's high-purity cellulose products (performance fibers) are derived from wood chips that have been processed into custom pulps that meet individual client specifications. Many of these fibers are used by original equipment manufacturers abroad. As a result, Rayonier has developed exceptional understanding of export markets, delivering their products to five continents and some 80 ports around the world. The company consistently ranks as one of the nation's top 25 exporters as measured by ocean containers.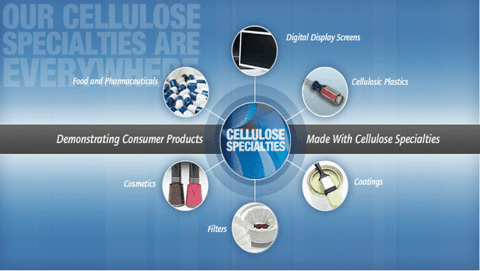 So what are these "performance fibers" used for? Everything from diapers to digital display screens, from pharmaceuticals to paints, cosmetics to hospital supplies, impact-resistant plastic, and even food. (It is natural fiber from trees, after all, not some laboratory invention!) It is important to note that these products are subject to significant fluctuation in pricing over the short term. And that's what led to RYN's selloff when they announced their 12-week results for the 3rd quarter.
Earnings for the 3rd quarter were down 29% from Q3 2012. Big deal. Regular investors in timber companies (like us) understand that selling real estate in their highest-growth, highest-value regions, buying new timber stands, changing their harvest levels, and the vagaries of timber, pulp and paper pricing can all make one 12-week period stand out and another disappoint. Even with this "disappointment" however, Rayonier's earnings are up 44% over the comparable period in 2012. And during 2013, RYN invested just under $300 million in new acquisitions and mill expansions. They also increased their interest in their New Zealand JV from 25% to 65%. China's voracious appetite for wood products make this a slam-dunk winner for the future. Spend a little now, make a lot more later. Isn't that what good businesses are supposed to do?
And long-term, I see solid growth in both pricing and consumption. Of course, beyond timber, real estate, and Rayonier's current cellulosic fiber products, there's one more possibility which makes me think this may yet be a massive performer long-term: advances in nano-cellulose.
Every owner of serious amounts of wood pulp stands to benefit from this new field, but it was Rayonier which did the early research, snagged some early patents and, in my opinion, is the company which stands to benefit hugely from continuing research and ultimate production.
The term nanocellulose was first used in the late 1970s at the (then-)ITT Rayonier labs in Whippany, New Jersey, to describe a gel-like substance formed by passing wood pulp through a milk homogenizer at high temperatures and high pressures, followed by an ejection impact against a hard surface. In so doing, they created an entirely new nanocellulose composition which had never been seen before; later, the company also found a way to make a dry powder form of the gel.
Since Rayonier is one of the premier producers of purified pulps, it is in their interest to create new uses and new markets for pulps; to do so, they invited other researchers to contribute to the potential marketplace by giving free license to whoever wanted to pursue this new use for cellulose. Other companies, mostly in Japan, Canada and the US, have since added their now-proprietary patents to the field, including P&G (NYSE:PG), J&J (NYSE:JNJ), 3M (NYSE:MMM), and McNeil.
Current production is coming mostly, not from Rayonier, but from CelluForce, a joint venture between FP Innovations and Domtar in Canada. One day, many researchers in the field will see the day when renewable nanocellulose fiber will replace oil as the primary ingredient in most plastics. If that day arrives, the question, "Paper or plastic?" will be moot. Both will be made of different forms of wood, an eminently renewable resource for as long as the sun shines and the clouds bring rain.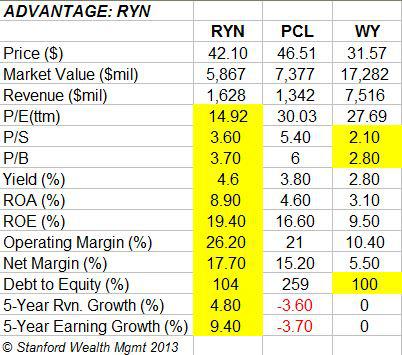 Most investors have let RYN fall off their radar screens. I think that's a mistake. 2013 was a transition year for Rayonier. I believe their capital expenditures and acquisitions will pay them handsomely in 2014. At a P/E of 15, a yield of 4.6%, an ROE of 19.4% and the leading position in what I believe will be a key growth area, we are buying RYN.
More MLPs, Please
Most natural gas pipeline companies are organized as MLPs - Master Limited Partnerships. MLPs don't pay income taxes directly to the IRS. Instead, income is allocated among all partners (including limited partners like you and me) in proportion to the number of shares we own. Typically, there will be a general partner, whose responsibility it is to actually run the business, and we shareholders are the limited partners.
To qualify for the tax advantage, the IRS demands that 90% of an MLP's income come from real estate, commodities, or natural resources -- mining, timber or energy, whether fossil fuel or renewable resource. MLPs typically provide a tax advantage because much of their distribution is classified as a return of investment instead of income and is thus tax-deferred. Return of investment does not mean they are returning your own money to you - a common misconception. It means that the IRS recognizes in all cases but renewables that it takes time to find more energy or grow more trees, so they consider this "depletion" of commonly-owned resources your capital.
MLPs report their "distributions" via an IRS Form K1 rather than paying "dividends" reportable on Schedule B - and the IRS makes the reporting incredibly onerous for the companies. So some of those K1s have, in the past, arrived after April 15, forcing investors to file an amended return and creating much passionate enmity from some quarters.
It's true that, until recently, there were a couple dozen companies that provided K-1 service to MLPs, some of which were better than others. Then PricewaterhouseCoopers started buying up the competition and consolidating operations in Dallas. This is a very intensive numbers-crunching process, what with having to deal with the percentage of revenue garnered from each state and assigning it incrementally to each limited partner, etc., so only a big company with super-computing capability found it profitable. Then equally big competitor Deloitte entered the business - nature abhors a monopoly -- so the K1 monster has been mostly tamed.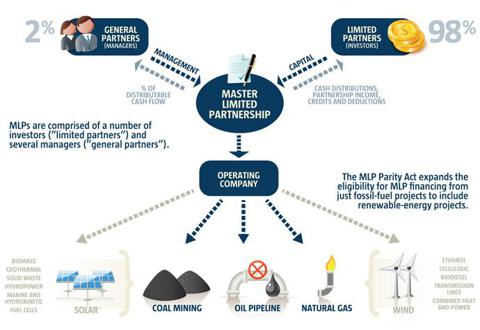 The MLPs I like best are those which transport and store natural gas, because I see natural gas as America's immediate, available today, cheap and abundant energy salvation. I received a question from a new client recently who asked if I ever recommend "renewables." Absolutely. In the past I've purchased solar and wind companies and hydroelectric utilities. But I consider natural gas "almost" like a renewable; after all, for the 40 years I've been buying energy companies, there is an element that has scolded me by saying the world is running out of fossil fuels. And every time they begin to gloat, strides are made in exploration, recovery and production technology and we discover even more. To me, it is absurd to ignore these Giant Batteries that Mother Nature has kindly distributed around the earth for us.
Transmission, storage and distribution pipelines typically enjoy a stable and profitable business. Since pipelines seldom overlap, they have no competition on the routes they serve. You can't evaluate an MLP the same way you evaluate most common stocks. Because these MLPs own assets that provide big depreciation charges, you might view their "reported earnings" and conclude they are basket cases. But those earnings aren't the most important factor in assessing a pipeline MLP - it is cash flow that powers distributions and provides the best likelihood of continued steady distributions, and provides cash for capital expenditures and for acquisitions. A good proxy is "earnings before interest, taxes, depreciation and amortization, or "EBITDA."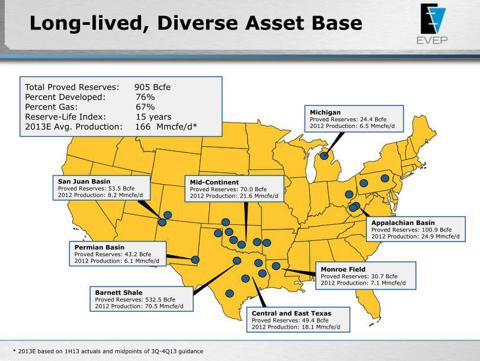 One firm that rises to the top of my ratings is EV Energy Partners LP (NASDAQ:EVEP). It is selling near its low for the year because many people believe its DCF (Distributable Cash Flow) is under pressure and the distribution amount is likely to be cut. I'm not so sure; of late they, in concert with some private partnerships tied to EVEP's general partner, have been making all the right moves to increase earnings from both production and transmission, while reducing debt by selling acreage tertiary to their primary holdings.
And, frankly, if their distribution is reduced, we'd buy more. We think that highly of management - and because our time horizon is measured in years, not weeks. A friend recently sent me a Credit Suisse analysis looking for a target price of $53 in the next 12 months for EVEP. Given that it sports a current yield just north of 9% (which may yet be cut,) I'm not quite that aggressive. But I do see a move, even if there is a cut to the 6% to 6.5% range, to $44-$46. That would still be a nearly 40% move from a company I don't worry one bit about holding in the interim - and am being well-paid to do so.
EVEP's biggest current projects include a number of overriding royalty interests (ORRI) in the Utica Shale region, Cardinal gas midstream transmission, and new acquisitions in the Barnett Shale region. They are connecting some 20 wells a month to their transmission system and I see no slowdown in this pace. There is the recently completed Kensington gas processing plant, which they are a partner in and which will benefit EVEP and their drilling partner, Chesapeake Energy (NYSE:CHK). The company has estimated net proved reserves of 14 million barrels of oil, 610 billion cubic feet of natural gas, and 36 million barrels of natural gas liquids.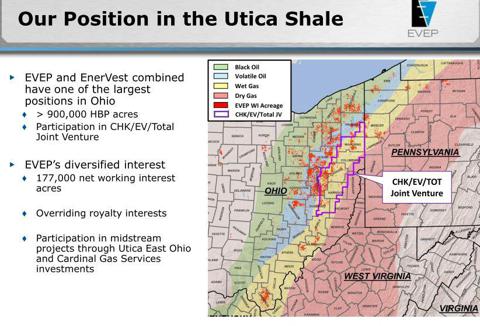 EV Energy Partners LP has negative reported earnings, but their price to distributable cash flow (Price/DCF) is a rather healthy 1.20, their Price/Tangible Book Ratio is 0.8, and I believe their outlook has never been better for continued growth.
Is There a Target on My Back?
My third suggestion for your due diligence is a company that has had tons of bad publicity of late. This has driven the price down from 73 five months ago to 63 and change today. I'm referring to Target Corp (NYSE:TGT), which was hit with three distinct problems in December. All have been much publicized, so I'll only briefly recap:
First, Target took a body blow as it was the victim of extensive theft of customers' credit card date on the most important weekend of the year for retailers (Black Friday weekend.) Since the theft of such data occurred in stores, not online, the early guess was that the card readers customers use to swipe their credit cards at the point of purchase were hacked.
Second, the company more recently discovered that even some encrypted debit card PIN numbers were stolen, prompting a new media feeding frenzy.
Finally, some of the gift cards shoppers bought for others were not activated properly. Some media reports say as many as 40,000. (But Target says it's only 0.1% of all gift cards and has promised to honor them.)
So why buy Target now? After all, the ambulance chasers are already circling, with 11 class action lawsuits already filed. Parenthetically, we don't typically participate in such lawsuits on behalf of our clients. A typical settlement goes something like this: 3 years after the damage has been done, as the lawyers find ways to increase or pad their billable hours, there is finally a resolution. If 10 million people were affected and the judgment is for $100 million, the lawyers will typically bet $30-$40 million of it and the remaining, call it $70 million, is distributed. So everyone gets a $7 check - except the lawyers.
But Target is not a dead brand as a result of this gaffe. Yes, they have lost some customer loyalty and yes, this will cost them - in lawsuits and in lost business. For the short term. However, thinking long term, as we do around here, I see JC Penney (NYSE:JCP) and Sears (NASDAQ:SHLD) both failing. Who will be the beneficiary of their demise? Macy's? (NYSE:M) Bloomingdales? Saks? (NYSE:SKS) I think not. When I survey the department store and big box landscape I see these middle class Americans more likely to shop on Amazon and other online retailers and at Target. Wal-Mart (NYSE:WMT) does a fine job and, as a result of this latest incident, is seen in a more favorable light than Target. This week.
Until this happened, however, YouGov Brand Index research showed a positive score of 37 for Target (37% more shoppers had a positive perception of the store than had a negative perception) while Wal-Mart was mired at a positive score of 6. Brilliant marketers that they are, Wal-Mart will use this period to do everything they can to steal market share from Target, but I imagine "this, too, shall pass" and people who don't like the level of service or the way goods are displayed or the crowds at Wal-Mart will once again select Target as their ersatz department store of choice. For many, Target is in the sweet spot above Wal-Mart and below Macy's where good prices are to be found in a clean-well-lighted store.
Because of the short term uncertainty, we are hedging our bets a bit by buying the stock and simultaneously writing call options against our position. If the stock continues to decline in the short term, we'll take those premiums as a way to cushion our downside risk. Long term, TGT is financially stable, with an ROE of 18.1, year-on-year revenue growth of 8.5% and earnings growth of 11.1%. The P/E is still a bit high at 17, but its Price/Sales ratio is an eminently reasonable 0.55. If I am correct and Target is the beneficiary of new customers from failing and failed competitors, the current malaise will soon be a distant memory.
Bonus Round
If you'd like to make this an even half-dozen, such issues that are selling at what we believe are bargain prices, and which we are buying for our clients and ourselves, you might also take a look at Natural Resource Partners (NYSE:NRP) here ("NRP: Left for Dead, a Stirring Lazarus"), The Chemical & Mining Co of Chile (NYSE:SQM) here ("SQM is a DOG! I Think We'll Adopt It..."), and Trinity Industries (NYSE:TRN) here ("TRN: They've Been Workin' on the Railcars").
The Fine Print: As Registered Investment Advisors, we believe it is our responsibility to advise that we do not know your personal financial situation, so the information contained in this communiqué represents the opinions of the staff of Stanford Wealth Management, and should not be construed as personalized investment advice.
Past performance is no guarantee of future results, rather an obvious statement but clearly too often unheeded judging by the number of investors who buy the current #1 mutual fund only to watch it plummet next month.
We encourage you to do your own research on issues we discuss to see if they might be of value in your own investing. We take our responsibility to offer intelligent commentary seriously, but it should not be assumed that investing in any securities we are investing in will always be profitable. We do our best to get it right, and we "eat our own cooking," but we could be wrong, hence our full disclosure as to whether we own or are buying the investments we write about.
Disclosure: I am long RYN, EVEP, TGT, SQM, NRP, TRN. I wrote this article myself, and it expresses my own opinions. I am not receiving compensation for it (other than from Seeking Alpha). I have no business relationship with any company whose stock is mentioned in this article.