(Editors' Note: This article covers a micro-cap stock. Please be aware of the risks associated with these stocks.)
I have searched far and wide to bring you my top 5 picks in the gold sector for 2014. There are literally hundreds of gold and silver stocks to choose from, but I believe these five picks present some of the most compelling buys. These are companies which I feel are currently undervalued compared to peers and hold tremendous upside potential. However, these companies also have several key catalysts ahead.
The single biggest factor for any gold stock is, of course, the price of gold (NYSEARCA:GLD). Miners and streamers are attractive investments because the leverage they offer to the price of the yellow metal, as they are expected to outperform on the way up - but in many cases, underperform on the way down, as we saw in 2013.
It's hard to believe it, but the price of gold started 2013 above $1,650 an ounce. Today, we are trending below $1,200 an ounce, a loss of 28 percent and gold's worst yearly performance since 1981: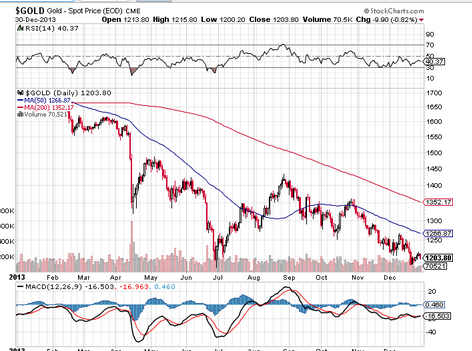 Yet when you look at the gold mining companies, things were even worse: 2013 saw the Gold Miners Index (NYSEARCA:GDX) suffer losses of 51.9 percent, worse than gold's 28 percent. This is the main risk you take when investing in this sector - if gold underperforms, then in most cases, you should expect your miners and streamers to do even worse.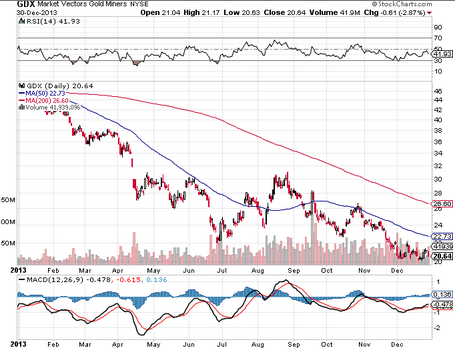 However, there is reason to believe that gold has bottomed or is very close to doing so. Mainly, I am one who believes that the all-in cost of production puts a floor on the gold price - over the long-term.
I also believe that demand from central banks such as China will remain strong in 2014, and I feel the US Federal Reserve will have to increase the size of QE as interest rates rise from the initial taper set to begin in January. This rise in interest rates will put pressure on the housing market and the entire recovery, in my view. That will be an article for another day, however.
Here, I will offer my top 5 picks in the gold sector for 2014. If you believe that gold will rebound in 2014, perhaps only just slightly, then I believe these investments will provide great gains in the new year.
#5 Klondex Mines (OTCQX:KLNDF)
Klondex Mines was one of the best performing gold stocks of 2013, returning 20.16 percent for the year. There is good reason to believe that this outperformance will continue in 2014.
Klondex owns and operates the Fire Creek Gold Project, located in North Central Nevada - one of the best mining jurisdictions in the world. The project is an extremely high-grade underground deposit which holds significant exploration potential. Currently, the resource estimate at Fire Creek contains just 295,000 ounces measured and indicated and 421,000 ounces inferred.
This looks like small resource at first glance. However, these ounces are very high grade, with 44.7 g/t measured and indicated and 19.2 g/t inferred, which should lead to industry leading cash costs. In addition, the company estimates that the project is 93 percent under explored.
The company has begun to receive revenue and cash flow from gold shipments just this last quarter. In 2014, the goal is to continue underground infill drilling ($2.9 million budget) and initiating an initial bulk sample of up to 36,500t/yr.
*Earlier this month, Klondex announced an agreement to acquire the Midas mine and ore milling facility for $83 million from a subsidiary of Newmont Mining Corporation.
- This acquisition by Klondex gives the company a high-quality operating mill and a high-grade gold mine which management feels has "substantial upside potential."
- However, the acquisition also will "add synergies between via shared equipment, employees and enhanced efficiencies" as the Midas mine is located approximately 112 miles from Fire Creek. This is a game-changing acquisition in my view and a smart move by management.
- To pay for part of this acquisition, the company announced a gold financing package with Franco Nevada (NYSE:FNV), consisting of a pre-paid gold purchase arrangement and a 2.5 % NSR on the Fire Creek and Midas properties.
- The company will deliver 6,750 ounces in 2014, 7,500 ounces in2015, 8,000 ounces in 2016-18, and the NSR royalty will commence in 2019.
- The company also will raise $35 million in equity at $1.45 per share, as well as $25 million in secured debt at 11 percent.
- The acquisition financing is expected to close in early 2014.
- I also like the fact that management and insiders own approximately 9.8 percent of Klondex, a vote of confidence in the project and the company.
- In addition, multiple insiders purchased a total of 526,900shares in November and 2,216,400 shares in October, as SA author Markus Aarnio points out in his article.
The story at Klondex is just getting started, and I feel that the company could emerge as one of the highest-grade, lowest cost gold producers in the world. I will keep an eye on this company in 2014 as I am looking to start an initial position sometime early in the year.
#4 Primero Mining (NYSE:PPP)
Primero Mining is a gold mining company with operations in Mexico at the company's flagship San Dimas mine. The company was in the spotlight recently with the announcement of the acquisition of Brigus Gold (BRD), a Canadian gold producer which operates the Black Fox mine, expected to produce 105K+ ounces this year, and the developmental Grey Fox project.
As a shareholder of Brigus I am a huge supporter of this acquisition, with the offer at a significant premium to Brigus' share price. Brigus is a company which has great projects, but the company did have a significant debt balance, which was a cause for worry during this period of prolonged weakness in the gold price.
However, I think the deal is also a great one for Primero shareholders. The two combined companies will boast a solid growth in production, from 138K in 2013 to 265K in 2014 - nearly doubling production in just one year. It will also diversify Primero's assets in Canada, instead of just one operating mine and development project in Mexico. The new company will be well capitalized, with $146.8 million in cash and equivalents and just $106 million in total debt.
I believe the best lies ahead, as the combined company has the potential to produce 400K+ ounces by 2017 (between Black Fox, San Dimas and Primero's Cerro De Gallo project, an exciting gold, copper and silver project which could be a very low-cost operation).
*However, I want to point out that this 400K ounce projection does not include potential production from Brigus' Grey Fox project, which I believe has the potential to add another 100K of annual production at low all-in sustaining costs (Grey Fox has 700K ounces in indicated and inferred, but more exploration needs to be done. I feel Grey Fox will have more than 1 million ounces of gold easily with further exploration).
Both Black Fox and the Grey Fox project still have a ton of exploration upside potential, which is perhaps one of the main reasons why Primero made this move. For Brigus shareholders, we get a company with deeper pockets to speed up exploration activities and we get one of the best CEO's in the business in Joe Conway.
The combined company will have a market cap of $720 million and is expected to generate approximately $760 million in operating cash flow over the next five years, according to company projections. Closing of the acquisition is expected in February 2014 following votes at shareholders meeting.
I fully expect the deal to go through and the new combined company will be one of the most attractive mid-tier gold miners in the world, operating two quality producing gold mines in politically stable regions. I also wouldn't rule out another acquisition in 2014 - perhaps another Canadian gold miner on this list.
#3 Asanko Gold (NYSEMKT:AKG)
"One man's trash is another man's treasure."
Asanko Gold is an emerging mid-tier gold producing in West Africa. The company announced the acquisition of PMI Gold on December 17, to co-develop the Esaase and Obotan properties (located within 15KM radius).
- Combined, Esaase and Obotan hold a resource of 7.5 million ounces measured & indicated, 2.9 million inferred and 4.8 million proven and probable.
- This acquisition makes perfect sense for Asanko as they seek to bring Esaase into production by 2015 (200,000 ounces a year at projected all-in sustaining costs of under $900), while developing Obotan (to also produce 200,000 ounces at low cash costs). Combined, the new company could be a 400K+ ounce producer by 2017.
- The company estimates $100 million in operating and capital cost synergies between the two companies.
- Asanko is among the most undervalued gold stocks in the entire world; the combined company will have $280 million in cash and a $150 million debt facility for total available capital of $430 million. Did I mention the combined company would only have a market cap of $363 million?
- With a massive resource base of more than 7 million ounces of gold, the market is placing a value on each ounce of just $13! (Producer peers average more than $100 an ounce).
- In addition, management and insiders own approximately 12 percent of the company.
The market appears to significantly discounting shares of Asanko for a few reasons. Obviously, a drop in the price of gold is the main reason for the share price weakness. There are also many operational risks when bringing a gold mine to production.
I feel that investors are also disregarding the company because of their location in Ghana.
While Ghana is not the most mining friendly region in the world, I don't think it is nearly as bad as some investors think. The country currently has over 20 operating mines, with three new mines in production in the last five years, according to Asanko's corporate presentation. The government of Ghana already has a 10 percent free-carried interest in Esaase, in addition to a NSR of 5.5 percent and a tax rate of 35 percent. Therefore, Ghana has a significant interest in the success Asanko Gold and this project.
In conclusion, I feel that shares of Asanko are simply too cheap to ignore right now. The acquisition of PMI Gold paves the way for the company to become a 400,000 ounce gold producer at low all-in sustaining cash costs by 2017 - and with $280 million in cash, the new company should have more than enough capital to achieve their goals without any further capital raises.
I plan on buying shares of the newly combined company in February - March of 2014.
#2 St. Andrew Goldfields (OTCQX:STADF)
I previously highlighted St. Andrew Goldfields as one of the most undervalued miners among the gold juniors. Following Primero's acquisition of Brigus Gold at a significant premium, I feel that St. Andrew is another screaming buyout candidate.
(St. Andrew's properties are located right next door to the Black Fox mine, as you'll see in this chart below).
Here is why I've listed St. Andrew Goldfields as my #2 overall gold stock for 2014:
- St. Andrew's is a profitable, high-grade gold producer targeting production of 100K+ ounces in 2014 at all-in sustaining costs below $1,100 an ounce.
(The company earned cash margin from mine operations of $13.4 million and operating cash flow of $8.9 million or $0.02 per share last quarter- despite a 19% decrease in the average realized price per ounce of gold sold).
- St. Andrew Goldfields has a current market cap of around just $80 million
The company has a rock-solid balance sheet As of Sept. 30, 2013, St. Andrew Goldfields had over $31 million in cash and equivalents and $19.5 million in working capital, so the company is sufficiently capitalized to continue operations, even if gold went lower. The company has long-term debt of just $12.9 million.
- Therefore, the company's enterprise value is around just $60 million.
- St. Andrew Goldfields has total proven and probable reserves of 735,000 ounces total g/t of 4.84. However, the company also has a measured resource of 281,000, 1.9 million in the indicated category and 1.02 million in inferred, for a total resource base of 3.93 million ounces.
- This gives the company an EV/gold ounce in the 12-14 range which is extremely cheap, considering that the gold producer average is in the $50-100 range.
- As previously mentioned, I believe that St. Andrew Goldfields is one of the most obvious takeover candidates out there as the company's projects are located in one of the best mining jurisdictions in the entire world. Plus, the company is literally surrounded by mid-tier and major mining companies, including IAMGOLD (NYSE:IAG), Goldcorp (NYSE:GG), Kirkland Lake Gold (KGILF) and Agnico Eagle (NYSE:AEM)!
I am expecting big things from this little gold miner in 2014. I would not be surprised at all to see a takeover, but even if that doesn't happen I think the stock has big upside - even at $1,250 gold.
For further analysis of St. Andrew Goldfields, please read my original article here.
#1 Teranga Gold (OTC:TGCDF)
Teranga Gold is another gold mining stock which is just not getting any love from investors. However, recent news deserves your attention.
Teranga has the goal of becoming a 250-350K gold producer in Senegal, and the company took a huge step towards that goal with the recent acquisition of the company's remaining 43.5 interest in the Oromin Joint Venture Group, consolidating the Sabodala region.
Even before the acquisition, I felt Teranga was a strong buy; however, the acquisition makes the story even more compelling, giving the company the long-term potential to produce far more than 250,000 ounces a year, in my view. To put it simply, Teranga has the potential to be one of the best gold growth stocks in the entire world.
Teranga already owns and operates the producing Sabodala mine in Senegal. The mine produced 37,000 ounces of gold in Q3 2013, putting the company at 155,000 ounces year to date. All-in sustaining costs came in a little high at $1,289, but the company has maintained 2013 guidance of $1,000 to $1,100 an ounce. Still, at higher costs, operating cash flows came in at $17 million for the quarter.
The company's resource base before the Oromin acquisition was 1.4 million ounces proven and probable, with 2.89 million ounces in measured and indicated. However, the acquisition of Oromin gives the company an additional 2.335 million ounces in proven and probable, as well as 3.78 million ounces measured and 960K ounces indicated. The acquisition will allow the company to leverage their existing mill and infrastructure, and it gives Teranga a very exciting, large land position with big exploration potential.
The acquisition of the remaining balance of the joint venture was funded with a $135 million stream transaction with Franco Nevada . The stream also reduces Teranga's outstanding loan balance to just $30 million, from $60 million. This eliminates any worry I previously had with the company's debt during this period of weakness in the gold price.
In exchange, Teranga will deliver 22,500 ounces per year from 2014 to 2019, and 6 percent of production from 2020 and thereafter. Franco will pay 20 percent of the spot price of gold on each ounce delivered.
The proposed transaction is expected to be completed by Jan. 17, 2014. I saw this financing as a big vote of confidence and third party validation in Teranga from Franco Nevada, and I think the deal is much more favorable for Teranga than an equity raise, which would have badly diluted current shareholders.
Teranga will release a new 43-101 resource in Q1 2014. More reserves, more gold production and lower cash costs should lead to stronger free cash flow in 2014 and beyond. With a higher gold price, we could see some pretty eye-opening results from Teranga.
Honorable Mentions: Lake Shore Gold (NYSEMKT:LSG), Alamos Gold (NYSE:AGI), Timmins Gold (TGD) and Sandstorm Gold (NYSEMKT:SAND).
In conclusion, I firmly believe that these five picks could turn out to be some of the best contrarian investments for 2014 and beyond, and I expect these stocks to outperform their peers in 2014.
Do you agree or disagree with the picks on this lists? What are your top picks for 2014? Please comment below with your thoughts.
Disclosure: I am long BRD, SAND, STADF, . I wrote this article myself, and it expresses my own opinions. I am not receiving compensation for it (other than from Seeking Alpha). I have no business relationship with any company whose stock is mentioned in this article. This list does not include my top overall pick for 2014, Dynacor Gold, as well as another top pick, Gran Colombia Gold.