The Turkish Economy

Turkey is located on the crossroads of Europe and Asia, making it a major regional power. It was a major power in Europe from the 14th century when the Ottomans created a huge empire. The modern Republic of Turkey was established in 1923 that setup the country as a democratic and secular country. It was a founding member for the OECD and the G-20. The country saw rapid growth in the 1990s but was repeatedly faced with recessions and financial crises as well. More recently, the GDP grew more than 6% between 2002 and 2007. This made Turkey as one of the fastest growing economies in the world but slowed down following the global recession in 2008-09. The economy started recovering in 2010 but there is no long-term trend visible.
I find that the US stock market offers very few stocks at mouth-watering valuations and as a result find myself looking at foreign equities in hope of finding solid dividend growth stocks at decent valuations. In this article, I introduce a few Turkish stocks for further due diligence.
Dividends as Stock Screen
Dividends are paid out of positive cash flow and harder to fake over long term. They are typically honest while an over-zealous accountant may be able to window dress earnings per share. I prefer stocks with increasing dividend amounts in native currency. I do understand that the US dollar amount may vary due to foreign exchange conversion rates. While I look for consistency in dividend history with at least 4% growth in dividend amount year-on-year, in some cases I will pardon an occasional dividend stall or even elimination of dividend if I convince myself that the situation so demanded the cut. I do try to watch for any long-term trend in currency devaluation against the US dollar.
Withholding Tax on Dividends
Turkey withholds tax on dividends at the rate of 15% for non-resident investors. An individual investor can file for tax credit on Form 1040 if the shares are held in a regular brokerage account subject to certain limitations. Amounts up to $300 ($600 for joint returns) can be claimed directly on the 1040 but greater amounts or carry-forward/backward requires Form 1116. If the shares are held in a tax deferred account like IRA or 401(k) then there is no mechanism to recover the withholding foreign tax and is lost thereby reducing the effective dividend yield. As always, consult your tax advisor on all tax-related matters since each individual case is different and I am not qualified to give tax advice.
Ford Otosan Sanayi (OTCPK:FOVSY)
Ford Otosan is the Turkish arm of Ford Motor (NYSE:F). The company is 41% owned by Ford with another 41% owned by the Koç Holding group. It designs and builds cars for the local market as well as for global exports. The company operates Ford's 3rd largest global R&D center as well and has great market share in Turkey with about 25% of Turkey's total automotive production. In terms of market share, the company is first in light commercial vehicles and fourth in passenger cars. The number of vehicles sold for 2012 fell after rising for three consecutive years prior. The dividend history is quite impressive with a current yield of 6.4% for the unsponsored ADR. Even though shipments and revenue decreased in 2012, the company managed to increase dividends primarily due to a lower tax rate.
Recently, the stock market in Turkey tanked due to political unrest and the renewed anti-government protests amidst increasing corruption charges. I ended up buying Ford Otosan at $53 and have placed another limit buy order at $50. I have placed a limit buy order at $55 which is about 15% lower than the current market price hoping to benefit from any potential weakness in the markets especially due to geo-political concerns. The current P/E ratio is approximately 12, which isn't cheap for an automotive company, but isn't over-priced either. This is not a typical dividend growth stock as the following chart demonstrates but a higher dividend yield stock with small growth built in. The ADR is unsponsored and each stock on the OTC represents 5 shares of the original Ford Otosan stock. The company pays dividends twice a year, in April and October.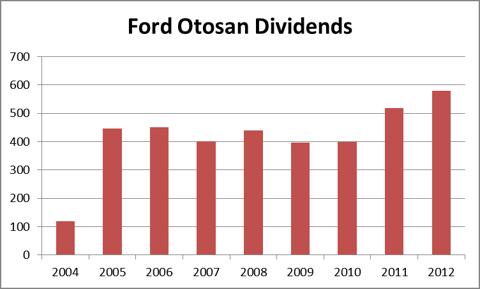 Turkcell Iletisim (NYSE:TKC)
Turkcell is a major telecom operator and provides GSM-based mobile telephony services to consumers in 9 countries. It is a leader in 5 out of these 9 countries. It operates via subsidiaries in fast growing countries such as Azerbaijan, Kazakhstan, Moldova and Georgia. It is the first and only Turkish company listed on NYSE. The company had a decent dividend track record and a good yield till 2010 when the dysfunctional board of directors couldn't come to an agreement and the dividend was eliminated. The complex holding structure for the company has results in no payments since then leading to a lot of disgruntled investors. I personally sold my investments in TKC at a loss in 2011, though there are recent indications that the dividend might get reinstated soon. I wouldn't bet on it though.
TAV Havalimanlari (OTCPK:TAVHY)
The holding company is the leading airport operator in Turkey with interests in duty free shops, food and beverage shops etc. It has a decent yield of 2.6% which can go up since the company is benefiting from the growth in Turkish air traffic. The company has a short history of dividend payments having initiated payments in 2011. The company may be worth watching in future given a reasonably regulated business model. The stock price has gone up more than 40% in the current year. If bought on declines, it may even provide the potential for superior total returns.
Akbank TAS (OTCQX:AKBTY)
Akbank was founded in 1949 and is one of the bigger banks in Turkey. The bank halved its net dividend from 720K TRY in 2007 to 360K in 2008. The dividend has since increased to 570K TRY for 2012 though it was again reduced in 2011 over 2010. The history is unreliable and the cut was substantial so I am not going to watch it going forward. The current yield is about 1.9% for those interested in a Turkish bank.
Coca-Cola Icecek (OTCPK:COLAY)
This soft drinks bottler has a tiny yield of 0.58% though it has grown at a fast pace over the last few years starting from 22m TRY in 2006 up to 80m TRY in 2012.
Turkiye Garanti Bankasi (OTCQX:TKGBY)
Garanti is an Istanbul-based bank that offers corporate, commercial, retail, and investment banking services. The bank has an indicated yield of 1.9% and has a sponsored ADR. However, it was hard to get the dividend history for the last few years from the company website; even after downloading the annual reports that were very complex and did not include simple, easy to refer historical tables.
KOC Holding (OTCPK:KHOLY)
Koç Holding is a large holding company that has interests in Energy, Automotive, Consumer Durables and Finance sectors. In fact, this is the holding company that holds 41% of the Ford Otosan discussed earlier in this article. The company has a very complex holding structure and even harder to understand financials and future prospects. The dividend history was hard to get to from their website and the current yield of less than 2% made me lose interest after a few minutes into their annual report.
Concluding Remarks
I am not sure whether the US will continue to be an economic superpower in the coming five decades in the face of mounting federal debt and increasing trade imbalance. The US market is at an all-time high and it is hard to find bargains in the dividend bucket. I am slowly selling some of my holdings at multi-year highs and investing sale proceeds, along with any new savings, into foreign dividend paying companies. I was happy to find Ford Otosan and TAV Havalimanlari.
Please do your due diligence before investing in Turkey since the risks are higher than a typical dividend stock from a developed economy. One final note of caution - most of these ADRs are unsponsored and the trading volume can be extremely thin - just a few hundred shares in a day is not uncommon.
Disclosure: I am long FOVSY. I wrote this article myself, and it expresses my own opinions. I am not receiving compensation for it (other than from Seeking Alpha). I have no business relationship with any company whose stock is mentioned in this article.