Compared to either the S&P 500 or the DJIA, the natural gas transportation portfolio underperformed in 2013. While large-cap dividend paying components Cummins Inc (NYSE:CMI), General Electric (NYSE:GE) , and ConocoPhillips (NYSE:COP) performed very well, the other two positions, originally Westport Innovations (NASDAQ:WPRT) and Exxon Mobil (XOM), did not work out so good. Westport, which early in the year was the portfolio's best performer and at one point was up over 20%, swooned after another poor earnings and was replaced by Clean Energy Fuels (NASDAQ:CLNE) on November 1 after a 9.4% loss. Likewise, the position in XOM was stagnant after two quarters of mediocre earnings and was swapped out for Chart Industries (NASDAQ:GTLS) right before Chart's business in China showed signs of slowing as policymakers there shifted natural gas supplies away from transportation to power-generation and heating as a result of pollution problems and a very cold start to winter. The portfolio's full-year results are shown below.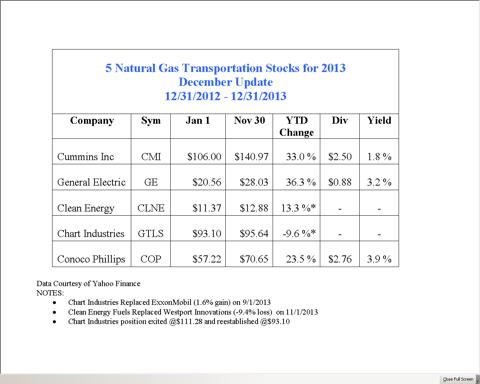 YTD Performance
The portfolio's year-to-date return was 17.4%. The total return of the portfolio, including dividends, was 20.0%. In comparison, the S&P 500 was up 29.6% YTD.
Dividend Payments For December
12/2/2013: Cummins Inc. - $0.625
12/2/2013: ConocoPhillips - $0.69
There were no portfolio changes in December.
Newsworthy Company Updates For December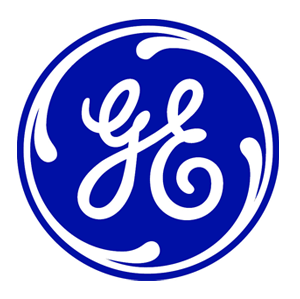 GE's nice performance in December was in part due to its decision to increase the dividend by 16% to a quarterly payout of $0.22/share. GE's natural gas turbine business continues to benefit from the move away from coal to natural gas with a contract for financing, equipment and services related to two 7F gas turbines for a 534 MW plant in Illinois. At the same time GE continues to invest in solar energy and will provide 38 GE turbines for a 61 MW wind farm in Kenya. Meanwhile, GE is collaborating with Chinese shipbuilding companies to jointly develop designs for gas turbine-powered LNG carriers. GE says just a 1% market share improvement in this sector has the potential to add $40 billion in revenue growth opportunities for China through 2020.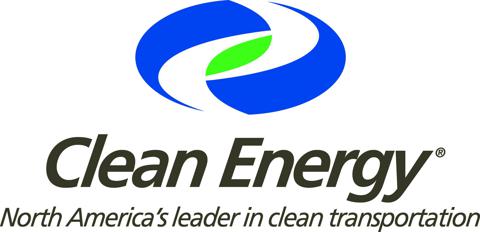 Clean Energy reports its customers ordered 70% more natural gas vehicles through the third quarter of 2013 as compared to the same period in 2012. Clean Energy CEO Andrew Littlefair said:
This year, industry experts forecast that approximately 2,400 Cummins Westport 12L natural gas engines are scheduled to come off production lines and into America's heavy duty trucks, a figure which is projected to rise to 10,000 in 2014. 2013 also saw promising developments in the rail and maritime industry's use of natural gas.
CLNE has added 10 more America's Natural Gas Highway stations this year for a total of 19 now in service. In addition, CLNE reached a new multi-year contract with the Long Beach Public Transport Company which has the potential to deliver 1.5 million gas gallon equivalent ("GGE") of CNG per year. Also, a leading Las Vegas transport company rolled out 229 NGVs and continues to transition its entire fleet over to natural gas, a move that could lead to up to 1.3 million GGEs of CNG per year once fully deployed.
Chart Industries will provide an LNG fuel system for a marine emissions reduction project in Germany. Chart's on-board LNG system includes two 40ft LNG ISO intermodal containers and a skid mounted Gas Processing Unit (GPU) along with connecting equipment, controls, safety appliances and associated piping.
ConocoPhillips announced a fourth significant discovery in the deepwater Gulf of Mexico. COP holds a 20% interest in the Gila well which is operated by BP (NYSE:BP).
Natural Gas Transportation Industry News
The Greater Cleveland Regional Transit Authority has approved the purchase of 60 new Gillig CNG buses for $28 million and has the option to order an additional 180 buses that could be delivered in 2016-2018.
Two LNG ships will be built for service in Puerto Rico. The Jones Act ships are scheduled for delivery in second and fourth quarter 2017.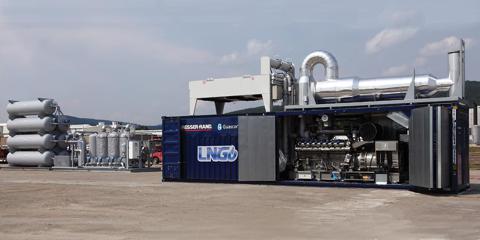 The Dresser Rand Corp. (NYSE:DRC) announced that its first small-scale LNG plant, being marketed as the LNGo, has successfully produced LNG. The demonstration plant, which still requires extended performance and endurance testing prior to a full market release, can produce ~6,000 gallons of LNG per day. The company says it now has over 90 sales leads for purchase or lease.
Republic Services (NYSE:RSG) has deployed 107 CNG solid waste and recycling trucks in Anaheim and throughout Orange County, California. The new CNG fleet replaces older diesel and liquid natural gas powered trucks. Approximately 50% of all Republic vehicles purchased in 2013 are powered by natural gas.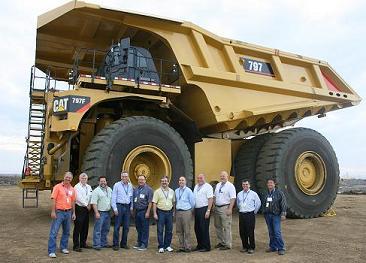 Shell (NYSE:RDS.A) (NYSE:RDS.B) and Caterpillar (NYSE:CAT) have signed an agreement to save money and reduce emissions by testing a new bi-fuel engine for use in mining the oil sands of northern Alberta. The new engine will run primarily on LNG instead of diesel. CAT will test the design at Shell's oil sands operations near Fort McMurray. Shell will retrofit its existing truck fleet with the new engine for the trial, as well as providing re-fuelling infrastructure at its Shell Albian Sands operation. Shell's VP of Oil Sands John Rhind had this to say:
With heavy hauling being such a core part of our operation, success with this could make a real difference in our operations costs and emissions.
I expect all the oil sands miners will follow Shell's lead in adopting natural gas for these huge diesel guzzling Caterpillar trucks.
Summary And Conclusions
While the natural gas transportation portfolio underperformed the broader market, 2013 was a great year for the sector. The number of NGVs deployed in China is skyrocketing. The release of the new Westport Cummins 12-L engine, which can run on either CNG or LNG, was truly a game changer and will lead to robust growth in the US long-haul trucking sector. Excellent NGV growth was seen across the US for use in the refuse, bus and taxi fleets. Energy companies are reducing costs and emissions by using natural gas to power trucks for oil sands mining and for engines used on drilling rigs. Natural gas has certainly proven it has superior economics and emissions as compared to diesel. While the outlook for domestic gasoline prices is stable to down, analysts predict diesel prices will remain pricey because US refiners will continue to ramp up diesel exports. This means the main catalyst (cost savings) for adoption of natural gas engines over diesel engines is likely to remain in place for a long time to come. The future for natural gas transportation never looked brighter.
I will continue to track the natural gas transportation portfolio in 2014. I will reset the portfolio with equal weight investments as of January 1, 2014. This year I will issue updates on the portfolio every quarter as opposed to monthly.
Let me take this opportunity to wish all my followers and readers a happy, healthy, and most prosperous New Year!
Disclosure: I am long COP, DRC, XOM. I wrote this article myself, and it expresses my own opinions. I am not receiving compensation for it (other than from Seeking Alpha). I have no business relationship with any company whose stock is mentioned in this article.
Additional disclosure: I am an engineer, not a CFA. The information and data presented in this article was obtained from company documents and/or sources believed to be reliable, but has not been independently verified. Therefore, the author cannot guarantee its accuracy. Please do your own research and contact a qualified investment advisor. I am not responsible for investment decisions you make. Thanks for reading and good luck!