Editors' Note: This article covers a stock trading at less than $1 per share and/or with less than a $100 million market cap. Please be aware of the risks associated with these stocks.
North American Palladium (PAL) is one of two major producers of palladium in North America. It has struggled over the last several years. It had a gold mining business, which it has mostly divested itself of. This turned out to be a great decision since the price of gold has fallen precipitously in 2013. That business had been marginally profitable or unprofitable even at higher gold prices. Not surprisingly the purchase price was only $18 million in cash and 1.5 million in common shares of Maudore Minerals Ltd (OTCPK:MAOMF). The closing of the sale was announced March 22, 2013. Now PAL is primarily pursuing its palladium mining business through its Lac Des Iles mine (and the production of sundry other metals). PAL is currently unprofitable. However, it lost $54.6 million due to its gold operations in FY2012. These have now been sold, and they no longer represent a huge weight dragging PAL's fiscal performance downward. PAL believes its recent development moves will allow it to achieve profitability in 2014.
The five-year chart of PAL below shows how its price has fallen steadily to a recent nadir. It was at a high of $7.63 on February 14, 2011. It fell to a recent low of $0.38 on December 9, 2013.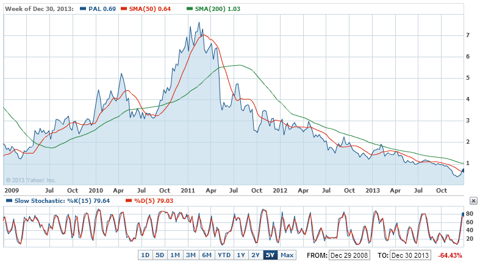 Only recently has PAL stock price begun to rise again. There appears to be five main catalysts for this:
PAL reported Q3 2013 results on November 14, 2013. These did not show profitability, but they did outline a good (and believable) path to profitability in 2014.
PAL published a very positive update of its exploration results for its 2H 2013 exploration drilling at its Lac des Iles mine (its main palladium mine) on December 23, 2013.
Palladium Nymex futures have begun to rise likely due to recent good world economic news from their December 24, 2013, low of $692.65/ounce. They closed December 30, 2013, at $710.80/ounce. The early December 2013 high was $744.9/ounce. The November 7, 2013, palladium high was $765.00/ounce. PAL is predicting an average selling price of about $800/ounce in FY2014. This forecast is very close to other major analysts' forecasts: Bank of America Merrill Lynch (NYSE:BAC) - $813/ounce, Citi (NYSE:C) - $800/ounce, Commerzbank - $760/ounce, and HSBC-- $825/ounce. Citi thinks prices could be up to $900/ounce by the end of 2014.
The recent forecast for worldwide auto production is for +5% growth for FY2014. Volumes in Western Europe began to stabilize in 2H 2013, and they are expected to rise in FY2014. Double digit increases are expected in China. This should bring Chinese sales to nearly 18 million vehicles for FY2014 (from about 15 million vehicles in FY2013). In the US, an abnormally old US fleet at 11.4 years on average is expected to drive US sales to 16 million units. Auto parts (mostly catalytic converters) accounted for approximately 65% of palladium demand worldwide in 2012. That percentage will likely be even higher in 2014. The growth in auto sales, if it happens as forecast, should drive palladium demand and prices significantly higher. Further auto sales are expected to increase worldwide at about a 4% per year clip for many years.
Beijing enacted the Beijing V standard March 1, 2013. It is similar to the Euro V standard. It will require all new cars to meet tougher emissions standards. It will also ban all cars that don't meet the standard from being sold or registered. This will mean better catalytic converters will be eventually required in all Beijing autos going forward. This will increase the demand for palladium for Chinese cars. Other big cities in China are expected to follow Beijing's lead. I admit I haven't tracked this completely, but the Chinese government does tend to act more quickly than the US and European governments. The forecast is for 18 million new cars to be sold in China in FY2014. It is logical that a lot of these will meet the new emissions standard (will require more palladium).
The following table describes PAL's palladium mining results for the first three quarters of 2013.

This table leads to the conclusion that PAL will mine over 2 million tonnes of ore at its Lac des Iles mine in FY2013. The grade of the ore mined from the surface has been decreasing rapidly (from 2.4g/t in Q1 2013 to 1.2g/t in Q3 2013). However, the grade of palladium mined per tonne from underground sources has improved if anything (from 41.g/t to 4.5g/t from Q1 to Q3 respectively). The average palladium recovery rate has been 80.7% for the last two quarters.
Some fundamental positive news is PAL's Phase I expansion is essentially completed. The Phase I expansion was commissioned in October. The expansion largely involved sinking an 825 meter shaft to allow more direct transport of ore and waste from the Offset Zone. PAL expects to ramp up underground production from this zone in December 2013. PAL is currently targeting 3,000 tonnes/day towards the end of Q4 2013 and 4,000 tonnes/day at some as yet unspecified point in 2014. If you figure 91 days in a quarter, this will mean a ramp up to at least 91 days * 3,000 tonnes/day = 273,750 tonnes/day in Q1 2014. Skeptics may point out that this is less than the 500,000-plus overall tonnes mined in Q3 2013. However, it is really approximately 65,000 tonnes more from "high grade" underground sources as that figure for Q3 2013 was 208,097 tonnes at 4.5g/t. Assuming a consistent underground grade of 4.5g/t in Q1, that will translate into approximately an extra 292,500 grams of palladium mined in Q1 2014 than in Q3 2013. The shaft should also decrease the amount of labor needed to bring the ore to the surface. Therefore costs may be nearly the same. Yet PAL will get a lot of extra revenue.
The extra approximately 292,500 grams mined from underground sources should add directly to PAL's top line and almost directly to PAL's bottom line. The further ramp up during 2014 from 3,000 to 4,000 tonnes per day from underground sources should provide approximately another 409,500 grams of palladium per quarter. Again this will be largely added profit. The cost per tonne milled is expected to go down too, as it did in Q3 2013. Taking the price per ounce as $710/ounce, the additional revenue from the forecast increased underground production by the end of 2014 is 720,000 grams * 0.035274 ounce/gram * $710/ounce = approximately another $17.6 million in revenues per quarter by the end of 2014. The assumption of a $710/ounce palladium price is probably an underestimate. If you use the $800/ounce average forecast price of palladium for FY2014, you get an extra 140,000 ounces * $90/ounce = $12.6 million ($3.15 million per quarter) for FY2014 due to increased palladium prices alone. If you add the extra underground production at Citi's forecast of about $900/ounce at year end 2014, you get an added 720,000 grams * 0.035274 ounces/gram * $900/ounce = $22.86 million in revenues expected per quarter by the end of 2014 (for Q1 2015) instead of the $17.6 million mentioned above. That's an extra $5.36 million per quarter above the estimate at the current price (about $710/ounce).
To put the above in perspective, the total revenue for Q3 2013 was $33.3 million, the above described huge jump in the amount of palladium produced from the higher grade underground sources amounts to roughly 50% year over year revenue growth for this small company. Plus it is clear that the higher grade ore underground will yield lower costs per tonne of ore mined (or per ounce of palladium produced). This should lead to huge profit growth for PAL. Since the net loss for Q3 2013 was only $5.3 million (or $0.03 per share), the extra approximately $17.6 million (or possibly $22.86 million at 2014E) in revenues expected at 4000 tonnes/day from underground sources should easily lead to profitability at some point in 2014. Such an eventuality would also lead to a better credit rating, which would then lead to still more profits due to probably much cheaper loans.
In addition to the improved amount and speed of higher grade underground mining that will steadily take place, PAL also identified many new mining targets. These still have to be further defined, but it is clear they will add substantially to PAL's reserves. They should ensure that PAL is a growing concern for quite some time, and they are by no means the end of exploration by PAL around its Lac des Iles holdings. A few of the highlights of the exploration are:
Several typical Roby Zone open pit grade intersections of palladium mineralization were encountered, including 2.44 g/t of palladium over 16 meters, 2.13 g/t of palladium over 17 meters, and 1.79 g/t of palladium over 24 meters. This program also encountered some high grade palladium mineralization, including 16.4 g/t over 3 meters.
The exploration of the upper Offset Zone southeast extension found mineralization of 5.23 g/t of palladium over 37.6 meters in hole 13-717, including 8.24 g/t of palladium over 10 meters.
Three short drill holes at the north end of the Sheriff Zone intersected high grade palladium mineralization. One hole hit 10.15 g/t of palladium over 16 meters within which a 4.7 meter interval graded to 23.6 g/t of palladium. This intersection was close to the surface at only 45 to 58 meters in depth.
I could go on. There is much more. However, readers would likely be bored, and PAL says it will provide a complete update of its mineral reserves and resources in a January 2014 update. These in all likelihood have increased substantially (or will soon with the "official" reserves update document). This report will probably give PAL's stock price a lift.
Some of the recent economic news that should help to push both auto sales up and palladium demand and prices up are:
The Fed started its tapering in a very mild way with a reduction in its bond buying of $10B/month starting in January 2014.
The Fed said that it would not necessarily immediately start raising rates as soon as the US unemployment rate hits 6.5%. Many believe this means the Fed will keep its Fed Funds Rate at 0 to 0.25% well into 2016.
The final US Q3 2013 GDP growth rate was raised to +4.1%, which is a stupendous number in the backdrop of the "Great Recession."
The official Chinese PMI for November 2013 came in at 51.4.
The Euro Area Flash Composite PMI for December 2013 at 52.1 was better than expected.
There were many other positive data points, which I am not listing here.
There are also negatives that have to be considered:
The biggest drag on profits - PAL's gold mining business - has been sold as of March 22, 2013. The $54.6 million lost due to this part of the business in FY2012 will only represent a small loss in 2013. It will cause no losses in FY2014.
PAL has an agreement to pay Brookfield 19% interest on its aggregate $169.7 million in debt retroactive to June 7, 2013, until such time as it begins making cash payments again (achieves profitability). The loan covenants have been amended to reflect PAL's expected behavior. The rate will revert to 15%, and in all likelihood PAL would be in a position to refinance its debt at even lower levels when profitability is achieved in 2014. PAL expects to take a $14.5 million charge in Q4 2013 due to this agreement. The good news is that PAL is not overly in debt at Total Debt/Total Capital (mrq) of 44.36%. Plus it does have an interest ratio of 1.14x. Further it currently has $18.65 million in cash, and it is predicting a capital budget of only C$30 million for FY2014. It estimates this will bring it to profitability sometime in FY2014. PAL is currently searching for lenders. There is a risk it will not be able to find one to fully fund the FY2014 development budget.
There is the risk of cost overruns on the FY2014 development budget.
There is a risk that there will be mining problems that could be costly.
There is a risk that world economic activity could slow. This would lead to lower estimated prices for palladium. However, with estimated prices for the end of 2014 at about $900/ounce, even a world economic slowdown should not see palladium prices significantly fall below current levels.
The "official" increased reserves that will come with the January 2014 report should help PAL get the funding it needs. Plus it has a Price/Book of just 0.57. With an improvement in the Price/Book with the new reserves estimates and a really fantastic outlook for FY2014, PAL should be able to get the money it needs. Further if palladium prices go up quickly in 2014, it may achieve profitability early in 2014 (by the end of Q2 2014). This would certainly help it pay its further bills. This would also make refinancing current debt at lower rates a possibility.
Technically PAL's stock has bounced up off its $0.38/share low recently. It closed at $0.79/share on December 26, 2013. However, it has fallen back in a normal technical retracement to close at $0.65/share on December 31, 2013. The three month chart of PAL below shows likely immediate technical support and resistance areas.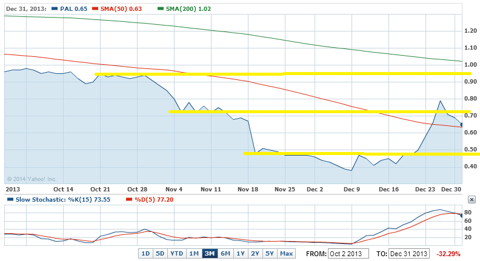 As readers can see there is good support at approximately $0.48/share. Plus PAL may soon move to recoup the roughly $0.73/share support level. It could move up further from there. The $0.96 level will provide the first real resistance level, but once passed, it should provide a good support level. All told the technical picture looks good.
In sum the outlook for PAL is improving considerably on many fronts. The fundamentals say that PAL's stock price is almost certain to rise dramatically in the next year. Some of the news that will help it do so is:
The January reserves report, which should be very positive.
The attainment of 3,000 tonnes/day in higher grade Offset Zone underground mining.
The attainment of 4,000 tonnes/day in higher grade Offset Zone underground mining.
Rising palladium prices, which according to Citi may go to $900/ounce by year end, but are expected by most to average $800/ounce over FY2014.
The attainment of profitability in 2014. This may happen as soon as Q2 2014.
The lowering of the Brookfield loan interest rate from 19% to 15% with the advent of expected cash payments at profitability.
The possible replacement of current debt with lower yield debt after profitability is achieved.
The mid-year exploration report (probably in September), which should effectively increase reserves.
The end of year exploration report, which again should effectively increase reserves.
If it just recoups its $2/share level by the end of 2014, the stock price will have roughly tripled. It could do much more than that. PAL could become a growing company with a great future in 2014. There is a chance that it could go bankrupt,but the fundamentals of both PAL and palladium argue against that. This all means that investors may be able to triple their money in PAL in 2014 with relatively little risk. At worst they may have to wait until 2015 to see some of their gains. However, fundamentally the future looks very bright for PAL, which is something one hasn't been able to say for a long time.
The five-year chart of PAL at the start of this article provides some technical direction for this trade. The slow stochastic sub chart shows that PAL is overbought in the near term. With its recent ramp up, investors who want to time an entry exactly may wish to wait for it to fall a bit more. However, the main chart shows that PAL has likely hit bottom in its long-term downtrend. Fundamentals support this view. This means that PAL may be able to regain its $1/share, $2/share, and even its $3/share levels relatively easily. Even the $5/share level would not be a difficult journey. If something happens in the areas of Africa that are large miners of palladium, the price of palladium could rapidly shoot up. This would give PAL a rapid big boost, but even without that PAL should be headed in a strongly upward direction in 2014 and beyond. Global automobile production is expected to rise by approximately 4% per year for many years to come. This should make PAL a secular growth story over time, especially since palladium is roughly half the price of platinum. Platinum is the other main catalyst present in catalytic converters, and many manufacturers are working to replace it partly or wholly with palladium.
The mean analysts' recommendation for PAL is 3.4 (a low hold). The CAPS rating is four stars (a buy). Zacks gives PAL a #2 rating - a buy. Most investors know that the greatest profits can be made when a stock moves from a SELL designation to a BUY designation. I believe I have made a good case that PAL is likely to make such a move. In fact the CAPS ratings has only recently moved up to four stars. This should mean PAL is a potential big profit maker for investors at its current price ($0.65 at the close on December 31, 2013). I wouldn't put all of my money in it. It does represent a risk, especially since its financial position is questionable. However, the fundamentals argue that it should be able to navigate any problems it sees in the next year or so. After that it should be more clearly profitable, and it should be able to negotiate much better loan terms. However, at that point the profit potential to investors will be much less. I wouldn't invest more than 5% of a portfolio in this stock, but it is worthy of investment. It is a buy.
NOTE: Some of the fundamental fiscal data above is from Yahoo Finance.
Good Luck Trading.
Disclosure: I have no positions in any stocks mentioned, but may initiate a long position in PAL, over the next 72 hours. I wrote this article myself, and it expresses my own opinions. I am not receiving compensation for it (other than from Seeking Alpha). I have no business relationship with any company whose stock is mentioned in this article.