General Motors (NYSE:GM) is an interesting company. From its near death experience and government bailout it has emerged as a streamlined and profitable company. Revenues exceed $150 billion from the sale of over 9 million vehicles annually and adjusted earnings before interest and income taxes have been running at about $8 billion a year.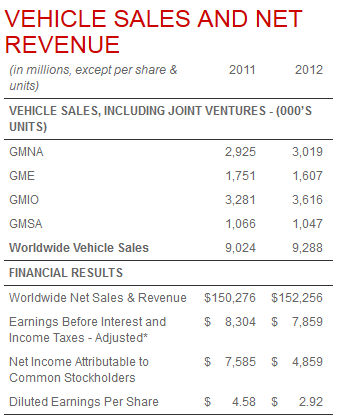 GM enjoys what at first blush seems like a strong balance sheet with cash and short term investments totaling almost $30 billion offset by short term debt of only $1.8 billion.
In its September quarterly report, GM gave investors a picture of what its debt and other obligations look like, including some off-balance-sheet liabilities. Those obligations total over $45 billion including $8.4 billion of debt and $3.1 billion preferred stock. The big items are unfunded pension and benefit liabilities of almost $34 billion.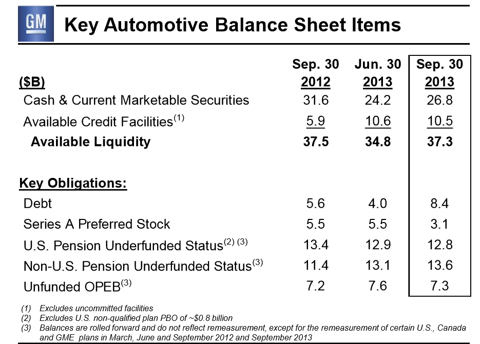 It is easy for investors to get seduced by GM's cash flows and apparent liquidity. Many forget just how capital intensive the automobile assembly business is and how much new investment GM makes every year just to keep new and exciting vehicles in its showrooms. For example, in 2012 GM generated $9.6 billion operating cash flow but had capital expenditures of $8.1 billion.

With a market capitalization of $57 billion, GM is not cheap when looked at from the perspective of free cash flow.
GM's current performance reflects robust demand for vehicles in North America. After falling sharply during the 2008 downturn, the industry has enjoyed a strong recovery with 2013 unit sales forecast last fall to run at a 15 million unit rate this year, the beneficiary of low interest rates and to a certain extent pent up demand resulting from the depressed sales levels of 2008 through 2010.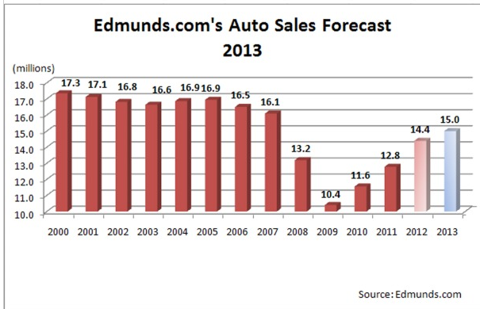 Actual results year to date are better than the Edmunds forecast, with seasonally adjusted annual sales now in excess of a 16 million rate according to Ward's auto.
KPMG forecasts the U.S. market to remain strong for the next few years.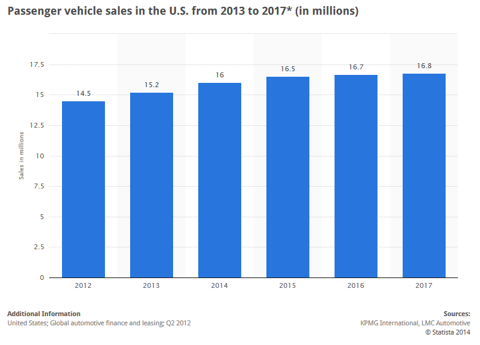 GM has a sizeable presence in the Chinese vehicle market with a 9% share under the Chevrolet and Buick brands.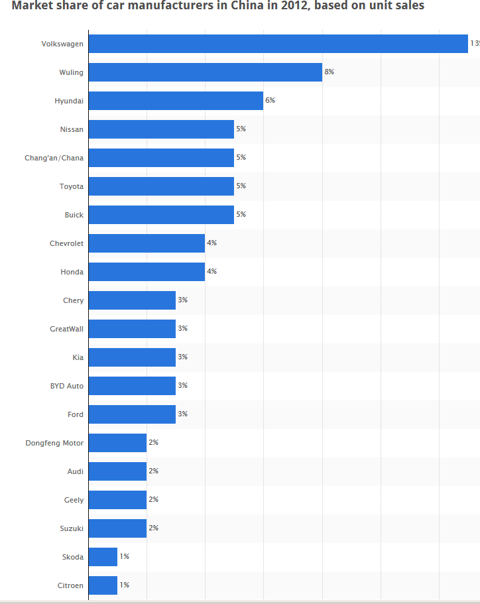 That market has shown very strong growth and now exceeds the U.S. market in total volume.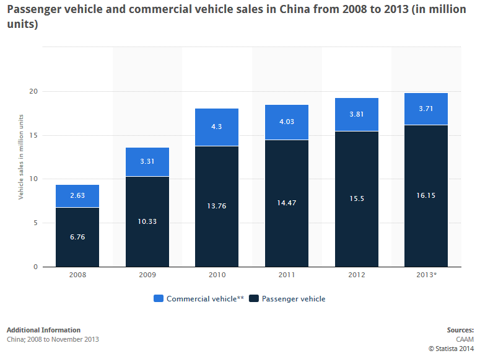 Europe has been more of a problem for GM. The market was difficult through 2012 with sales of all leading brands taking a hit. GM's 8.2% market share put it in the race but well behind industry leader Volkswagen.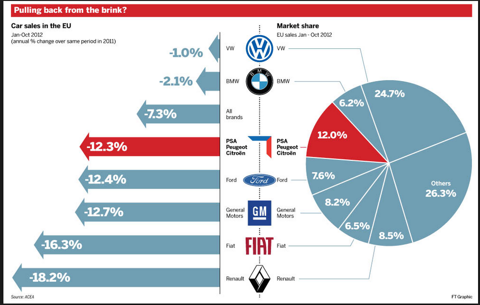 Europe's car market is slowly recovering but remains depressed. Sales through November 2013 lagged the volumes recorded in 2007.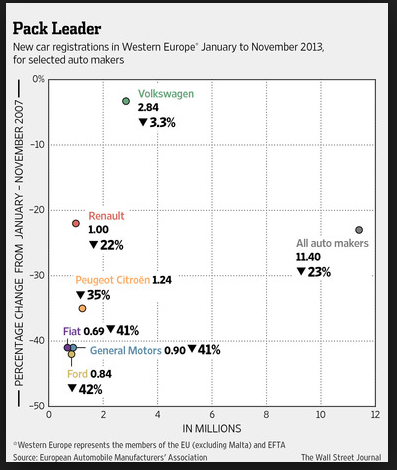 GM plans to pull its Chevrolet brand out of Europe and concentrate its resources on the Opel and Vauxhall, brands which lost $1.8 billion in 2012 and are expected to lose only slightly less in 2013.
Fixing Opel and Vauxhall will be a major challenge. European auto worker unions are powerful and not that management friendly, and the brands bleed badly even in somewhat stronger markets. They may lose a lot more if the European economies turn south.
GM will face other headwinds in the next few years. Auto sales are highly correlated with interest rates and the past few years have benefited from Quantitative Easing in the United States and similar low interest rate policies in other countries. The December 2013 commencement of "tapering" of QE in the United States is likely to usher in a period of high rates despite assurances by the Fed that rates will be kept low for the foreseeable future.
Profits in the car industry are sensitive to volume. A one day shutdown of a 300,000 unit per year car assembly plant costs the assembler something like $10 to $13 million based on a 230 day production schedule and contributed value per vehicle of $8,000 to $10,000. For the higher end models, the cost is even greater. Assemblers don't like to curtail production, and tend to discount vehicles to keep the production lines rolling if markets turn sour. Price wars are common and the profits in good years turn to losses quite quickly.
GM has had a good run with the stock up 40% in 2013. SA author Bret Jensen sees the stock reaching $50 a share in 2014 and his track record is pretty good. With its current momentum, it just might. If it does, savvy investors may take that opportunity to cash out.
The car industry is cyclical, with sharp downturns in soft markets. GM is approaching a peak in this cycle and its long term pension and benefits obligations are not going away. Even at peak earnings its cash flow is not much greater than its capital expenditures and the capital gets committed early while the drop in cash flows if volumes decline is immediate.
I have no position in GM at this point. If it does touch $50 as Bret predicts, I will be short.
Disclosure: I have no positions in any stocks mentioned, and no plans to initiate any positions within the next 72 hours. I wrote this article myself, and it expresses my own opinions. I am not receiving compensation for it (other than from Seeking Alpha). I have no business relationship with any company whose stock is mentioned in this article.