Who Are They And What Do They Do:

Clearfield (NASDAQ:CLFD) is a market leader in the distribution, consolidation, management and protection of fiber. The company offers a unique and streamlined approach to deliver the lowest cost of ownership. Clearfield's products are aimed for large scale deployment and unmatched performance. Clearfield leads the industry in fiber connectivity performance and physical fiber performance.
With 179 employees conducting business in the communication equipment industry, Clearfield's headquarters is located in Plymouth, Minnesota. Clearfield is solving challenging problems in fiber management and optical networks through its unique product offerings that are driving top and bottom line growth.
Sizeable Gains Present An Unanswered Question: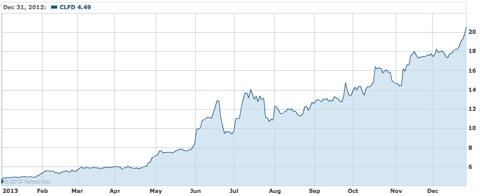 Clearfield investors have been bountifully rewarded over any time period you decide to utilize. Sitting comfortably at $20.67 per share, Clearfield's shares are up marvelously from $4.49 a year ago on December 31, 2012 - the tune of 360%. Shares are up even higher on a three-year basis from the $3.93 level on January 3, 2011. Investors may opine that they are new to the company and do not look further than a months time away. Although even on a one-month timeline, shares are up over 16% from $17.79. These sizeable gains lead to a serious question - has Clearfield's shares reached a point where regression will take over to the downside, or will continued progression lead shares to new heights?
Lets Put The Company In A Fundamental Review:
This $268 million dollar company has the beauty of having no debt and $15.80 million in cash. One indicator should not blind investors as the company has an overvalued trailing P/E of 57.42x and a P/B ratio of 6.67x. These metrics put the company overvalued on an earnings and book value basis. Sporting an enterprise value/EBITDA ratio of 31.75x is not too welcoming either as NYU Stern has placed the total market's average enterprise value to EBITDA ratio at 7.37x.
Comparing a generally high valuation industry to the market can be a pointless task as it is too broad of an endeavor. Clearfield operating in the Technology sector and in the Communication Equipment industry more specifically. This industry has an aggregate P/E ratio of 55.50x and a P/B ratio of 4.67x. This translates into Clearfield being slightly above the industry's average P/E ratio and above the average P/B ratio for the industry.
| | | | | |
| --- | --- | --- | --- | --- |
| | Market Cap | P/E | P/B | Debt/Equity |
| Clearfield | $268 Million | 38.56x | 6.67x | 0.00x |
| Communication Equipment | $6.1 Billion | 55.50x | 4.97x | 33.18x |
On a side note, the company is below the industry's debt/equity ratio of 33.18 with a ratio of 0.00x since the company is debt free. All of these comparisons results in the fact that Clearfield is only valued slightly above the communication equipment industry itself, while being debt free.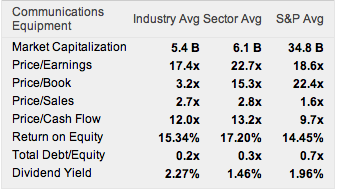 Now that we know Clearfield is not some insanely overvalued entity, we have to check whether or not the company's future growth can feed share price appreciation or if regression is in store.
Share Price Regression or Progression:
Seeing whether or not insiders and institutions see current levels as a point to regress from or as a point marking a progressive (in the archaic definition) uptrend is a very informative indicator. The big guns, institutions sold off 22.99% of their positions in Clearfield over the past quarter. This may be because they are happy with their gains in the company and see growth as slowing. Insiders have a different view, adding 2.3% net shares over the past six months. Insiders are the closest people to the company, and insider buying is a very positive factor. Insiders may be buying for the long-term and institutions may have sold some big gainers to get some nice year-end bonuses. Below we will take a closer look at this growth.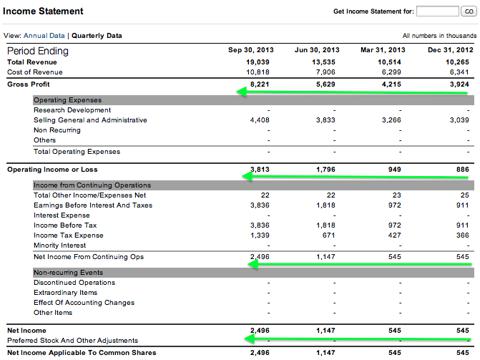 Looking back at our opening paragraph, Clearfield is up 360% from shares' year ago value of $4.49. Now it is time to see if operations have kept up with this share price growth to see if shares may have overrun operational growth. Very interestingly, over the past four quarters Clearfield's net income has risen 357%. Now that we know that operational and bottom line growth has grown in complete conjunction with the company's share price, lets take a look at what the future holds.
Clearfield's growth is large, although the company is still smaller at $268 million than the industry average at $6.1 billion. The company's net sales for the fiscal year 2013 increased 42% while the cost of sales for the year increased 41%. On an annual basis, the picture is the opposite. Net income for 2013 decreased to $0.36 diluted per share or $4,734,00 from 2012's $0.60 diluted share or $7,701,000.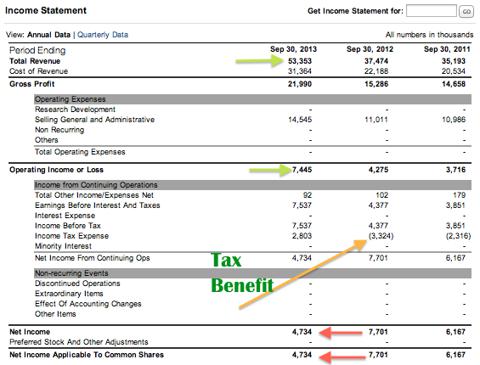 The company blamed the decrease on a favorable allowance that boosted 2012's net income. In the fourth quarter of 2012 the company reversed a portion of its remaining valuation allowance resulting in a non-cash income tax benefit of $3,518,000. The difference can be seen in Clearfield reporting an income tax benefit of $3,324,00 fir the year ended September 30,2012 compared to an income tax expense of $2,803,00- for the year ended September 30, 2013. The difference is material, although has an explanation. This was a one-time gain, and as such I have chosen to compare the quarterly data above instead of on an annual basis as this extraordinary gain balloons income in the 2012 year.
Where Can Growth Take Clearfield:
Even though the 2012 tax benefit lead to a huge gain in net income, Clearfield should not be bashed for not being able to top such a huge gain in 2013 - and shares have not been punished either. On a YoY basis total revenue increased 42% and operating income increased 74%. Both of these income statement items appear before the tax benefit is factored in, so they give a clearer picture of growth.
Doing a discounted cash flow model of a high growth company like Clearfield can be particularly difficult. This is due to the fact that smaller technology companies are usually high in debt and growth. Although Clearfield is somewhat in the middle as a company with high growth and no debt.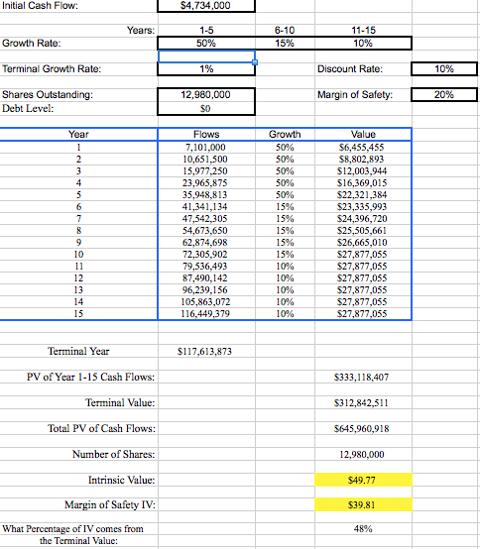 As we can see in Clearfield's 357% income growth over the past four quarters - growth is not an issue. Although figuring out how much growth is left over a five-year period can get progressively difficult.
Aiming for an ultra conservative viewpoint of a high growth company, I have chosen to use a 50% growth figure for the first five years that is not unbeknownst to the company or its share price. Using a discount rate of 10% since it is a high growth industry and a 20% margin of safety to boost the conservative nature of the calculation brings us to a share price of $39.81 or 92.60% higher than current levels. I consider this DCF method conservative in nature, in covering my bases for a high growth company in a fast paced industry.
Risks:
The explosive growth at Clearfield barks a chime reminiscent to a stock that is in a bubble. The company is not without its operational growth, a key factor distinguishing Clearfield from a bubble. With an already high P/E ratio, increasing earnings can drive over-excitement in the company that has the possibility to push shares into bubble territory at a later time. Although Clearfield's P/E ratio is in line the with the communication equipment industry, bubble status can attach to Clearfield relatively easily if the share price continues to greatly outpace growth or maintains current levels without future growth. I would like to reiterate how conservative in nature my DCF model is, while the future of a high growth company is contingent on just that - high growth.
Analysts:
Analysts have had a solid view of Clearfield's future. I generally look at the big three to view an overview of the viewpoints and buying and selling by those close to the company. These three include insiders, institutions and analysts. The former two have already been discussed, and the latter entities have a positive view on Clearfield moving forward. Using E*Trade as a source for analysts viewpoints, many see continued upside potential.
MarketEdge has a long technical rating on the company while SmartConsensus has a buy rating on Clearfield. Thomson Reuters has a strong buy rating on the company as a consensus and a neutral rating fundamentally. All in all Analysts appear positive of Clearfield.
Growth Will Be Fueled By Clearfield's Operations:
Clearfield is an established value-added supplier of broadband service providers, including independent telephone carriers, multiple service operators, wireless service providers, and commercial or industrial original equipment manufacturers. The company has focused in the past and currently on un-served rural communities who receive their voice, video and data services from independent telephone companies. Clearfield has brought together its in-house engineering and technical knowledge for its customers to develop and enhance products for its customers from design through production.
Revenue growth moving forward will be seen through the same mediums that have been driving growth in the past quarters. Increasing revenues due to increased demand in inside and outside plant deployment of fiber is not facing any headwinds. As such growth in this area will likely continue as the company has seen multiple large orders from several customers.
Revenue increases will also be seen in the company's new product offerings that drivers fiber closer to home, business and cell towers. Two of these new product offerings are Clearview Blue and the newly announced Field Shield. Inventory for the past reported nine month period increased by $1,995,000 due to higher demand for the company's existing products as well. Higher demand drives the need for more inventory and is indicative of a successful business operations that will drive top and bottom line growth.
(Source)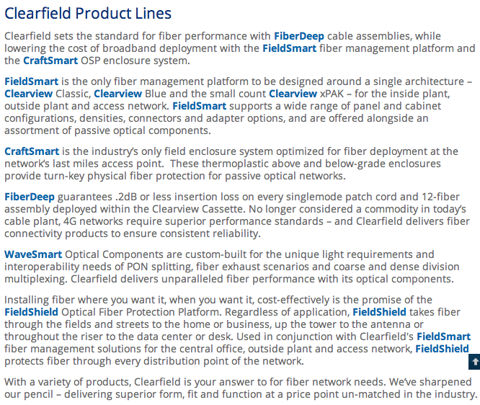 One key aspect that has been driving success at Clearfield is the company's innovation moat - the company's products are unmatched by the competition. Examples of this fact can be seen in the company's FieldSmart product that is the only fiber management platform built on a single architecture.
4G networks are something I have written about in the past. The current build out of 4G networks and the coming 4G LTE-Advanced networks require new technologies to function. Clearfield's FiberDeep technology meets the standards required by 4G networks with regard to fiber connectivity. As such Clearfield will continue now and in the future to benefit from the build-out of current and future 4G networks.
Performance is a key indicator of a company's technology moat. Clearfield's WaveSmart optical components deliver unmatched fiber performance with its optical components. Clearfield's business performance is driven through its unparalleled products and services.
While much has been written about the information highway, too little time and energy has been focused on the infrastructure that makes it work. Laying fiber and protecting it is an investment in the lifeblood of your network - rather than focus simply on reducing the cost of your capital equipment, place some attention on the plumbing - while it's not sexy, it will reap significant rewards. - Cheri Baranek, President and CEO of Clearfield
With regard to businesses in general, having the most cost effective data-center design is imperative for the long term life and effectiveness for broadband management. Clearfield is increasing the number of ports per rack-unit space while keeping an even keep with regard to fiber access. Clearfield is targeting businesses' need for increased performance out of their fiber management and network reliability. Clearfield's microducts can be positioned as a rod into a larger already occupied duct. By doing this, no new pathways need to be constructed and streets to not have to be dug up to support more fiber. This is with regard to conduits that are thought to be exhausted and can not support more fiber, although Clearfield's microduct and pushable fiber meet this challenge for data centers without the need for additional and expensive infrastructure.

It is great to see a CEO invested in a company, although writing about the industry challenges and how their company solves those issues is a marvelous achievement. Clearfield's CEO Cheri Barnek also wrote extensively on how Reducing the cost of broadband by lowering data-center footprint for a company is key to staying profitable, efficient and technologically up to date. Clearfield targets this problem directly, reducing the cost of data-centers - to the increase profits of both companies.
The lack of any product specific and identical competitors is seen through Clearfield's unique product offerings that set it apart from the competition. This innovation has driven sales, thus increasing the company's top and bottom line. This will continue into the foreseeable future as well, as no competition road blocks have been unveiled.
Conclusion:
Clearfield's investors have been treated nicely throughout this past holiday season, this past year and the past few years overall. This explosive growth is something to be skeptical about - remember the company should prove to you that it is worthy of your investing dollars, you as an investor should defend nothing and question everything.
Comparing Clearfield's multiples to the industry that it conducts business in reveals the fact that the company is not insanely overvalued. Only slightly on a P/E ratio and more so on a P/B ratio. The company is overvalued on an enterprise value to EBITDA ratio, although the company is not the general market, it is in a high growth industry. Albeit a debt free company compared to an industry ripe with debt.
Institutional selling can be reminiscent of end of the year selling at large funds to demonstrate large returns, as Clearfield has performed nicely. Insiders have boosted their holdings as they are an excellent indicator of people closest to the company betting on its future success. All the while analysts have a positive view on Clearfield's future.
After seeing 357% net income growth over the past four quarters, Clearfield's yearly share price gain of 360% is not off base. Dulling down growth estimates to 50% a year for the first five years, while then tapering to 15% and 10% for the next two five year time sets brings us to a price of $39.81 or a gain of 92.60%. This is while using a discount rate of 10% and a high margin of safety of 20% to boost the conservative nature of the calculation beyond the dulled down growth estimates. Albeit high estimates in general, these values are reminiscent of a high growth company in a high growth industry. While keeping an eye to make sure Clearfield does not turn into a bubble, the company can reward shareholders to levels close to a double moving forward on a conservative basis.
Clearfield's innovational moat and key unique product offerings are driving its top and bottom line growth - now and moving forward. The company is solving challenges that are in turn providing profits for the company as other companies are unable to meet these challenges. One such challenge is the need for fiber management without building additional infrastructure, a problem Clearfield solves effectively. Clearfield is also targeting a major market effectively - reducing the cost of data centers for companies to increase efficiently and profitability.
As such I would mark current share price levels as a progression point for continued upside, as shares are not slated for a regression unless material factors change. The recent decline today of nearly 5% marks a cheap share price for accumulation in a long term investor's portfolio.
Disclosure: I have no positions in any stocks mentioned, and no plans to initiate any positions within the next 72 hours. I wrote this article myself, and it expresses my own opinions. I am not receiving compensation for it (other than from Seeking Alpha). I have no business relationship with any company whose stock is mentioned in this article.
Additional disclosure: Always do your own research and contact a financial professional before executing any trades. This article is informational and is all in my own personal opinion.