We had another great year at Netwall Investments LLC, beating S&P 500 by a healthy 13%. The total returns for S&P was 26.39% while Netwall will return 38.95% to its investor partners. You can find our picks for earlier years (going back to 2012) and stock picks for 2014 in a tabular format on SA blog here.
So with the start of 2014, I thought now is an appropriate time to share my highest conviction stock picks for the year. Below are the names and brief descriptions as to why I think these would outperform the market in general. Some of you might be wondering about methodology deployed in selection criteria for the names mentioned below. Our methodology at Netwall is to meticulously research the fundamentals and figure out if market is missing something in a particular investment and if so, why we believe that pessimism (if any) is not well founded. The process is completely free of any speculation and fully based upon fundamental principles of investing that we know many legendary investors also routinely deploy: think Warren Buffet, Peter Lynch & Martin Whitman. The process entails digging for hidden value and to deploy higher level of thinking as to why a particular security is a good investment. This methodology goes beyond looking at P/E, EV/Ebidta and cash flows and is geared towards looking for ways a company can unlock potentially trapped value, which could result from mergers and acquisitions, spinoffs, buyouts, recapitalizations, liquidations, changes of control and other wealth creating activities that are carried out in a sane manner by the managements. We are not only well versed in expert forensic analysis of financial statements, but are also understand the economics of businesses that we invest in. So put differently, we have a very deep understanding of the industries in which we invest in, and if we don't understand the underlying business, we just take a pass not matter how cheap a security is (cheapness is not value but could potentially be a financial ruin).
Note: This is not an investment advice. Please perform your own due diligence before investing. Also read the disclaimer on our blog before making any investing decisions.
Here is the list and a brief summary of each explaining why I have a high conviction about these particular securities.
1. Exelon :

Exelon Corporation is a utility company that engages in energy generation and distribution across United Sates. The company generates electricity from nuclear, fossil, hydro and renewable energy sources and supplies electricity and natural gas at wholesale and retail levels.
Many would say that company has not done well by looking at recent past performance but we argue having a contrary opinion that the company will be a potential winner going forward. The stock has seen weakness in the light of weak electricity pricing in Mid-Atlantic PJM region and New England not to mention some challenges in integrating some recent acquisitions (Constellation Energy). I believe that the company's major problems are behind it and investors now can look forward to reaping gains for their patience. Exelon has a solid dividend yield of slight above 5% at current prices, however this yield alone should be the sole reason for making an investment decision. However this would nicely add up on any upcoming capital gains that investor would have going forward.
2. Western Union :
Western Union engages in international money transfers and has the largest footprint of any money transfer business in the world. The company has minimal ongoing capex requirements and is a consistent generator of free cash flows. The company is 9 times bigger than its closest competitor, MoneyGram (NYSE:MGI) from market cap perspective.
The company had a bit of a wild ride in 2013 due to barrage of problems which are not real issues in my opinion. For example stock took a beating at the end of October time frame when the company announced that its compliance costs would go up going forward. I wrote an article which details why these fears are not well founded and it can be read here. The company remains in excellent shape and will benefit from higher revenues with a job growth and continued strength in the US economy.
3. Chevron :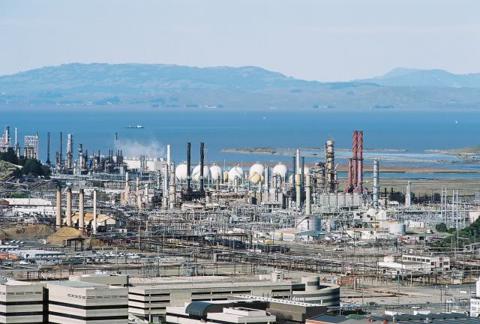 The company operates in two segments, upstream and downstream, while the upstream segment is involved in the exploration, development, and production of crude oil and natural gas; and downstream is involved engages in refining crude oil into petroleum products; marketing crude oil and refined products; transporting crude oil and refined products through pipeline and transportation means; and manufacturing and marketing commodity petrochemicals and fuel and lubricant additives, as well as plastics for industrial uses.
CVX sees new developments in LNG in Angola, Gorgon & Wheatstone in Australia, Asia Pacific and the Gulf of Mexico fueling production growth in the coming year and 4%-5% per year between 2014-2017. The company is predicting 25% total growth through 2017, to 3.3 million boe/d. Although a lot of attention has been given to Warren Buffett's purchase of Exxon (NYSE:XOM), I believe that Chevron represents a much better value in terms of valuation, yield and a 12 month price appreciation based on 2014 earning estimates. Furthermore oil/gas E&P stocks trade at higher multiple with higher organic replacement ratios and Chevron posted quite healthy ratios (around 120%) in 2012. What this means is that the company is not depleting its wells but has been replenishing production at a brisk pace. I would encourage you to look closely into this company as this presents a good potential going forward.
4. Stonegate Mortgage :
Stonegate had an IPO in 2013 but by no means is it a startup company and has been in business since 2005. Actually the company is profitable and is indeed on a growth binge. The company operates in three segments, a) Mortgage origination b) Mortgage servicing and c) Wholesale servicing
The firm originates conforming mortgages on a non-agency platform through wholesale, retail and correspondent channels. Thus Stonegate benefits from being the originators and servicer of mortgages and since interest rates are expected to rise going forward, its servicing business will benefit the most, as consumers would see a little reason to refinance. Given that the firm is seeing double-digit growth in a very tough mortgage market, I am convinced that SGM will be able to continue to outperform as the economy improves and mortgage activity begins to increase again. Stonegate is an excellent choice for those investors looking for strong growth, either organic or through acquisitions. The company is working aggressively to obtain mortgage licenses in the few remaining states as shown below and then it would be doing business in all the US.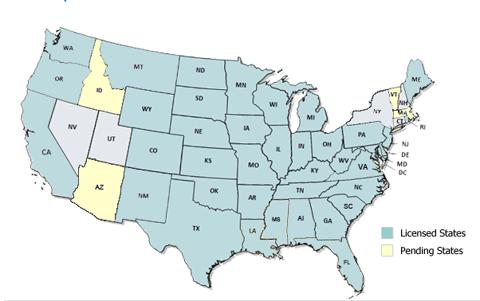 Furthermore due to its recent IPO, this company is not on radar screen of many analysts which provides just another reason to own it because as this company becomes well known, it would receive more coverage which would become a catalyst for stock price gains.
5. Capital One :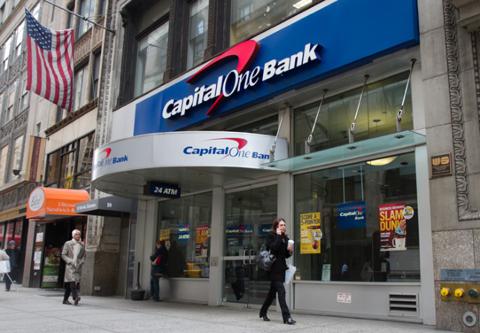 You might only know Capital one as the issuers of credit cards but the company is rapidly growing into residential and commercial mortgages not to mention its direct banking business. Capital One's low valuation is apparent from its well capitalized balance sheet and strong earnings. The key to realizing value in this company is to see how capital generative its business model is, which can deliver strong value even in the absence of gangbusters growth. The company pays a dividend and is buying back shares to further create shareholder value. As the economic uncertainties wane off the minds of American consumers, its credit card business would see stronger growth with continued growth in the US economy in 2014.
6. Express Scripts :
Express Scripts is the largest pharmacy benefit manager in the United States. Through its mail-order pharmacy and network of retail pharmacies, the company administered around 1.5 billion adjusted prescriptions in 2013. The delivery of pharmaceuticals to consumers encompasses many firms along the supply chain and among numerous players, Express Scripts remains an elite participant. I anticipate strong growth in pharmaceutical industry going into 2014, which would provide this company a solid platform to grow. Express Scripts has grown to such size that it is in a position to directly negotiate discounted drug pricing from drug manufacturers such as Pfizer (NYSE:PFE) and retail chains such as Walgreens (WAG). Thus the company can keep a portion of this discount while still passing on the lower cost to the consumer.
We believe that colossal claim volume would allow the firm to obtain efficiencies of scale and improve profitability with increased volume and growth. These would become strong catalyst for stock price appreciation in the year 2014.
7. Deere & Co :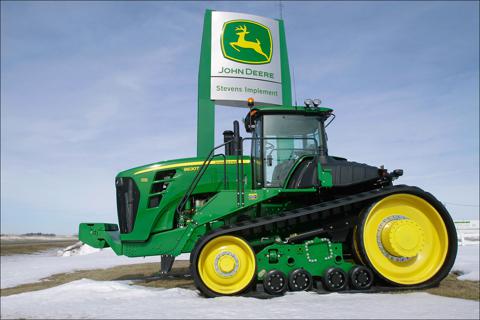 Best known for its John Deere equipment, Deere holds about 50% plus share of North American farm equipment market. Deere's machinery has a high resale value and a solid support network giving its customers all the confidence that they need to buy Deere products. Typically Deere enjoys greater profitability with market upswings due to its geographically diversified operations. The company is cyclical and faces headwinds when farming yields are low and drop in crop prices occurs. I believe that Deere has strong growth ahead for itself as large populations in China, India and Brazil will require more complex but reliable agricultural equipment for increasing their crops yields. For example Brazil is currently dominated by AGCO (NYSE:AGCO), but Deere has launched several new tractor products in this country, which have seen strong market growth. Furthermore, I believe Deere will hold its leadership position as a result of its willingness to remain on the cutting edge of equipment technology; the company has invested about 4% of its revenue in research and development annually during the past five years.
8. POSCO :
POSCO is a South Korean company which grew to become the 10th largest steel maker in the world. It has plants that are most productive steel mills in the world and a reputation for technological innovation, thus rendering low-cost production processes. The company has 50% share in South Korean market alone which provides it meaningful pricing power. The company has targeted Chinese market where it remains a credible player. Exports represent just less than 50% of PKX's steel sales today, with China, Japan, and other Asian countries representing 20-25% of total exports respectively. The company has seen headwinds such as persistent overcapacity, a soft pricing environment, and non-proportional increases in raw material input costs relative to finished product prices have eroded profits for virtually all producers. I am of the opinion that continued strength in Asian economies (POSCO's major export market) will provide strong short term tail wind for the company to grow and would allow the stock price to rise with it going forward.
9. Canadian Natural Resources :
Canadian Natural Resources in one of Canada's largest Exploration and production (E&P) companies, with production in North Sea and Africa. The near term catalyst is growth from three production projects, Kirby oil sand, Pelican Lake and Western Canadian. Production is roughly 650,000 barrels of oil equivalent per day (80% oil-weighted), of which 6% is from assets in the North Sea and Africa. Proven plus probable reserves exceed 7.5 billion boe, 86% oil, and 67% attributable to oil sands assets. Its Horizon oil sands mine is expected to produce 250-500 mbpd when completed, and CNRL is planning more than 350 mbpd of thermal oil sands projects. The projects will bear fruits for the company near term benefiting its stock price.
10. American Tower Corp :
American Tower is the largest independent operator of wireless and broadcast communication sites. The company operates more than 55,000 tower sites in the U.S., Latin America, India, and Africa. American Tower's largest customers are wireless carriers, including AT&T (NYSE:T), Sprint (NYSE:S), Verizon (NYSE:VZ), and T-Mobile USA (a division of Deutsche Telekom).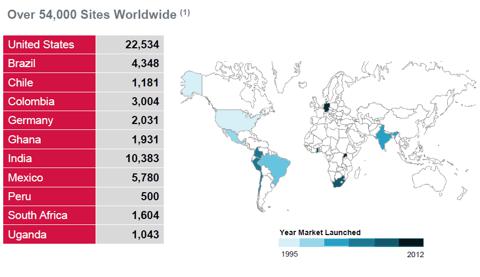 Source: American Tower company documents
American Tower had a consistent top line and cash flow growth for more than 6 years now, and the industry it operates in is poised to continue that growth for the foreseeable future. With a strong balance sheet and consistent revenue growth backed by real assets and a strong customer base as described above, AMT is probably the best positioned cell phone tower owner/operator for the global demand growth expected in the coming years. The stock has not gone anywhere in the last year but this trend is ought to change in 2014 as company's recent initiatives start to pay off. The majority of company's contracts are for initial terms of 5-10 years with 5 year renewal periods and built-in lease escalators ranging from 3-5%. Many of these contracts are non-cancellable and historically have had an annual churn of just 1-2%. For those of you who are concerned about near term inflation would also benefit from this investment since it has the pricing power to vade off effects of inflation in future.
Concluding thoughts and a bonus:
Congratulation if you have come this far. As a bonus, I will give you a recommendation about a company that had seen gangbusters growth until the start of 2013 and then its stock started to collapse due to falling silver prices. The business model and basic fundamentals are all still intact but the profitability of this company is tied to the Silver prices in the marketplace. That is why there is a bit of speculative aspect to it (which we generally do not like) but this is such a compelling story that those of you who can stomach some short term ups and downs must consider it to be the part of your portfolio. Remember, in the short term, its stock can gyrate due to changes in silver prices but in the long run, this company will surely be a winner (2 to 3 years).
Let's not keep you in suspense anymore and talk about "Silver Wheaton".
Silver Wheaton (SLW):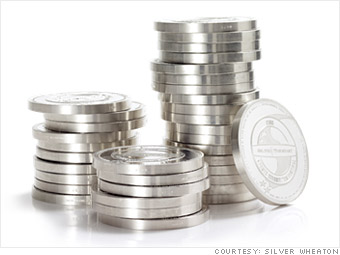 Silver Wheaton is a streaming and royalty company and should not be looked in the same light as pure mining companies. What we mean by this is that its business model is such that the company provides upfront financing to mining companies and then it just sits back and receives a portion of stream of extracted precious metal at a fixed price from miner's operations. The company was dubbed the 100 fastest growing companies in 2012 by CNN Money.
The company's stock is down more than 50% year to date due to collapsing silver prices but investors should note that silver is a metal which is not just kept as a souvenir but widely used in jewelry, electronics, hospitals etc. That's why we believe that Silver is not as speculative as Gold, although the latter has its commercial uses such as jewelry/ornaments. Silver Wheaton provides a safety net since it has contracts with more than 15 mining companies, so if one miner slows down or even closes shop, SLW will not take a big hit.
A Side Note:
It is obvious to all that precious metals have taken a beating during 2013. As a matter of fact it is being said the Gold's single year price drop in 2013 was worst it has seen 30 years. Investors were in love with precious metals unit the end of 2012, so why a sudden change of heart in 2013? In my opinion, the answer is that investors do not seem to fear QE (Quantitative Easing) anymore. So basically those investors who feared runaway inflation just a year ago, now think that there would be no inflation going forward? I seriously question this judgment because all the money that was used to purchase Government Bonds via QE are (and have been) sitting in FEDs vaults and have not yet been injected into economy to cause inflation. Our fellow SA author, "Dave Kranzler", has explained this in great detail in this article. I believe that investor bailout at such extremes from precious metals especially from Gold and Silver is not well founded. Very soon this trend will have to take a reversal for the following reasons.
There would be higher inflation in future as funds sitting in FEDs vaults would be injected into the economy increasing the velocity of money and building inflationary pressures (actually the first round of "taper" has already begun) and this would only exacerbate as velocity of money increases
Roughly on average, precious metal miner's total cash costs of production are about the same as Gold and Silver prices nowadays. So if prices of these metals keep on falling, the miners would have to stop mining, which in turn would create supply and demand problems in both cases of Gold and Silver. Both metals are not only considered a hedge against inflation, but have industrial usages also. Thus, as the supply would decrease and demand pressure starts to build, the price of precious metals would start going up once again. There is no other cheaper solution since metal mining is an extremely capital intensive (read costly) business and there is no other way to get these out of the earth. Those of you interested in reading more about what it costs to mine precious metals are encouraged to read articles by a fellow SA author "Hebba Investments". One such recent article can be found here.
For the record I am not suggesting that runaway inflation is in store in the near future. What I am suggesting is that inflation would be higher in the coming years and investors might consider owning precious metals outright or if you are too bullish, consider mining companies. However streaming companies like Silver Wheaton may provide a relatively safer alternative since these do not directly get involved in mining. To look for Gold Streaming companies, you might want to research on your own Franco-Nevada (NYSE:FNV) and Royal Gold (NASDAQ:RGLD). There is relatively a young streaming company by the name of Sandstorm Gold (NYSEMKT:SAND) which could also provide stellar returns as Gold prices recover.
Good luck investing in 2014!
Disclaimer:
Above views are for informational purposes only and should not be considered an investment advice. Netwall Investments LLC is a money management firm and reserves the right to make investment decisions regarding any security without further notice except where such notification is required by law.
Disclosure: I am long WU, COF. I wrote this article myself, and it expresses my own opinions. I am not receiving compensation for it (other than from Seeking Alpha). I have no business relationship with any company whose stock is mentioned in this article.