By Platinum Tiger
U.S.-listed Chinese small caps overcame generally listless market conditions on Monday and rallied to their second day in a row of two percent-plus gains, finishing the day at their highest level since January 15th. Gainers outpaced losers in the session by a ratio of more than 2:1, with pharmaceutical stocks leading the charge with a nearly 3 percent average gain. Chinese small caps have now advanced nearly 15 percent for the year thus far, and the sector looks poised to continue its gains in the coming weeks.
Click to enlarge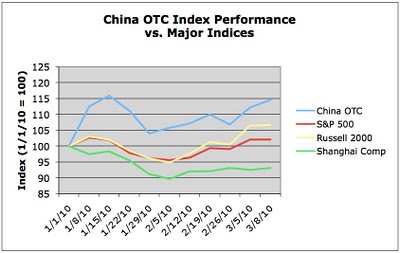 New all-time highs were reached on Monday by 7 of the 35 stocks in our China OTC Player index, including
AMCF
,
CAHS-OLD
,
OTCPK:CELM
], [[CT]C,
JNGW
,
LLEN
and
OTC:SOKF
. Other noteworthy results for the day included a 37 percent gain for
OTCPK:CHGI
and a 33 percent gain for
OTC:CSGJ
, both on heavy volume.
In sharp contrast with China's large cap stocks, which have languished all year so far, many small caps have been well positioned to reap the benefits of a roaring domestic economy and government stimulus of the consumer sector. Strength among the small caps has accelerated during the past week. When I went on record confirming the current bull trend back on February 21st, I did so with caution, as the signals were still somewhat mixed. But any doubts I might have had have been erased as nearly half of the stocks in our index have registered double-digit gains over the past 11 trading days.
My position
: Long LLEN, SOKF.OB.