In 2011, we penned a REIT Outlook titled 'Role of REITs in Investor Portfolios' highlighting the benefits of adding a 5-20% allocation of public REITs to a traditional equity and fixed income portfolio. In the past three years, investors have allocated an additional $33 billion to REIT mutual funds and ETFs, which has increased the total REIT mutual fund and ETF assets under management from $80 billion in 2011to $140 billion as of December 5, 2013 (including capital appreciation). The market capitalization of all equity REITs has increased from $360 billion on January 1, 2011 to $625 billion on November 1, 2013. Public equity REITs now own approximately $1 trillion in assets, which is double the estimated $500 billion just 3 years ago. Finally, with the announcement of the addition of General Growth Properties (NYSE: GGP) to the S&P 500 this month, there are now eighteen REITs in the flagship US equity index.
However, REITs continue to be under-owned. Though over 80% of pension plans with assets above $50 billion have a REIT allocation, the number drops to 17% for plans with less than $50 million (Figure 1).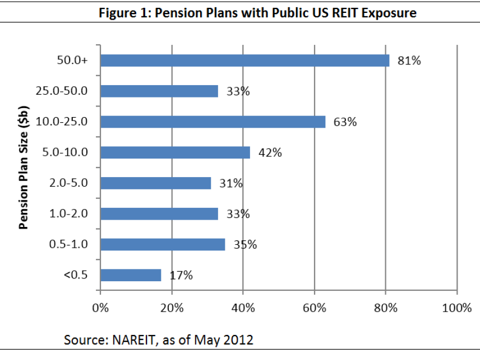 Some target date funds don't include a REIT allocation, and the average US equity mutual fund has less than half of the benchmark index allocation to REITs, as of June 30, 2013 (Figure 2). In contrast to the allocations shown in Figure 2, Morningstar, PIMCO, and Money Magazine recommend a 20%, 15%, and 10% allocation to REITs in target date funds, respectively. With pension funds, mutual funds, and even target date funds underweight to REITs, the average investor is likely underexposed unless he or she owns a position in a REIT dedicated vehicle.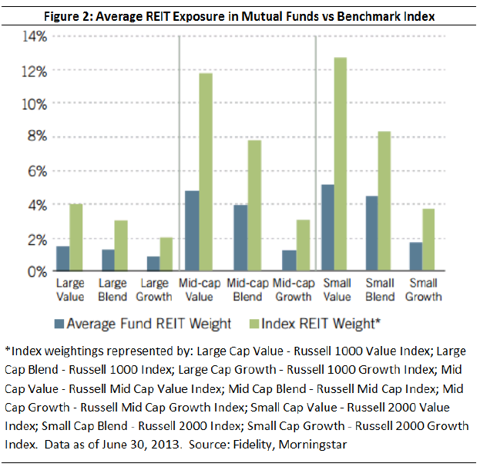 Why Allocate to Real Estate?
Whether looking at returns for public REITs (represented by the NAREIT Equity REIT Index, or FNER) or private real estate (represented by the NCREIF National Index, or NPNCRE), real estate has had low correlation with traditional equities and bonds. As of October 31, 2013, public REITs' trailing ten year correlation, as measured by r-squared, is less than 60% with the S&P 500 and less than 3% with the ML corporate / government bond index. The NCREIF's correlations are even lower. The lower correlation serves to reduce portfolio risk by behaving differently than traditional equities and fixed income.
In addition to lowering portfolio risk, an allocation to REITs has increased portfolio returns over long periods. The FNER has outperformed the S&P 500 over the trailing 10, 20, 30, and 40 year periods, and the NCREIF National Index can make the same claim for the 10 and 20 year periods. Furthermore, the addition of either real estate index to a traditional equity and fixed income portfolio increased the Sharpe ratio significantly. The Sharpe ratio measures return per unit of risk, which is why it is sometimes called 'risk-adjusted return'.
Real estate displays a strong link to economic growth. Demand for space is principally propelled by job creation. When demand exceeds supply, real estate can appreciate in value through higher rents and replacement costs (both forces are evident today). Given the lack of new supply, the stage is set for a long, profitable real estate cycle.
Longer term, rising rents have will provide a nice offset to increasing interest rates as well. Additionally, the contractual nature of rental income and ability to obtain independent property valuations decreases uncertainty relative to other investments. Lastly, the cash flow from rents provides a valuable option for landlords, who can reinvest in the business and/or return capital to the owners
REIT 'em and Weep
Within the real estate asset class, publicly traded REITs are unmatched due to their combination of liquidity, transparency, diversification, and regulatory oversight. In addition, fees associated with public REITs are no more than with any other NYSE or NASDAQ traded company, while private investments can have entrance fees and ongoing annual costs to the investor. Furthermore, the income stream provided by a portfolio of REITs with a growing dividend is a powerful rebalancing tool for any investor, especially in a tax-free or tax-deferred account.
REITs have been industry leaders in disclosure by providing supplemental packages in conjunction with every earnings release. The additional information is extremely useful for analysts and investors to determine normalized cash flow for the company, which can be used to calculate the private market value of the properties, called Net Asset Value, or NAV. Management teams conduct quarterly conference calls available to the public, and offer up 1x1 meetings with analysts and investors at numerous industry conferences throughout the year. Property tours, both physical and virtual, give the investor a valuable analytical tool as well.
Management ownership in the public REIT sector is unusually high relative to other sectors. This aligns shareholders with the decision-makers, which has historically helped to increase total returns. In the peak years of 2006-2008, public REITs were net sellers of assets while their private counterparts were net buyers. In the subsequent 'great recession', REITs were able to tap the public markets for equity and debt, becoming net buyers at discounted prices while private owners were forced to sell, generally at losses. This was a defining moment for the public REITs since they proved that they had access to capital, both debt and equity, at a time when most industry participants were ignored by the capital markets.
With fourteen property types today and growing, REITs provide a broad menu for economic exposure. Though individual REITs tend to focus on one property type or geographic area, it is rare that a tenant accounts for more than 1% of annual rental revenues. By assembling a portfolio of only twenty to thirty REITs, an investor is able to attain diversification that would be impossible through any other real estate investment. The liquid nature of REITs even allows for changes in weights between property types or geographic sectors at a moment's notice.
How to Invest in REITs
Investors have the ability to choose between passive (ex. ETFs) or actively managed (ex. mutual funds and separately managed accounts) for their REIT-dedicated allocation. Passive investments usually have lower fees and provide an extremely diversified exposure to commercial real estate. The Vanguard REIT ETF (NYSE: VNQ) has grown dramatically over the past three years from $7.5 billion to $17.7 billion as of December 18, 2013. The ETF has performed as advertised, delivering total returns near, but never significantly above, its benchmark.
Dissecting Index Returns
Though REITs are an asset class and its historical benefits are measured in performance of a representative index, the underlying property type sectors can have a wide range of returns over any given period. For example, the self storage sector had a total return of +5% in 2008 while industrial REITs were down 67%.
Each property type has its own supply and demand drivers, which can alter the duration and direction of its unique cycle. In hindsight, it seems obvious that the decline of the single family homeowner as housing prices fell in 2008 and 2009 would be a boon for apartment owners. But was it possible to see coming? On Camden Property Trust's (NYSE: CPT) 3Q 2009 earnings call, CEO Ric Campo gave the reasons why the multifamily business was going to excel: "First, the reduction in the homeownership rate by 1.8 percentage points has created two million new renters….Second…multifamily supply peaked at the beginning of the downturn…The third…is that demographics are better." CPT was renewing tenants at 3% higher rents than the expiring rate while other property types were experiencing negative growth. The NAREIT Apartment Index (Bloomberg: FNAPT) produced a 47% return in 2010, which compared to +28% for the RMS. While an ETF investor had to settle for the returns from the RMS in 2010, an active manager had the ability to implement a sector overweight in apartments based on such clues.
While owning significantly more than the benchmark in certain property types can result in outperformance, simply not owning REITs in a sector can be just as powerful. In the four periods of rising interest rates since the start of the modern REIT era in 1992, health care REITs have averaged the second worst total returns of all property types because of their long lease durations. In our May 2012 REIT Outlook, we wrote, "health care REITs…may not provide the best total return potential at this point in the cycle…due to the long lease durations." From May 1, 2012 to December 17, 2013, health care REITs, as measured by the Bloomberg Health Care REIT Index (BBREHLTH), have produced a total return of +5.8%, which compares to +7.1% for the FNER. Even worse, from May 22, 2013 to December 17, 2013, health care REITs were down a whopping 28.9%!
Management Teams Matter, Too
In the seven year period from June 2006 to June 2013, which incorporates a full property cycle, the FNER produced a total return of 42%. However, the top ten REITs over that time period averaged a total return over 200%, while the bottom ten averaged worse than -60%! Again, owners of the ETF had no choice but to own the bottom ten and could not overweight any of the top ten.
Similar to conducting property type research, active managers can analyze management track record, operational expertise, and balance sheet flexibility to identify underappreciated individual REITs and avoid those where the risk outweighs the potential return. A management team's principal goal should be to grow NAV in a responsible and prudent manner while maintaining a growing dividend to investors.
The cash flow generated by a portfolio of properties requires management teams and boards of directors to be especially astute at capital allocation. If a company can prove itself over a full cycle, investors will award it a premium to its peers. The opposite will occur if a company is too aggressive with its balance sheet or external growth.
ExtraSpace (NYSE: EXR), a self storage REIT, benefited from a 40% gain in its property values from June 2006 to June 2013. Along the ride, management grew NAV even further as a result of smart capital allocation and maintaining a flexible balance sheet. Investors benefited as well, receiving a 275% return over the seven year period.
In contrast, General Growth Properties enjoyed a 20%+ appreciation in its properties over the same period, but the stock decreased by almost 30%. Their leverage, a lack of laddered debt maturities, and the closing of the capital markets in 2008 caused the company to file for bankruptcy despite experiencing healthy growth in its property values.
Role of an Active REIT Manager
Though REITs are subject to temporary volatility from changes in sentiment, the liquidity, dividends, regulatory oversight, low fees, and high management ownership make them the superior method for real estate investing for most investors. If someone had a crystal ball to predict performance in the short term to take advantage of the volatility via buying and selling a REIT ETF, returns on a risk-adjusted basis would be phenomenal. Unfortunately, such a ball does not exist, and market timers have historically been punished.
However, active managers have the ability to take advantage of short term volatility to buy REITs at a discount to their long term intrinsic value. By investing in REITs that are attractively priced relative to peers and avoiding those that are too expensive given the risk, the median active REIT manager has historically outperformed the RMS and the average REIT ETF, gross of fees (see Figure 3). Fees differ by fund and by share class, but the evidence is clear that active REIT managers have a good chance of outperforming their index, while ETFs have a 0% chance. The disparity of returns between property types and even individual companies provide the tools that enable them to minimize downside risk and maximize return while staying at or near fully invested.

The REIT structure in the public form has proven its ability to attract intelligent capital, and smart management teams have followed. However, some are better than others, and each property type has a different cycle. REITs' unique valuation metric known as NAV and the transparency afforded via disclosures and face to face meetings with decision-makers have created an environment in which active management can outperform a passive ETF, and are therefore worth the cover charge.
Disclosure: I am long CPT, EXR. I wrote this article myself, and it expresses my own opinions. I am not receiving compensation for it. I have no business relationship with any company whose stock is mentioned in this article.