Morningstar recently published an article on Seeking Alpha that seemed to portray REITs as an asset class out of love. The author (Samuel Lee) of the article, REITs: Diversifying, Real Returns For The Long Run?, argued that REIT returns were not as strong and the model and even "permanently altered." As I read the article a few times over it left me perplexed, almost astonished since the author was directing his argument on the angle of REIT diversification.
In the Morningstar article the author states that REITs "inflation-fighting properties are probably intact, but they're swamped by other, less appealing qualities such as higher market correlations and lower dividend yields, which have historically accounted for nearly all their real returns."
I don't buy that argument and given all of the macro-economic indicators today, it seems that REITs are becoming a much more desirable asset class. Withstanding the rising interest rate risks that have been discussed on Seeking Alpha and numerous other investment websites, I did not see any "meat on the bone" offered up by the Morningstar author.
To be honest, I thought the article was strange and I wanted to get some feedback from an experienced REIT expert. On a telephone call today I caught up with Brad Case, Ph.D. and Senior Vice President of Research and NAREIT. I asked Case about the Morningstar article and his thoughts on REIT diversification. He responded as follows:
Case: Mr. Lee's analysis of diversification would have been correct several months ago-market correlations did jump upwards during the liquidity crisis, and stayed relatively high until last year-but by now it's out of date. The correlation between listed U.S. equity REITs and listed U.S. stocks has declined to 0.59 while REIT beta has declined to 0.68. Both of those values are almost exactly the same as their median values during the "modern REIT era," since the beginning of 1992, and both of them indicate that listed U.S. equity REITs have still been providing very, very strong diversification benefits.
Income has accounted for 55% of the total return of listed U.S. equity REITs. That's much more than for stocks, but it doesn't make sense to say the dividends "have historically accounted for nearly all their real returns." Dividend YIELDS have recently been low for two reasons:
REIT earnings (or, more accurately, funds from operations) are backward-looking and have been comparatively low because the economy has been in a "great recession;" meanwhile
REIT share prices are forward-looking and have been strong because the economy is recovering. The relationship between starting yields and 5-year real returns shown in Mr. Lee's graph is valid only when trailing dividends are a good proxy for future dividends, but it doesn't work in the current market because REIT share prices are based on expectations for exceptionally strong dividend growth.
Thomas: Morningstar went on to say that prior to 2000 "REITs were a small, illiquid asset class, neglected by the mainstream and known largely to a small set of venturesome investors" and then a bubble eventually popped" and "REITs were established as a major asset class" that eventually "permanently altered their risk-return characteristics." That seems like a stretch and why is the author picking on REITs? Didn't we all experience the "Great Recession" and the everlasting effects of speculation? What are your thoughts?
Case: I just don't get how Mr. Lee comes up with the idea that the risk-return characteristics of listed U.S. equity REITs have been "permanently altered." The Sharpe ratio for listed U.S. equity REITs over the past 10 years has been 0.423. That's a little low by historical standards-not surprisingly, given the past 10 years included the worst crisis in REIT history-but not by much: the 120-month Sharpe ratio has usually been between 0.456 and 0.661. In contrast, risk-adjusted returns have jumped around much more for the rest of the stock market, with 120-month Sharpe ratios usually in the range from 0.390 to 0.650, and currently at 0.482.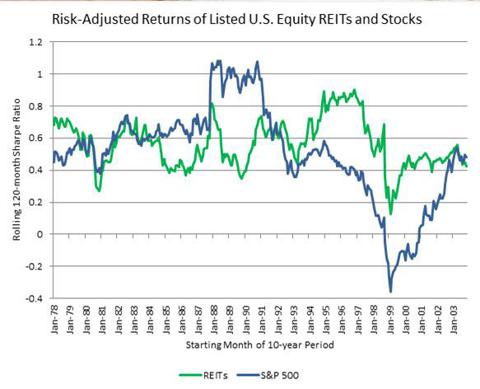 Thomas: To test the "permanently altered risk-return theory" he cited a three-year market beta test. What are your thoughts on that so called beta test?
Case: Unfortunately I haven't been able to replicate Mr. Lee's beta calculations, but that probably doesn't matter because mine aren't very different. As with risk-adjusted returns, the current beta isn't all that different from historical beta. Beta has usually been between 0.51 and 0.76, and it's currently 0.68. Basically, the liquidity crisis took us into uncharted territory, but now we've recovered from it. Here's a graph of historical beta for listed U.S. equity REITs relative to the broad stock market: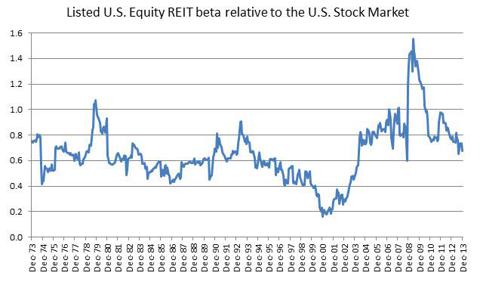 Thomas: The author said that "REIT expected returns are now much lower than they were for most of their history" and he said "unless you're optimistic that REITs can grow per-share dividends at above the rate of inflation, overcoming their structural inability to retain earnings, REIT real returns will likely disappoint." He summed up the article by saying that "REITs as a whole can be realistically expected to return around 2% to 3% after inflation." That seems like a strange theory, what is your take?
Case: Listed U.S. equity REITs historically have provided returns averaging 8.65% (annualized) after inflation. During the past 12 years it has been 10.58%. During the 12 years before that it was 8.33%. During the 12 years before that it was 10.52%. Before that (1972-1977) it averaged just 1.69%, but that was a period of not just high inflation but also severe economic recession (stagflation)-and listed U.S. equity REITs rescued investors from the -2.92% average annual real returns produced by the S&P 500!
Mr. Lee makes a common mistake by assuming that the REIT payout requirement is a bad thing. REITs have proven over and over again that they have strong access to public equity and public debt to finance acquisitions, so paying out dividends simply hasn't been a problem. On the contrary, in fact: academic researchers have documented hundreds of times that companies that finance their acquisitions from retained earnings tend to make bad investments.
Thomas: Finally the author said that "anyone who buys REITs on historical risk/return characteristics without considering the fundamental drivers of return and potential changes to market structure is being reckless." Honestly, that last statement made me feel like I didn't need a driver's license. Any thoughts?
Case: I know what you mean. The "fundamental drivers" of listed U.S. equity REIT returns are rent growth and occupancy growth in commercial properties, which are driven by macroeconomic forces such as household formation (young adults moving out of their parents' basements into rental apartments), domestic and international trade (which increases demand for industrial/warehouse facilities), employment growth (which increases demand for office space), and consumer spending (which increases demand for retail space). Unless we fall into another recession-which I don't expect-all of those are likely to be stronger than usual over the next several years as the economy recovers
Listen, I can't predict future stock returns any better than you (or Mr. Lee) can. But his parting advice is to invest in cash and "conventional equities at sensible prices." At the end of a year that saw equity REITs gain just 2.86% while the S&P 500 gained 32.39% and mid-cap growth stocks gained 43.30%, how easy is it to find 'conventional equities at sensible prices'?"
I Pulled the Trigger on Omega Today
Back in October I wrote a detailed article on Omega Healthcare Investors (NYSE:OHI). In general I was warming up to Omega and after the six month REIT sell-off I was beginning to feel like there was an alignment of interests - that is, a margin of safety. However, I offered the following summary:
I will wait patiently knowing that a sunnier and more plentiful time is bound, as a law of nature, to resume in due course. My Omega Target Price is $29.99.
Omega fell below $29.99 today and closed at $29.56. That translates into a 6.50% dividend yield. Since my last article, there has been no noticeable change to Omega's fundamentals, and I consider the shares to be trading at "fair value" with a P/FFO of 11.7x.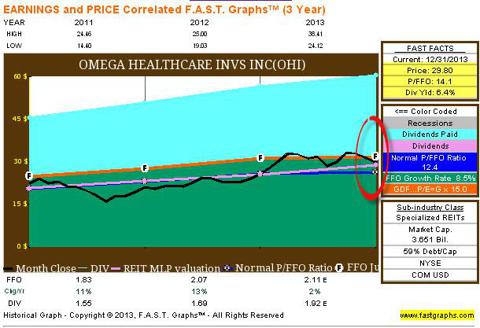 I'm glad to be an owner in Omega now; however, I don't see this as a "back up the truck" opportunity. In other words, I'm content with my first nibble but I'm looking to gain more tactical exposure after I see how the first seed grows.
Ironically we saw BMO Capital downgrade Ventas (NYSE:VTR) today to Underperform due to rising levels of senior housing development and higher costs of capital to growth. Ventas shares closed down .80% at $56.82 (I plan to write a more detailed article on Ventas for my newsletter subscribers). I remain comfortable with the earnings history for Omega and I consider the dividend safety to be sound.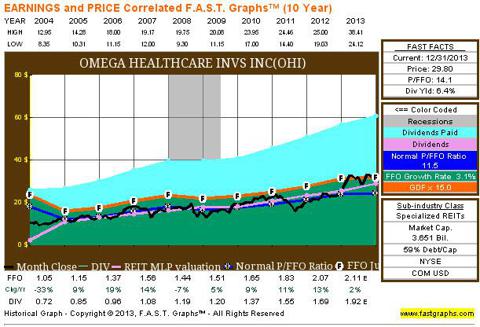 I'm glad to incorporate another REIT with a strong earnings history into my portfolio and I'm satisfied with the price. I expect more dividend growth from Omega as the company has grown its dividend payout by an average of 10% a year (over the last three years).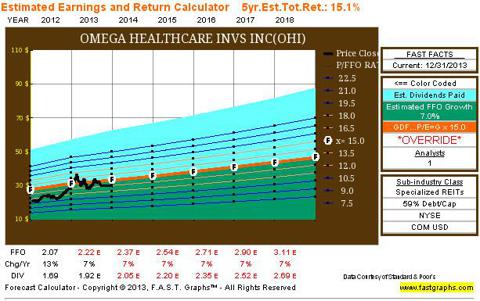 For more information on REIT Investing, check out my monthly newsletter, The Intelligent REIT Investor.
Source: FAST Graphs.
Disclaimer: This article is intended to provide information to interested parties. As I have no knowledge of individual investor circumstances, goals, and/or portfolio concentration or diversification, readers are expected to complete their own due diligence before purchasing any stocks mentioned or recommended.
Disclosure: I am long ARCP, CBL, DLR, GPT, HCN, HTA, O, ROIC, STAG, UMH, VTR, WPC, MPW, CSG, OHI, . I wrote this article myself, and it expresses my own opinions. I am not receiving compensation for it (other than from Seeking Alpha). I have no business relationship with any company whose stock is mentioned in this article.