IBM can be categorized among the few big technology giants. The company develops IT software, hardware and provides maintenance, outsourcing, consultancy services to commercial as well as government institutions through six broad divisions. These divisions are middleware software, technology services, business services, operating system & others, financing and server storage & others.
In this article, I will highlight the developing trends in the industry, historical results and analyze the company's preparation for these developing trends. Before getting into the discussion of the aforementioned topics, let us examine the year-to-date performance of the stock.

The current fiscal year was not good for investors as IBM's stock lost 5.74% year to date clearly underperforming the broad based S&P 500 index and Dow. This decline has primarily been attributed to stagnant or declining organic growth and many believe that the business cycle is in a decline phase and in order to revive the growth, innovation and technological advancements are needed.
I am not convinced of the declining organic growth stance and will share my view at the end of this article.
Developing Trends in the Industry
According to research conducted by IDC, the broad based high performance computing (HPC) market is projected to grow from $21.9 billion in 2012 to $30.2 billion by 2017 reflecting a CAGR of 7.59%. The HPC market includes storage, application software, middleware software and repair and maintenance services. Besides this, during the period of 2012 to 2017, the server market is forecasted to grow from $11.2 billion to $15.5 billion reflecting a CAGR of 6.8%.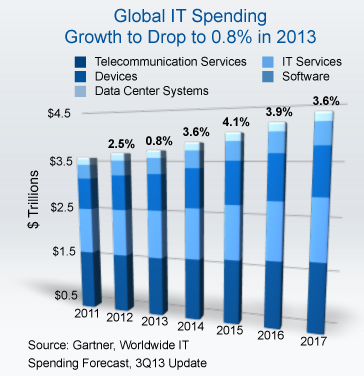 Moreover a recent report issued by Gartner proclaims that from 2014 to 2017, worldwide IT spending will grow on average of 3.8% a year. Hence, it is safe to assume that tech giants involved in the preparation, implementation and management of IT-related work will find good opportunities to grow.
Gartner also projects that the enterprise sales of ERP systems will grow to $32.9B in 2016 achieving a 6.7% CAGR during the forecasted period of 2011 to 2016. Out of this total, the forecasted sales of the global market of CRM will reach $18.6 billion by achieving a CAGR of 9.1%. The fastest growing category of enterprise software will be web and Team conferencing which is forecasted to grow at a CAGR of 12.4%. Enterprise application software spending by businesses will reach $158B by 2016 and out of this figure 20.8% is forecasted to be spent on ERP systems, 13.4% on office systems and 11.7% on customer relationship management.
The report also highlights that spending on global business intelligence is expected to grow from $14B in 2013 to $18.6B in 2017 attaining a CAGR during the forecast period, 2012-2017, of 7.3%. While, global business spending on data integration tools and data quality tools is expected to grow from $4B in 2013 to $6B in 2017, attaining a CAGR of 10.3% during the forecast period of 2012-2017.
How is IBM preparing?
It is expected that cloud computing and big data analytics will be among the fastest growing businesses in the future. IBM realizes this turnaround and to attain a large share of these emerging businesses it is developing its offerings within these high-growth segments of big data, cloud and mobile computing. In pursuit of this, the company aims to build its capabilities and offerings both organically and through acquisitions.
The company improved its mobile device portfolio by offering services that will include security, device management, analytics and application development for their customers. This new service was launched in collaboration with AT&T (NYSE:T). This service will aid in the restructuring of the IT department's responsibilities for mobile devices ranging from the management of employees' mobile devices to the creation of new mobile commerce applications. This comprehensive new service is expected to allure users because of its low cost, services offered and simplified usage.
With regard to cloud and big data analytics IBM released products to help maximize the efficiency of its digital marketing efforts particularly for small and medium sized businesses and emerging markets. IBM is offering their clients access to its cloud-based digital analytics technology free for one year. The tool aids with big data analytics by detecting spending patterns and preferences, thus refining the marketing strategies deployed by organizations. Counting on the big data trend, IBM expects to generate revenues of $20 billion from this segment by FY 2015. IBM expects to see nearly 25% of their revenues in 2015 be derived from the big data and cloud business.
Moreover, the company expects its cloud business to generate $7 billion by FY 2013. To increase growth in its cloud unit IBM acquired a cloud-based cyber security firm Trusteer which was competing with companies like McAfee and Symantec (NASDAQ:SYMC). This Israeli -based company offers cloud-based services to help with fraud protection and organization security. The acquisition will help grow IBM's data security abilities in cloud, mobile and device security.
Additionally, IBM also acquired CSL International, a technology firm that offers virtualized management technology and assists clients in managing their virtual environments through a simplified and powerful interface. IBM has completed several other acquisitions in FY 2013 like the purchase of analytics software provider Star Analytics and UK-based software provider Daeja Image Systems. These acquisitions are complementary to the business analytics segment.
Brief History
The major factors hampering IBM's top line growth during the first nine months of fiscal year 2013 were low global IT spending, increasing competition and slowing growth of businesses in the emerging markets, especially BRIC.
During the third quarter of fiscal year 2013, the company reported revenues of $23.7 billion reflecting a decline of 4% year over year. IBM realized tremendous growth in its cloud business and its other businesses, except system and technology, services and the growth markets segments, were also able to achieve a reasonable growth. The strengthening of the dollar against other global currencies also affected the growth.
Moreover, the company reported a net income of $4 billion reflecting a growth of 6% year over year. This growth can be attributed to the successful implementation of cost cutting initiatives and slight expansion of gross profit margins.
Conclusion

As I mention above, I disagree with those who proclaim that IBM's organic growth is declining. I think that the company has developed its existing capabilities and has entered into new ventures by offering handsome growth. The only thing that could be considered an obstacle is the growth in overall IT spending which is soon expected to revert!
I see IBM staying strong in the future. The stock is undervalued and has remained successful because the company has decreased its operating cost. Therefore I offer a buy rating.
Disclosure: I have no positions in any stocks mentioned, and no plans to initiate any positions within the next 72 hours.
Business relationship disclosure: The article has been written by a Blackstone Equity Research research analyst. Blackstone Equity Research is not receiving compensation for it (other than from Seeking Alpha). Blackstone Equity Research has no business relationship with any company whose stock is mentioned in this article.