Even as business in the U.S. has stagnated over the past few months as consumers continue to struggle with unemployment and personal finances, strong international growth has driven McDonald's to report an incredible 82 consecutive months of same-store sales gains.
McDonald's reported an increase of 11.2% in system-wide sales for February, while comparable sales were up 4.8% vs the year-ago period. Excluding the effects of currency translation, total system-wide sales increased 6.4% during the month.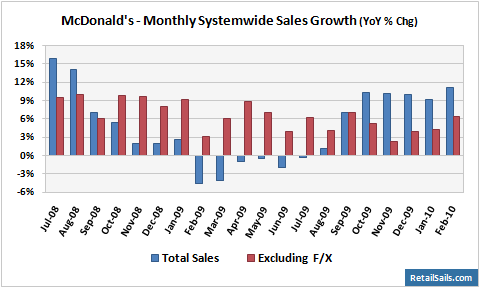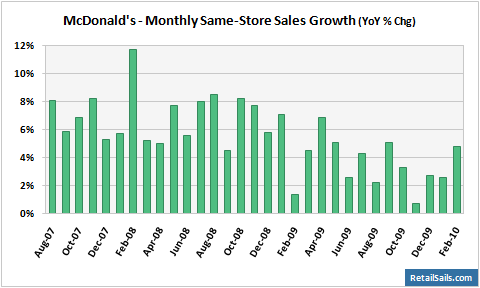 After staying strong through most of the recession, sales in the U.S. have languished since the fall and posted a 0.6% comparable sales increase for February, while total system-wide sales rose a slight 1.2%. The company said the gains were driven by "strong consumer demand for core favorites, including an Olympic-themed Chicken McNugget promotion, the Breakfast Dollar Menu and McCafe beverages."
Performance was strong in Europe, with system-wide sales increasing 16.4% (7.7% excluding F/X) and same-store sales up 5.4%. Growth was especially robust in APMEA (Asia/Pacific, Middle East and Africa), as system-wide sales rose 23.9% (13.4% excluding F/X) and same-store sales increased 10.5%. The company said the celebration of Chinese New Year in many markets contributed to the month's performance.
"Our worldwide results for February show that we're satisfying the needs of our customers around the world by giving them more choice and variety, unbeatable value and the convenience they're looking for given today's busy lifestyles," said McDonald's Chief Executive Officer Jim Skinner.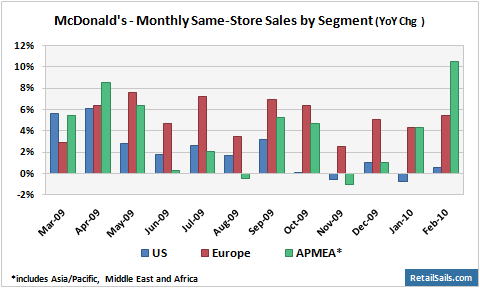 Author's Disclosure:
No Positions