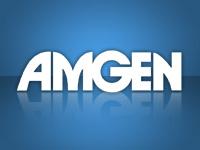 Amgen (NASDAQ:AMGN) is global biotechnology company who sells pharmaceutical drugs, including Aranesp & Epogen (anemia), Enbrel (rheumatoid arthritis), and Neulasta & Neupogen (prevent infections in chemotherapy patients).
Although there are concerns about the effectiveness and side effects of some of these drugs (notably Aranesp and Epogen), Amgen earned $4.6 billion on $14.6 billion in sales in 2009.
Despite its stable of proven drugs, much of analyst and investor attention is focused solely on its highest-profile potential drug: Denosumab.
In scientific terms, Denosumab is a "fully human monoclonal antibody that specifically targets a ligand known as RANKL" and Amgen is targeting it for "conditions including osteoporosis, treatment-induced bone loss, bone metastases, multiple myeloma and rheumatoid arthritis."
For those of you without a PhD in biology, Denosumab is a bone-loss treatment. According to statistics collected by BusinessWeek in August 2009 and January 2010 there are many reasons to be optimistic about the prospects with our aging population:
50% of women and 30% of men will suffer from osteoporosis-related injuries

65% of advanced breast and prostate cancer patients eventually suffer bone metastases
Offsetting this optimism is the fact that the osteoporosis drugs market is $5 billion and declining due to pressure from generics. While generics are available for approximately $100 per year, it is estimated that Denosumab could cost $2,000 per year, based upon comparable drugs.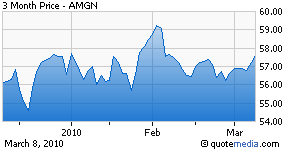 Amgen is likely counting on the fact that Denosumab only requires two injections per year versus more frequent infusions or weekly/daily pills. In this economic climate with healthcare reform on the forefront of Washington's agenda, I am concerned by the magnitude of the price discrepancy.
Furthermore, some doctors are questioning the actual effectiveness of Denosumab versus its rivals. In brief, the issue focuses on complex medical issues such as bone density versus fracture risk but for our purposes the takeaway is that Denosumab achieving commercial success is far from a certainty. Lastly, this is a highly competitive market segment and Amgen will be forced to invest heavily in marketing to achieve success.
For comparison, Roche (OTCQX:RHHBY) and Novartis (NYSE:NVS) who produce similar priced drugs invested $92 and $53 million in 2008, respectively.
While the estimates for Denosumab's sales vary widely, one of the more conservative estimates is $1.4 billion annually by 2014, according to Cowen & Co. analyst Craig Gordon. Assuming that the osteoporosis market does not decline within the next four years, Gordon is estimating that Denosumab will capture 28% of the market.
Certainly the drug's future prospects would be greater if it could be proved effective at treating other terrible diseases such as rheumatoid arthritis and cancer; however, Amgen is having enough difficulty simply proving that Denosumab is effective and safe due to innovative way that it attempts to prevent bone loss. That $1.4 billion can balloon up to $6 billion if it achieves success combating metastatic cancer.
In sum, this is a cautionary tale for investors when investing in companies solely for speculative reasons. While it does appear that Denosumab will eventually be approved (although nothing is ever certain when dealing with the FDA), the future revenue and related liabilities are extremely difficult to predict.
Below are my primary concerns surrounding Denosumab:
Further difficulty obtaining FDA approval
Trouble convincing doctors of the drug's effectiveness
Difficulty persuading doctors regarding the cost-benefit proposition
Substantial marketing expenses to dethrone competitor drugs
Overambitious analyst estimates of the drug's revenues

Difficulty expanding outside of osteoporosis and into other medical conditions
In closing, I am neither recommending a purchase nor a sale of Amgen due to the tremendous uncertainty surrounding Denosumab. While Denosumab is struggling to gain FDA approval, Amgen does appear to be attractively valued versus its peers (12.6 vs. 26.4, according to TDAmeritrade).
It is important to remember that Denosumab is just one of the drugs in Amgen's pipeline but as the highest-profile drug, I believe that it will be a primary driver for Amgen's stock valuation for the coming months. With analysts' spotlight shined on Denosumab, this is one stock that may be too volatile and uncertain for many investors.
Other sources: Motley Fool, TDAmeritrade
Disclosure: Author holds a long position in AMGN and is short AMGN Mar. 67.5 puts.