The first trading day of the year was red for the first time in six years, but we did get some good news with M&A activity getting off to a good start. FireEye's (NASDAQ:FEYE) $1.05 billion deal could be the first of many tech deals this year, and could be kicking off what we already expected to be a solid year for M&A activity. Although one could argue that it was a 2013 deal, it was announced in 2014 and that is when the market was able to react so that is how we are viewing it.
We think that M&A activity will take place across the board but specifically in the technology and financial markets in the year ahead. Due to this, and the fact we have a tech deal to report, we wanted to focus on the tech sector this morning.
Chart of the Day:
part of the reason we think that the Nasdaq ultimately hits all-time highs is because of continued M&A and recent IPOs panning out. Of course biotech will play a large role in the trajectory of any rise, but this morning we are focusing on tech.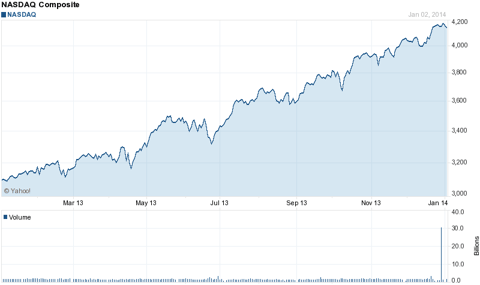 Source: Yahoo Finance
We have economic news today and it is as follows:
Natural Gas Inventories (10:00 a.m. EST): Est: 177 bcf
Crude Inventories (10:30 a.m. EST): Est: -4.731M
Auto Sales (2:00 p.m. EST): Est: 5.7M
Truck Sales (2:00 p.m. EST): Est: 7.1M
Asian markets finished mixed today:
All Ordinaries -- down 0.33%
Shanghai Composite -- down 1.24%
Nikkei 225 -- CLOSED
NZSE 50 -- up 0.69%
Seoul Composite -- down 1.07%
In Europe, markets are trading higher this morning:
CAC 40 -- up 0.44%
DAX -- up 0.20%
FTSE 100 -- up 0.01%
OSE -- up 0.21%
Big Tech Security Deal
FireEye announced yesterday that it had closed on a deal December 30th to purchase closely held Mandiant for $1.05 billion in cash and stock. Mandiant is the company most widely known for discovering the Chinese military hacks on Corporate America. FireEye projects that this will greatly increase sales and lead to new product offerings which when released will uncover numerous compromised networks.
FireEye came public in the latter half 2013 to much fanfare and saw shares rally sharply on its first day trading. After the deal with Mandiant was announced the shares rallied over 20% as investors cheered the deal.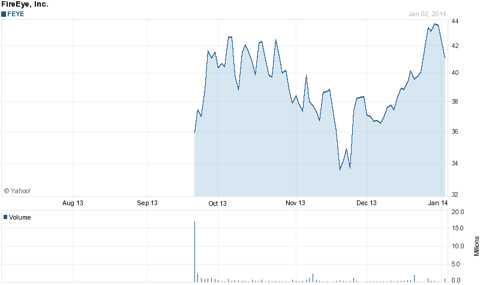 Source: Yahoo Finance
With hackers infiltrating networks of all sorts these days and gaining notoriety via the press, everyone from governments to companies are looking to spend more on their network's security so as not to be embarrassed by losing clients' data. This trend has caused what was a fragmented industry to be less so, as smaller players team up to offer highly specialized products and larger companies look to gain access to technology to protect the networking products they offer clients, as Cisco's (NASDAQ:CSCO) $2.7 billion acquisition of Sourcefire highlighted.
Trend In Tech M&A
One of our predictions for 2014 was that M&A activity would pick up as companies looked for ways to help grow both the bottom and top lines while also minimizing risk. Any time one partakes in M&A activity there are always risks, but less risk than forming a new business unit to target a new line. Our thinking is that bolt-on acquisitions will become popular and possibly even a catch phrase in the coming year.
The FireEye deal highlights this, but it also draws attention to another idea we have been working on. As it appears that we are entering into another start-up and IPO phase in the tech industry we think that far fewer companies will actually go through the IPO process than in prior periods, such as the 1997-2000 period. Instead we see the larger companies and those who have already come public using their own cash and new currency (company shares) to buy some of the smaller names that fit better under a corporate umbrella or have teams which are best suited to be development teams and constantly crank out new products or apps.
This is something that has been going on for years now, as Google (NASDAQ:GOOG) has been a serial acquirer of companies since its own IPO. Most of its purchases have been small bolt-on acquisitions but it did buy Motorola's handset division and just recently purchased a maker of robots for the military. Google has been placing small bets on private tech companies too and in some cases has even shut those businesses to get the acquired talent to work on what the company thinks are more important projects, as appears the case with Bump Technologies which the company purchased for $35 million (see story here).
Facebook (NASDAQ:FB) has the longer history, but both Facebook and Twitter (NYSE:TWTR) have captured investors' imagination and appetite for risk which has provided both with a very lucrative currency should they choose to use it.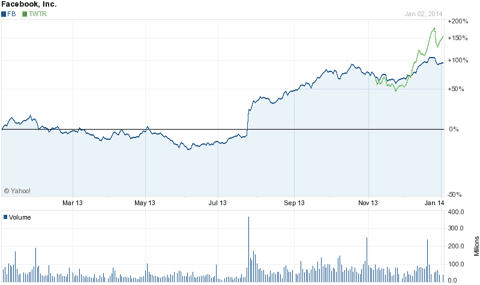 Source: Yahoo Finance
Much as Google has used M&A to add to its services, we expect Facebook to continue to seek acquisitions to build out its service and add to its already popular network platform. The Instagram purchase was perfectly timed and should lead to significant revenue growth as the company moves to monetize the popular photo and video app. Although Facebook missed out on Snapchat after offering what seemed like a more than fair $4 billion we think the company continues to look for attractive technologies to integrate into its social networking site and media advertising platforms.
Much like Twitter will moving forward. Google purchased many of the Internet advertising companies early in the game, but we could see Twitter move to grab some start-ups as it looks to bolster its advertising platform for corporate customers. With the recent movement in stock prices for both Facebook and Twitter, as well as Facebook's reputation for integrating teams into its fold it seems that these two should be the two who land the big prizes moving forward.
Disclosure: I have no positions in any stocks mentioned, and no plans to initiate any positions within the next 72 hours. I wrote this article myself, and it expresses my own opinions. I am not receiving compensation for it (other than from Seeking Alpha). I have no business relationship with any company whose stock is mentioned in this article.