Thursday, Bank of America (NYSE:BAC) moved higher due to an upgrade and price target raised to $19.00/share. Obviously this means that the 10% trading range will probably be the incorrect call by me.
Bank of America Corp. gained 3.4% to close at $16.10 after analysts at Citigroup Inc. upgraded the bank to buy from neutral and raised the price target to $19 from $16.
I will admit that I was wrong, but I will still not own shares of the company. I prefer another bank stock that actually pays shareholders a decent dividend, and is rated by consumers and business leaders alike, to be a far superior bank. The stock has strong upside potential as well.
Why I Still Will Not Own Shares Of Bank Of America
An upgrade is fine and dandy on any stock especially when it comes from a well respected firm. That being said, the headwinds have not changed one bit from when I wrote this article.
Bank of America, one of the nation's largest banks, was found liable of having sold defective mortgages, a jury decision that will be seen as a victory for the government in its aggressive effort to hold banks accountable for their role in the housing crisis.

Moreover, the jury also found a top manager at Bank of America's Countrywide Financial unit liable, pinning some - if not all - of the responsibility for the bad acts on an individual.

Countrywide, the troubled mortgage originator that Bank of America bought in 2008, has been a morass of problems. While the bank bought Countrywide for $4 billion in 2008, analysts say they believe it has so far already paid close to $50 billion in fines and settlements. In light of Wednesday's decision, that figure is likely to continue to rise.
And this:
It does not help the bank or the shareholders when reports such as this one hits the streets either.
Instead of helping homeowners as promised under agreements with the U.S. Treasury Department, Bank of America stalled them with repeated requests for paperwork and incorrect income calculations, according to nine former Urban Lending employees. Some borrowers were sent into foreclosure or pricier loan modifications padded with fees resulting from the delays.......
Of course these facts have not stopped the stock from rising, so of course, I was wrong! Just because the stock has risen in price, has not changed the income I can receive, however. Dividends are so puny that you need a magnifying glass to actually see them. (One penny per share, per quarter). In order to raise the dividends Bank of America must get approval from the regulators, and BAC has been turned down twice thus far.
The question for me is why would I own shares of this stock for the long term, if it cannot pay me to hold them? There are too many other choices out there that offer significant upside, plus a decent dividend that is now being raised every year.
KeyCorp Has All The ingredients For My Portfolio
KeyCorp (NYSE:KEY), which owns KeyBank, is a community bank headquartered in Cleveland Ohio, and has over 1,000 branches and 1,300 ATMs in 12 states across the country. With nearly $91 billion in assets, this community bank is anything but small potatoes.
Here is the last earnings press release for you to read.
The key takeaways are duly noted:
Compared with Third Quarter of 2012, from continuing operations

Total revenue decreased $53 million

Taxable-equivalent net interest income of $584 million, up $6 million; third quarter of 2013 included an $8 million write-off of capitalized loan origination costs due to the early termination of leveraged leases compared to $13 million in the third quarter of 2012
Noninterest income declined $59 million primarily due to a $54 million gain associated with the redemption of trust preferred securities one year ago

Net interest margin of 3.11%, down 12 basis points
Continued average loan growth driven by 11.1% increase in commercial, financial and agricultural loans
Average deposits increased $3.4 billion, or 5.4%, partially attributable to $1 billion in escrow deposit balances from the commercial mortgage servicing portfolio and special servicing business acquisition
Noninterest expense up $4 million, which included a pension settlement charge of $25 million and $16 million associated with the efficiency initiative compared to $9 million one year ago
Net loan charge-offs decreased 66.1% to .28% of average total loans
Maintained solid capital position with Tier 1 common equity of 11.11%e
The basic fundamentals are very impressive for my needs as well:
A PE ratio of 15.25 (trailing 12 months)
A price to book value of 1.23
A current dividend yield of 1.60%, which has been raised for 3 consecutive years as of now.
A dividend payout ratio of just 23%, which leads me to believe that dividends can and will be raised far into the future.
83.9% of all outstanding shares are held by institutions.
Profit margins in just about every category are in the highest percentile of its business sector, as shown in this graphic, courtesy of Fidelity Investments:

The ESS rating score is one of the highest of any bank, anywhere, including higher than Bank of America.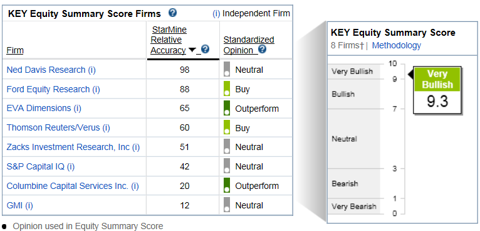 Of course now that Bank of America is about $16.10/share and an analyst has raised its price target to $19.00/share, there is the potential for another 17% in growth in 2014. Not too shabby.
On the other hand, KeyCorp also had its price target raised by an analyst to $16.00/share and the current price is $13.29/share, which represents a potential for another 22% in growth, or roughly 5% more than BAC.
Another analyst had this to say about KEY:
Zacks' analyst wrote, "KeyCorp's third-quarter earnings comfortably outpaced the Zacks Consensus Estimate. Results benefited from increased net interest income, partially offset by lower non-interest income and a slight rise in operating expenses. Moreover, continued improvement in asset quality and strong capital ratios were the other highlights of the quarter. We expect the company's business restructuring actions to continue to drive its credit quality and liquidity. Moreover, the company's capital deployment actions highlight its sound capital position. However, we remain wary of the shaky economic recovery, stringent regulatory restrictions and the existing low interest-rate scenario. Nevertheless, we are optimistic about the company's strong balance sheet and improved market share."
Zack's had a neutral rating when it came out with this. I wonder what they are saying now?
But who is quibbling over just another 5% in share price appreciation. The real sweetness in owning shares of KEY is in its dividend and dividend history.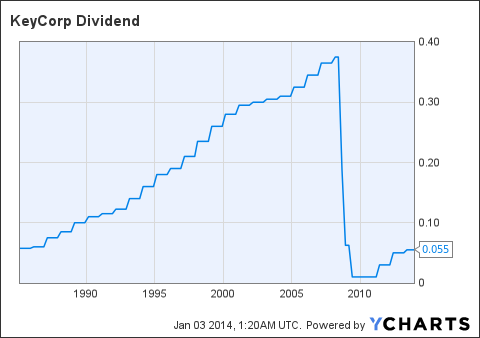 KEY was once a dividend winner and after that ugly drop has now regained its dividend increasing footing, with 3 consecutive years of double digit percentage increases, with more to come in my opinion.
I also found this website that compares one bank to another and users give each bank a rating of 1-5 based upon their own experience.
Here is a snapshot of just one area on the site: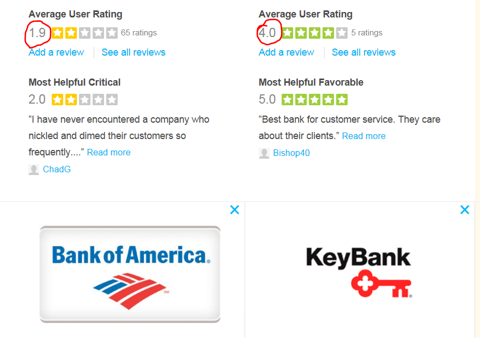 None of this will mean anything to the BAC bulls, but if an investor is seeking income as well as growth potential, KeyCorp seems like the better choice. At least for me.
The Bottom Line
I have been kidded by commenters that whenever I write a negative article about BAC, its share price pops up. Well, I tip my hat to all the BAC shareholders. I was wrong about the stock, but I am right about KEY.
I hope the share price of BAC doesn't drop now!
Disclaimer: The opinions of the author are not recommendations to either buy or sell any security. Please remember to do your own research before making any investment decisions.
Disclosure: I have no positions in any stocks mentioned, and no plans to initiate any positions within the next 72 hours. I wrote this article myself, and it expresses my own opinions. I am not receiving compensation for it (other than from Seeking Alpha). I have no business relationship with any company whose stock is mentioned in this article.