Last year was a great year in the market, no doubt. It was a great year to be working with investments for people. We had price appreciation and dividend growth in our client portfolios that was far ahead of our plans.
What this reminds me of is my younger years spent in outside sales. I would bring in a big deal that was a miracle work, a work of art, a work of persuasion, of time, hard work and gusto! Cigars, drinks and high fives after work. Then ... at the "jack wagon" sales meeting the next morning it was ..."Doug ...What's next!"
So here we are starting 2014 off with a triple digit downward move in the Dow on the first day of trading and the S&P is a little worse. The only thing I see on my trading screen that is up are my lowly Goldcorp (NYSE:GG) holdings. While I'm certainly not trading I am working hard investing in dividend growth, or growth through income growth. Describe it however you want. I'm targeting growing equity income so let's talk about how to do that in 2014.
I don't know where the S&P 500 is going this year. I lack the convictions that some people seem to have with calls of bottoms and tops. I'm working with a double hand full of facts and figures and trying use what I do know mixed with current economic activity to decide what is going to work best for my clients this year. Let's start by relating 2014 to the past.
What has the S&P 500 done after a big year?
This is a chart listing the 22 years that the S&P500 has been up over 25% in a calendar year. I went back to 1926 with information from Boogleheads.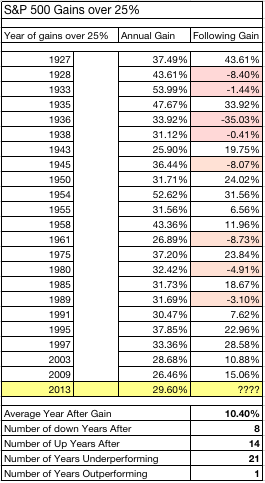 Remember this is focused on the year after the big gain. More often than not the economic expansion continued the following year after a big positive S&P year. According to this we have a 64% chance (14 years out of 22 years) of having a positive year this year. The chances of having a better year than last year are very low at 4.5% (1 out of 22) but the average following year gain is 10.4%. I thought these were some simple but fun stats.
Let's build on this case with a few of the things that are very important for 2014 dividend growth investing.
Interest rates and the "Great Taper" of 2014
Interest rates are hard on several sectors of income producing investments, most notably bond funds. We can start with an easy chart of the 10-Year treasury from Yahoo. You will see the near term effect of the taper rumors and the actual small taper at the most recent end of the chart.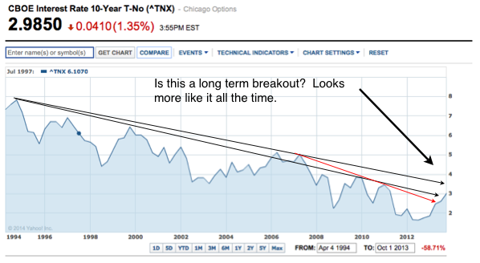 An important factor to remember for 2014 and rising bond rates is the effect that it has on the flow of funds into stocks. As rates rise and bond returns go negative people sell out of bond funds. Some of those assets go into stocks.
This chart is from The ICI. You will see that in June 2013 losses in bonds from increasing rates triggered out flows from bond funds.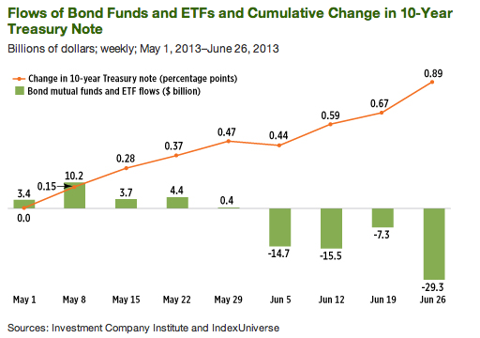 Here is a look at the flow of funds to equities and bonds together without the 10-yr rate change shown. This chart is also from The ICI, note the negative flow in bonds (purple) starting in June.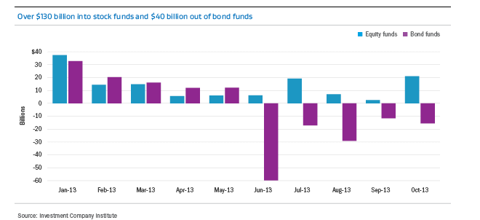 If the bond rates continue to move up I feel like more money will move into stocks. This may be somewhat muted due to the high age of the investor base driving a more risk adverse idea, a baby boomer effect. However, the larger trend out of bonds (should rates keep rising) will add support to an extended stock market. Keeping equities firm while rates rise. Funds that are flowing out of bonds into stocks will be looking for classic exposure to growth in the market. So in the income sub set higher growth will help to offset a higher "risk free" rate.
The increase in rates also means that sectors with intensive borrowing needs can be negatively impacted. Equity REITs, utilities and MLPs are facing headwinds from rising rates. Investing in these sectors will need a strong dependable growth component to keep investors interested.
Corporate earnings acceleration in 2014
It's hard for the market to move down when corporate earnings are growing and it's very hard for the market to go down if earnings growth is accelerating. Below is a chart from Yardeni Research showing year over year earnings growth rate.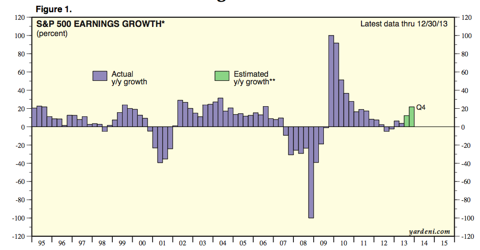 Earnings growth rates are important in an efficient market. These rates help justify a higher P/E multiple in the S&P 500 as the future earnings become more certain. It's just like paying a premium for something you know is going to happen like a dividend payment from 3M (NYSE:MMM) or Coke (NYSE:KO). Higher earnings are coming so the efficiency of the market is pricing those higher earnings in current conditions.
Dividend growth for 2014
Yes, this is important but it's going to be short and to the point. Corporate cash levels are at a record high close to $1.8 trillion according to Fed Flow of Funds report from December, and the S&P 500 dividend payout ratio has dropped from 45.8% in late 2007, down to 36% as of the middle of 2013. U.S. corporations are in great fiscal position to keep increasing dividends and I think they will do just that.
Another item in favor of dividend growth in 2014 is the continued rise in popularity of the share repurchase plans. I like to think of these programs as deferred capital expenditures. Removing shares from the market allows a growing earning stream to be spread out over a smaller share base. This allows a dividend growth rate that may be higher than the straight line revenue or income growth without the payout ratio growing to a non-healthy level. It's shareholder friendly if done in a meaningful way. Companies with high margins are particularly good at this. Becton Dickinson (NYSE:BDX) is a good example of a meaningful stock repurchase plan. This small chart is from a FastGraph (or FunGraph to be precise).
Cash and Common Shares Outstanding from FastGraphs for Becton Dickinson.

Please note the falling share count in the bottom dark red row and the increasing pace at which BDX is retiring shares. Becton has added some debt but I think the dividend and dividend growth is pretty safe here. I'm counting on another 10% dividend increase in 2014 from them.
I do expect that at some point corporations will expand capital spending in the place of buybacks, but for a good company I like that kind of expansion as well. It just lacks the immediate year over year impact of a solid buyback plan. For 2014 I expect more buybacks and continued flat to down corporate capital expenditures.
So where is the price of the S&P 500 and the rest of the market going in 2014?
We have a better than 60% chance of the S&P going up this year. Let me be honest with you here ... that is not a good enough chance for me to be in this market for growth. However, I'm almost certain the dividend growth will be as robust as it was in 2013. I remain focused on growing income for my primary reason to be in the market. With this as the case, I will stress once again that a growth-only strategy is not appropriate for those nearing or in retirement. Market involvement needs a meaningful income component that is above the need to sell equities for living expenses.
Do your due diligence, and get to work.
Disclosure: I am long BDX, KO, MMM, GG. I wrote this article myself, and it expresses my own opinions. I am not receiving compensation for it (other than from Seeking Alpha). I have no business relationship with any company whose stock is mentioned in this article.