Going into 2014 we decided to review the resource sector in search for commodities providing opportunities for investments in new year. First up is copper for which the market sometimes assigns a honorary PhD due to its alleged ability to predict turning points in the global economy. Copper demand is often viewed as a reliable leading indicator of economic health because of copper's widespread applications in most sectors of the economy. A bet on copper is therefore often also a bet on a strong, or strengthening, economy.
Like many other commodities copper has been in a bear market for most of 2013 and has in fact fallen 30% from lofty 2011 highs. However, the price has strengthened towards the end of 2013, stockpiles have slid to a 12-month low and analysts are putting out more bullish forecasts on the copper price again.
The chart below shows the settlement price in US$ per tonne at the London Metal Exchange, or LME. Readers are advised to use a conversion factor of 2205lbs/tonne to convert to the more familiar unit of [$/lb].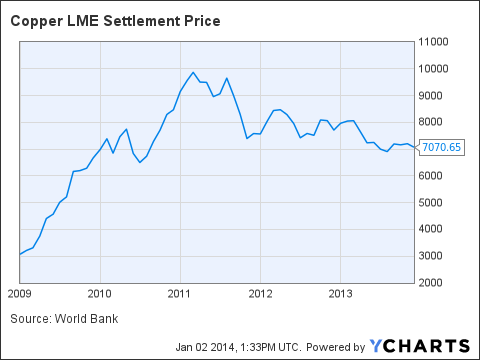 Copper LME Settlement Price data by YCharts
The current balance between supply and demand is about to change.
Demand: The economy is picking up again and will create increased demand for the red metal.
A number of huge copper mines are coming online and will increase supply in coming years.
The price of copper will be determined by the relative rates of increase for demand and supply respectively. Economic data from the US and also from China is pointing to a positive first half of 2014. Especially continued growth in China is a very bullish factor for the price of copper. We expect strong copper demand at least for the first half of 2014.
The Oyu Tolgoi mine in Mongolia is currently in the process of ramping up under control of Rio Tinto (NYSE:RIO), and so is the Toromocho mine in Peru which is owned by Chinese Chinalco. Two more Chinese-owned mines in Peru (El Galeno and Rio Blanco) and one in Ecuador (Mirador) could start production within the next two or three years. Add to that the Las Bambas project which is being divested by Glencore-XStrata (OTCPK:GLCNF) and the Constancia mine currently under construction by Hudbay Minerals (NYSE:HBM). In total we estimate that 1.5B lbs of copper could be added to the supply chain just from the mentioned projects alone, on top of Oyu Tolgoi.
In our view the two described factors will lead to some see-sawing in the next two to three years. The final outcome will depend greatly on the sustainability of the economic recovery and whether economic growth will be strong enough to digest the additional copper production from the new mines.
In the near term, we believe that the scene is set for a recovery of copper prices. We believe that a bottom has been put in at $3/lb in mid-2013. A number of bullish indicators are currently present in the chart which point towards higher copper prices and a break of the three-year downtrend. In fact we would not be surprised to see a test of resistance at $3.80/lb in the first half of 2014.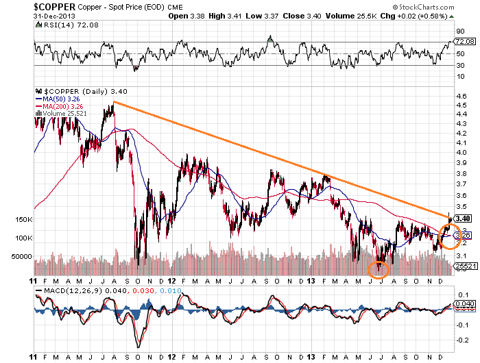 Our Best Bet
In our investments we will be looking for exposure to copper for the first quarter in 2014. These investments will be assessed again before summer doldrums kick in which have brought weakness to the price of copper for the past three years in a row.
In the longer term we will be keeping a hawk's eye on general economic indicators and the supply side; and we will pull out when weaknesses become apparent.
How to Invest in Copper
Exposure to the copper price is best achieved through exchange traded funds or similar. The iPath Pure Beta Copper ETN (NYSEARCA:CUPM) or the Unit States Copper Index Fund (NYSEARCA:CPER) come to mind.
Some leverage can be gained by investing into copper miners, for example through the Global X Copper Miners ETF (NYSEARCA:COPX); or by choosing selected individual mining companies such as Freeport McMoRan (NYSE:FCX), Hudbay Minerals or Glencore-XStrata. This article includes some more candidates for copper miners.
Disclosure: I have no positions in any stocks mentioned, and no plans to initiate any positions within the next 72 hours. I wrote this article myself, and it expresses my own opinions. I am not receiving compensation for it (other than from Seeking Alpha). I have no business relationship with any company whose stock is mentioned in this article.