As of 2011, countries in the Frontier Markets accounted for 21.6% of the world's population and 6% of its nominal GDP, but only 3.1% of world market capitalization (Source). With US equity markets racing to a second consecutive year of outsized gains as well as headwinds facing Europe and the larger Emerging Markets, investors are more seriously considering Frontier Markets as an investment opportunity. This article will define Frontier Markets, present the two largest ETFs covering the space, discuss fundamental factors supporting an allocation to Frontier Markets, and highlight some of the risks to consider before investing.
Frontier Markets vs. Emerging Markets
Developed in 1992 by the World Bank, Frontier Markets are a subset of Emerging Markets, often referred to as "pre-Emerging Markets," in which the financial and political infrastructure is less mature. Geographically, the frontier category generally incorporates greater exposure to African and Middle Eastern countries, typically not found in the mainstream indexes, in addition to a handful of South American countries. The top ten countries in the MSCI Frontier Markets Index,ordered from largest to smallest by market capitalization, are listed below.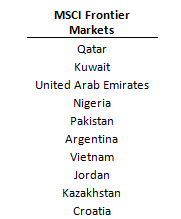 Source World Bank
Fund Choices
The range of fund choices for access to the Frontier Markets space remains limited. Moreover, the ability of fund companies to gather assets in this category is restricted by liquidity and size constraints. Franklin Templeton closed its Frontier Markets mutual fund to new investors earlier in 2013, after accumulating just $3 billion in assets. Funds covering developed equity markets like the US can gather tens of billions without making so much as a ripple in the market. There are two primary ETFs bearing the frontier name, each with significantly different exposure, the iShares MSCI Frontier 100 Index ETF (NYSEARCA:FM) and the Guggenheim Frontier Markets ETF (FRN). MSCI's frontier index licensed by iShares focuses predominantly on the Middle East and Africa, whereas Bank of New York Mellon's index licensed by Guggenheim has a substantial weighting to South America. At the present time, Chile represents just under 50% of the Mellon index! Presented below are the top ten holdings for each of these ETFs according to the fund websites.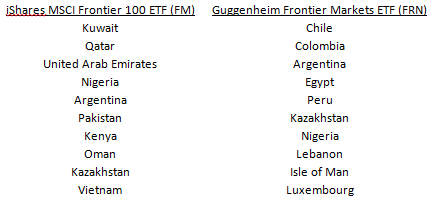 Favorable Demographics
Countries with a lower (younger) median age may portend a future in which the working population is growing, thereby producing, consuming, and saving, ultimately driving GDP growth. The median age in the Developed Markets, which currently command the lion's share of world market capitalization, tends to be higher than that of Emerging and Frontier Markets. For example, the median ages in the US, Germany, and Japan are 37.2, 45.7, and 45.8, respectively. Moreover, the percentage of the population under 15 years of age tends to be markedly higher in Frontier Markets when compared to Developed Markets comprising the MSCI World Index. While there are certainly other factors that contribute to economic growth and by extension stock market growth, on the basis of population age alone, Frontier Markets represent a more compelling long-term investment than their Developed Market counterparts.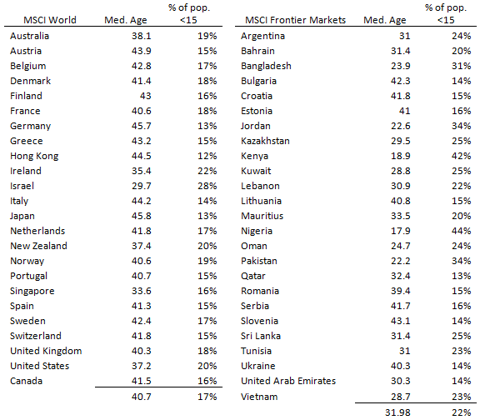 Source: CIA World Factbook, World Bank
Strong Relative GDP Growth
In recent years, market observers have been paying close attention to the moderating economic growth rates in key emerging markets like China, not to mention the credibility of the economic reports produced by these countries. However, it seems clear that the real GDP growth rates in emerging countries are higher than in developed countries. So while the relationship between real GDP growth and stock market growth may be imperfect, it is widely considered to be positively correlated, which favors stock markets in these Emerging and Frontier Markets.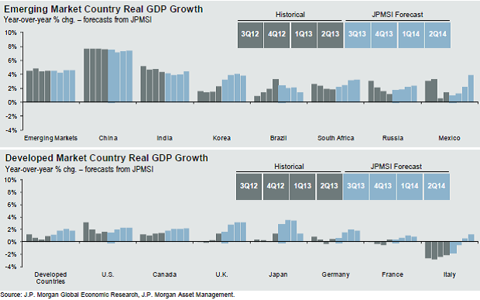 Low Correlation to Traditional Equity Investments
One of the primary challenges equity investors face in our increasingly global economy, is the correlation of equity returns across geographies, particularly during market drawdowns, when investors need diversification most. As the matrices below indicate, the world's equity markets demonstrated highly positive correlation over the past five years. Of the Frontier Markets options however, the MSCI index provided a lower degree of correlation to emerging markets. As Emerging Markets can be accessed at relatively low cost using very liquid vehicles like the Vanguard FTSE Emerging Markets ETF (VWO) or the iShares MSCI Emerging Markets ETF (EEM), on that basis, FM seems to provide the most value from a diversification standpoint.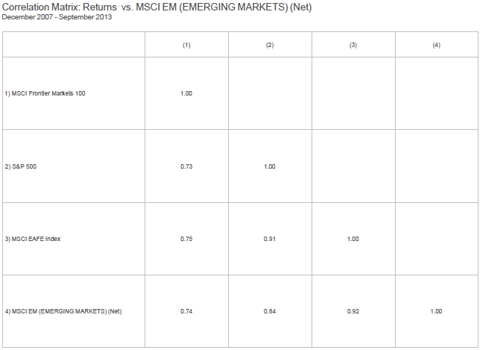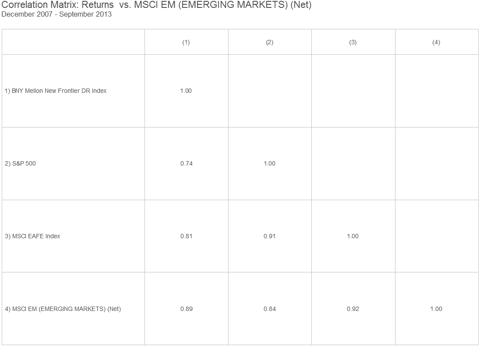 Source: Zephyr Style Advisor
Liquidity & Cost
While institutional investors can engage market makers to execute trades on their behalf, individual investors often rely upon the on-screen liquidity of an ETF. At this stage, Frontier Markets ETFs simply do not have the bandwidth to facilitate large market orders efficiently. The chart below compares the total cost of the Frontier Market ETFs to their more mature Emerging Markets counterparts, after accounting for transactional inefficiencies.

Moreover, the chart below very clearly illustrates how much higher management fees are on average in Frontier Markets compared to other, more mature categories of equity investment.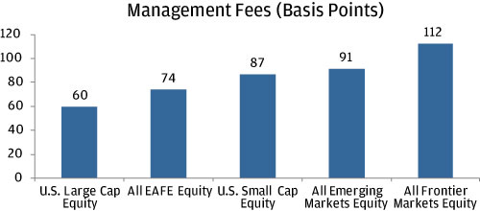 (Source)
Active Management Adding Value
As proponents of the low cost and tax efficiency of passive management or indexing, we are always skeptical of the persistence of excess returns generated by active management. In the case of Frontier Markets however, actively managed mutual funds seem to be outpacing the index. While we recognize there may be some error in performance attribution, such as the tendency of mutual funds to have larger cash positions, which can be a positive in market drawdowns, the ability of active management to exercise more discretion as to country and company allocation may prove valuable in these less efficient markets.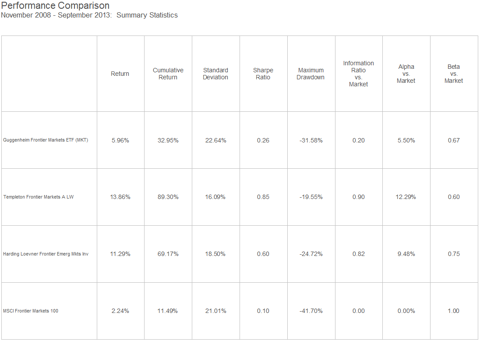 Source: Zephyr Style Advisor
Conclusion
In the years ahead, many investors may consider carving out a portion of their Emerging Market exposure to provide for an allocation to Frontier Markets. The relatively young populations, strong GDP Growth, and diversification benefits of Frontier Markets create a strong value proposition. That being said, there are some indications that these markets may not be efficient enough to employ the passive approach to investment management, and that the discretion of an active manager may be beneficial.
Disclosures: The ETF Authority is a team comprised of two independent financial professionals, Kevin Prendergast and Nathan Rutz. This article was jointly written by Kevin and Nathan. We did not receive compensation for this article (other than from Seeking Alpha), and we have no business relationship with any company whose stock or fund is mentioned in this article.

The opinions expressed in this article are those of the authors, not ValMark Securities, Inc., and are subject to change at any time without notice. This article is not intended to be a recommendation to invest. The securities discussed in this article may not be suitable for all investors. Please consider your personal risk tolerance and investment objectives carefully before considering any investment and consult your tax, legal, and financial professionals.
Disclosure: I have no positions in any stocks mentioned, and no plans to initiate any positions within the next 72 hours. I wrote this article myself, and it expresses my own opinions. I am not receiving compensation for it (other than from Seeking Alpha). I have no business relationship with any company whose stock is mentioned in this article.