It's no secret that the Chinese economy has experienced tremendous growth – even during the global financial crisis. A demographic shift towards the middle class has bolstered demand for goods and services, and we are seeing a wide portion of the population moving towards China's rapidly growing cities. However, as with any rapid economic expansion, economists are beginning to wonder just how fast is too fast. It seems that there is serious potential for China to stumble and lead the globe back into an extended economic slump.
The Chinese equivalent of the Federal Reserve appears to have concern with the situation as they have begun tightening reserve requirements for banks which essentially reduces the amount of capital available for lending purposes. The moves have been minor in nominal terms, but the banks are getting the message… "Cut back on lending and get your books in order." No one wants to see a repeat of the US banking crisis from 2008.
Tightening in China could certainly slow the economic expansion. Instead of having ready access to capital, business would have to compete for limited financial resources which in turn could drive the price of these resources higher. When chasing limited opportunities for loans, the interest rate can become the "price" and it seems logical that the cost of financing will rise for businesses.
With this backdrop in mind, I am building my list of China short candidates which will likely trade sharply lower once investment managers begin to trim their exposure to the sector. One name that has caught my interest and is potentially actionable immediately is Home Inns & Hotels Management Inc. (HMIN). The Hotel operator currently manages 616 hotels, 390 of which are leased and operated and 226 of which are franchised and managed. The company has a wide geographic footprint with hotels in 120 cities across China.
Over the past four quarters, the company has continued to grow revenue and earnings although I'm becoming concerned that the rate of revenue growth has begun to decline. When HMIN was a young company with just a few hotels under management, it was easy to double or triple revenue just by adding a dozen more hotels to the mix. But now that HMIN has reached critical mass, it will be difficult to maintain the growth trajectory simply because of the law of large numbers. The last four quarters have seen revenue grow by 53%, 43%, 38%, and finally 29% in the fourth quarter. That's still impressive growth but not nearly as exciting as the triple digit revenue gains the company used to put up.
The earnings picture, however, is much better. Management has been able to manage costs associated with its existing hotels as well as the expenses for opening new locations. As a result, earnings growth has been 130%, 107%, and 225% over the last three quarters. That's an impressive feat – but also one that will be difficult to follow in 2010. Despite the positive earnings momentum and the hefty multiple, I fear expectations could be tough to live up to in the coming months.
In addition to our improved overall performance, due largely to the reduced impact of new hotel openings, the key metrics of our mature hotels strengthened in the fourth quarter compared to this time last year indicating an improved economic and operational environment. This has allowed us to renew our focus on our core expansion plan, as we remain excited and encouraged regarding the vast opportunity which we believe remains within China's economy hotel sector. ~David Sun, CEO
Looking at the HMIN chart pattern, there is certainly reason for concern. The stock peaked in early 2010 and began to lose ground in sync with broad China indices. After putting in a swing low in early February (just above the 200 day average), the stock has traded higher but on very weak volume. It appears mutual fund managers are more motivated to dump the stock when the environment is risky than to accumulate shares when we hit the "risk on" periods.
Friday (3/5) the stock traded down sharply on strong volume. It's definitely concerning to see a growth stock catching significant volume on negative days – especially when trading below the 50 day average which has been a key support level for the stock. Today in early trading, the stock is back below that level as markets are opening mildly negative. It will be interesting to see if volume comes in with the selling which would be a strong indicator that it is time to begin building a short position. As always, manage risk carefully and know your stop level. But in the weeks and months ahead we may find that short opportunities offer the best chance for profits.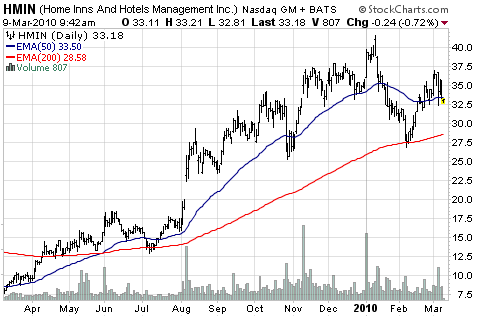 Full Disclosure: Author has a short position in the Sound Counsel Absolute Return Model