Every day we discuss whether or not a corporation beats analysts' expectations or fails to deliver the "expected" results. What we sometimes fail to grasp is how much of a long term player a company is and if it has generated, to a lesser or greater extent, returns for investors. Intel Corp. (NASDAQ:INTC) has had its ups and downs but it is still a stable player and I believe it will remain in the field for a long period of time.
Intel Reported Stable Results During its Last Quarter'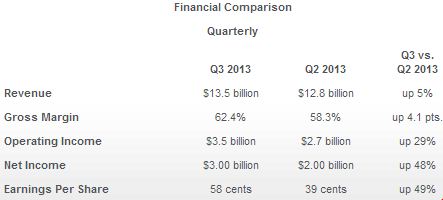 Source: Intel
The recent quarter's results were not as impressive as previous reports. Total revenue was flat year over year at $13.5 billion although it did increase 5% from the 2Q13 figure. The figures were a result of the ups and downs between different segment groups. PC Client Group saw its revenue decline year over year by 3.5% to $8.4 billion. This group is the largest chunk of the company's sales. The decline was attributed to lower notebook and desktop volumes even though prices were in the company's favor.
However, the Data Centre increased its revenue by nearly $315 million (12.2%) yoy to $2.9 billion. This was the result of an 8% price improvement and record unit sales that went up by 5% on a yearly basis. The increase came from growth in the cloud and high performance computing market.
Other segments were too small to make a material impact. Diluted EPS remained stable at $0.58 on a yearly basis. The company maintained its dividend of $0.45 from 3Q12.
Generally, selling prices have been in the company's favor for most of its departments. Even though volume was favourable for Data Centre it didn't perform as well as the largest contributor to sales, PC Client. Let's have a look at how Intel will sustain returns for investors in the future.
Israel and Intel Equal Value
Intel plans to invest nearly $15 billion in Israel over a decade-long period. The company plans to take innovation further by spending nearly $10 billion on its next-generation 10-nanometer microchip. This means that Intel has developed another resource to generate returns for investors for the coming long term. The Israeli government is in favor of the expansion due to the present developments Intel has initiated within the country.
This favourable support from the government will help Intel reduce its costs by nearly 10% for the new development and further reduce its R&D expenses. At the moment, the government plans to provide $700 million as cost aid however I believer that figure could rise for two reasons. First, the government is eager to support the employment opportunities Intel brings with its new plants after losing the last major chip processor line to Ireland in October. Secondly, the expansion brings more export opportunities for the country and will improve its international brand presence.
The Mobile Market Could Further add Billions in Revenue
The second return prospect comes from the mobile market. The market for Intel's mobile chips is a growing one. Even though this business contributes a very small part of Intel's total revenue to date, I believe this small market (relative to PCs) could prove beneficial for Intel as it has the potential to help the company dominate the industry.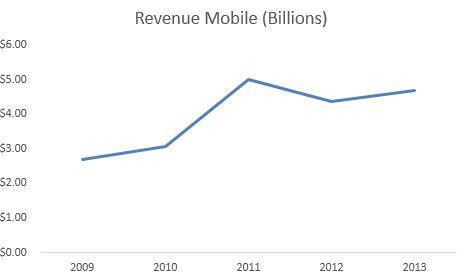 Revenue from the mobile segment increased from $1.91 billion in 2007 to $4.68 billion in 2013 as a result of the Infineon acquisition by Intel and the expansion of the market over the years. I believe Intel can lead the market due to the following two reasons:
Intel's Atom has the power to be used in a versatile manner. In addition to smartphone use it is being offered in car infotainment and energy management systems. Moreover, Intel is going to release a 64-bit chip for smartphones that to date is only used by Apple. These chips will offer up to twice the graphics performance of the company's current smartphone chips and up to 1.7 times the overall performance. I believe this will further strengthen Intel's demand in the industry.
The market continues to grow. We are all aware of the ongoing tablet and smartphone war. One benefit of this for Intel is that a majority of these companies utilize chips made by the company and its competitor ARM. However, ARM still lags behind Intel in terms of speed, lead time and production design. Further, Intel has an advantage: its chip can run both Windows 8.1 and Android whereas, ARM's Windows RT was a big flop.
Everything is Good; However…
The PC market, the segment that generates the most revenues for the company, is shrinking. This year it is expected to shrink by 3.8% reaching a maximum limit of 300 million units. Some argue that this could be bad for the company; however, I believe there is always a chain reaction. If one market shrinks, another grows. Fortunately, the tablet and mobile markets are growing. Even in the PC market sales in the emerging markets tend to be higher.
In the future mobile and data sales will support revenue losses created by lowered PC volumes. The proof is in the below chart.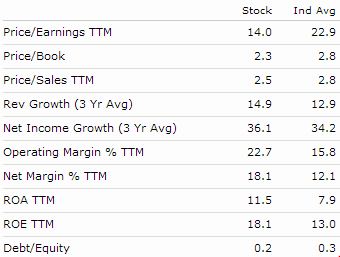 Source: Morningstar
Despite volume fluctuations and changing market patterns Intel has been able to report a revenue growth of 15% which is more than the industry. Despite leading the pack in terms of innovation its debt to equity ratio falls at 0.2 below the industry's 0.3. Also, the company has outperformed the industry on the basis of ROE, ROA, net margins and P/E. This is a sign of a strong company. The share value has jumped by more than 25% year to date. With ongoing innovation and expansion into Israel I believe the trend will continue. Therefore, with these facts in mind, I recommend buying this stock.
Disclosure: I have no positions in any stocks mentioned, and no plans to initiate any positions within the next 72 hours. I wrote this article myself, and it expresses my own opinions. I am not receiving compensation for it (other than from Seeking Alpha). I have no business relationship with any company whose stock is mentioned in this article.