When it comes to finding a solid dividend play there are a number of key sectors that tend to be a bit overlooked and underappreciated. At the top of my list of underappreciated sectors is the waste management and solutions sector which possesses names such as Waste Management (NYSE:WM), Republic Services (NYSE:RSG) and Ecology & Environment, Inc. (NASDAQ:EEI).
In today's article, I wanted to take one of the more notable names of the sector, Waste Management, and highlight several reasons why I'm staying long on its shares, especially from an income-driven perspective.
Company Overview
Headquartered in Houston, Texas, Waste Management, Inc. provides waste management services to residential, commercial, industrial, and municipal customers in North America. The company offers collection, transfer, recycling and resource recovery, and disposal services and also owns, develops, and operates waste-to-energy and landfill gas-to-energy facilities in the United States.
#1: Recent Performance & Trend Behavior
On Thursday, shares of WM, which currently possess a market cap of $20.74 billion, a forward P/E ratio of 18.41, and a distribution yield of 3.30% ($1.46), settled at a price of $44.20/share.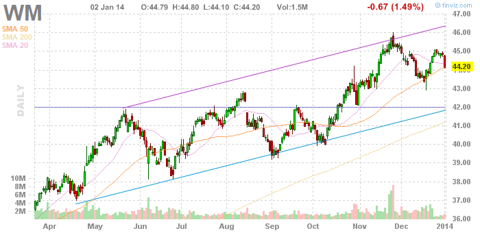 Based on their closing price of $44.20/share, shares of WM are trading 0.39% below their 20-day simple moving average, 0.18% above their 50-day simple moving average and 7.38% above their 200-day simple moving average. These numbers indicate a short-term downtrend and a mid-to- long-term uptrend for the stock which generally signals a moderate buying mode for most long-term investors.
#2: 5-Year Dividend Behavior
Since March 5, 2009, the company has increased its quarterly distribution five times in the last five years, with the most recent increase having taken place in May of this year. The company's forward yield of 3.30% ($1.46) coupled with its ability to maintain its quarterly distribution over last five years, make this particular company a highly considerable option, especially for those who may be in the market for a sustainable stream of quarterly income.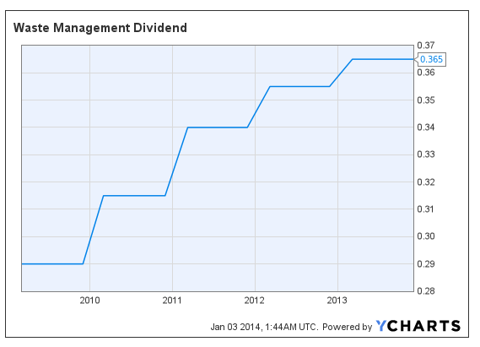 #3: Comparative Dividend Behavior
Not only does the company's 3.30% distribution yield and 5-year distribution growth make this particular stock a highly attractive option for most income-driven investors, its distribution growth over the last five years versus one of its sector-based peers is also something investors should consider. From a comparative standpoint, Waste Management's distribution has grown an impressive 25.86% over the past five years, whereas the distribution growth of its sector-based peer Ecology and Environment has only grown about 20%.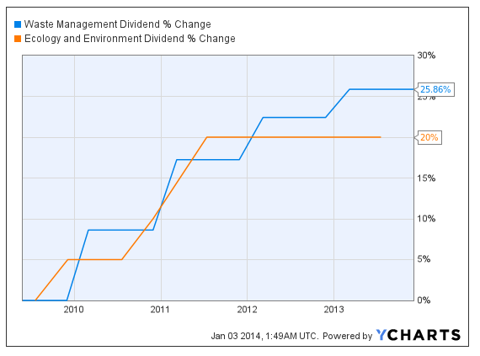 #4: Innovative Recycling Solutions Could Impact Growth
In a recent article my fellow SA colleague Rob Close noted that, "Recycling is a specialty of the company, and Waste Management is amazing at extracting value from the waste it receives. For example, the company takes in single-stream recycling, making the process extremely simple on the customers end. It can also take food and yard waste and turn those into mulch compost and energy, while previously hard-to-recycle forms of plastic are now being turned back into crude oil".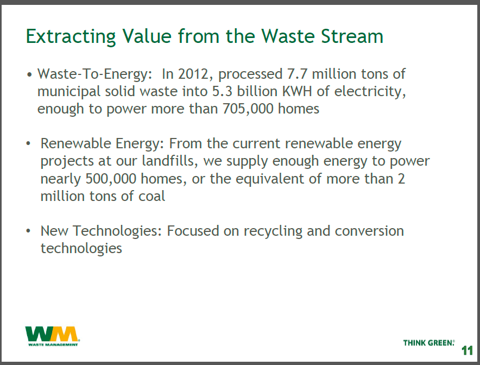 (Source: Company Presentation - Dated 05/13/13)
I feel that if Waste Management can continue to find innovative ways to transform various types of waste into such things as compost and energy, there's a very good chance these initiatives could result in additional revenue streams and potentially have a positive impact on the company's overall growth.
A Few Risks to Consider
According to Waste Management's most recent 10-K there are a number of risk factors investors should consider before establishing a position in this particular timber play. These risk factors include but are not limited to:
#1 - The waste industry is highly competitive, and if the company cannot successfully compete in the marketplace, its business, financial condition and operating results may be materially adversely affected.
#2 - The waste industry is subject to extensive government regulation; existing or future regulations and/or enforcement actions may restrict our operations, increase our costs of operations or require us to make additional capital expenditures.
#3 - A number of the company's customers, including numerous governmental entities that have suffered financial difficulties affecting their credit risk, which could negatively impact Waste Management's operating results.
Conclusion
For those of you who may be considering a position in Waste Management, I strongly recommend keeping a close eye on any further enhancement Waste Management may introduce with regard to its single-stream recycling initiative, its dividend behavior, and its ability to enhance shareholder value over the next 12-24 as each of these factors could play a role in the company's long-term performance.
Disclosure: I am long WM, . I wrote this article myself, and it expresses my own opinions. I am not receiving compensation for it (other than from Seeking Alpha). I have no business relationship with any company whose stock is mentioned in this article.