If I were starting to invest from square one, I should have first developed a business plan for my portfolio. Actually, I started out as a do-it-yourself investor quite spontaneously. I went to my bank to create an account to invest in mutual funds. The personal banking officer who created that account for me asked whether I wanted to trade stocks. Back then, I only knew that the market goes up and down and could be quite volatile, but that the general trend is up.
Obviously, with my little knowledge in investing at the time, I started investing without a plan. I didn't know I needed one. But I needed to start somewhere. So, I bought my first stocks. However, I didn't buy them based on the company's earnings growth potential, nor did I buy the stocks based on proper valuation or a consistent dividend growth history. I don't hold any of those first stocks that I bought. Some are sold with capital losses. With the proceeds, I bought companies which are more stable. But did I really pick better companies the second time around? In my last article, My Whistler Income Portfolio's 1st Year Landing, I analyzed my portfolio in the perspective of sector allocation and dividend allocation. To further better understanding my current portfolio's composition, I've decided to categorize them in 2 ways. First, I'm going to identify whether a position is a core holding or not. Second, I'm going to identify if a position is for income, for growth, or has a bit of both.
My Definitions of Core Holdings, Non-core Holdings, and Speculative Holdings
1) Core Holdings
Generally, core holdings have a long-term trend of earnings growth (10-year), and a S&P rating of BBB+ or better. They also have a history of growing dividends. Generally speaking, I have strong confidence in these companies such that I don't intend to sell their shares. The earnings power of these companies have remained stable even in the recent financial crisis.
An exception for the earnings growth rule applies for big oil companies. Big integrated oil companies tend to have a low P/E, a low payout ratio and generate lots of cash flow. Taking Chevron (NYSE:CVX) as an example, it has a P/E of 10, a payout ratio of 31%, and a free cash flow of $4 per share.
Here's a glimpse of my core holdings: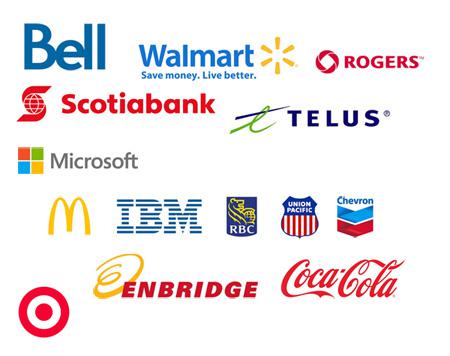 2) Non-core holdings
For one reason or another, I hold some shares of companies which I believe I'll make money off of, but which aren't considered my long-term holdings. Most pay dividends, and possibly a growing one. Chances are, I picked these companies up at good valuations. These maybe good companies to hold now, but I'm not sure about keeping them for 10 years or longer for long-term investment. It maybe as simple as that I don't feel as confident about these companies as the core holdings. Non-core holdings may get promoted to core holdings.
3) Speculative Holdings
Speculative positions are bought for the sole purpose of capital gains. Ideally, a quick one. My current speculative holdings are Silver Wheaton (SLW) and Yamana Gold (NYSE:AUY). I held a small position in Silver Wheaton before because I believe silver has better future prospects than gold, since silver has its place in industrial usage other than being used to make jewelry. However, after running up over 30% in a little over a month, I sold it for a gain. I bought it back after a dip, but it continued going down as silver prices continued downward. I believe gold and silver prices will rise again, but no one knows when it will happen.
My Definitions of a Holding for Income or for Growth
A holding is primarily for income if its current yield is high. A company paying out a 3% yield is considered high in my books. With income from dividends, as small as they may be, I can add a portion of my day job paycheck to buy more shares and increase my ownership in a company of value at the time.
A holding is primarily for growth if its current yield is small or absent. When I identify a holding as a growth holding, I'm looking for price appreciation more than the income the holding gives me. That doesn't necessarily mean I will sell the holding for a capital gain, especially if it is a core holding of mine. Growth holdings could have high earnings growth, that is, 10% or higher earnings growth estimation in the next 5 years. Alternatively, growth holdings could be natural resource companies. Canadian Natural Resources (NYSE:CNQ) and Suncor Energy (NYSE:SU) come to mind. To be fair though, CNQ has grown its dividend more consistently in the last 4 years. The last increase was very impressive, growing 60%. Suncor has grown its dividend consistently for the past 3 years. The last increase was very impressive, growing 53.8%. Commodity prices tend to be volatile. As a result, earnings for these companies are volatile, too. In the case for CNQ and SU, they may as well turn out to be capital gain plays which pay me a growing dividend.
Core Holdings from the Whistler Income and Growth Portfolio
| Ticker | For Income or Growth? | Yield* |
| --- | --- | --- |
| Royal Bank of Canada (NYSE:RY) | both | 3.75% |
| Bank of Nova Scotia (NYSE:BNS) | both | 3.76% |
| BCE (NYSE:BCE) | income | 5.11% |
| Telus (NYSE:TU) | both | 3.95% |
| Rogers Communications (NYSE:RCI) | both | 3.68% |
| Enbridge (NYSE:ENB) | both | 3.03% |
| Chevron | both | 3.22% |
| Coca-Cola (NYSE:KO) | both | 2.75% |
| McDonald's (NYSE:MCD) | both | 3.36% |
| Microsoft (NASDAQ:MSFT) | both | 3.01% |
| International Business Machines (NYSE:IBM) | growth | 2.05% |
| Target (NYSE:TGT) | both | 2.72% |
| Wal-Mart (NYSE:WMT) | growth | 2.38% |
| Union Pacific (NYSE:UNP) | growth | 1.89% |
* Yields as of close of January 2, 2014
At the end of 2013, core holdings made up 63% of the portfolio. That doesn't seem enough. Going through my core holdings, I find a few which FAST Graphs indicate to have high total returns in the next 5 years. Perhaps, these companies are to be explored in another article.
Non-core Holdings from the Whistler Income and Growth Portfolio
| Ticker | For Income or Growth? | Yield* |
| --- | --- | --- |
| Deere (NYSE:DE) | growth | 2.26% |
| General Motors (NYSE:GM) | growth | 0% |
| Qualcomm (NASDAQ:QCOM) | growth | 1.91% |
| Ross Stores (NASDAQ:ROST) | growth | 0.92% |
| Baxter International (NYSE:BAX) | growth | 2.83% |
| BP (NYSE:BP) | income | 4.56% |
| Cisco (NASDAQ:CSCO) | both | 3.09% |
| Ford (NYSE:F) | growth | 2.59% |
| Digital Realty Trust (NYSE:DLR) | income | 6.31% |
| H&R Real Estate Investment Trust (OTCPK:HRUFF) | income | 6.33% |
| Calloway Real Estate Investment Trust (OTC:CWYUF) | income | 6.18% |
| Canadian Natural Resources | growth | 2.28% |
| Suncor Energy | growth | 2.19% |
* Yields as of close of January 2, 2014
Where to go from here?
I believe diversification across different stocks and sectors help in mitigating the risk of capital destruction. But it's also possible to have too much diversification, and possibly lowering the portfolio quality. If I stick to quality companies which are well-known brand names and have strong earnings growth, I should feel at ease. I'm happy with my identified list of core holdings, but I feel I will have a stronger portfolio if they were closer to 75% of the portfolio.
Since I'm leaning towards a "high" total return instead of focusing solely on the income generated from my portfolio, when funds become available, I will buy more shares in a company I have on watch that has the highest total return estimation. Though, I will always start looking from my core holdings and add whenever allocation allows.
Did you start a Portfolio without a Plan?
If this is you, don't sweat it! Analyze what you currently have. That is, identify the core holdings, non-core holdings, and possibly speculative holdings in your portfolio. Determine your portfolio's sector allocation and each company's dividend allocation to ensure you're comfortable with each (example from my previous article). If you aren't comfortable with your current portfolio composition, make adjustments.
Disclosure: I am long AUY, BAX, BP, CSCO, CVX, DE, DLR, F, IBM, KO, MCD, MSFT, QCOM, ROST, TGT, UNP, WMT. I wrote this article myself, and it expresses my own opinions. I am not receiving compensation for it (other than from Seeking Alpha). I have no business relationship with any company whose stock is mentioned in this article.
Additional disclosure: I'm long the following on the Toronto Stock Exchange: BCE, BNS, CNQ, CWYUF, ENB, HRUFF, RCI, RY, SLW, SU, and TU.