U.S. markets registered their strongest year since 1997, with the S&P 500 climbing 30% for the year. European markets also did very well, posting their best performance since 2009, as fears of a eurozone breakup abated.
2013 was a very good year for the longs, for they could almost do no wrong. And it was a very bad year for anyone shorting anything, for no matter how ludicrously expensive a stock was, it kept going higher and higher and higher. It was also a very bad year for gold, registering its biggest drop since 1981, and the miners did even worse.
However, don't expect this performance to be repeated two years in a row. As I have said in previous articles, my major concern is how the market will react now that the Fed has begun tapering. And personally I think the market will react negative, and at the very least, Fed tapering will act as a headwind.
So in order to make money this year you have to pick stocks that have very special reasons for going higher, as opposed to just pick stocks that analysts say will go higher.
So one way to play it this year is to choose lagers, or stocks that have done pretty bad and are in some kind of a turnaround, but at the same time are solvent and do not have any cash flows or balance sheet issues.
Advanced Micro Devices (NASDAQ:AMD)
AMD is one of my picks for 2014. The reason has less to do with its products and future success in the marketplace and more with its valuation. Don't get me wrong, I think the company will do very well and its products are top notch, however the main reason for my recommendation is its valuation.
The company is currently trading at a Price/Sales ratio of 0.6, as opposed to a 2.5 Price/Sales ratio for Intel (NASDAQ:INTC). For me this means that the company has the possibility to see substantial upside, if it manages to increase its profits and generate revenue growth.
And as a reminder, AMD recently posted both operating and bottom line income, both on a GAAP and non-GAAP basis. In addition, revenues were up about 26% y-o-y and if analysts have it right, for 2014 the company will increase its revenue by another 12%. So the company is exhibiting growth and I am confident that profits will rise faster than revenue growth on a percentage basis.
The company will roll out its much awaited Kaveri APU on January 14th with very high expectations. In addition, the company is one of the leaders in the graphics card space, has had very big successes in the console market and its chips are also found in Apple's Mac Pro. All this will add up and I am confident that the company will do much better than analyst expectations.
A while ago I said that investors should buy AMD as opposed to Intel. Please consider: Should You Buy Intel Or Advanced Micro Devices? So far the call is working out fine.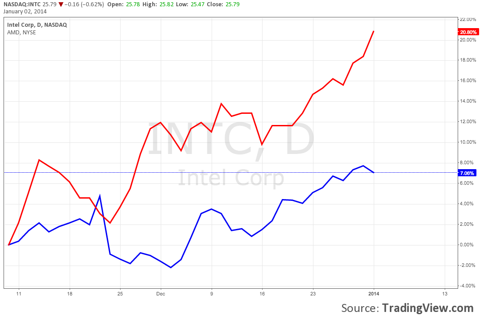 BlackBerry (BBRY)
I am sorry to disappoint several people, but BlackBerry is not going out of business, will not run out of cash, will continue to sell handsets and will eventually turn around. As with AMD, the main reason I am selecting BlackBerry has to do with its valuation.
BlackBerry is currently valued at just $4 billion, compared to the $500 billion in market cap of Apple (NASDAQ:AAPL). Granted we are talking about two different companies, however please take note that even if BlackBerry turns around just a little, that is enough to reward investors very rich over the next two years or so.
BlackBerry is currently in turnaround mode. If someone shares this argument, then they also believe that the company will not go out of business as many investors thought up to now. So if you believe that the company is not going out of business and will continue to be a going concern (like me), then the next question is what might the stock be worth.
See if the company eventually turns around (as I think it will), then its market cap is very low compared to similar companies in the space. Granted it has a low market cap because everyone thought it might go under, but in the absence of that, then it is undervalued.
Taking BlackBerry's Price/Sales ratio as a guide - which currently stands at about 0.5 compared to Apple's Price/Sales ratio of 3 - the stock can easily double from here, without even turning profitable and still be considered undervalued compared to many other companies out there. Need I remind everyone what some stocks in the SaaS space are valued at?
Richardson Electronics (NASDAQ:RELL)
And if you really want to think different, try Richardson Electronics. Just as in the case of Fonar (NASDAQ:FONR) (that I have written about several times), this is a small cap company that is extremely undervalued (see my take here) and undiscovered. And if the market ever takes a serious look at it, I think it has the potential to reward investors as Fonar did.
One reason for this is that RELL has the capability to leverage its balance sheet and make an acquisition that might totally change the company's profile. No I do not have information that this is going to happen, but since the company is so cheap and it is almost impossible to lose money, it's like having a never expiring option with no time value.
Yes I know this is an obscure little unknown company that no one is interested in or has ever heard of, but so was Fonar about a year ago.
Bottom line
I think 2014 will be a whole different animal from 2013. I think the main theme will be Fed tapering that will at the very least act as a head wind, if not something more serious.
Coupled with the fact that the chances of seeing 30% back to back gains for the S&P is next to impossible, chances are that this market will go lower and not higher this year.
Against this backdrop, investors have to think a little different this year and pick stocks that have very special reasons to go higher, and not just companies that are in the headlines. I think all three suggestions listed above fit the description.
Disclosure: I have no positions in any stocks mentioned, and no plans to initiate any positions within the next 72 hours. I wrote this article myself, and it expresses my own opinions. I am not receiving compensation for it (other than from Seeking Alpha). I have no business relationship with any company whose stock is mentioned in this article.