Saizen REIT (OTCPK:SZRRF) is a Singapore-based real estate investment trust that dedicates itself to investing in a variety of properties in Japan. As such, this REIT is one of the few direct ways for non-Japanese investors to invest in the Japanese property market. Saizen REIT was, in fact, the first REIT listed on the Singapore exchange to be exclusively focused on Japan. According to a presentation that the trust gave to its investors in November of 2013, it remains the only Singaporean REIT to be exclusively focused on the Japanese market.
Saizen REIT owns a diversified portfolio of 139 residential and commercial properties located all across the archipelago that makes up the nation of Japan. These 139 properties are located in fourteen cities and contain a total of 5,519 residential units, 95 commercial or retail units, and 1,796 carparks. The trust's portfolio is worth a total of JPY 41.2 billion (approximately $391 million). These properties ensure that the trust is able to earn income from all areas of the country and should provide some protection in case of a localized disaster since the trust will almost assuredly have properties still generating income in other parts of the country.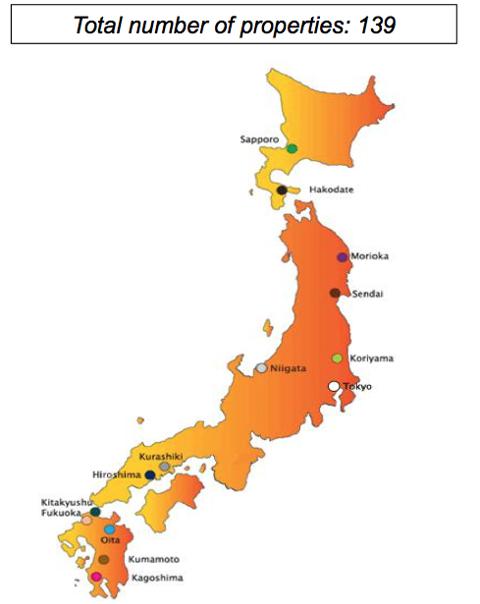 Source: Saizen REIT
The trust's income sources are also fairly well diversified by region. There are no regions in which more than 40% of the trust's revenue is earned: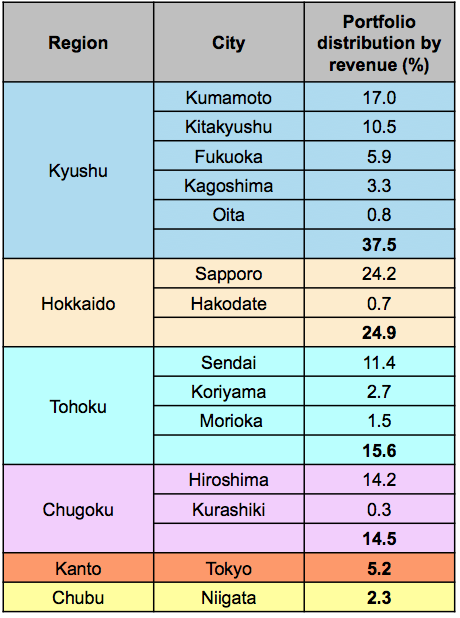 Source: Saizen REIT
However, with that said, the island of Kyushu (the most southwestern of the main islands in the map above) is home to a significant number of the trust's properties among its various cities. Because of this, that island alone is responsible for 37.5% of the trust's revenue. While this does not look high enough to represent an over-concentration, investors should still be aware of the very real risk of a decline in the trust's revenue should something local affect that island.
As the trust owns a large number of residential properties, it is relatively exposed to the demand for and ability of consumers to pay for such properties. Fortunately, this demand has been secure and Japanese rental rates have remained relatively stable over the past five years and have even registered a slight increase over the past two years.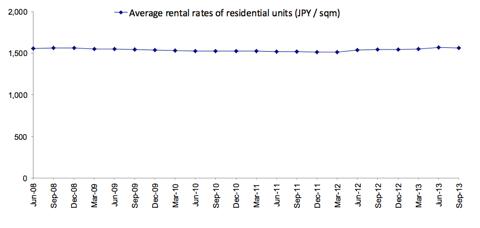 Source: Saizen REIT
However, this has not been the trend over longer periods of time. As my regular readers are no doubt aware, I have published analyses of many Singaporean REITS over the past few weeks. One factor that has been relatively consistent over all of these trusts is that they have all seen positive rental reversions in their most recent quarters. This means that the current market rental rates for their properties have increased over the market rates that were prevalent when their rental leases were entered into. This has allowed these REITs to increase their revenue and net property income by increasing their tenants' rent to the current market levels. Saizen REIT has not been able to increase its rental income in this way. In July 2013, Saizen REIT had a rental reversion rate of negative 1.9%. This is because the leases of many residential units that had been in effect for more than seven years expired that month. The current market rental rates for these units are lower than what they were at that time and so the trust was forced to reduce its rent for these units. Thus, this tells us that the Japanese residential rental market has weakened compared to where it was prior to the Global Financial Crisis of 2008 and 2009. However, the REIT did have somewhat better results in August and September 2013 in which its rental reversion rates increased to 0.04% and 0.7% respectively. While these latter two figures are a significant improvement over July and will result in slight revenue increases, they are hardly indicative of a strong property market.
This weakness in the Japanese property market has not translated into adverse effects on the REIT's revenue and income as might be expected, however. In the first quarter of the 2014 fiscal year, the REIT reported year-over-year increases in its gross revenue and net property income of 6.2% and 5.3% respectively. These improvements were driven by the acquisition of five new properties between November 2012 and June 2013. The acquisition of properties serves as an alternative way for a REIT to improve both its top- and bottom-line numbers should it be unable to achieve positive rental reversions. However, it would be ideal for the trust to have both. Nevertheless, this was strong growth that the trust reported and it will benefit investors in the trust continuing forward.
Despite this year-over-year growth in gross revenue and net property income, Saizen REIT has held its distribution stable compared to the previous year period. Like many foreign companies but unusually for a Singaporean REIT, Saizen REIT pays its distributions twice per year with each distribution corresponding to one half of a calendar year. The REIT's most recent distribution was for the January 1, 2013 through June 30, 2013 period and totaled S$0.63. This matched the trust's distribution from the same period of 2012. However, the trust historically pays out a larger distribution for the second half of the year than for the first. The most recent one, corresponding to the July 1, 2012 to December 31, 2012 period totaled S$0.66. If we assume that the trust will pay an identical distribution in the second half of 2013 then this gives it a yield of 7.05% at current levels.

Source: Saizen REIT
This is actually one of the highest yields of all the Singaporean REITs that I have analyzed over the past few weeks and one reason for this may be the trust's exposure to Japan. Specifically, that all the trust's income is earned in Japanese yen yet it pays its distributions in Singapore dollars. The Japanese yen has been quickly declining against most other currencies in recent months due largely to the nation's fundamentals and high volume of money printing. The yen's decline has been very noticeable against the Singapore dollar and this has a direct adverse impact on the fund.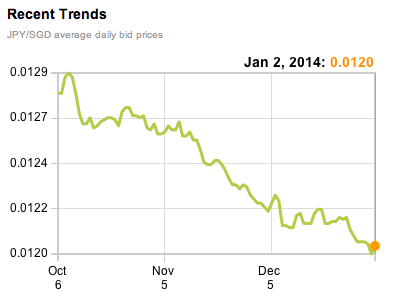 Source: Oanda
The yen's decline against the Singapore dollar means that a person or company receiving payment in Japanese yen will receive less Singapore dollars when they exchange the currency than they would have received three months ago. This is true even if the amount of yen received remains the same from month to month. As Saizen REIT only owns properties in Japan, all of its tenants pay their rent to the trust in Japanese yen. However, as Saizen REIT is a Singapore REIT that reports its results and pays its distributions in Singapore dollars, it needs to keep converting this yen into Singapore dollars. Thus, the yen's decline essentially means that its tenants are paying less and less rent every month. This is a very real problem. Fortunately, the trust's management is aware of it and has put a hedging program into effect to reduce the damage done by the yen's decline. The REIT uses derivative contracts to accomplish this. The trust has entered into forward contracts to fix the exchange rate that it receives for its distributable income at 81.15 yen per Singapore dollar. The exchange rate today is 83.10 yen to the Singapore dollar so this hedge will result in the trust having a higher income in terms of the Singapore dollar than it would were the hedge not in place and the trust had to convert its currency at the prevailing exchange rate. This hedge will only affect the trust's distributable income until December 31, 2013 and so the effects will shine through in its results for that period. The trust has also put a hedge of a different type in effect to protect its income against the falling yen until June 30, 2014. This hedge is, in effect, a zero cost collar that locks the trust's yen to Singapore dollar conversion rate into a range of 76.18 to 82.00 yen per Singapore dollar. This means that one of three things could happen.
If the yen remains below 82.00 yen to S$1.00 (as it is currently), then the trust will receive S$1.00 for every 82 yen.
If the yen actually appreciates against the Singapore dollar to a rate above 76.18 yen per Singapore dollar then the trust sacrifices any upside above that level.
If the exchange rate is between these two levels then the trust will exchange its yen for Singapore dollars at the prevailing exchange rate.
This hedge thus protects the REIT against strong currency depreciation or appreciation and should thus provide some year-over-year and half-over-half stability to its revenues. At least, it will provide more stability than it would have were these hedges not in place. This should provide some comfort to investors in the trust units, especially those who need to receive a steady distribution.
Disclosure: I have no positions in any stocks mentioned, and no plans to initiate any positions within the next 72 hours. I wrote this article myself, and it expresses my own opinions. I am not receiving compensation for it (other than from Seeking Alpha). I have no business relationship with any company whose stock is mentioned in this article.