On January 3, 2013, moments ago from the time of writing this article, Liberty Media (LMCA) announced a proposal to make Sirius XM (NASDAQ:SIRI) a wholly owned subsidiary of Liberty Media. As soon as I saw this news release, I was shocked. You can check out the official 13-D filing here.
The terms of the deal include:
Each share of Sirius XM is converted into 0.076 shares of Liberty Media Series C common stock.
Shares of Series C stock are distributed on a 2:1 basis to Liberty Media shareholders (Series A and Series B shareholders.)
At the end of the deal, Sirius XM public shareholders will own 39% of Liberty Media's then outstanding common stock, which will be worth $27B at current prices. This deal values Sirius XM at $3.68, or a 3% premium to today, Friday's close and a 4.5% premium to Thursday's close. So should we, as Sirius XM shareholders, take this deal? Frankly, I believe we shouldn't. Here are some reasons why:
1) Valuation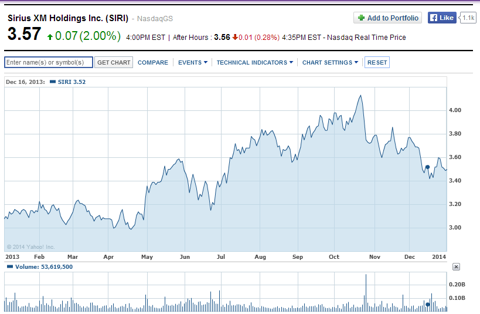 Sirius XM hit a high of $4.18 in October 2013. At the current price of $3.57, the deal is a 3% premium. But, we just hit $4.18 a short while ago. So why should we take a deal in $3.68? We can get back to $4.18 quite easily, as nothing has changed much "fundamentally" in the company. The recent downturn in the share price has been market manipulation and misunderstandings by shareholders and analysts. So we can definitely get back up there, and of course much higher than $3.68. Plus, analysts have an average 2.1 rating on Sirius XM. This translates to a buy rating, and, analysts have a median price target of $4.57, and a mean price target of $4.50. Not to mention, only one underperform rating, and no sell ratings. So, there is no reason why we can't get back up to $4.18 as shareholders, and most certainly $3.68 is within striking distance.
2) Share Buybacks
Liberty Media now owns just about 52% of Sirius XM, and as they mentioned in the conference call regarding their proposal, they fully support the buybacks. Liberty also said that Sirius buybacks would become a part of Liberty buybacks, after the deal is approved. I believe this means that there will be less buybacks for Sirius. Sirius has a huge float, which it needs to reduce substantially in the next couple of years to unlock shareholder value. However, Liberty Media wants to use the equity it has in Sirius and leverage against it, so that it can use the cash to purchase stakes in other companies, as it has done in the past, and is currently doing in the cable industry.
3) Liberty Wants its Own Benefit
The deal being done is only in the interest of Liberty Media, so that they can easily borrow against Sirius to take stakes in other companies. This will mean that Sirius will be fully controlled by Liberty Media, more so than it is today (I don't mean in terms of number of shares, as Liberty will still own the same amount of Sirius after the deal is done, but in terms of reality, as Liberty has a majority stake). Eventually, this means they may not have as much money to put toward acquisitions, supporting existing acquisitions, and other investments such as share buybacks. This will hurt shareholder equity, and Sirius may not be able to invest in the telematics segment, for example, if Liberty gets this deal.
Conclusion
Liberty Media wants this deal for their own interest, and the greatest net benefit will be for them. In the long run, this deal will hurt Sirius XM shareholders, as there may not be as much money to put toward buybacks and investments. This deal will help Liberty Media borrow against Sirius XM more efficiently, and will only hurt shareholders. Moreover, the deal values Sirius XM at only $3.68, a far cry from the $4.18 we saw in October 2013, or the $4.50 median price target that analysts have. When there is a vote, I strongly support Sirius XM shareholders in rejecting this deal at the current price, and wait for higher price, as it will be a lose-lose situation for Sirius XM, but a win-win for Liberty Media.
Disclosure: I am long SIRI. I wrote this article myself, and it expresses my own opinions. I am not receiving compensation for it (other than from Seeking Alpha). I have no business relationship with any company whose stock is mentioned in this article.