The Bakken is a world class play. This is due to its operators, as it has been developed faster and better than anyone could have imagined. Not only are wells producing better, but also from multiple intervals as the Three Forks' four benches will produce significantly more resource than the middle Bakken. Using the month of September to compare their gross production, I have listed the operators in order by rank. I also included the number of operated rigs.
September of 2013 Gross Production
| | | |
| --- | --- | --- |
| Rank | Operator | Rigs |
| 1 | Continental Resources (NYSE:CLR) | 16 |
| 2 | Hess (NYSE:HES) | 15 |
| 3 | Whiting (NYSE:WLL) | 17 |
| 4 | Exxon (NYSE:XOM) | 11 |
| 5 | EOG Resources (NYSE:EOG) | 9 |
The above companies have excellent production numbers. Continental had Bakken production of 94500 Boe/d in 3Q13. This was 51% growth over Q312. Its 2013 Wahpeton density test is attempting 660 foot spacing. Continental has three 660 foot tests around the Nesson Anticline in 2014. Its Hawkinson density test has been a big success testing 1320 foot in zone spacing. Continental's well costs have decreased from $9.2 million in 2012 to $8 million last year. It estimates 2014 well costs at $7.5 million. Continental's average Bakken EURs are 603 MBoe. Hess' net production forecast is 64 to 70 MBoe/d in 2013. Spud to spud days have decreased from 45 to 24 from 1Q11 to 3Q13. From 1Q12, drilling and completion costs have decreased from $13.4 million to $7.8 million. Hess' average Bakken EUR is 625 MBoe. Whiting's 3Q13 Bakken production was 92800 Boe/d. It is currently doing four middle Bakken and one Pronghorn Sands density test. All five are 8 wells pilots. Whiting's new cemented liner completions have shown large improvements in IP rates. One of these wells were 97% better than the original offset well using the 60-day IP rate. EOG Resources was the first to develop a frac technology that concentrates on fractures closer to the well bore. This is driving better recoveries. In its Antelope and Core prospects, average 30-day IP rates are 50% better year over year. The industry well cost average for 2012 was $11.3 million. This decreased to $9.2 million in 1H13.
Bakken producers continue to see improvements in costs, initial production rates, and time. The key for 2014 may be differentials as production has caught up with infrastructure. I do believe the Bakken operators are setting up for a good year, but the refiners may benefit more.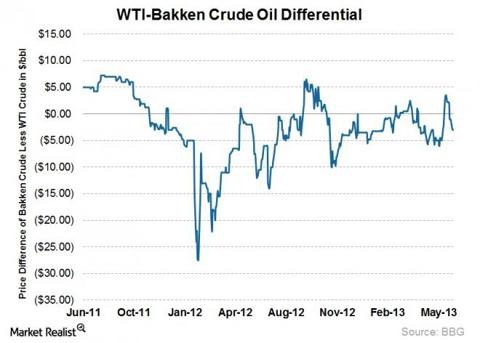 This is going to be an interesting year for the Bakken. We have seen differentials widen in 2013. Currently those are around $11 to $12/bbl. This widened quickly, as differentials were at just $4/bbl. not long ago. The Bakken had received differential relief when refiners like PBF Energy (NYSE:PBF) and Tesoro (TSO) signed deals to have crude railed to the coasts. PBF Energy's refineries are in the northeast, which use to pay Brent prices. Tesoro has a small refinery in Mandan, ND. So it has been using Bakken feedstock for a very long time. It initially railed crude to Anacortez, WA, and then to California. Tesoro saw costs decrease significantly from the Alaskan feedstock it was using. A third refiner, Northern Tier (NYSE:NTI), has just one refinery located in St. Paul Minnesota. It is the most levered to the Bakken of any of the publicly traded refiners. It also has significant exposure to Canadian feedstock. All three are good plays in 2014, and a way to protect the Bakken investor from widening differentials.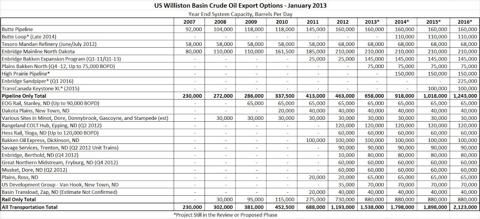 New greenfield refinery projects are popping up in North Dakota, but only one would be considered medium sized. The smallest is located in Thunder Butte and owned by the Mandan, Hidatsa, Arikara nations. It will produce 13000 bbls/d. There are two projects that will produce 20000 bbls/d. The Trenton project, has a $200 million budget and is owned by Dakota Oil Processing. The Calumet Bakken refinery project is owned by MDU (NYSE:MDU) and Calumet (NASDAQ:CLMT). The last and largest project is in Williston and will produce 100000 bbls/d. It has a $2.2 billion budget. These projects are great for North Dakota, keeping Bakken crude in the state. Most of these projects are years away, so we won't see much in-state refining for years. For 2014, I have Bakken crude selling on average $13 less than WTI. Keep in mind, each company will see a differing differential depending on the way it moves the crude. Below is a table of those options and the cost of transport.
Bakken Crude Logistics
| | |
| --- | --- |
| Transport | Cost/Bbl. |
| Pipe to Clearbrook | $2 to $3 |
| Pipe to Cushing | $5 |
| Rail to Cushing | $9 |
| Rail to Anacortez | $9 to $10 |
| Rail to Gulf | $10 to $12 |
| Rail to St. James | $12 |
| Rail to California | $13 to $15 |
| Rail to Northeast | $14 to $17 |
It probably will not happen for a while, but Bakken crude could be displaced by Gulf Coast crude heading to the northeast. It costs only $5 to $6/bbl. to ship Gulf crude to the northeast United States. This is a large difference to the $14 to $17 by rail from North Dakota. It is currently more attractive for the Gulf Coast to ship to Canada, as the use of foreign vessels costs just $2/bbl.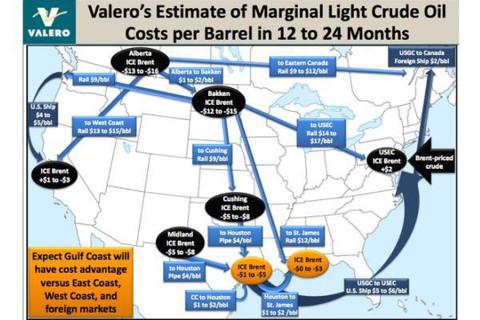 The initial influx of crude sent to the coasts provided relief to North Dakota operators. Now that production has increased and surpassed logistics, it will continue to weigh on realized Bakken prices. Another issue is U.S. refining capacity. U.S. and Canadian crude continues to replace foreign. In 2010, the U.S. imported approximately 7 million barrels of oil per day. That same year, the U.S. and Canada produced a little over 8 million barrels per day. In 2013 we imported approximately 5 million barrels per day and produced almost 11 million barrels per day. Over that time the U.S. economy improved significantly, and so has the consumption of refined products. The same can be said for abroad to a lesser extent. 2014 production will improve to over 12 million barrels per day. Below I have provided a table that breaks down Canadian and U.S. crude production today and in the future in millions of barrels per day.
North American Crude Production
| | | | | |
| --- | --- | --- | --- | --- |
| | 2010 | 2013 | 2015 | 2020 |
| U.S. | 5.5 | 7.4 | 8.0 | 10.7 |
| Canada | 2.8 | 3.5 | 3.9 | 4.9 |
Even with today's production there are still a considerable number of foreign barrels to replace. Refiners on the coasts are better able to do this. Tesoro has its Mandan refinery, and although it is small, has increased its output from 58000 bpd to 71000 bpd. Mandan's outperformance had motivated Tesoro to rail Bakken crude to its Anacortez refinery. Anacortez now uses 70% advantaged crude. The Mandan and Salt Lake refineries already use 100% domestic. Kenai refinery currently uses 25% Cook Inlet crude. It plans to expand this to 67% Cook Inlet and Bakken. Its Martinez refinery currently uses 45% California Heavy and Bakken. This refinery plans to increase this to 67%. Tesoro's Los Angeles refinery currently uses 15% California heavy. It has a target of 50% California heavy and Bakken. By using other domestic crude, Tesoro expects ANS pricing to pull back some also decreasing feedstock costs. Tesoro has been ahead of the Bakken's production growth as it invested in its Anacortez rail unloading facility and its Mandan refinery expansion.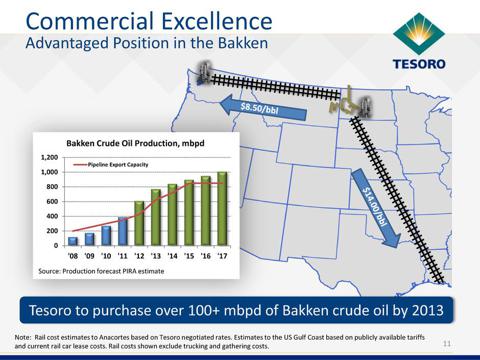 Both PADD V and PADD I have an advantage over PADD III, as PADD III will reach a light crude saturation point sooner. PADD I and V had 60% of their feedstock from foreign sources in 2013 (PADD V had 21% from ANS). The reason the west coast is so intriguing has to do with rail unloading capacity. In 2013, east coast rail unloading capacity was 700 Mbd, while the west coast had just 218 Mbd. In 2014, rail exporting capacity will increase to 1015 Mbd out of the Bakken. This year the west coast unloading capacity will increase to 395 Mbd, with the east coast increasing to 780 Mbd. In 2015, the west coast increases to 910 Mbd, while the east coast doesn't add capacity. This is important because PADD V used 800 Mbd of foreign light crude and ANS in 2013. The estimated difference of west coast rail unloading capacity from 2013 to 2015 is 692 Mbd. So rail unloading capacity is expected to exceed substitutable waterborne crude oil by 2015. For every barrel of ANS substituted by Bakken light, Tesoro saves $3 to $5 per barrel. Some of this is attributed to cost, but Bakken yields 14% to 16% more gasoline and distillates.
PBF's onsite rail infrastructure at its Delaware City refinery saves $3 per Bakken barrel as opposed to using 3rd party facilities. PADD I is second only to PADD V in its ability to replace foreign crude with Bakken barrels over the next couple of years. Keep in mind, there is more infrastructure in place to the east, but it isn't operating to full capacity. PBF's dual loop track light crude unloading facility has a capacity of 120000 bpd. In Q1 of 2013, Bakken deliveries were just 38000 bpd. In Q4, this increased to approximately 85000 bpd to 90000 bpd. Delivery of Bakken crude to its Delaware City refinery costs $12/bbl. PBF is also capitalizing on Canadian Heavy crude. In Q4 of last year, it delivered between 20000 bpd and 25000 bpd. By Q3 of 2014, it will expand to a range of 70000 bpd to 80000 bpd. This number has much to do with infrastructure in Canada and access to specialized rail cars. PBF has done a good job of things on its end to assure it has the domestic heavy feedstock to replace foreign barrels.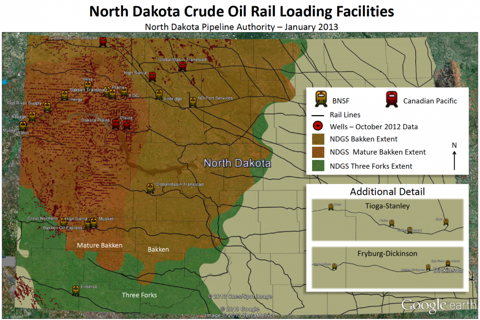 Northern Tier is a slightly different way to play Bakken differentials than Tesoro and PBF. While the two latter refiners are replacing foreign barrels, Northern already uses almost 100% domestic light and Canadian heavy crude. 53% is light feedstock. Because of this, it does not have the upside of the other two refiners on this list. There is still room for growth as Northern has been active in its refinery expansion projects. In Q2 of last year, it completed the sweet crude tower expansion project. This increased throughput from its sweet tower by 8 kbpd. Northern's wet gas compressor project was completed in Q4 and decreased output of black oil by 2 kbpd. This is now converted into gas, distillate and LPG. Its slurry stripper project will be completed this quarter. This will allow the sale of unblended fuel oil. All of these increase growth metrics for Northern, and improve an already good position very close to the Bakken. Keep an eye on this name, as there is additional upside as a takeover target.
In summary, Bakken oil production can be played in a number of ways. Worries about wider differentials make these refiners an excellent hedge. Due to logistics, the Bakken will remain the cheapest light U.S. light crude for the foreseeable future. The U.S. refining sector is in what could be referred to as a renaissance. There will be many decades of production providing cheap feedstock, and the export ban guarantees lower prices. Low natural gas prices also improve margins. Although these stocks pulled back in June of last year, there are still reasons to be bullish. Rail continues to provide a fast and easy way to get crude to the refiners. The closer we get to domestic feedstock saturation, the faster these refiners will expand. It will be interesting to see how much of this growth will come from greenfield refinery projects in North Dakota. In part two of the article, I will cover Bakken operators in a good position going into 2014.
Disclosure: I am long TSO, PBF. I wrote this article myself, and it expresses my own opinions. I am not receiving compensation for it (other than from Seeking Alpha). I have no business relationship with any company whose stock is mentioned in this article.
Additional disclosure: This is not a buy recommendation. The projections or other information regarding the likelihood of various investment outcomes are hypothetical in nature, are not guaranteed for accuracy or completeness, do not reflect actual investment results, do not take into consideration commissions, margin interest and other costs, and are not guarantees of future results. All investments involve risk, losses may exceed the principal invested, and the past performance of a security, industry, sector, market or financial product does not guarantee future results or returns. For more articles like this check out our website at shaleexperts.com. Fracwater Solutions L.L.C. engages in industrial water solutions for oil and gas companies in North Dakota. This includes constructing water depots, pipelines and disposal wells. It also provides contracting services for all types of construction at well sites. Other services include soil remediation. Please contact me via email if you are interested in working with us. For more of my articles and other pertinent information on the oil and gas sector, go to shaleexperts.com.