On 3 January 2014, Zynga (NASDAQ:ZNGA) announced via Reddit that they would accept the five-year-old digital crypto-currency Bitcoin for in-game purchases using the leading merchant processor Bitpay.
Sure, Zynga will get some great publicity out of the decision but inquisitive investors may wonder what effect, if any, could Zynga's decision to spend a few programmer hours integrating Bitcoin have on earnings. The ROI may surprise you and have you demanding your other companies jump on the Bitcoin express train.
Transaction Costs
Zynga's primary mode of revenue generation is through online social games. Zynga accepts credit cards like Visa (NYSE:V), MasterCard (NYSE:MA), PayPal (NASDAQ:EBAY) and Bitcoin. Credit card and PayPal costs are around $0.30+2.9% but Zynga may get preferential rates due to volume.
Meanwhile, Bitpay offers to process Bitcoin transactions, convert to the fiat currency of choice like USD, EUR, YEN, etc. and direct deposit to the bank account next day and there is no personal information from the customer for PCI compliance, fraud, chargebacks or hidden costs.
Bitpay offers two different pricing models either (1) 0.99% of gross revenue where they will process the Bitcoin transaction, convert to the fiat currency of choice and direct deposit to the bank account next day or (2) a unique Software As A Service pricing model. The SaaS model has three tiers at $30, $300 and $3,000 and with the highest tier where they will process $5,000,000 or more monthly volume.
Reddit's Bitcoin Adoption Rate
Co-Founder of popular social news site Reddit (which includes the popular Bitcoin subreddit), Alexis O'Hanian, is also a Bitcoin supporter and Bitcoin investor. In February 2013, Reddit began accepting Bitcoin for transactions.
From 29 October to 29 November 2013 Reddit's breakdown of payment method for Reddit gold, a digital product costing about $3.99/month and comparable to Zynga's products, was: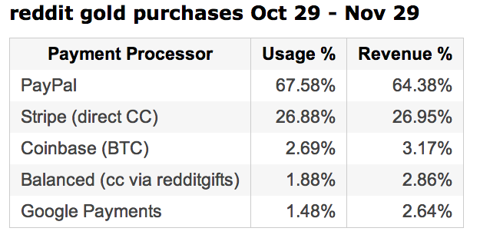 Notice how much more profitable Bitcoin payments are relative to PayPal!
Buying Zynga Digital Products With Bitcoin
In this video, the $5 Bitcoin transaction is completed in approximately 30 seconds using the convenient web-based wallet KryptoKit.
Due to security concerns, I would strongly recommend not storing more than small amounts of pocket change in this type of a Bitcoin wallet. To learn more about how to safely begin using Bitcoin technology, consider getting the Free Bitcoin Guide.
Bitcoin has identity protection built-in so the transaction required no personal information from the customer like name, billing address or anything else that an identity thief would want. Thus, at least with this transaction Zynga shareholders need not worry about massive privacy breaches like with Target leaking 40 million credit card details in December 2013 which may lead to fines, fees from banks, etc.
Proforma Analysis Of Financial Effect From Bitcoin Acceptance
In 2012, Zynga had $1.2B of gross revenue. We do not know what percentage of revenue will have the Bitcoin payment method as an option so we will just assume all of it. The credit card or PayPal fee for a $5 sale would be about $0.445 or 8.9%. Assuming Zynga has the same payment method breakdown as Reddit then we can expect this effect.
Approximately $30m of annual revenue being processed by credit cards or PayPal would cost about $2.7m. Bitpay will process this amount for a flat fee of $300/month or $3,600 per year which is a cost savings of approximately 99.87%. Not bad for a few hours of a developer who is likely already on salary!
And break-even on the project assuming no cost for salaried employees to work on it is likely well below $100,000 of gross sales via the Bitcoin payment method. The potential long-term effect on Zynga's earnings from drastically reducing transaction fees should not be underestimated.
And Bitcoin's growth as a transactional currency is growing with Bitpay reporting in November 2013 15,550 merchants, $100,000,000 of gross processing volumes and 6,260% year-over-year growth in processing volumes.
Conclusion
Company officers and directors owe a fiduciary duty to their shareholders to maximize shareholder value. Recent United States Senate hearings on Bitcoin, where Tony Gallippi the CEO of Bitpay testified, sent the message loud and clear that Bitcoin is legal for US corporations to transact.
In Zynga's case, their corporate officers are taking that fiduciary duty seriously by incurring only negligible costs to begin accepting Bitcoin which could both save millions of dollars per year in transaction fees but also reduce potential liabilities from a security breach like with Target. And why not since it drastically reduces costs, protects customer privacy and improves the user experience.
Perhaps 2014 will be the year that more corporate officers begin taking their fiduciary duty a little more seriously and start developing and implementing a Bitcoin strategy.
Clearly, the question for management is not 'Should we accept Bitcoin?' but 'Is there any reason we should not accept Bitcoin?'
Disclosure: I have no positions in any stocks mentioned, and no plans to initiate any positions within the next 72 hours. I wrote this article myself, and it expresses my own opinions. I am not receiving compensation for it. I have no business relationship with any company whose stock is mentioned in this article.
Additional disclosure: Author is a seed round investor in the private company Bitpay and long Bitcoins.