After going through the year-end portfolio review for my income-oriented portfolio, I am still somewhat astonished about the high yields some residential REITs offer. If you followed the REIT sector in 2013 you will have noticed the extraordinary bargains the market began to offer in May and June. Some of the companies offer investors yields way above 6% and those REITs also exhibit convincing remuneration records, focused management and strong historical growth. In fact, I believe many REITs are still way underpriced right now given their growth opportunities and earnings prospects. In addition, the US real estate sector has rebounded quite significantly throughout the last three years and US long-term real estate dynamics are favorable.
The following three REITs offer outstanding long-term value for investors who intend to hold income-generating investments for a longer period of time (that is, a decade or longer). I am not a market-timer and wouldn't even consider to sell any of my current holdings, all of which were established in 2012 and 2013, any time soon. The initial yields are so attractive that I intend to use any major setbacks to add to my positions.
REITs have sold off sharply in May as the market started to perceive higher future interest rates as a threat to REIT profitability. I do not believe those concerns are warranted for a variety of reasons: First, real estate investments are one of the best ways to hedge against inflation. Secondly, higher interest rates are likely to exist in a scenario of higher economic activity which includes higher GDP growth and appreciating real estate prices. Thirdly, the three companies outlined below have a history of producing great shareholders returns in periods of rising and falling interest rates and therefore should be great deals for investors who intend to hold their REIT investments for the long-term.
Realty Income
Realty Income (NYSE:O) is probably the best retail REIT out there at the moment. The chart below shows that Realty Income has sold off massively in May driving yields into bargain territory. Realty Income currently pays investors an annualized dividend of $2.186 per share which equates to a 5.79% initial dividend yield. The company has one of the most convincing long-term distribution records with distributions rising throughout the financial crisis. Realty Income has now paid 521 dividends including 74 dividend increases since 1994.
The REIT is a good investment for investors who value management credibility and dividend continuity. Realty Income is set to profit from favorable real estate dynamics, demand growth and rising rents in the coming years. In addition, the company has grown aggressively and remains committed in letting shareholders benefit from higher earnings via an ever increasing distribution stream. Realty Income pays its dividend on a monthly basis and serious long-term investors interested in building wealth are well advised to reinvest those dividends in Realty Income shares.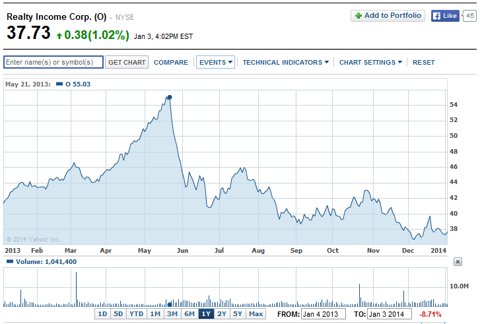 American Realty Capital Properties
American Realty Capital Properties (ARCP) is another commercial REIT that came to my attention in the second half of 2013. Just like Realty Income, this REIT consolidated in May and shares that traded at almost $18 in May can now be had for $13. More importantly, the sell-off was due to investor fears about the entire sector rather than any specific event relating to American Realty Capital Properties.
American Realty Capital Properties owns and operates single-tenant, commercial real estate throughout the United States and has embarked on an acquisition spree over the last couple of years. Besides the generally optimistic outlook I have for the US real estate sector, there are primarily two reasons that support an investment in American Realty Capital Properties. First, the REIT pays an outstanding yield of 7.28% which is backed by recurring cash flow from its net leases. Second, American Realty Capital Properties' acquisition of Cole lifts the REIT to new heights both in terms of market capitalization and property count. The pro-forma company will have approximately 3,800 properties in the real estate portfolio with an industry-leading occupancy rate of 99%. Investors who desire commercial real estate exposure will find it difficult not to consider American Realty Capital Properties. Moreover, the Cole acquisition is expected to be dividend accretive raising the current dividend from $0.94 to $1.00 per share.
Since American Realty Capital Properties is distributing its dividends on a monthly basis, this net-lease giant-in-the-making is a valid alternative to Realty Income and offers investors an even higher initial yield with prospects for distribution growth. You can see my original ARCP thesis here.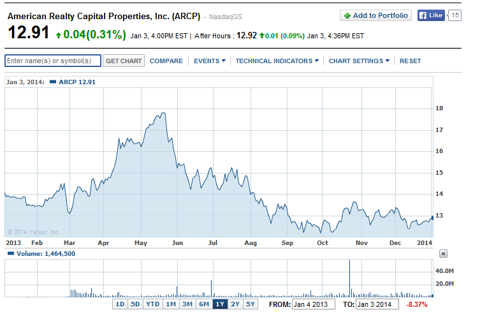 Omega Healthcare Investors
Omega Healthcare Investors (NYSE:OHI) is my favorite real estate play that offers nursing care facilities for senior health care providers. With increasing life expectancy, the need for senior care facilities in the US will increase dramatically over the next three decades. Moreover, older people (years 85+) face a much higher probability of being institutionalized and requiring constant medical attention and supervision. Omega Healthcare Investors is a great investment for investors who want to both play long-term real estate and health care trends. I believe that those two themes (real estate, senior health care) will deliver outstanding returns for Omega Healthcare Investors as the company is heavily committed in investing in new properties and expanding its asset base.
Omega Healthcare Investors currently pays investors $0.48 quarterly which translates into an annual payment of $1.92 and a dividend yield of 6.42%. Just as the outstanding REITs in the commercial real estate sector, Omega Healthcare Investors has an extensive remuneration history. Since 2011 the REIT has increased its quarterly distributions nine times and dividends have grown throughout the financial crisis.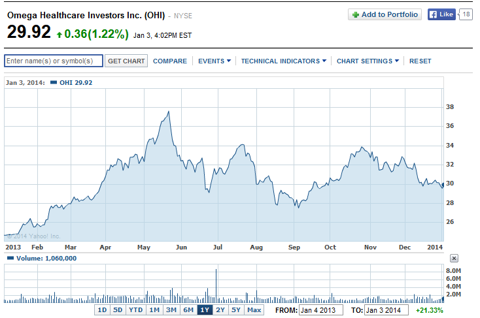 Conclusion
All three REITs presented above have lost vast amounts of their respective market capitalization without any fault of their own. All REITs are outstandingly shareholder friendly and have convincing track records in paying regular and increasing dividends to their shareholders. Investors who want to get exposure to real estate and/or senior health care should consider the companies above which I consider to be the top of the REIT class. In addition to strongly growing portfolios and dividends, all REITs offer investors diversification benefits and a high degree of inflation protection. I believe those REITs are significant bargains as witnessed by their high initial yields and strong balance sheets. Consequently, I think Realty Income, American Realty Capital Properties and Omega Healthcare Investors are of relatively low risk. Real estate investment trusts that deal with actual real estate properties are of much lower risk than mREITs that invest in securities. While I am very bullish on residential and commercial REITs, I hold my pessimistic view on mREITs such as Annaly Capital Management (NYSE:NLY) and American Capital Agency (NASDAQ:AGNC) and would advise against investments in mREITS and those two companies in particular (thesis here and here).
Disclosure: I am long O, OHI, ARCP, . I wrote this article myself, and it expresses my own opinions. I am not receiving compensation for it (other than from Seeking Alpha). I have no business relationship with any company whose stock is mentioned in this article.