As we move into the new year, investors have been selling the dogs and buying the stars, hoping to structure a portfolio that beats or at least keeps pace with the S&P 500 and other benchmarks in 2014. Over the past year, Kindred Healthcare Inc. (NYSE:KND) has provided investors with over a 100% move from its 52 week low. The company is at a pivotal point in its history and is just starting its growth phase according to management during the Q3 2013 conference call. Although my long-term outlook on the company is bullish due to management's strategic plan, I feel KND investors would be wise to lock in profits at these levels and consider buying the stock back at a more attractive price.
At the Credit Suisse 2013 Healthcare Conference, Kindred's management outlined their five-year strategic plan and provided guidance for 2014. The earnings growth is mainly going to be fueled by business restructuring and acquisitions. KND operates in four divisions: hospital, rehab, nursing, and home care. Since 2011, the company has been shifting revenues from its nursing division to its hospital, rehab, and home care divisions. This shift caused the company's revenues to take a hit in 2013, but was partially offset by cost reductions. Management feels the division shift has positioned the company for faster core growth and higher margins. The restructuring also involved the divestiture of weak performing assets and changing the composition of the entity's capital structure. Going forward, the company expects the majority of its capital structure to be comprised of funded debt and equity and the minority to be comprised of capital leases. The company also refinanced some debt at favorable terms. Management expects the business restructuring to account for $0.48 of diluted EPS in 2014.
The second largest driver of EPS in 2014 is due to acquisitions. In Q4 2013, KND completed the acquisition of Senior Home Care, one of the largest home health providers in Louisiana and Florida with annual revenues of approximately $143 million. The purchase price was around $95 million and KND management expects the acquisition to add between $0.07 and $0.09 to diluted EPS in 2014. In Q3 2013, KND acquired TherEX for its rehab division. The purchase price was $14 million and is expected to add $0.02 to diluted EPS in 2014. KND also acquired some real estate related to nursing centers from HCP, Inc. and expects the finalized acquisition to add $0.04 to diluted EPS in 2014. On paper, these acquisitions look like a good decision on the part of management. However, I think investors should take a wait and see approach instead of just relying on management's estimates of the potential effects on earnings in 2014.
Management also factored in some negatives to their EPS guidance for 2014. Due to regulatory headwinds, diluted EPS are expected to take a hit of $0.20. The other negative relates to the company's divestiture of many unprofitable nursing facilities and the increase in rent on the renewed facilities with Ventas. This piece is expected to decrease diluted EPS by $0.15. Although it's a positive sign that management is so transparent in providing guidance, I feel the regulatory estimate has a high degree of estimation uncertainty. According to management's presentation at the Credit Suisse conference, 41% of their revenues come from Medicare and 11% from Medicaid. Significant cuts in reimbursements due to sequestration, the recently signed federal budget deal, and other regulatory issues are difficult to model for and investors should be aware of the potential impact on KND's earnings in 2014.
My investment approach tends to gravitate towards growth stocks. I feel these types of stocks appreciate the fastest but tend to have higher levels of volatility. Growth stocks usually appreciate in anticipation of future earnings growth and move even higher if they beat analysts' expectations. The best growth stocks are those that have yet to be discovered by the masses and have a low stock price. KND is a growth stock that has already been discovered by the masses and has a high stock price. The most recent analyst's price target for KND is $23. The consensus estimate amongst analysts covering KND is $17.42. Financial modeling for a company with substantial acquisitions and discontinued operations can prove to be a difficult task. Due to this estimation uncertainty, using a consensus analyst estimate as a conservative price target tends to be the best approach for investors. At the time of writing this article, KND is trading about 12% higher than its consensus analyst price target.
Management guidance can also aid investors when determining a price target for a stock. For 2013, KND management expects to earn $4.9 billion in revenue and a range of $0.78 to $0.88 in diluted EPS. In 2014, they expect to earn $5.1 billion in revenue and a range of $1.05 to $1.25 in diluted EPS from continuing operations. Most of the components of the 2014 forecasted earnings are outlined above. Management also used the midpoint of 2013's forecasted earnings of $0.83 as a starting point for 2014's earnings. As a result, KND's forecasted 2014 earnings may have to be updated should Q4 2013 earnings fall outside the expected range. From this information, I was able to compute the company's trailing and forward P/E ratios using the midpoint of the forecasted EPS. See the table below for a comparison of KND to its peers in the health care providers & services industry. I also included the S&P United States BMI Health Care for an index comparison. The P/E Ratios for KND's peers and S&P BMI were obtained from schwab.com. The table below shows that KND has a higher trailing and forward P/E than a weighted average of its peers. KND's trailing and forward P/E is also higher than the S&P BMI Health Care. KND is overvalued on a P/E basis based on these comparisons.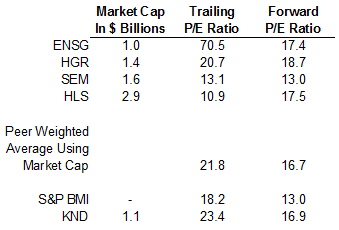 This valuation is further reinforced by some recent insider selling in the month of December. To be fair, the insiders who sold in December did not completely sell out of the stock. Insiders of publicly traded companies tend to sell some stock in December and can be attributed to various reasons. However, what cannot be disputed is that the majority of KND insider transactions in 2013 were sales. Insider ownership is about 1% and institutional ownership is about 99%. This tells me that the company's insiders did not have enough confidence in the stock to buy at depressed levels as seen in April of last year. This level of insider ownership is very suspicious. If the stock was an attractive investment as argued by management at the Credit Suisse conference, then I would expect some insider buying while the stock was trading at its 52 week low.
From a technical perspective, the stock is overbought. A six-month chart of KND, taken from freestockcharts.com, shows a parabolic move up since November 2013. Moves like this do not end well from my experience in the stock market. Investors who take profits as moves like this unfold tend to stay ahead of the curve and avoid giving back gains. On December 30, 2013, KND experienced what's known as a wyckoff upthrust. This is when a stock makes a sharp move up during the trading day, but proceeds to close near its opening price. This pattern is a sell signal and can lead to a pullback. Based on Fibonacci retracement levels, a 50% retracement off its 52 week high of $20.51 is not out of the question. The company's previous high before its move up in November was made on August 8, 2013 at a price of $16.63. This high acted as resistance until the stock broke through it at the end of November 2013. Resistance usually turns into potential support once broken. This previous high of $16.63 corresponds with the 50% retracement level, further adding to the pullback scenario. I feel the stock is overdue for a healthy pullback based on the technicals.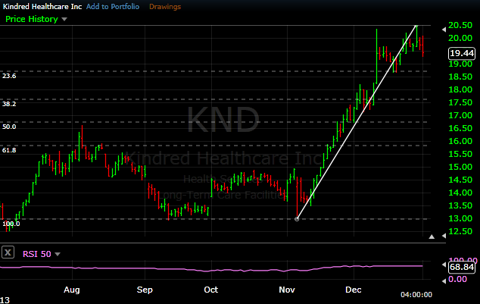 After factoring in the stock's high valuation on a P/E ratio basis and overbought technicals on the six-month chart, I believe investors of KND would be smart to take some profits off the table and wait for a healthy pullback. If management's 2014 EPS guidance does not turn out as projected, the stock could take a dive if analysts' expectations are not met. Selling at these levels is a conservative approach and protects investors should this scenario occur. 2014 will be a very important year for KND and will provide investors with the needed clarity on the company's outlook beyond 2014.
Disclaimer: I am not an investment advisor and do not provide specific investment advice. This article is for informational purposes only and is not a buy or sell recommendation. Please consult your investment advisor before making an investment decision.
Disclosure: I am short KND. I wrote this article myself, and it expresses my own opinions. I am not receiving compensation for it. I have no business relationship with any company whose stock is mentioned in this article.