Editors' Note: This article covers a stock trading at less than $1 per share and/or with less than a $100 million market cap. Please be aware of the risks associated with these stocks.
Introduction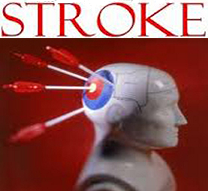 Athersys, Inc. (NASDAQ:ATHX) is currently engaged in a phase II, double blind, placebo-controlled study to examine the safety and potential effectiveness of the adult stem cell investigational product, MultiStem, in adults who've suffered a moderate to moderately severe ischemic stroke. According to the American Heart Association, eighty-seven percent of all strokes are ischemic. Ischemic strokes are caused by a blood clot in an artery in the brain. Symptoms may include sudden numbness, sudden speech or vision problems, confusion or severe headache.
Traditional approaches for treatment of ischemic stroke use a drug with only a single mode of action. Treatment options currently available for this type of stroke are also time-sensitive, which makes recognition of stroke symptoms and rapid access to medical care critical. In addition, some treatment options are only available at specialized stroke care centers.
The consequences of a stroke are disabilities that will vary depending on stroke location and severity. After a stroke, brain cells die in the affected areas resulting in damaged or even lost neurons. Patients will often suffer physical disabilities such as partial loss of motricity or hemiplegia, sensory loss, language disorders, aphasia, visual disorders, and even memory loss. Level of recovery will vary from patient to patient. Starting a rapid rehabilitation program is key to recovery.
Results from Animal Models
Allogeneic stem cells, the type used in MultiStem have been used to aid in ischemic stroke recovery in animal (rat) models. The findings from the research by the University of Texas Health Science Center at Houston were especially interesting in that all the treated rats showed great recovery, achieving near-normal results following treatment. In this model the stem cells were injected thirty minutes after an induced ischemic stroke. The same study also used a control group that was injected with saline solution. According to the study, results were astounding. Only one day after the stem cell treatment all rats showed some functional improvement. Two weeks later, the treated rats had almost recovered back to their pre-stroke state. What is intriguing is that the improvement happened despite the fact that the transplanted stem cells didn't seem to migrate to the damaged brain.
No changes were noticed in the control group, strongly indicating that the recovery in the other group was the result of the stem cell treatment. Additional animal studies have shown improvements in brain function, and healing of stroke victims through mechanisms involving the spleen.
Below are illustrations showing the effect of the transplantation of hMAPCs vs. hMSCs. The illustrations show the clinical superiority of the hMAPCs used in MultiStem over the Mesoblast Limited (MEOBF) hMSCs. The current MultiStem ischemic stroke phase II trial uses an IV infusion as the method of delivery vs. transplantation, this is considered a vast improvement.
Transplantation of hMAPCs and hMSCs is associated with a reduced loss of brain tissue, suggesting a neuroprotective effect within the ischemic penumbra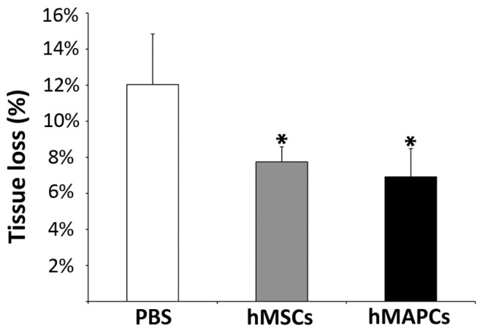 *PBS = phosphate buffered saline
Glial-scar inhibitory effect after hMSCs and hMAPCs transplantation.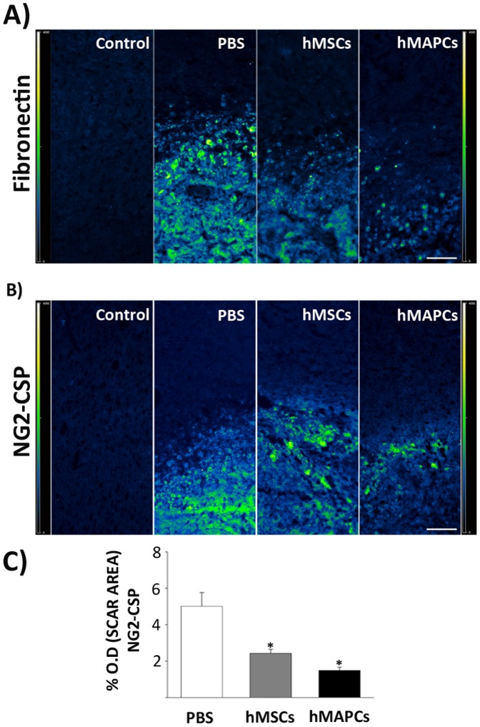 Source: Therapeutic effects of hMAPC and hMSC transplantation
A realistic need to develop treatment for stroke exists
Statistics from the U.S. Centers for Disease Control and Prevention indicate that stroke is a leading cause of serious disability and the third leading cause of mortality in the U.S. and globally. Annually, there are approximately 795,000 stroke victims in the U.S. and 15 million globally (87% ischemic strokes). With an increasingly obese and aging population, the clinical need and commercial opportunity is expected to increase dramatically in years ahead.
Recent progress toward the development of safer and more effective treatments for ischemic stroke has been disappointing. Despite the fact that stroke is a leading cause of serious disability and third leading cause of death, there has been little progress toward the development of treatments that improve the prognosis for stroke victims. The only FDA-approved drug currently available for ischemic stroke is the anti-clotting factor, rtPA, (recombinant tissue plasminogen activators), which must be administered to the patient within three to four hours of the onset of the stroke. Administration of rtPA beyond this time frame is not recommended, since it can cause bleeding in the brain or even death. Given this limited therapeutic window, it is estimated that less than 5% of ischemic stroke victims currently receive treatment with rtPA.
MultiStem is believed to be a "real good opportunity for success" said William (B.J.) Lehmann, President and Chief Operating Officer at Athersys during a recent webcast. MultiStem has the potential to address the lack of available treatments. Further, MultiStem may become a "best-in-class" cell therapy. This is based on the hMAPCs ability to deliver therapeutic benefit through multiple mechanisms of action, its ability to be delivered "off-the-shelf" like a pharmaceutical product and its consistent safety profile. MultiStem appears capable of delivering a therapeutic benefit in multiple ways, such as through the production of factors that:
Protect damaged or injured neurons
Reduce inflammation common in ischemic injury
Promote new blood vessel formation
Augment tissue repair and healing
In the current phase II trial an independent safety committee reviewed data from patients receiving MultiStem within approximately 1 to 2 days after they had experienced an ischemic stroke. They found that both of the doses evaluated were safe and well tolerated, and therefore, recommended proceeding with high dose administration to patients for the remainder of the trial. The study is currently being conducted in multiple centers throughout the United States. There are signs this trial is going very well including a You Tube video of a man enrolled in the trial. Investors can assume the man in the video is not receiving MultiStem if they want, however, the hospital staff in the video look surprised at the rapid improvement. The CT-scan is a dead give away to anyone with a medical background in this area, due to the rapid improvement it seems likely he's getting MultiStem. It's a double blind study so one can't be sure till the results are in, however, investors can draw their own conclusion. Athersys has involved 140 patients in the phase II MultiStem study at several leading stroke centers across the U.S. who are helping conduct the study.
Athersys's Phase II study is evaluating the effectiveness of MultiStem being administered 24-36 hours following the stroke. Clearly, this would be a significant development because by the time many stroke victims even get to the hospital and are properly diagnosed, the time frame for using the currently available treatment may have elapsed.
Financial Outlook
Ischemic stroke is a big opportunity for Athersys as it represents a major unmet need and includes an annual market opportunity of more than $15 Billion. Further, Athersys may have a potential stroke therapy monopoly here. This is something investors should consider factoring in.
Athersys enjoys a lead in the development race for an ischemic stroke treatment over companies such as StemCells, Inc. (STEM) which is in pre-clinical trials for the same indication. In these trials, StemCells Inc. has conducted preliminary studies in collaboration with professors of neurosurgery at the Stanford University School of Medicine, successfully demonstrating that its human neural stem cells enhance functional recovery after stroke in rats. This is certainly an important step for StemCells and a potential value driver for the company.
StemCells' market cap was almost exactly the same as Athersys for a while, yet, Athersys has a much more intriguing pipeline as well as a much more advanced stroke candidate. In addition, Athersys has an upcoming catalyst (ulcerative colitis trial) that could rally the stock in the short term. As was stated, the market cap of the two companies was about the same for a while, however, the Athersys share price has recently started to climb heading towards the upcoming ulcerative colitis trial data release, a trial that also involves Pfizer Inc. (NYSE:PFE). StemCells has also been burning more per quarter with a $5 million versus a $4.55 million burn rate for Athersys.
StemCells investors might argue that StemCells is an undervalued, promising, speculative investment just like Athersys, however, Athersys offers better value when due diligence is used in the decision making. Some day that may not be the case but, today StemCells needs to advance further along in clinical trials before that case can be made.
StemCells may face some stiff competition from Neuralstem, Inc. (NYSEMKT:CUR) down the road so if you like human neural stem cells take the time to research both companies. Neither StemCells or Neuralstem are serious competition for Athersys at this time. On the flip side Neuralstem is serious competition for StemCells and Neuralstem looks to be the better investment of the two.
In an interview, Athersys CEO Gil Van Bokkelen would not give an exact cost for the MultiStem treatment if it makes it to commercialization, but said that even if it cost as much as $50,000 per patient, it would still save an enormous amount of money in direct and indirect health care costs.
"The cost of stroke treatment in the U.S. is enormous," he said. "It's in the tens of billions of dollars every year, and that number is expected to rise dramatically over the next few years with an aging population where more and more people are susceptible to stroke and heart disease.
"It's a huge market opportunity and it's also an area where it's kind of the quintessential unmet medical need -- where most patients get the equivalent of medical hand-holding. That's just not satisfactory."
If the above comments by Mr. Bokkelen don't excite investors maybe these comments he made recently will. Keep in mind Mr. Bokkelen isn't known for hyping the company rather he's known for being pragmatic.
"The stroke trial could be a game changer, in a lot of ways. Unless you've had a family member or loved one that has suffered a serious stroke, it's difficult to understand just how big an area of need it is. There are roughly 2 million people a year that suffer a stroke in the U.S., Europe and Japan, and very few patients actually get treated with rtPA, the clot dissolving agent that has to be administered within 3-4 hours after the stroke. That time frame is just too tight, and most patients don't get to the doctor in time. We and our collaborators have published work from preclinical studies that suggests that we can give MultiStem in a more practical time frame following a stroke, perhaps several days. If it helps patients recover, it could change stroke clinical care, and it's also an enormous commercial opportunity - which is something that gets our shareholders very excited."
New Legislation for Regenerative Medicine in Japan
Recently reforms in Japanese pharmaceutical legislation designed to accelerate the development and commercialization of regenerative medicines has caused some excitement for those invested in this field. Athersys's fresh finance will enable Athersys to pursue this significant opportunity for MultiStem in Japan, and they anticipate further developments on the regulatory and commercial front in 2014.
Athersys Inc, recently raised $20 million from the sale of 10 million shares at $2.00, a modest discount to the $2.03 where it ended the day when the offering was announced. The proceeds from the offering will be used to support the ongoing and proposed programs (potentially in Japan) for MultiStem. The stock recently traded up near a two-year high of $2.42 reaching $2.26 a share on December 5th, 2013.
Results from the ischemic stroke trial will be a significant event that could re-rate the stock. The overall valuation of Athersys has now been revised to $281 million, or $4 per share vs. $205 million, or $3.40/share, ahead of the ulcerative colitis data release. The new valuation factors in the removal of risk from a share offering that was pressuring shares and the recent updates given by William Lehmann, President and Chief Operating Officer of Athersys. Mr. Lehmann presented those updates on Wednesday, December 4th, 2013.
Another factor for revaluation, MultiStem may go straight into commercialization for human use in Japan, if the current ischemic stroke trial confirms safety. That's exciting because Japan is the world's second-largest mature healthcare market behind only the United States.
The recent bill in Japan allows the Japanese Government to give conditional approval to products such as MultiStem if their safety is confirmed in clinical trials, as may occur on completion of Phase 2. This should substantially reduce the time and cost of developing stem cell therapies, with as little as one clinical study required to demonstrate safety and meaningful therapeutic benefit, in order to gain provisional approval and reimbursement in Japan.
A recent article, "Ramifications of New Japanese Stem Cell Legislation" notes that Athersys is assessing how best to exploit this potential opportunity for its allogeneic stem cell product MultiStem.
Risks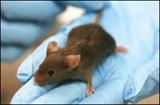 While scientists point to the value of animal models, they also acknowledge that no animal model fully recapitulates human neurological disease.
Animal studies that produce promising results for drugs frequently fail in clinical trials. While the differences between human and non-human species may account for some of the failures, a new report by the Institute of Medicine (IOM) calls attention to faulty experimental designs, questionable statistical analysis, and the tendency of journals to prefer publishing positive results. In the case of Athersys, while this is a concern they have to date been prone to giving more thought to trial design than many other small biotech companies. Also more and more human clues have become available for those who look that this trial will succeed.
Costantino Iadecola, MD, professor of neurology and neuroscience at Weill Cornell Medical College, noted that the pathobiology of stroke can be reproduced effectively in animal models, although the mechanism by which the occlusion develops in humans may not be mimicked exactly. Efforts are being made to more closely align animal models with human stroke, he said. For example, treatments are increasingly administered to hypertensive, diabetic, and aged animals in an effort to account for stroke risk factors. But unfortunately many pharmaceutical companies have abandoned the search for stroke treatments due to the failure of clinical trials to produce effective results.
The above should bode well for Athersys. As it speaks of limited competition as well as animal models being effective for this application.
Usually competition is a risk for developing biotech companies, however, Cytomedix, Inc. (CMXI) was the only real competitor to Athersys for an ischemic stroke treatment. Cytomedix's core technology used a single intracartoid infusion to treat ischemic stroke but, has announced they will stop funding for their ischemic stroke therapy after this year. One has to believe the delivery route Cytomedix used was a large part of the funding stoppage. Intracartoid infusion is far less attractive than Athersys's intravenous infusion and finding volunteers must have been tough in comparison. Cytomedix's treatment therapy is also administered roughly two weeks after experiencing a stroke. Cytomedix's therapy is clearly not as convenient and who likes to wait for treatment when they have a choice?
Athersys and Cytomedix had both been assessed by analysts as being the two main companies with a potential blockbuster stroke treatment on hand. Today only Athersys is standing.
Conclusion
The Athersys pipeline continues to grow and mature, and investors are beginning to recognize and appreciate the potential value of the portfolio. If Athersys stays focused and achieves what they are capable of, investors should be confident that one day Athersys will be recognized as a global leader in the industry. In the article "A Comprehensive Look At Athersys" a $10 per share price target was given for the later part of 2014, today, the target has been revised upwards to $15 based on new developments in Japan and the recent webcast information stemming from the Piper Jaffray healthcare conference. The conference shed new light on potential catalysts that had not been factored in. Athersys is significantly undervalued with a market capitalization of just $173 million in light of the events that are going to unfold in 2014.
Disclosure: I am long ATHX. I wrote this article myself, and it expresses my own opinions. I am not receiving compensation for it. I have no business relationship with any company whose stock is mentioned in this article.
Additional disclosure: Science is still evolving regarding stem cells and many scientific points are debated including some contained in this article. To the best of my knowledge I put forth accurate information.