Micron (NASDAQ:MU) investors have often had a volatile ride on the stock. Between 1989 and today the stock has been priced between $2 and $80.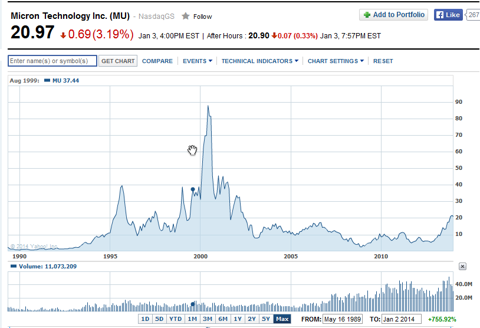 Many investors forget the history. In the early 1990's I bought into Micron based on what I saw as exploding demand for Random Access Memory. In those days a 1MB RAM chip cost about $40. A little math and I could Micron earnings billions if the demand for RAM grew as fast as I projected. Demand actually grew faster than I thought. Prices fell even faster than the demand growth. I lost a bundle.
SA author Russ Fischer's excellent articles on Micron persuaded me to buy into a somewhat similar story last year, and this time I made a bundle as Micron stock moved from below $10 to above $20 and my call options soared.
Russ wrote quite a few very thorough and very persuasive articles on the bull case for Micron, and I appreciated his technical expertise and common sense approach.
Micron stock had a few tailwinds as well. Its timely and low cost acquisition of Elpida added capacity at a nominal cost. Competitor SK Hynix suffered a fire that took capacity out of the market at a time when demand was also tight. Apple introduced 64-bit computing to mobile which over time will lead to more DRAM in smartphones.
SA Author Bruce Burnworth wrote a very good recent article Micron: Memory for the Gold Rush setting out the current bull case for Micron. As a student of history, his article made me recall that pretty well no one made any money in the gold rush.
Given all the positive trends, you might ask why I am bearish on Micron.
The answer is that the good news is pretty well all in and the wild card is pricing just as it was in the 1990's. The recent run up in prices was somewhat artificial resulting from a capacity shortage caused by a fire. SK Hynix is building a new fabrication facility to replace an older one which, while it may not add capacity, is sure to lower costs. Samsung, Micron and SK Hynix are the largest players in the space but they are not alone.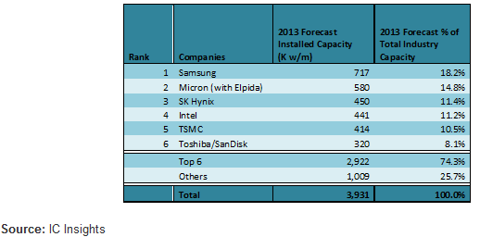 Trefis did a recent review of Micron and saw a 30% downside.
So do I. Like Trefis, my concern is that history will repeat itself. The growing demand for DRAM and NAND will continue unabated. As it does increase, competitors will add capacity. The capacity comes in big lumps and as it comes on stream they need to fill it. Process improvements will reduce costs, and those cost reductions will be passed on to consumers in lower prices as they compete to fill their fabs.
The good news is in Micron now. The bad news will come soon enough.
This is a time to be on the sidelines or for aggressive investors, to short the stock.
Disclosure: I have no positions in any stocks mentioned, but may initiate a short position in MU, over the next 72 hours. I wrote this article myself, and it expresses my own opinions. I am not receiving compensation for it (other than from Seeking Alpha). I have no business relationship with any company whose stock is mentioned in this article.