Back in 2012, University of Pennsylvania's Wharton Finance Professor Jeremy Siegel predicted that the Dow Jones Industrial Average would likely hit 15,000 by the end of 2013. He also said at the time that there was a 50% chance for the Dow to hit 17,000 by the end of 2013. Well, the result didn't quite make it to 17k, but it ended in the upper range of Professor Siegel's call at 16,576. He had many skeptical critics at the time since the Dow was trading around 13,000 at the time of his bold prediction.
Siegel explained how the market never had bad stock returns following a period where the PE ratio began at 13 (which was where it was back in 2012). Siegel correctly called it as the market climbed into his predicted range in 2013. The market achieved these gains even in the face of fiscal cliff worries, sequestration and a U.S. government shutdown.
The Professor is now calling for the Dow to hit 18,000 by the end of 2014. That's not too much of a stretch since it's only 8.6% higher than the current level. It looks like corporate earnings can justify such a move this year. Siegel explained that the fair value for the market is typically quantified by a PE of 15. However, he said that a multiple of 15 includes stock market valuations in high interest rate environments. With the high interest rate environment removed, Siegel sees fair value for the market at an 18 to 19 PE ratio. The current PE for the SPDR Dow Jones Industrial Average is 16.9. This suggests that the market is still slightly undervalued according to his theory.
I think that Siegel is predicting a likely scenario. Of course, we never know what the future holds and major disasters such as wide-scale terrorism, an unexpected slowdown in economic growth, or a large natural disaster could cause the market to fall. However, we have to look at the likely scenario and I think Siegel is on the mark with his prediction.
How Investors Can Benefit
Regardless of whether Siegel is correct or not for 2014, investors would be wise to dollar-cost average into a diverse mix of stocks. Dollar cost averaging takes the guesswork and emotion out of investing. Investing a steady amount at regular intervals such as once a month eliminates the effort to time the market. The technique will allow investors to participate in the bull market and the best performing asset class over the long-term. Dollar cost averaging will also allow investors to purchase more shares at low prices in the event that the market falls or corrects. An ETF such as SPDR Dow Jones Industrial Average (NYSEARCA:DIA) contains all 30 Dow Jones stocks, which would provide investors with a diverse basket of large, reliable companies. The Dow average tends to outperform the S&P 500 over the long-term.
The SPDR S&P 500 (NYSEARCA:SPY) is a way to own a broader mix of 500 large companies. SPY pays a dividend of 1.9%, while DIA has a slightly larger yield of 2.15%. DIA has a low expense ratio of 0.17% and SPY's expense ratio is even lower at 0.09%.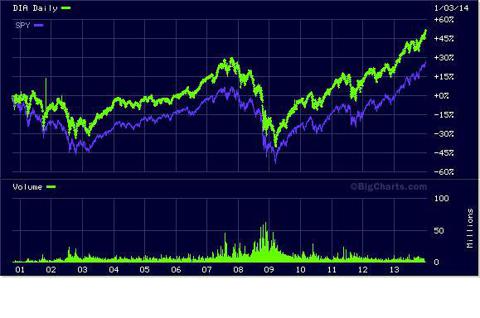 The chart shows that DIA outperforms SPY over the long-term. So, although DIA owns significantly less companies than SPY, its narrower focus of quality large-cap stocks provides superior returns over the broader S&P 500. Another positive for DIA is that its PE ratio is currently 16 as compared to SPY's 17. So, DIA is slightly undervalued and outperforms the S&P 500 - that sounds like a solid investment option to me.
Disclosure: I have no positions in any stocks mentioned, and no plans to initiate any positions within the next 72 hours. I wrote this article myself, and it expresses my own opinions. I am not receiving compensation for it (other than from Seeking Alpha). I have no business relationship with any company whose stock is mentioned in this article.