Overview
By most accounts, Lululemon Athletica Inc. (NASDAQ:LULU) experienced a terrible year in 2013 = from the recall back in March due to pants being too sheer, to the stepping down of CEO Christine Day, to the comments from founder Chip Wilson that implied issues regarding piling pants were caused by women's bodies and not the products themselves. While I don't necessarily disagree that this year has been a tough one for the k.company, I do question what this means in terms of 2014 and future years for the company and stoc
I believe that a strong opportunity for increased revenues, earnings and returns still exists for this stock. In looking at why I find Lululemon Athletica as an attractive stock going forward, I will be looking at the company's financial performance, current valuation, recent trading activity, dividend policy, earnings and future outlook while comparing those areas to a few of Lululemon's competitors.
Company Info.
Lululemon designs and manufactures yoga and other athletic apparel and accessories for women and men. The company distributes its products (fitness pants, shorts, tops, jackets, bags, socks, underwear, yoga mats, water bottles, etc.) through corporate-owned and operated stores, the internet and a network of wholesale channels, such as premium yoga studios, health clubs and fitness centers. Lululemon Athletica was founded in 1998 and is headquartered in Vancouver, Canada.
Financial Performance
| | |
| --- | --- |
| Gross Profit (Quarterly) | 53.86% |
| Profit Margin (Quarterly) | 17.40% |
| Return on Assets ((NYSE:TTM)) | 26.43% |
| Return on Equity | 30.30% |
| Revenue | $1.56B |
| Revenue (Quarterly YOY Growth) | 20.02% |
Looking at the chart below, you can see that even with the many recent issues that Lululemon Athletica has faced, the company has seen better revenue increases over the past year than competitors like Gap (NYSE:GPS), American Eagle (NYSE:AEO) and Abercrombie & Fitch (NYSE:ANF).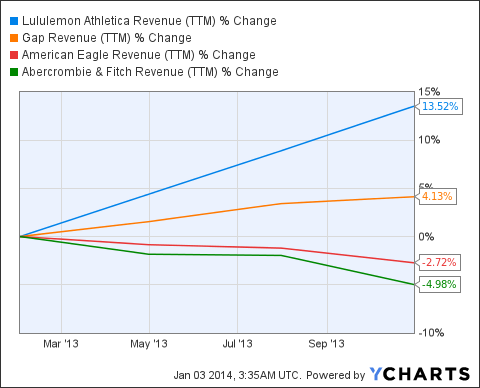 LULU Revenue (TTM) data by YCharts
The same can be said in terms of Lululemon's gross profit over the same period.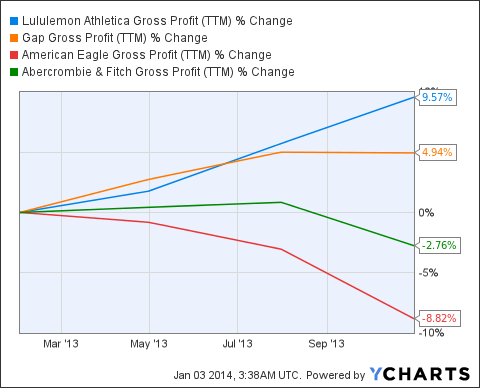 LULU Gross Profit (TTM) data by YCharts
Current Valuation and Trading Activity
Lululemon Athletica is currently trading at $58.59, which is $23.91 lower than its 52-week high and just $1.24 higher than its 52-week low. It is trading below both its 50-day moving average of $65.23 and its 200-day moving average of $68.81.
The stock has a current PE ratio of 30.69x and a price to book value of 6.48x.
Often I think a PE ratio over 20x, let alone 30x, is most likely overvalued. However, I know that looking at the historical PE of a stock is important as many stocks trade at a premium. When looking at Lululemon's PE over the past five years, 30.69x seems far from overvalued when you see that it has seen PE ratios over 50 and 60 during that time.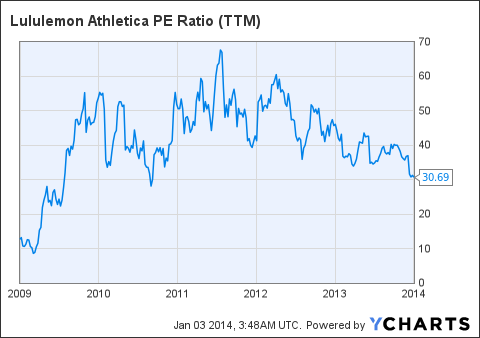 LULU PE Ratio (TTM) data by YCharts
Lululemon Athletica has seen the following price returns:
| | |
| --- | --- |
| 1 Month Price Return | -15.95%% |
| 1 Year Price Return | -23.13% |
| 3 Year Price Return | 71.29% |
Even with the struggles the stock has recently seen this year, when looking at long-term returns over the past five years, Lululemon has performed significantly better than many of its competitors.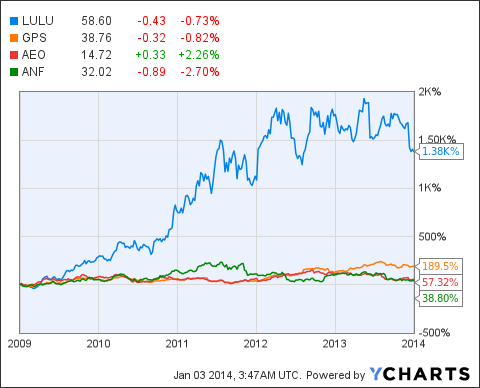 Dividend
Lululemon Athletica does not currently pay a dividend.
Earnings
When looking at a non-dividend paying stock, I feel that earnings growth is more important than a dividend paying stock. Over the past five years, Lululemon's earnings growth has been far more impressive than competitors such as Gap, American Eagle and Abercrombie & Fitch.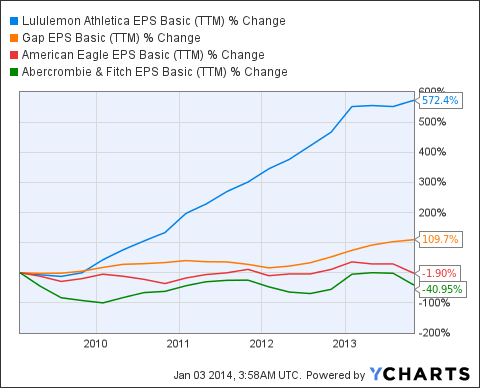 LULU EPS Basic (TTM) data by YCharts
The company announced in its latest quarterly report that it expects to see earnings per share in the range of $0.78 to $0.80 for Q4. This would be an increase over earnings per share of $0.75 the same period last year.
Future Outlook
While earnings growth over the next few quarters will probably be slight, I feel that this is a short-term problem. I view 2013 as sort of a "as bad as it gets" year as opposed to a reoccurring theme or identity for this company. I think that Chip Wilson's resignation is a strong indication that Lululemon is committed to improving the overall image of its brand.
The new CEO Laurent Potdevin comes from TOMS shoes where he served as president and helped that company expand globally and broaden its cultural identity. These are two areas that I feel he will have success for Lululemon as well. With the company's strong business model, I believe that this change in leadership will ultimately help deliver strong financial results in the near future in terms of revenue, profit and earnings growth.
Conclusion
I believe that most of the negative aspects of Lululemon have already been priced into the stock and personally feel that it has been oversold based on the company's forecast of flat fourth quarter sales.
The company appears committed to restoring a positive image to its brand and it has several avenues it can pursue in terms of continuing its impressive long-term growth. These avenues include global expansion, product expansion, as well as alternative distribution methods. I am not sure which strategic moves the company plans on making, but I do believe in the overall future of this company and believe that long-term investors will be rewarded in future years. As always, I recommend individual investors perform their own research before making any investment decisions.
Disclosure: I have no positions in any stocks mentioned, and no plans to initiate any positions within the next 72 hours. I wrote this article myself, and it expresses my own opinions. I am not receiving compensation for it (other than from Seeking Alpha). I have no business relationship with any company whose stock is mentioned in this article.